Savouring a bitter moment
Move over, speakeasy-style joints. Two new bars in New York show you can attract a serious drinking crowd with a single-minded focus on artisanal bitters and tequilas.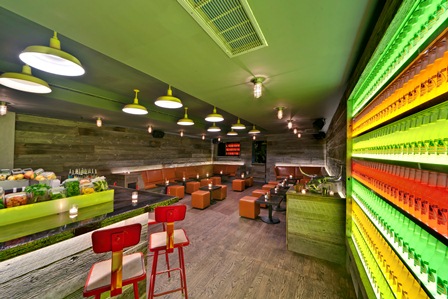 After four years of producing bitters under his Bittermens label, it was only natural that tipple enthusiast, Avery Glasser, decided to take over a former, small sandwich joint in New York's East Village and open Amor y Amargo, a 13-seater bar serving both cocktail and European-style digestive bitters. "People don't understand that these drinks are actually refreshing," says Glasser. "In Italy, France and China, the locals don't resort to sweet beverages when the weather is hot, they search out bitter drinks." For starters, get Glasser to fix up a cocktail (from US$12/S$16) with one of his Bittermens labels, or if your palate is in the mood for something bolder, try the grimace-inducing Italian L'Erborista bitter on the rocks or neat. 443 East 6th Street, New York 10009. Tel: +1 212 614 6817
Over at Hotel on Rivington, Viktor & Spoils, a modern Mexican tacqueria and tequila bar, has opened. Steve Olson, an authoritative voice on tequila and mezcal, has created a menu of creative cocktails made with the distilled, herbaceous spirits, such as the Oaxacan Dream, a tropical blend of Vida Mezcal, pineapple juice, cranberry, lime, shaken agave, and grilled pineapple (US$14/S$18), and the La Vida Buena (US$14), a bittersweet mix of Vida Mezcal, orange peel and bitters, and Carpano Antica, a sweet Italian vermouth. Even the taco nibbles are creative: think Homemade Chorizo (US$12) with cilantro-avocado cream. 105 Rivington, New York 10002. Tel: +1 212 475 3485
Excerpt from the January issue of epicure.