Corduroy Palace brings a touch of New York's cool mid-century midtown vibes to Amoy Street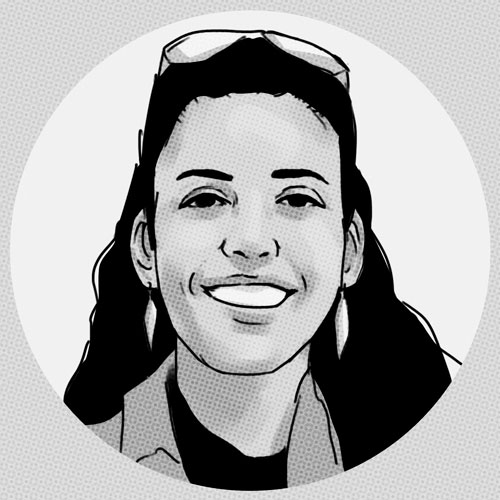 · 5 November 2021
·
Dining
Gibran Baydoun of famed Brooklyn restaurant Lucali BYGB launches Corduroy Palace with a vision that encapsulates his passions for design, architecture, music and wine
Best described as the trendiest kid on the block, the unpretentious fine-dining Corduroy Palace is an unorthodox, visionary wine hall inspired by classy New York dining rooms made for mid-afternoon drinking sessions that evolve into late-night bacchanals. In fact, the fable of Corduroy Palace is as if a dive bar in the middle of America had a love child with a grand hotel ballroom, an illicit entanglement.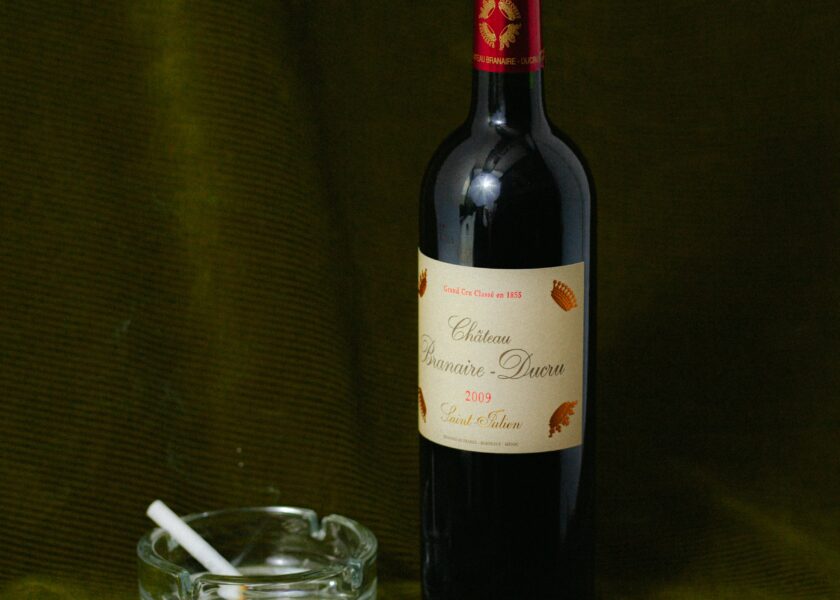 Warm, layered, textured and complex, Corduroy Palace is the latest venture from Singapore-based hospitality pioneer Gibran Baydoun and his hospitality team, boasting a unique bevy of wines, design and classic American fare that is as equally humble as it is over-the-top.
Modelled after a beloved, well-worn corduroy blazer that feels as if it has always been there, doesn't fit quite properly, intentionally effortless, never replaced but only repaired, Corduroy Palace too feels like an everyday watering hole while seamlessly transitioning from afternoon drinks to spirited evenings and late nights. Says Baydoun, owner-founder of BYGB Hospitality Consulting and That's Proper Hospitality, "Corduroy Palace is as familiar as it is unique. Loose, but tight. We focused on things that most don't, so a guest doesn't have to. This is the place you just end up, good days or bad, it fills you up, in more ways than one."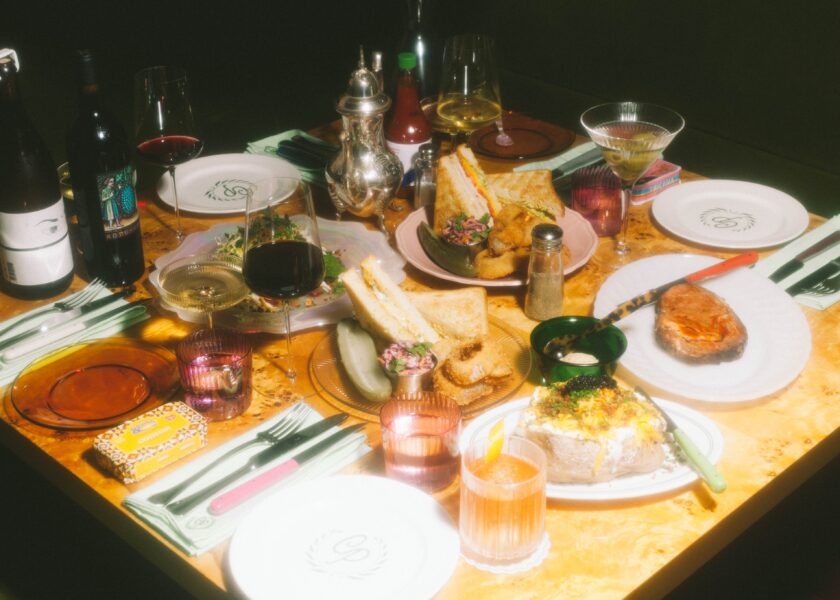 Head sommelier and wine director Marcus Chen (formerly from two-Michelin-starred JAAN by Kirk Westaway and a finalist of WGA's Rising Sommelier of the Year Award) is behind the meticulous selection of wines. Executive chef Ariana Flores (previously executive pastry chef at Nancy Silverton's Osteria Mozza at Marina Bay Sands) helms the kitchen with her menu of timeless classics, while head bartender Nina Kong (formerly from Osteria BBR by Alain Ducasse, Sugarhall and Jigger & Pony) serves up strong, chilled and classic concoctions.
To create a culture that is distinctly Corduroy Palace, Baydoun tapped creative strategist and designer Jason Schlabach and architect Jin Seow to make magic. The mission was to have Corduroy Palace be something you undress, slowly, in layers, thanks to a design that is as authentic as it is original.
First, by finding the alleyway off of an already quiet Gemmill Lane. The entrance is not behind but through Proper Slice BYGB (yes, you can enjoy authentic strombollis or a slice of true New York-styled pizza on your way in or out) through a long maroon awning that feels like a pre-war building on the Upper East Side. Once through the Jean Prouvé-inspired pocket door, a glass block wall leads down a narrow cherry wood panelled hallway to the final reveal.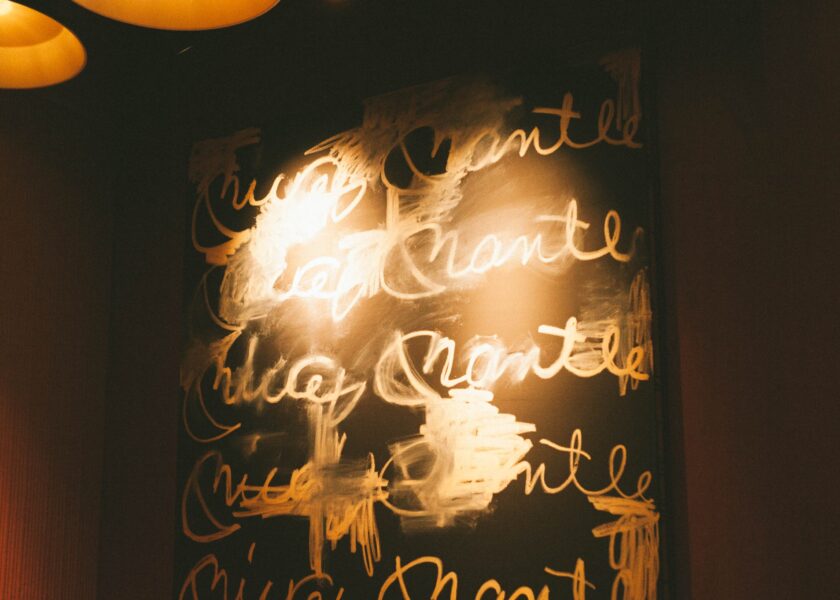 The walls, brick and also graced in Kvadrat Husk Fabric from Denmark are a subtle nod to corduroy fabric. Over 21 different vintage and hand-stitched antique rugs from three different countries curve all the way up to the Brazilian Karmarica granite to grace the floors. What's more, design purists will appreciate the seven large, oversized banquettes all draped in original Pontoglio corduroy fabric – silky and durable, imported from Italy, and an art dating back to the 1800s by original artisans producing corduroy.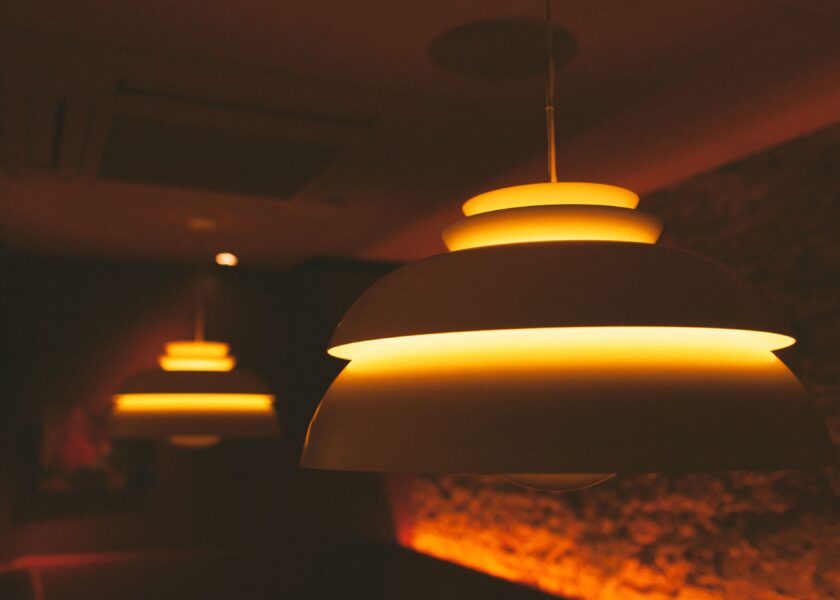 Also authentic is the column in the middle of the space donned in genuine Schulte mohair (the actual fabric used for Steiff teddy bears and purchased directly from Germany, an ode to Baydoun's favourite story, Corduroy by Don Freeman). Tables are in high-gloss multi-lacquered burl wood. They stand below five Jørn Utzon for Fritz Hansen concert pendants, made and designed by Danish architect Utzon (famous for designing the Sydney opera house).
Also from Fritz Hansen are the chairs in the space, and a full-length mirror in the bathroom. Hanging above the bar, which houses a tight collection of spirits and some of Baydoun's favourite books, are industrial lamps with mercury-dipped lightbulbs that create a theatrical yet cosy atmosphere.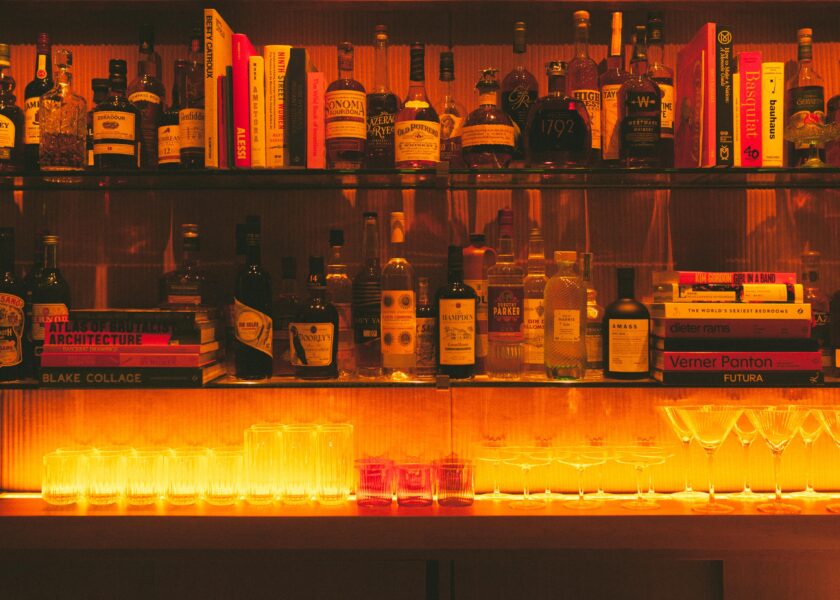 As you head to the hall of wine, 10 cooler doors are lit as a nod to installations of mid-century artist Dan Flavin. P8 "Ifrit", an abstract Gerhard Richter print features prominently while Grand Maternity, a Picasso original, hangs on a bathroom wall. Overall, the maximalist aesthetic of Corduroy Palace is a departure from the calm minimalist neutrality of Lucali BYGB, Baydoun's first restaurant. It's a welcome unique addition to the feathers in his cap.
Wine is of course the heartbeat and pulse of Corduroy Palace, boasting a formulaic "wine bar" organised by region, varietal and price. The unorthodox and visionary wine hall is a first in Singapore, intended for exploration and discovery where guests get to pick directly by the bottle or get recommendations from Chen or any staff on the floor, all trained and certified sommeliers.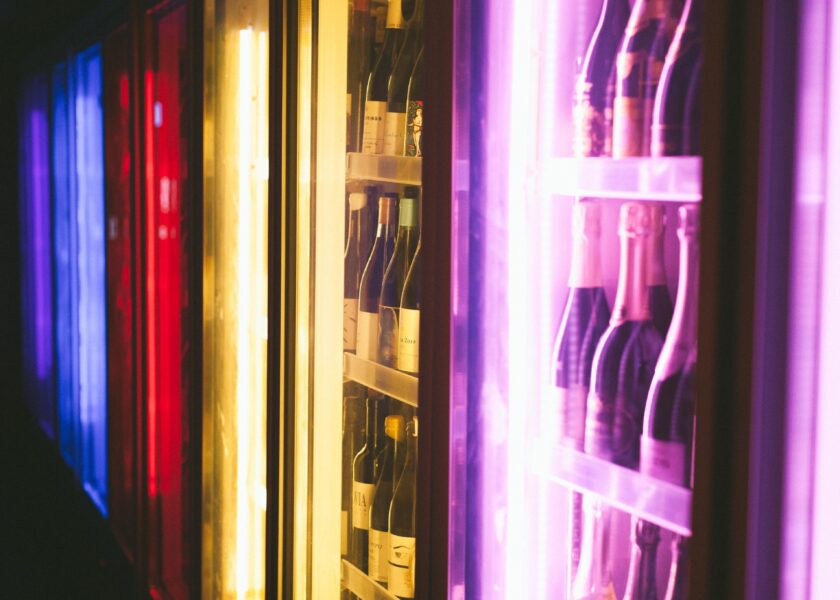 Corduroy Palace has introduced RFID technology for almost 70 wines in their collection. It provides tasting notes and reviews, and even a photo so you can post to your story or save to your personal collection right away. Natural and biodynamic wines live in peaceful coexistence with classic and cult wines of all price ranges. An entire two-door cooler is dedicated to just bubbly which range from $100 to $2,000. The eclectic selection of over 300 bottles curated by Chen oscillates between cult favourites and rare grapes from uncommon regions and everything in between to suit any palate, mood, occasion or budget.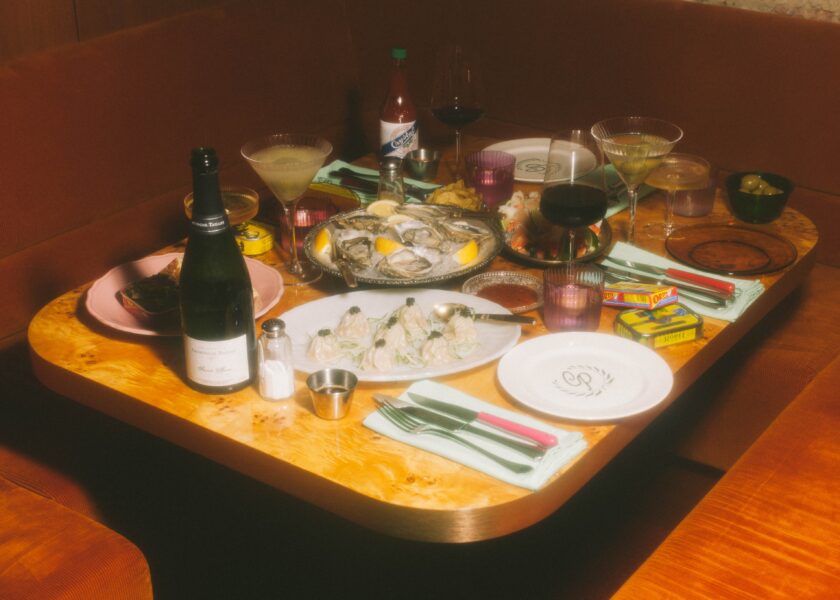 Complementing the wine and design, executive chef Flores' menu selection kicks off with Normandy oysters and caviar-topped You Peng Xiao Long Baos, the team's top two favourites for their own drinking sessions. Caviar is also served tableside on a custom-designed trolley, available by the bump or the whole shebang, as is the moreish steak tartare and crisp Waldorf salad.
Another rarity is the selection of canned fish from Portugal and Spain that one can leisurely enjoy along with the wine. Heartier choices include classic NY-style sandwiches; a 300g Prime Rib with a fully loaded baked potato topped with Oscietra Caviar; fish of the day, and Chicken Cordon Bleu round out the main courses. A must-do for the night is the cheese platter for cheeses from Le Maison Mons by Lauren Mons in Saint Haon le Châtel, France.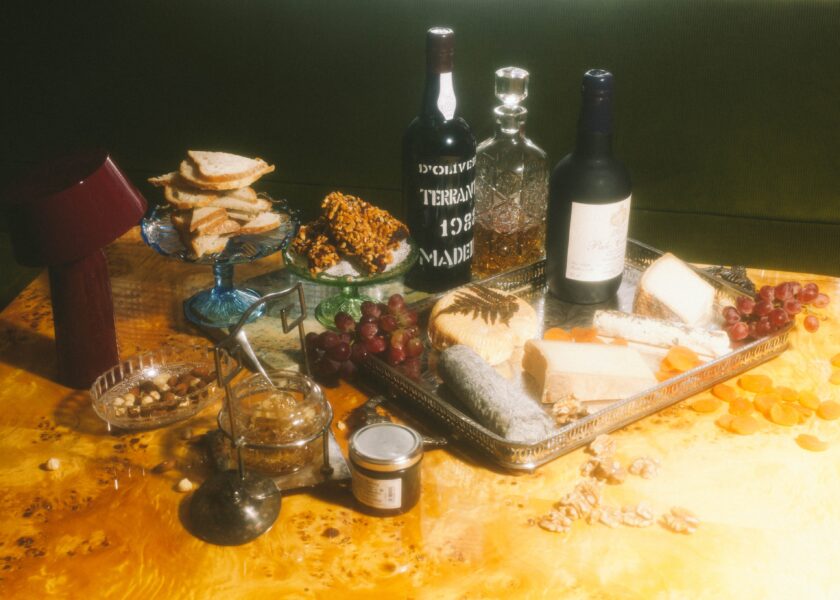 110 Amoy Street, Gemmill Lane (back entrance), Singapore 069930. Tel: 97543897
SHARE