Best Cereal Prawns in Singapore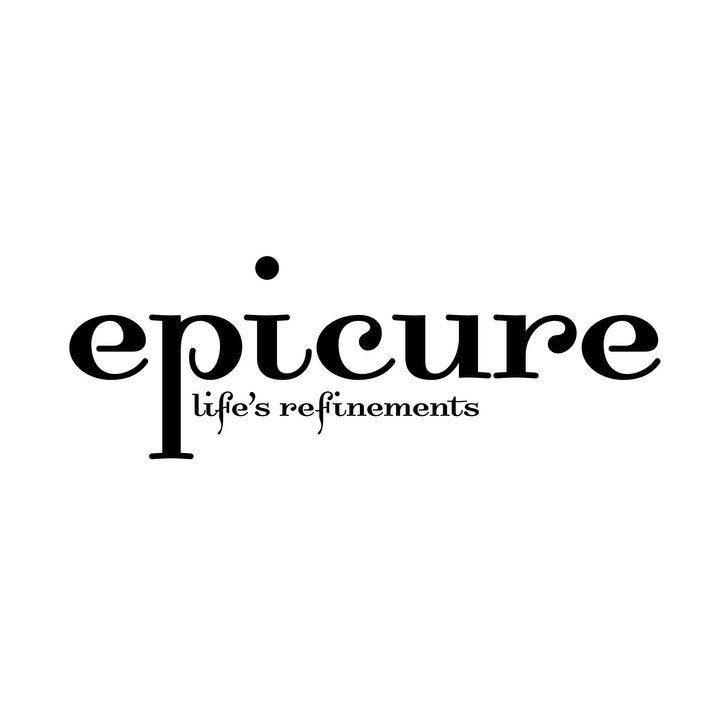 · 4 January 2022
·
Food
Cereal prawns are a quintessential favourite in Chinese restaurants because of its addictive combination of succulent prawns and fragrant, crunchy cereal. Created in our local tze char kitchens, this dish is perfected by deep-frying prawns in an heady mixture of butter, Nestum cereal, curry leaves and chilli for the ultimate gratification. Start your 2016 on a sinful note with our favourite renditions of this classic Singaporean dish.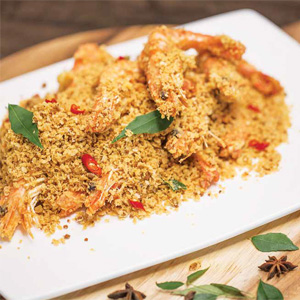 KENG ENG KEE SEAFOOD
The secret to Keng Eng Kee Seafood's extra aromatic cereal prawns lies in its 'butter crumbs', or margarine fried in a wok until it yields a golden, sandy texture. Curry leaves and cereal then get a separate toss in a wok of piping hot margarine to unleash their fragrance, before the butter crumbs and deep-fried tiger prawns are added back into the mix. The result: a sweet, savoury and crunchy mélange as pleasant on the nose as on the palate. #01-136, 124 Bukit Merah Lane 1. Tel: 6272 1038
SZECHUAN COURT
The unassuming cereal prawn is elevated at Szechuan Court with the live prawns deshelled, battered, fried to juicy golden perfection, and served together with a heap of fragrant, crunchy cereal. The cereal is perfumed with crispy slivers of aromatic curry leaves, with chilli padi imparting a gentle heat to the mixture. Level 3, Fairmont Hotel Singapore, 2 Stamford Road. Tel: 6431 6156. Book a table at Szechuan Court with Chope.
LONG BEACH KING
Long Beach lives up to its reputation of serving quality seafood with superbly fresh live prawns in their rendition of the uniquely Singaporean dish. The cereal was slightly oilier than other versions, but it was crispy and had a unique flavour twist thanks to the addition of shredded kaffir lime leaves and fragrant citrus peel. 220 Stadium Boulevard. Tel: 6344 7722
SI CHUAN DOU HUA
We really enjoyed the spicy kick that came with Si Chuan Dou Hua's cereal prawns. The live tiger prawns from Malaysia are first coated with egg and corn starch then fried, shell on, with crisp Nestum cereal, curry leaves, Planta butter, Nespray milk powder, sugar, chicken powder and of course, chilli padi. The result is a platter of perfectly cooked prawns, fragrant with curry leaves and a lingering heat. The shells are neatly slit for added convenience so their outer layer can be easily removed with a fork and knife. #60-01 UOB Plaza 1, 80 Raffles Place. Tel: 6535 6006. Book a table at Si Chuan Dou Hua with Chope.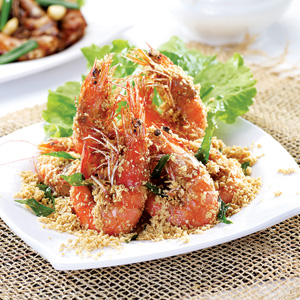 BIG EATER SEAFOOD RESTAURANT
Our small serving of cereal prawns arrived piping hot with six plump prawns covered in a heap of crisp fried cereal. The fine cereal crumbs gave off an inviting aroma and carried a good hint of the curry leaves they were fried with. Even if you don't fancy eating prawn shells, the shells' crispiness and lip-smacking cereal here may make you a convert. 34 Jalan Pari Burong. Tel: 6245 7268
NEW UBIN SEAFOOD
Known for their heart attack fried rice, this eatery also dishes up a hearty serving of cereal prawns that comprises enormous and succulent Ang Ka prawns resting atop a generous bed of crispy golden crumbs. The cereal has a fiery kick and retains its satisfying crunch throughout the meal. #01-174 Sin Ming Industrial Estate Sector A, Blk 27 Sin Ming Road. Tel: 6466 9558. Book a table at New Ubin Seafood with Chope.
CRAB AT BAY
This recent opening joins a host of other seafood eateries along the same stretch of road, and already impresses with its offerings. In particular, their fried live prawns are well coated in a tempura-esque crust that is buttery and crisp, and accompanied by curry leaves, pops of sugar and punches of chilli. 548 Macpherson Road. Tel: 6743 8366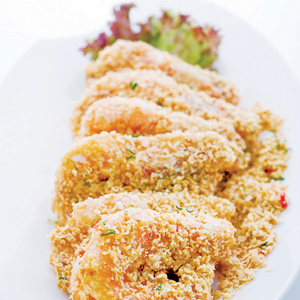 JIN SHAN LOU
Jin Shan Lou's moreish cereal prawns get a flavour boost thanks to the addition of salted egg yolk. Other aromatic ingredients include pandan leaves, coconut and milk powder. The live tiger prawns are deep-fried shell on with the light Nestum cereal mix, arriving piping hot at the table with chilli padi for a piquant kick. The prawns are succulent, firm and fresh on their own, requiring no prior marination. Each mouthful is a textural delight, with sweet, salty and buttery flavours, and a playful hint of citrus and creamy salted egg. Our only gripe is that there was insufficient cereal to chow down with our rice. #01-05 Marina Bay Sands Hotel Tower 2, 1 Bayfront Avenue. Tel: 6688 7733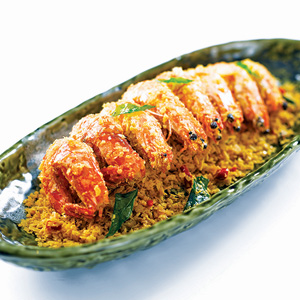 TUNGLOK SEAFOOD
Live tiger prawns are deep-fried to a golden crisp then tossed in a batter of egg yolk, curry leaves and cereal to result in TungLok Seafood's luscious, glistening plate of cereal prawns that smells as glorious as it looks. The prawns' milky sweetness is balanced out with just the right amount of heat from chilli padi and a sprinkle of curry powder. #11-05 Orchard Central, 181 Orchard Road. Tel: 6834 4888
PENANG SEAFOOD RESTAURANT
This humble shophouse restaurant might be more well known for their assam laksa and char kway teow, but a case can be made for their cereal prawns too. We were immediately alerted to its presence by enticingly buttery aromas before it landed on the table. Although both curry leaves and chilli slices were a tad old and didn't impart as much fragrance as we'd like, the lightly sweet and thin, flaky golden cereal that gave way to a satisfyingly loud crunch more than made up for the dish's shortcomings. 76 Geylang Lorong 25A. Tel: 6841 3002
SHARE