A photographic essay
The Italian Kitchen & Bar looks up-to-the-minute with an accessible and comfortable vibe. Lin Weiwen studies its relaxed, mod style.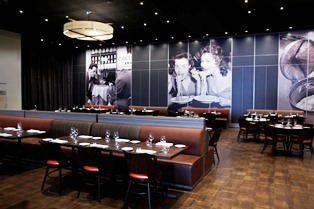 Upon entering The Italian Kitchen & Bar, you'd notice the large black and white photos that are spread across an entire wall: one features a young man with a large pot of food hung from his neck; another shows two men at a wine bar, with one of them having had a glass too many; and a third depicts two ladies enjoying pasta. The portraits—looming over diners in their plush seats—exudes a sense of quirkiness and rusticity, resembling snapshots from a Federico Fellini film, like La Strada.
Cullinan reveals that consultant chef Danny Russo, who is of Italian desceny, worked with Coast Design, a visual communications agency, to get his hands on pictures that "reflected the authenticity and humour of Italian culture". Occupying a portion of what was once thefunction room space in the Easts League Club (the home of the Sydney Roosters rugby team), the restaurant has to deal with an existing tall, movable, bare wall, and the oversized images allowed Cullinan to take advantage of that "blank canvas".
Excerpt from the November issue of epicure.