Best cold brew coffee in Singapore
Cold brew coffee, a more refreshing quencher than your usual java, is the go-to beverage of the trend-chasing millennial set. The extraction process, which is simple but protracted, involves either fully immersing the coffee beans in cold water or steadily dripping water through the beans. A much longer brew time – compared to normal coffee – of two to 24 hours, and the specific use of cold filtered water to a larger ratio of grounds result in syrupy, richer concoctions and more nuanced flavours, with none of the bitter oils and sharp fatty acids you get from brewing with hot water. One of the best ways to judge whether a cold brew is made well is a smooth, pleasant aftertaste. These are the places that passed the test.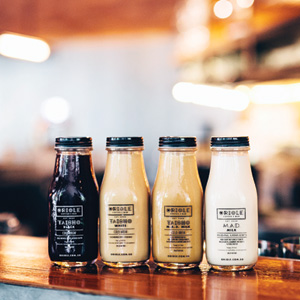 *Updated on Wednesday, 12 Oct 2016
ORIOLE COFFEE + BAR
Oriole serves up a dairy-free white cold brew in the form of its Taisho M.A.D. Milk. Pressed in-house from blended macadamias, almonds and dates, the rich concoction is double sieved before it is combined with the establishment's signature cold brew. It is said that iced coffee was introduced in Japan during the Taisho era, when proprietors invented original items to stay competitive – an apt moniker, as Oriole is touted as the first café in Singapore to successfully incorporate nut milk coffee. #01-01 Pan Pacific Serviced Suites, 96 Somerset Road. Tel: 6238 8348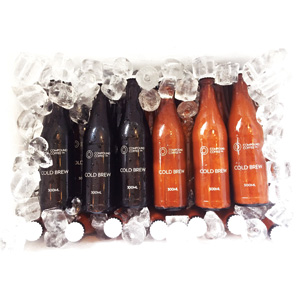 COMPOUND COFFEE
This speciality roaster and coffee bar – which is opening a new shop in Kaki Bukit in June
– can deliver their 300ml bottled brews to your doorstep. We prefer their black cuppa brewed from Sidamo Guji beans from Ethiopia with its sweet strawberry jam and intense dark chocolate notes. Relatively weighty on the palate, the brew makes for a deliciously velvety mouthful of tea-like full-bodied flavour that leaves a very bright but not overly acidic aftertaste. Order from compoundcoffee.com. #01-08 The Interlace, 180 Depot Road. Tel: 9022 7242. Book a table at Compound Coffee with Chope. 
TINY ROASTER
The folks behind Tiny Roaster, a shoebox-
sized unit at Sunset Way, not only brews some seriously good coffee, but also roasts their
own beans, which are procured from Panama, Ethiopia and Kenya. There are no espresso- based drinks and everything is hand-brewed via drippers or Aeropress. Sample the occasionally changing cold brew – the Kenya Wakulima when we visited – on site instead of having the bottled version to go. The drink is served with a frozen ball of coffee to chill it even further without diluting its floral, mildly acidic notes. Over the lingering finish, we detected just the slightest hint of maple. #01-62, 106 Clementi Street 12.
DUTCH COLONY COFFEE CO.
Fancy carbonated bottled coffee? While it may sound strange, the brew tastes surprisingly pleasant, with a light, cool fizziness and barely a hint of acidity or bitterness. Raw sugar contributes a mild, balanced sweetness of caramel and banana notes. A refreshing quencher for a hot, sunny day. 113 Frankel Avenue. Tel: 6448 5852
JIMMY MONKEY CAFÉ & BAR
Opened by Melbournian native Michael Ryan, this industrial-style space tucked in the leafy One North business park takes their beans from independent and Rainforest Alliance farms all over the world. Though they're more well-known for espressos, their cold brew is also worth the trip – it has mellow and elegant chocolaty flavours, and is served with ice to coax out its subtle acidity. #01-51 One-North Residences, 9 One-North Gateway. Tel: 6777 8470
GRAIN TRADERS
With its addictive nutty nuances, Grain Traders' white cold brew might be an even bigger lure than their hearty bowls. The dense and unctuously creamy java – a blend of beans from the Thippanahalli Estate in India and the Brazilian Ponto Alegre region, hot-air roasted by Papa Palheta – boasts the stronger body typical of South American beans. It's balanced out with milk, cream and just a hint of sugar so that it goes down smoothly. #01-01/02/03 CapitaGreen, 138 Market Street. Tel: 6348 6559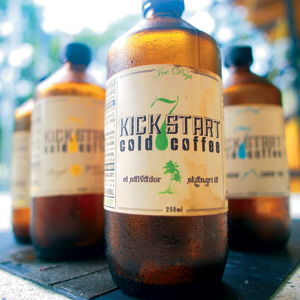 7KICKSTART
This speciality coffee café at the Singapore Art Museum goes for Aesop-like aesthetics by serving their single origin, ice-drip cold brews in 250ml brown apothecary bottles. They offer six varieties and a weekly special – our favourite is the rich, layered El Salvador Shangri-La. Instead of just using room temperature or cold water, 7Kickstart extracts the nutty and toffee nuances from the beans by shocking the grinds with ice. 71 Bras Basah Road. Tel: 8389 7877
COMMON MAN COFFEE ROASTERS
Artfully presented like a whisky and topped with a sliver of lemon, their cold brew, which uses beans from the Acacia Hills Estate in Tanzania, kicks in sharply. It then slowly mellows out to a delicate balanced body and smooth aftertaste. The lemon accentuates the moderately acidic brew while providing a refreshing citrus scent. #01-00, 22 Martin Road. Tel: 6836 4695
JEWEL CAFÉ AND BAR
The cold brew from this charming space is made only with single-origin beans in a ratio of 1:6 over a period of eight to 10 hours, giving the cup a unique sweetness. The different varieties of coffee beans that change every now and then include Guatemalan, Honduran and Ethiopian. We recommend the Brazil Fazenda Rainha, where the smooth, creamy half-and-half highlights a lingering bittersweet aftertaste of milk chocolate and honey-roasted peanuts. 129 Rangoon Road. Tel: 6298 9216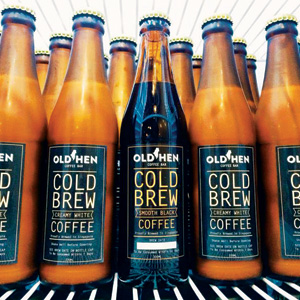 OLD HEN COFFEE BAR
Old Hen's cold brew is made using the Four Chairs blend from Nylon Coffee roasters,
which comprises beans from El Salvador and Nicaragua. Expect a soft, gentle mouthfeel with hints of dark cherries, dried fruits and hazelnuts that slides down smoothly. 88 Rangoon Road. Tel: 6341 5458