V-Dining wants to tease diners with unconventional dishes
Newly appointed Executive Chef John-Paul Fiechtner redefines luxury dining with soulful interpretations.
V-Dining's new Executive Chef John-Paul Fiechtner invites us to dine with a new sensibility; an approach in culinary appreciation that is about humbleness, and arousing interest by presenting the unfamiliar that hints of the familiar.
Sounds like a tease? Quite right, but his food is not meant to be provocative or pretentious. Rather, it gets you to relook the ordinary in a new way, and to appreciate the luxury of commonality. Even the ambient music at the restaurant invites you to rethink your expectation of the norm; who would have thought that hip hop music would inspire a chef to produce delicate dishes with such harmony of flavours and textures.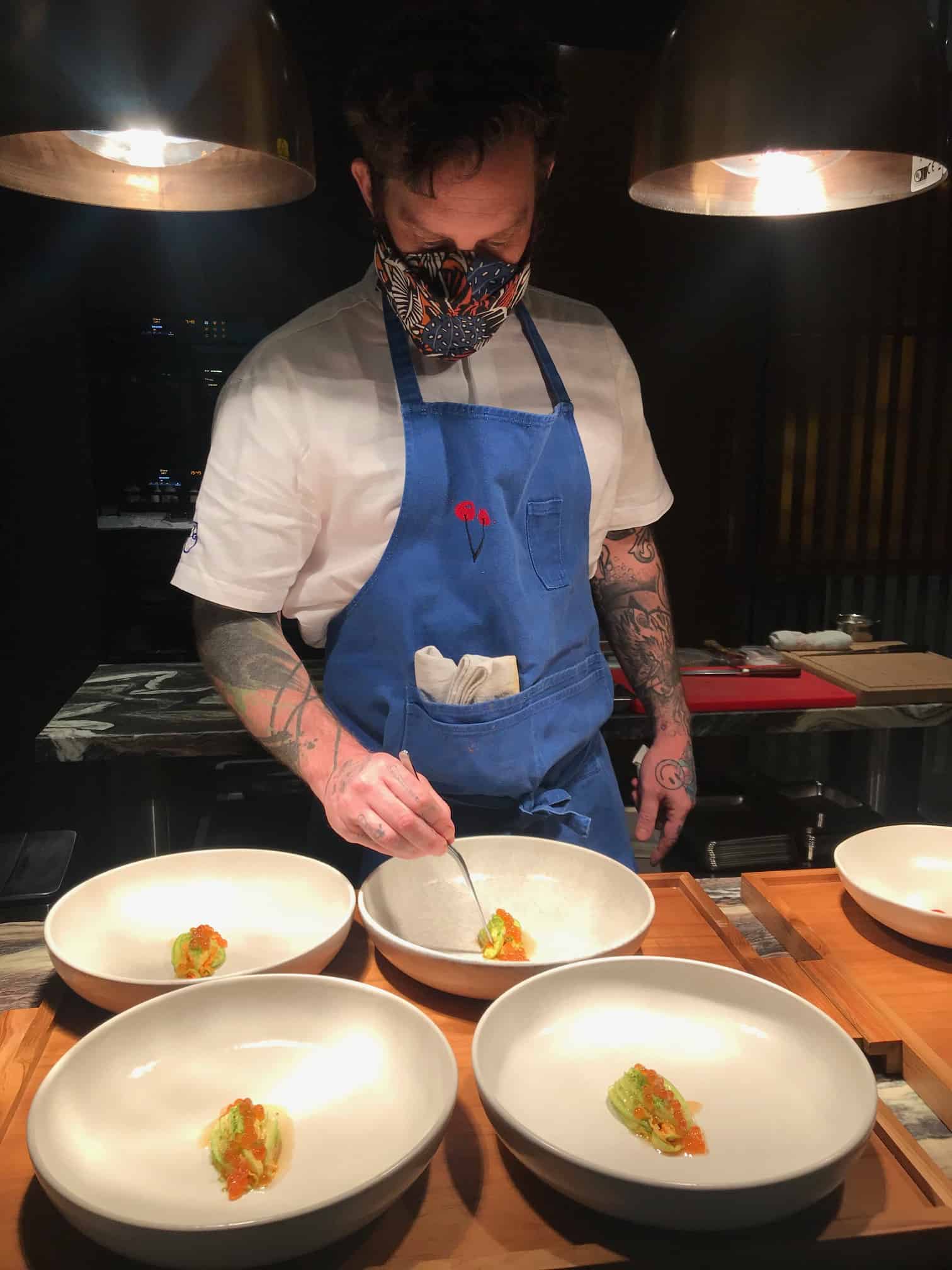 The hors d'oeuvres of Oyster Pearl with Nasturtium Kimchi and Pickled Fig Leaf set the stage with their bold statements. Instead of presenting a whole oyster in all its glory, Chef John-Paul chose to create a 'pearl' from oyster ice cream, dipped in cocoa butter and silver shimmer, topped with a nasturdium flower and kimchi for a mild peppery-tangy taste. Eaten like a ganache, the cold pop of flavour in the mouth was a refreshing start to the meal. The simple fig leaf was elevated and given centre stage, enjoyed with a dusting of dried shiitake powder and roasted caramel-like lactose powder, supported by bold flavours from the scallop marmalade of dried scallops, pine nuts and sake which hit my palate as I bit into the fig leaf. By highlighting the leave instead of the fruit, Chef John-Paul gave the dish a nice soft crunch to the mouthfeel, and offered a flavour profile that was unexpected and satisfyingly savory.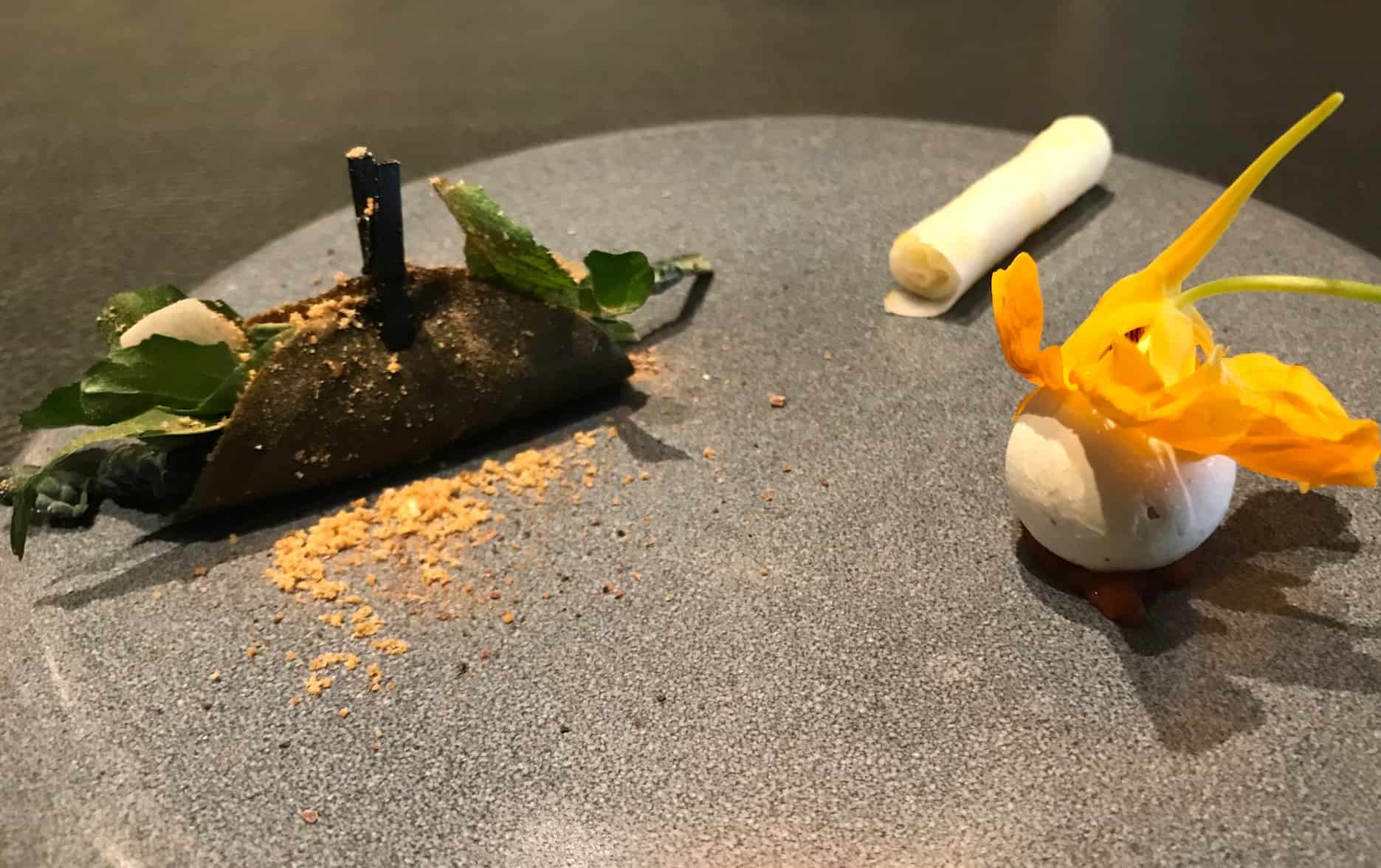 I thoroughly enjoyed the perspectives that Chef John-Paul was showing us, and it continued with the Braised Taro with Parmesan, Onion & Braising Liquor. It was another transformation of a humble ingredient; the braised taro was folded and pan-fried with butter, served with parmesan wrapped inside for a sweet-savoury hit, and dressed with braising stock, pickled onion buds, and crisp dried onion skin for a big umami finish.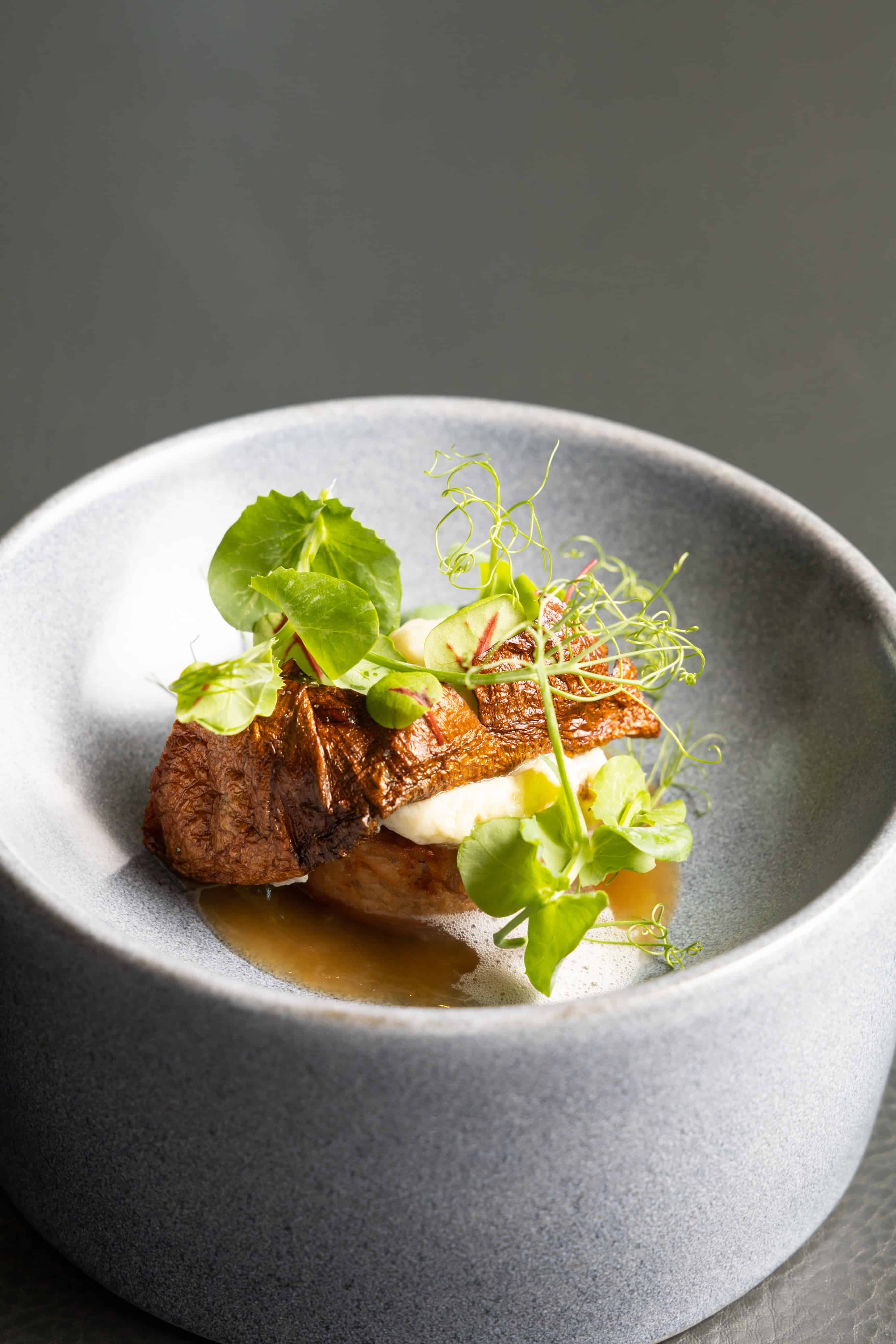 The Mud Crab with Sour Cream and Pickled Rhubarb that followed after was just as unexpected and exquisite in flavour and form; the meat was hidden by the raw zucchini flower glazed with tomato and dashi honey and topped with ikura. But the taste of sweet crab meat was unmistakably bold on the palate when I took a bite, intensified by the savoury crab oil made by soaking the crab shell in pomace oil for a few days. Served on the side was warmed cherry tomatoes soaked in crab oil, fresh raspberries and fennel flowers to prolong the vibrant notes of the dish. Chef John-Paul showed he's quite the tease in preferring not to show the main ingredient in his presentation but to play with other elements to provide an unexpected twist to what we expect to taste, which is something that really hit home with me.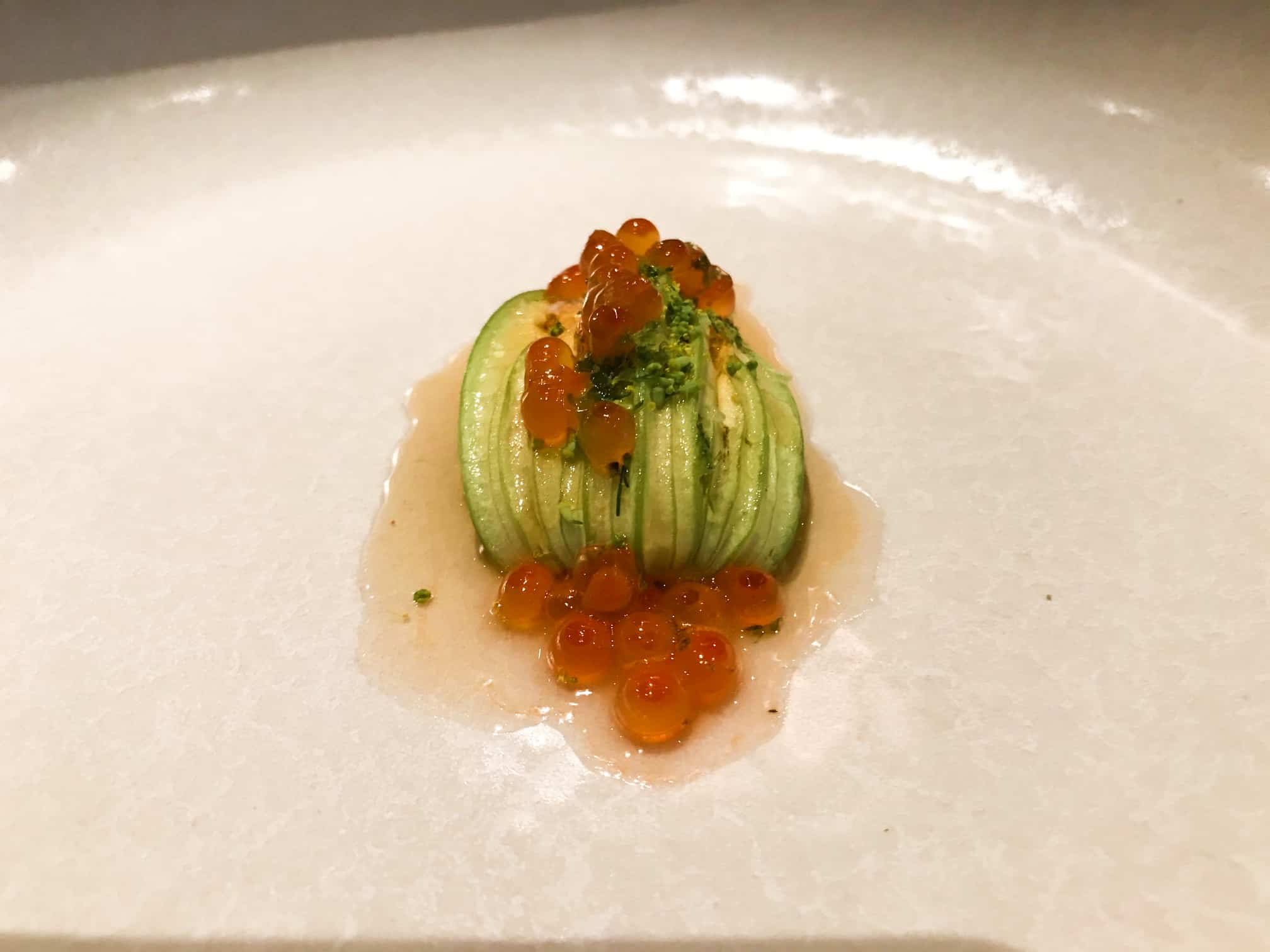 His interpretation of a bouillabaisse was just as creative in the Rouget with Seeds, Rye and Fermented Pepper. The rouget was aged for a week to bring out the depth of its flavour and big umami notes, while the pumpkin and sunflower seeds were braised with saffron and a spice mix of lemongrass, ginger, garlic and shallot saffron to give it a perky Asian flavour profile. The stock that dressed the rouget gave it the "wow" factor; made from rouget heads and infused with toasted rye and red capsicum that was fermented and cooked into a paste, the resulting stock brought to mind the Provencal-inspired rouille sauce in a bouillabaisse. It was a flavour powerhouse.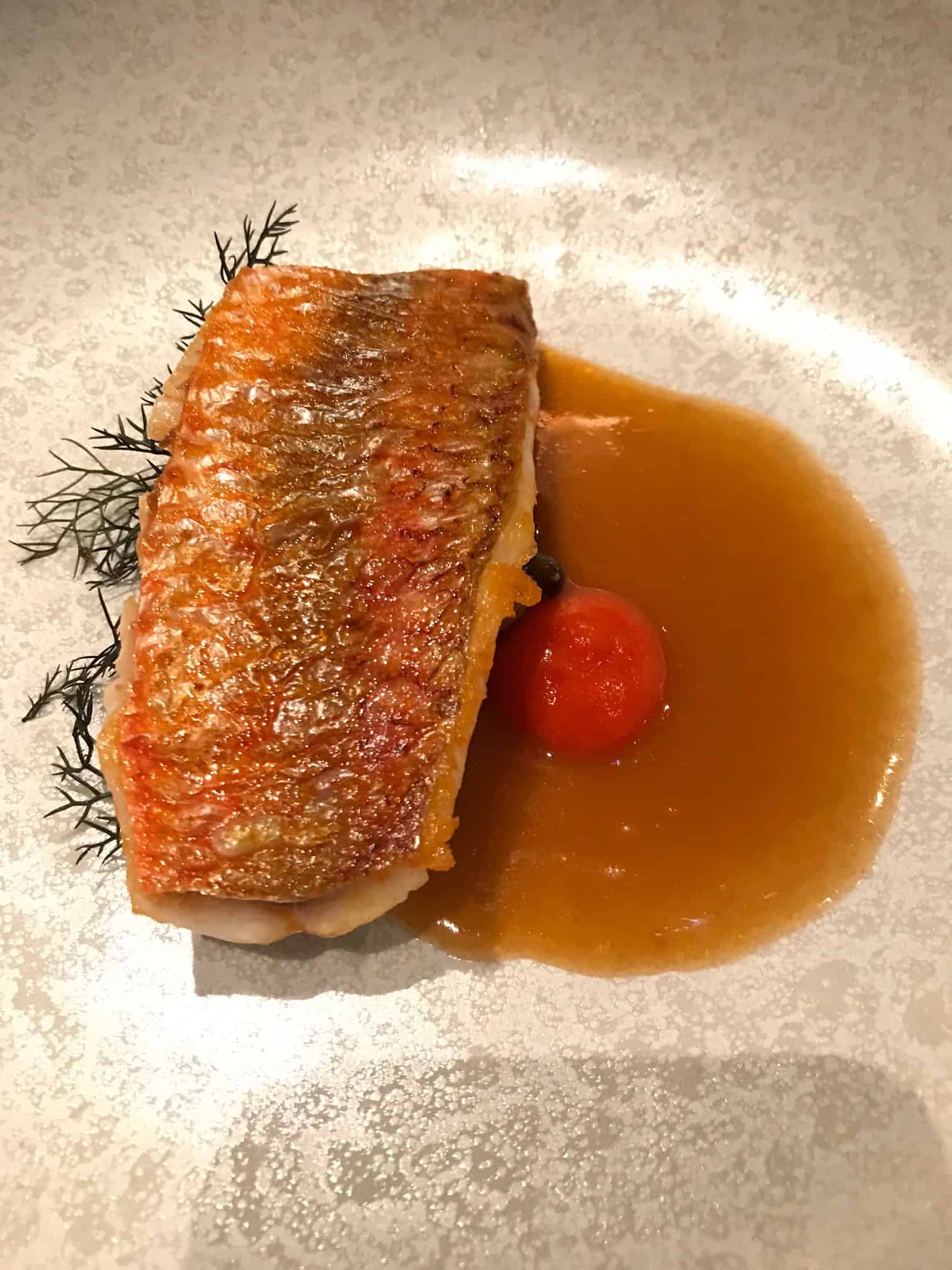 These new dishes may be enjoyed with either alcohol- or tea-pairing options. For alcohol-pairing, enjoy a range of tipples from cider and sake to Gamay and white port at an additional $88++.  Creative tea-pairing offers blends such as White Ginger and Pear, Kimba, Pomegranate Oolong and Black Cacao at an additional $36++.
The three-course executive set lunch starts at $48, while the seven-course lunch and dinner menu starts at $128++.
Scotts Square, #03-13, 6 Scotts Road. Tel: 6950 4868.