Best eclairs in Singapore
This French dessert demands refined pastry skill as one must perfect the pâte à choux, crème pâtissière and ganache. Here are the ones we liked best.
MAISON KAYSER
French master baker Eric Kayser may have earned a sterling reputation for his breads—which are naturally fermented with liquid levain—but his chocolate éclair is another reason why locals rejoiced at the opening of this famed Parisan patisserie. The choux pastry boasts a deep golden tan and impresses on first bite, its crisp airy shell giving way to a creamy mousse-like filling. A thick layer of cold chocolate tops off this dark, decadent dessert.  #B1-09 Scotts Square, 6 Scotts Road. Tel: 6636 3672
THE ATRIUM DELI 
A popular hotspot for chocolate éclairs, imagine our disappointment when we learned that they can no longer be bought over the counter. Think crisp pastry, thick coat of chocolate fudge drizzling down the sides and nutty almond bits. Pan Pacific Singapore's chef also shares that the éclairs' pastry cream is made of Valrhona 70 percent chocolate couverture. Not to worry though as fans can still get their share of the hotel's crowd-pleasing pastry. Simply order three days in advance (minimum of five éclairs for each order). 7 Raffles Boulevard. Tel: 6826 8240
THE FRENCH BAKERY
More patisserie than boulangerie, The French Bakery is a small hole in the wall bakery that offers a good selection of delicate mousse cakes and savoury puff pastries but it's the éclairs that stand out at this humble shop. The word éclair comes directly from a French word which means "lightning" and judging from the speed which we polished off the coffee, vanilla and chocolate tube pastries, it's easy to see why it was named so. 148 East Coast Road. Tel: 6344 6826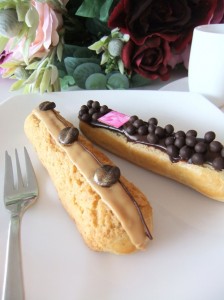 CENTRE PS
The slim chocolate batons here boast a light choux pastry, Valrhona chocolate, and beads of chocolate pearls on top for an added textural crunch that contrasts with the smooth, velvety cream. Also worth sinking your teeth into is the coffee éclair dotted with coffee beans, gold dust, and lined with a caramel coloured fondant. 78 Guan Chuan Street, #01-43. Tel: 6220 1285
HEDIARD CAFÉ-BOUTIQUE
We were torn between Hediard's Coffee Cardamom and Chocolate Candied Orange Peel éclairs but the former had that little extra edge with its espresso-scented cream, which is made from Hediard's blend of coffee beans used for the restaurant. The pastry, whose secret recipe is handed down by former Parisian chef Vincent Carayon, is one for sugar addicts: a thick icing that sticks to your teeth, and a generous amount of aromatic, velvety filling that oozes into your mouth. 123-125 Tanglin Road,Tudor Court. Tel: 6333 6683
BEARD PAPA SWEETS
With its generous coating of cocoa, Beard Papa Sweets' chocolate éclair looks and tastes as if it has been dipped into a ginormous pot of chocolate fondue. We really like how its airy, thin puff holds up well and cradles the moist chocolate custard within: in our fingers, the pastry feels like a delicate, elongated bubble ready to unleash its delicious, creamy surprise. #B2-K14, VivoCity. Tel: 6376 9406
THE SWISS BÄCKER
[CLOSED]
We can't help but envy the residents of Frankel Avenue as they have this long-running café in their neighbourhood that doles out freshly baked pastries daily, and, among them, a trio of tempting éclair flavours. The Dark Chocolate stands out for its slightly bittersweet icing that isn't cloying even after multiple bites. The chocolate cream filling in the éclair may not be as generously thick as we would have liked, but it makes up for that with its luscious texture and irresistibly aromatic cocoa taste. 97 Frankel Avenue. Tel: 6441 8766
ISETAN SCOTTS' SUPERMARKET
These petite chocolate eclairs stock at the supermarket's fresh food counter came as a surprise when we tried them. And we are glad we did. Sourced from Japan by local wholesaler Tanesei Trading Pte Ltd, these bite-sized treats can only be found at this outlet. The highlight is undoubtedly its generous milk and almost custard-like filling; we like the party pack of six which can be to be shared among fellow dessert lovers. 350 Orchard Road. Tel: 6733 1111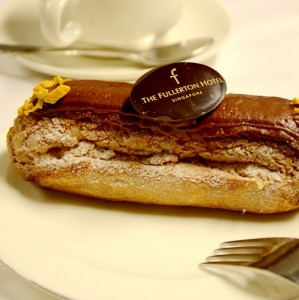 THE FULLERTON HOTEL'S CAKE BOUTIQUE
The hotel's pastry stands out from the pack for its non-predictable flavours. We tried their Hazelnut Éclair and relished the rich, nutty cream filling made from pure hazelnut paste. The golden-brown choux puff pastry is also decorated with a dark Valrhona Guanaja chocolate glaze, garnished with cocoa nibs on both ends and a vanilla sablage topper for that finishing touch. For those who prefer something more exotic, green tea éclairs can also be custom-baked in advance. 1 Fullerton Square. Tel: 6877 8178
BRUNETTI
Savouring Brunetti Singapore's chocolate éclair is similar to having two of our favourite desserts in one. Living up to the reputation of its sister branch in Melbourne, the jumbo-sized oblong confection impressed us with its light chocolate filling, which tasted like a custard pudding of sorts, and is best enjoyed with their Italian Hot Chocolate or Cappucino. #01-35, Tanglin Mall. Tel: 6733 9088. Book a table at Brunetti with Chope.