Negroni Week returns with twist this September
Get acquainted with new products such as Negroni Bon Bons and bottling of Campari Negroni RTE
In the sixth annual edition of Negroni Week to take place in Singapore (and eight edition worldwide), expect many changes afoot.
Donate for a cause
For one, this digital festival will extend to the rest of the month of September, instead of one week from 14-20 September as originally planned. Second, as an event that was created by Campari and Imbibe Magazine as an international charity initiative, this year the festival will instead raise donations for pandemic-affected communities and the hard-hit F&B industry.
In Singapore, Negroni Week's charity partner is Majulah Movement, a home-grown initiative with a donation platform. Members of the public will be able to purchase Set Meals and Treat Packs for people in need, such as migrant friends, elderly from low income families, healthcare frontliners and workers in the F&B industry. Each donation of $10 will cover the cost of 1 to 2 meals or a snack pack that goes directly to support beneficiaries.
More to eat and drink
Whether you prefer to drink at your favourite bar or order a Negroni to your doorstep, there are almost two dozen bars offering a creative Negroni this season.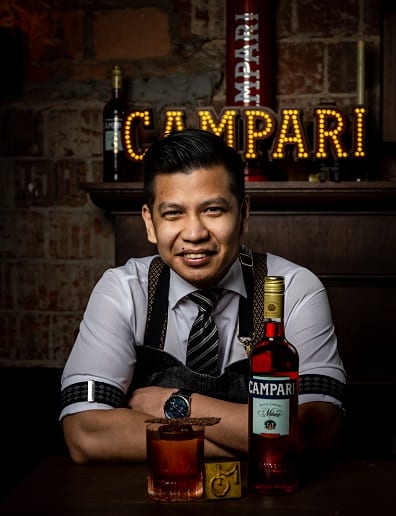 Tim Rosete from Manhattan Bar will be featuring different Negroni's from around the world, with due focus on the Polem Negroni ($24, 100ml), a creation from Dr. Stravinsky Cocktail Bar in Barcelona. It has a bergamot liqueur infusion for a citrus finish. Eduardo Zamora from Smoke & Mirrors has a cocktail based on Georgette Chen's Bananas in a Basket oil painting, called Bananas in a Glass ($30, 100ml). He infuses Cognac with dried banana and adds salted banana liqueur in his version. Adrian Besa from MO Bar (image, left) will be featuring the Nomadic Forager, a coffee twist on the Negroni using lemon myrtle vodka and Mr Black coffee liqueur ($18, 140ml).
Check in with these bars (not exhaustive) for their offerings as well: Anti:dote, Barbary Coast, Employees Only, Bar MF by Burger & Lobster, Origin Bar, Publico, Shin Gi Tai, Tess Bar & Kitchen, and The Bar at 15 Stamford.
You can also do your part when you buy a box of Negroni Bon Bons from Benns Ethicoa. The limited-edition release comes with two boozy flavours, classic Negroni with dark chocolate shell and Negroni Bianco with fresh white chocolate shell. The Negroni Bianco Chocolate Bon Bon, in particular, is a delightful morsel – it comprises gin and sweet vermouth white chocolate ganache and a core of Campari Pate de Fruit. "Our involvement in Negroni Week this year has not only given us a chance to give back but also to add an additional layer of thought to our chocolates." says Jerome Penafort, director of Benns Ethicoa.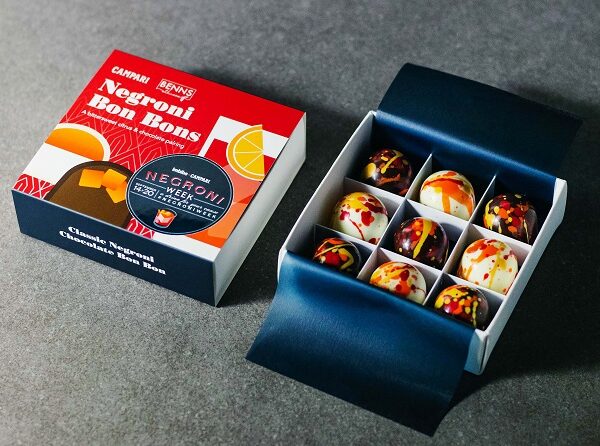 10% of proceeds from each box goes to supporting Majulah Movement, while Campari is also pledging $1 on every box sold.
Discover the new Campari Negroni RTE
And finally, if you prefer to experiment with your own Negronis, Campari has released its all-new Campari Negroni RTE, a bottling of Negroni that's Ready-to-drink, as its name implies. It contains all the elements for a balanced Negroni, from the spice of juniper berries to the wormwood and bitter root finish. However, you can still finish it your way, so get creative with curry leaves, rosemary, grapefruit, juice, beer, bitters or anything else you enjoy. The Negroni RTE (500ml) is available now on Red Mart and select Cold Storage outlets at the introductory price of $38 instead of $45.
Singapore's Negroni Week takes place 14-20 September, with an extension to the end of the month.
negroniweek.com