Forward looking tradition
French winemakers Marcel and Philippe Guigal are not ones who'd scoff at their New World counterparts.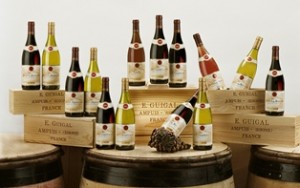 Marcel and Philippe see themselves as traditional winemakers, but they are not ones to shut the door on modern techniques. "Looking back all the time is no way to run a business," remarks Philippe. That explains why they have "one of the most robotised bottling lines" in the world, which improves bottling speed and accuracy. "People come to E.Guigal expecting a very traditional picture, and they are surprised when they see that we have seven robots manning the bottling line," Philippe says.
Although Marcel and Philippe have their own strong views on making wine, they are anything but elitist or ethnocentric. "The French think they are special; they don't drink many foreign wines, even outside France," says Philippe. "But my father and I are very unusual French people." Whenever time permits, the family travels to Australia, visiting the country's wineries and tasting Shiraz (Syrah) wines to learn more about the characteristics of this similar yet different varietal.
"It's not necessary to compare our Syrah with [Australia's] and say which one is better," remarks Philippe. "There are good and bad wines everywhere. Perfection does not exist in wine."
Excerpt from September issue of epicure