Dessert wines
Whether it is a modern style Sauternes, a herbaceous Italian Vin Santo, or a fresh Riesling Auslese, there's a sweet wine to meet your palate.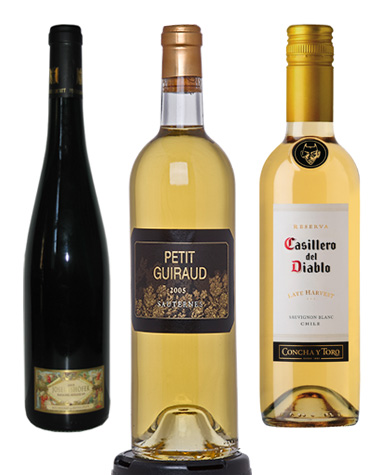 Easy on the palate Even those who don't usually drink sweet wines would enjoy the Kesselstatt Josephshofer Riesling Auslese 2011—it's not overly saccharine. Grapes are planted on steep south facing slopes of the Scharzhofberg vineyard lying beside the Saar River to give this quaff a fruity perfume of honeysuckle, white peach, and a hint of salty minerality. With a balanced acidity, this Riesling of medium sweetness does not need to be served during the last course. The elegance of the wine lives up to the vineyard's reputation. $100. Available from Wein & Vin.
To drink now The Concha Y Toro Casillero del Diablo Late Harvest Sauvignon Blanc 2010 is a sweet Sauvignon Blanc wine. All the flavours of the grape are intensified and condensed into a golden nectar reminiscent of rambutans steeped in syrup. The nuttiness of the Sauvignon Blanc grape is deep while strong, lingering acidity keeps the sweetness in check. $23.40 (375ml). Available from VCT Group of Wineries Asia.
To gift a friend The Petit Guiraud 2005 gave off whiffs of pineapple marmalade cooking over a stove and thanks to botrytised berries, notes of nectarines and ripe peach mingle happily with tropical fruit flavour. Made partly from Sémillon and Sauvignon Blanc grapes fermented in temperature-controlled stainless steel vats and partly from batches fermented in new French oak barrels, this modern style Sauternes has more freshness and vitality when compared to other Sauternes produced from this Grand Cru vineyard. $70. Available from Grand Vin
Excerpt from the September 2013 issue of epicure.