What Oktoberfest looks like this year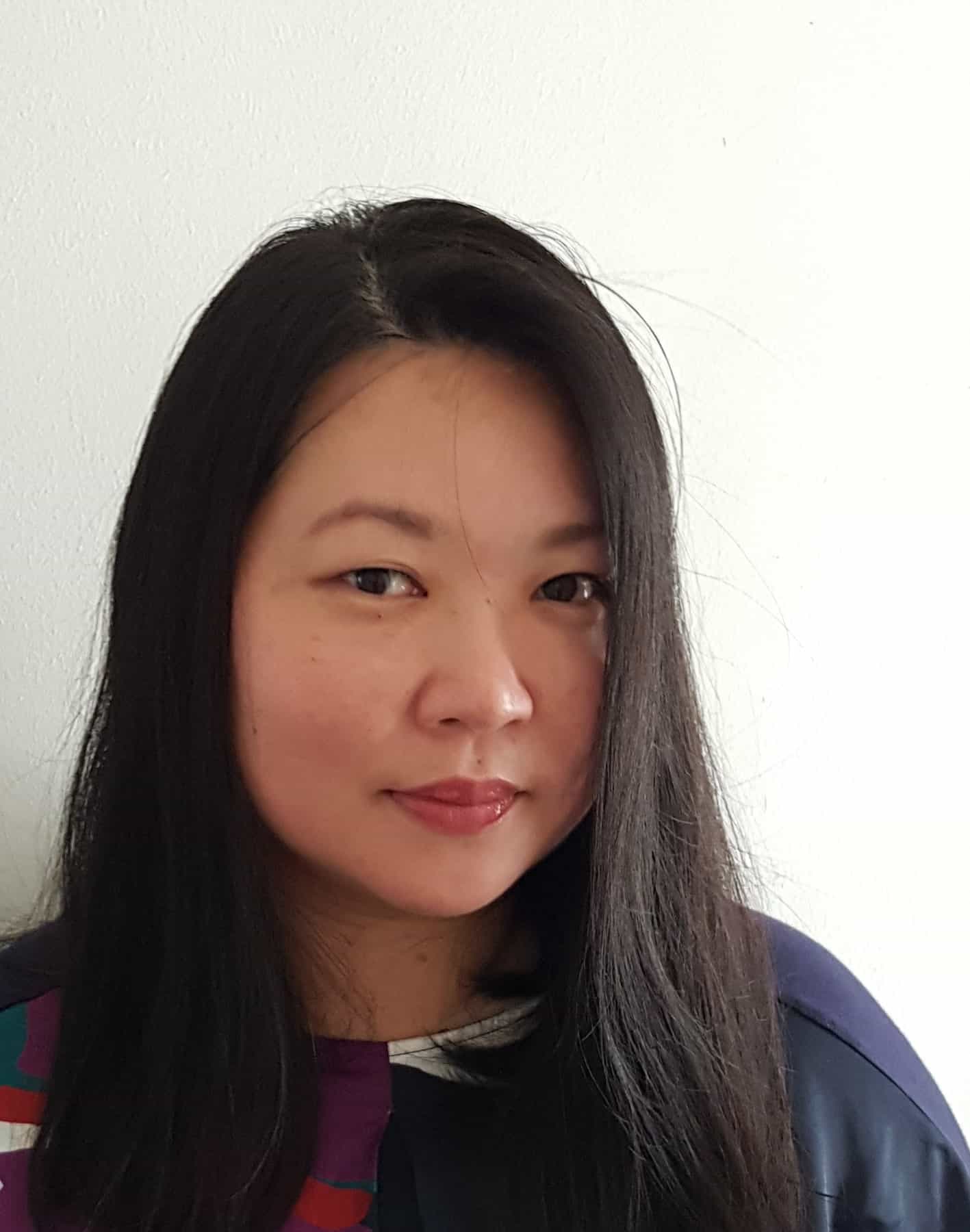 · 30 September 2020
·
Happenings
Pretzels, pork knuckles and beer will still flow freely, but on a smaller and quieter scale
The massive festival in Munich won't be taking place physically this year, but beer glasses will still be raised across the globe in honour of the world's largest beer festival. The fest typically takes place in mid-September till the first Sunday of October, but in Singapore, it is usually commemorated till the end of October. This makes sense this year as restaurants operate on reduced capacities due to social distancing. There are only six official breweries on the Oktoberfest grounds – Späten, Augustiner, Paulaner, Hacker-Poschorr, Hofbräu and Löwenbräu, but don't let that stop you from getting in on the fun.
Brotzeit
15 September to 25 October
Since its opening in 2006 with the first outlet at VivoCity, Brotzeit has curated a rousing Oktoberfest experience annually, with waitresses in dirndls and food galore. This year, the games take place tableside but at least the tables are still fully loaded with 10 seasonal menu items. The Hofbräu Oktoberfestbier (from $11 for 0.3L) is available exclusively at Brotzeit this year, an easy-drinking hoppy beer with a refreshing kick to pair with food.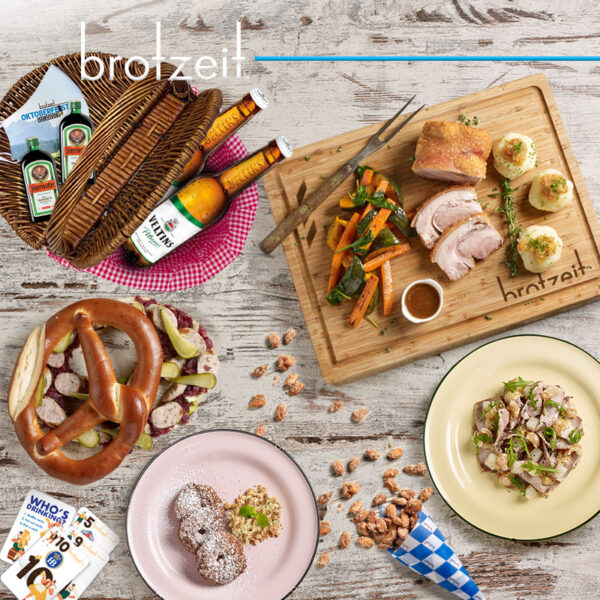 This is also group executive chef Lorenz Raich debut menu, as he just joined the team in August 2020. His modern takes can be seen in the traditional fare, such as Kalter Schweinsbraten or Cold Roast Pork ($16), a typical leftovers dish but here made fresh. This salad comprises slow-roasted slices of chilled pork collar, rocket leaves, mustard aioli, house-pickled daikon and crispy pork skin.
This season sees the crispy roasted pork shoulder ($45), served with typical German potato dumplings not commonly seen here. Snack on crispy fried pig's ears ($12), which have been first sous vide for a gentler crunch, or opt for the giant pretzel 'sandwich' with farmer's sausage ($28) – the specially baked 23cm long pretzels are sliced in half horizontally and filed with pickles and mustard too. Even the dessert is not to be missed – fried apple wheels ($11), comprising sweet rings of Fuji apples coated in light beer batter and served with vanilla ice cream and cookie crumble.
Reservations are highly recommended. More information here.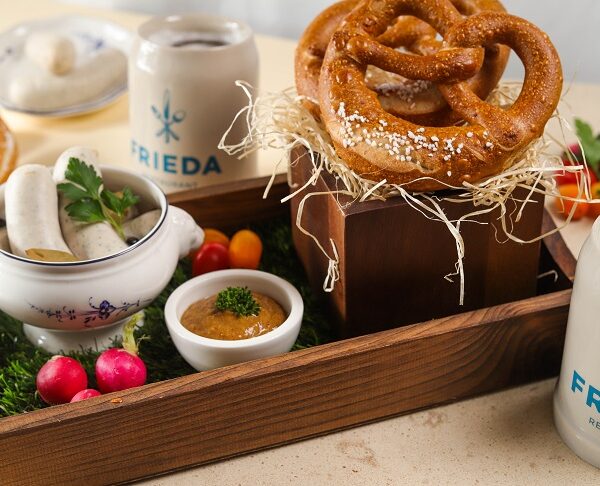 Frieda Restaurant and Frieda Beer Garden
1-31 October
Over at The Capitol Kempinski Hotel Singapore, make the most of your appetite as you load up on Frieda's a la carte buffet ($55 per person) that includes the first pint of Paulaner Oktoberfest beer. The German restaurant will be dishing out obazda cheese with Bavarian pretzels, German weisswurst with sweet mustard, baked meatload, grilled Nurnberger sausage with mashed potato and sauerkraut, apple bread pudding and more. Each additional pint is $11, or you can add on four hours free-flow beer for $50 per person.
More information here.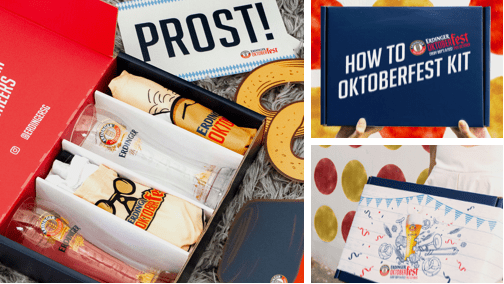 Erdinger at home
From 30 September while stocks last
While Erdinger continues to be the German beer of choice at events and restaurants such as The Swiss Club's Oktoberfest menu (no tent this year), Harry's, Café Frienzie, The Chamber @ Capital Square and Baden Restaurant & Pub, they've not forgotten the home revellers.
With the purchase of a 12x500ml carton of Erdinger wheat beer on Lazada Redmart, Shopee S-Mart and Amazon PrimeNow, you'll receive a limited edition How To Oktoberfest kit (while stocks last). The kit includes the iconic Erdinger beer glasses, t-shirts with lederhosen and dirndls motifs and backdrop props for partying with (responsibly, of course).
SHARE