Hot scotch
Dram collectors are spoiled for choice as whisky producers now woo them with limited edition luxury bottles and malts from lost distilleries.
The Macallan in Lalique Curiously Small Stills decanter, which is designed by the renowned French crystal house, boasts a curvaceous design that alludes to the small copper stills used by the Speyside-based distillery, while the raised 'cabochons' on the vessel's face represent the riveted hatches on the stills. The Scotch is a 60-year-old single malt, drawn from five sherry casks—a mix of Spanish and American oak—which were filled on 9 and 10 November 1950. Only 30 (out of the limited 400) bottles are available in Singapore.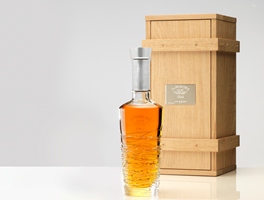 Islay-based Bowmore has also unveiled its 1964 Bowmore, Old Scots New Year edition. The peach-accented, toffee-laced spirit—matured in bourbon and Fino sherry casks for 46 years, and bottled in 2010—is housed in a hand-blown glass bottle by renowned Scottish glass artists Brodie Naim and Nichola Burns, complete with a solid silver neck and stopper crafted by Scottish jeweller Hamilton and Inches. Only three (out of the 72 bottles) are available here.
Other whisky makers focus on taking the expression of single malt to a new dimension. The Balvenie distillery, helmed by David Stewart, a veteran malt master, combined whiskies from six casks of various ages (two sherry casks from the early 70s and American barrels from 1966, 1974, 1978 and 1988) to create a unique blend in 2010. The Balvenie Tun 1401 Batch 2 (a marriage of drams from 10 casks from the 70s, 60s and 80s), a floral spirit underpinned by vanilla notes, was released two months ago in Singapore.
Whiskies from defunct distilleries are also gaining a cult status. Heru Dwi Soesilo, assistant operations manager of The Connoisseur Emporium, a whisky store who brings in such rare spirits from shuttered producers, says "prices for these rare bottles also go up, usually after a year". It carries the 41-year-old single malt from Caperdonich, a distillery that mothballed in 2002, and who was once a supplier of spirits to Chivas Regal's blended whiskies. Bottled last year by Duncan Taylor & Co., an independent bottling company, the old dram (a rich, velvety elixir of vanilla and butterscotch notes) is available only in 179 numbered bottles.
The Macallan in Lalique Curiously Small Stills, $26,888. Available at The Beam Cellar.
1964 Bowmore, Old Scots New Year, $20,000. Available at Quaich Bar. Tel: 6732 3452
The Balvenie Tun 1401 Batch 2, $575. Available at Hermitage Wines. Tel: 6438 1120
Caperdonich 41-year-old, $920. Available at The Connoisseur Emporium. Tel: 6634 2268