French Connection In Saigon Gastronomy At Its Finest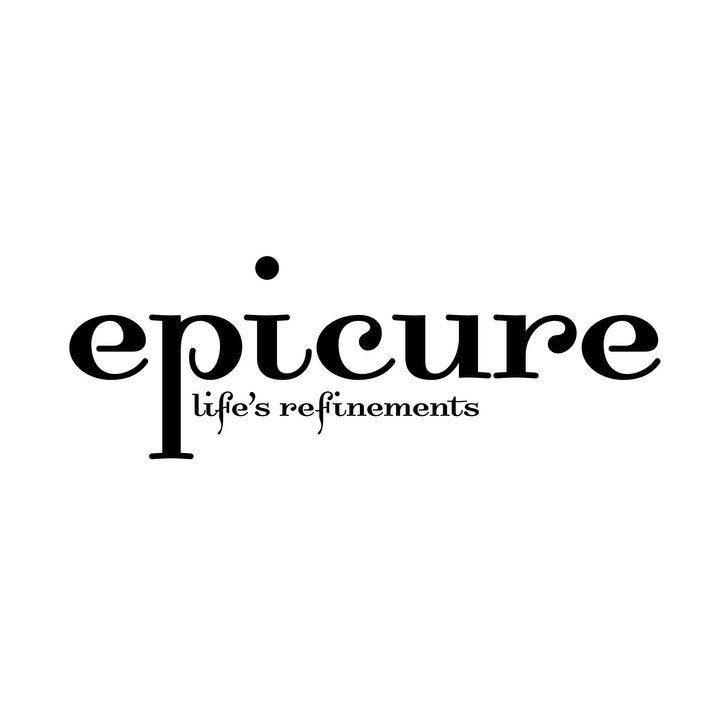 · 18 November 2022
·
Vietnam
A city famous for its motorbikes and for its food, Saigon is a multicultural melting pot. Like a "petit Paris", it is the destination of choice for connoisseurs of Vietnamese and French food, locals and expatriates alike. Along big boulevards, sheltered by oak trees and blending colonial French architecture, Saigon features incredible local street food, to Italian, Thai, Mexican, Korean, American, Japanese, and everything in between. As a fan of French cuisine you will find yourself well looked after. Here is a list of 6 of the selected French restaurants in the city.
PT'I SAIGON
Exceptionally talented French chef Sakal Phoeung oversees operations at Pt'I Saigon. This amazing master chef, who has spent over 15 years working with the Accord Group and the Sofitel brand, has created a unique concept restaurant, where guests are pampered as they are immersed in the culinary tradition of Provence, in the south of France.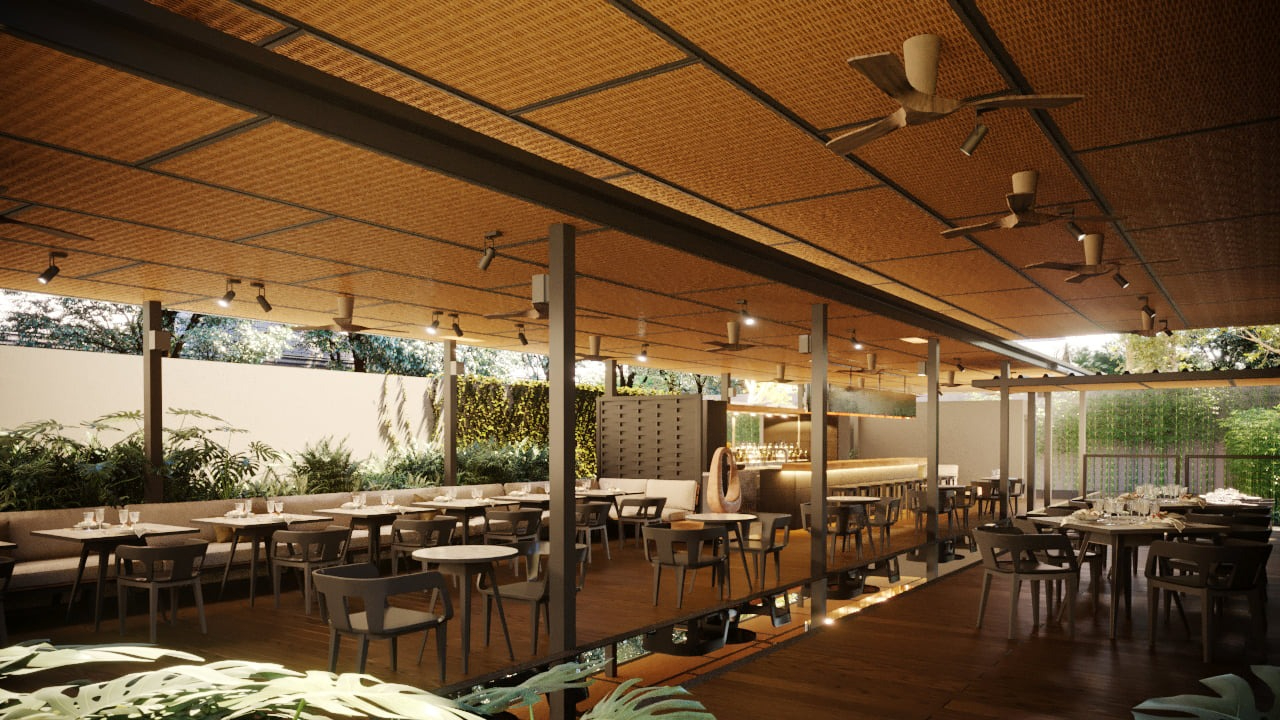 The restaurant's sleek and contemporary design, which fuses the functions of a dining room and a bar area, has won the hearts of many patrons with its festive dining experience. P'ti will bring you to far-away modern France through its delectable authentic French cuisine, and outstanding cocktails, the perfect place to unwind after a long day of work or spend a romantic night with friends, colleagues, or significant other.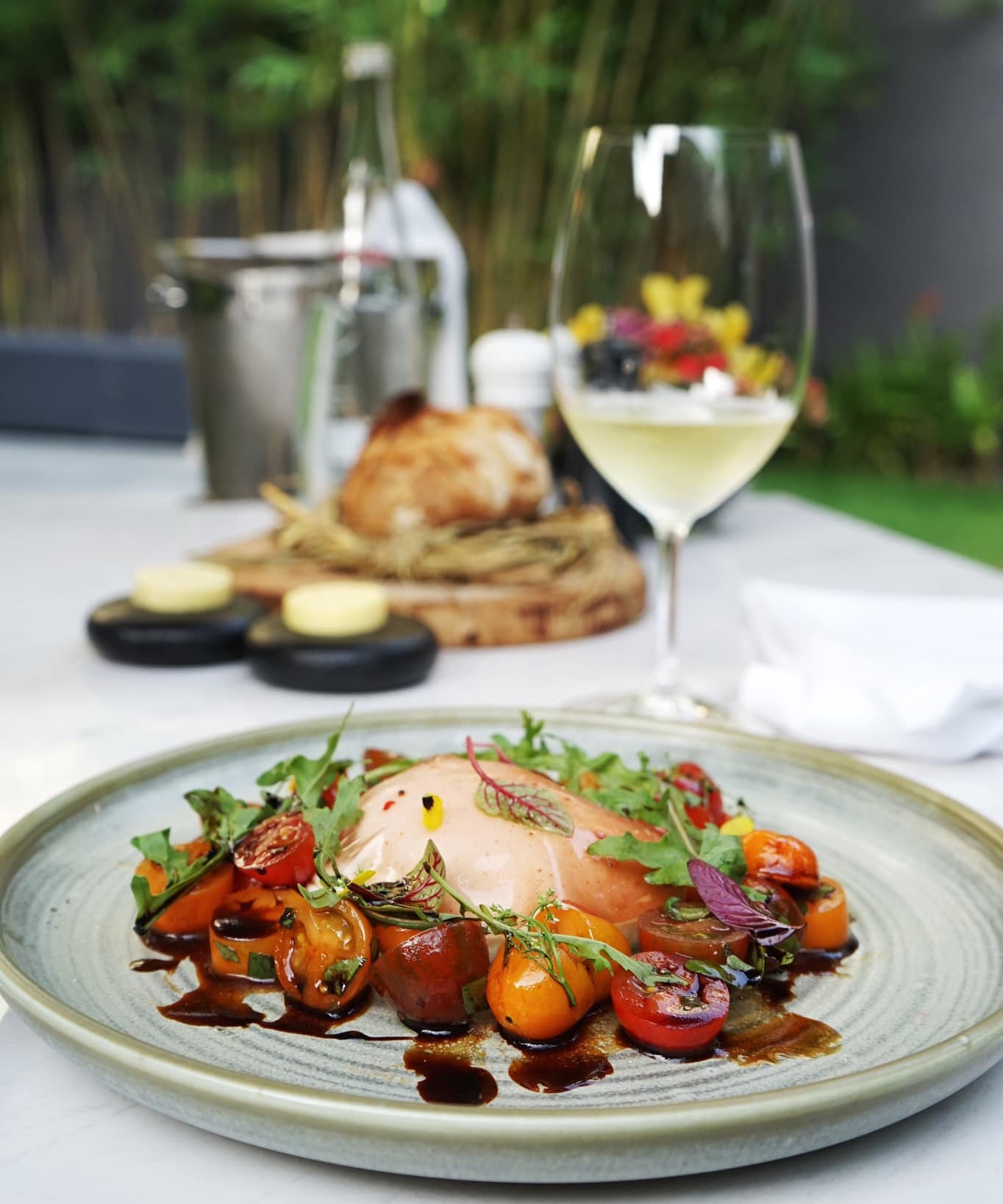 Guests may enjoy a menu that includes delicacies such Marble Foie Gras Terrine, Sweetbread, And Orange Soufflé With Orange Sherbet. With the restaurant's extensive wine list, diners are guaranteed to have a night to remember. The premium Sunday brunch buffet at P'ti is well-known by many food aficionados and offers a wide variety of delicacies such as fresh seafood, sushi, cheese, and smoked ham, all of which may be combined with a drink from the restaurant's extensive wine and cocktail list. 52 Ngo Quang Huy Street, Thao Dien Ward, District 2, Ho Chi Minh City Tel: +84 28 3620 1880
LA VILLA
A picturesque villa around twenty minutes from the heart of Ho Chi Minh City that provides an escape from the city's chaos has been transformed into one of Vietnam's most professional and experienced fine dining establishments. Here, French chef, Thierry Mounon creates culinary masterpieces, while his gorgeous Vietnamese wife, Tina, charms guests and manages a team of devoted wait staff. Dine in the parlour, which features high ceilings and exquisite artwork, or in the garden, which overlooks the pool. The ever-changing cuisine reflects Thierry's southern French heritage.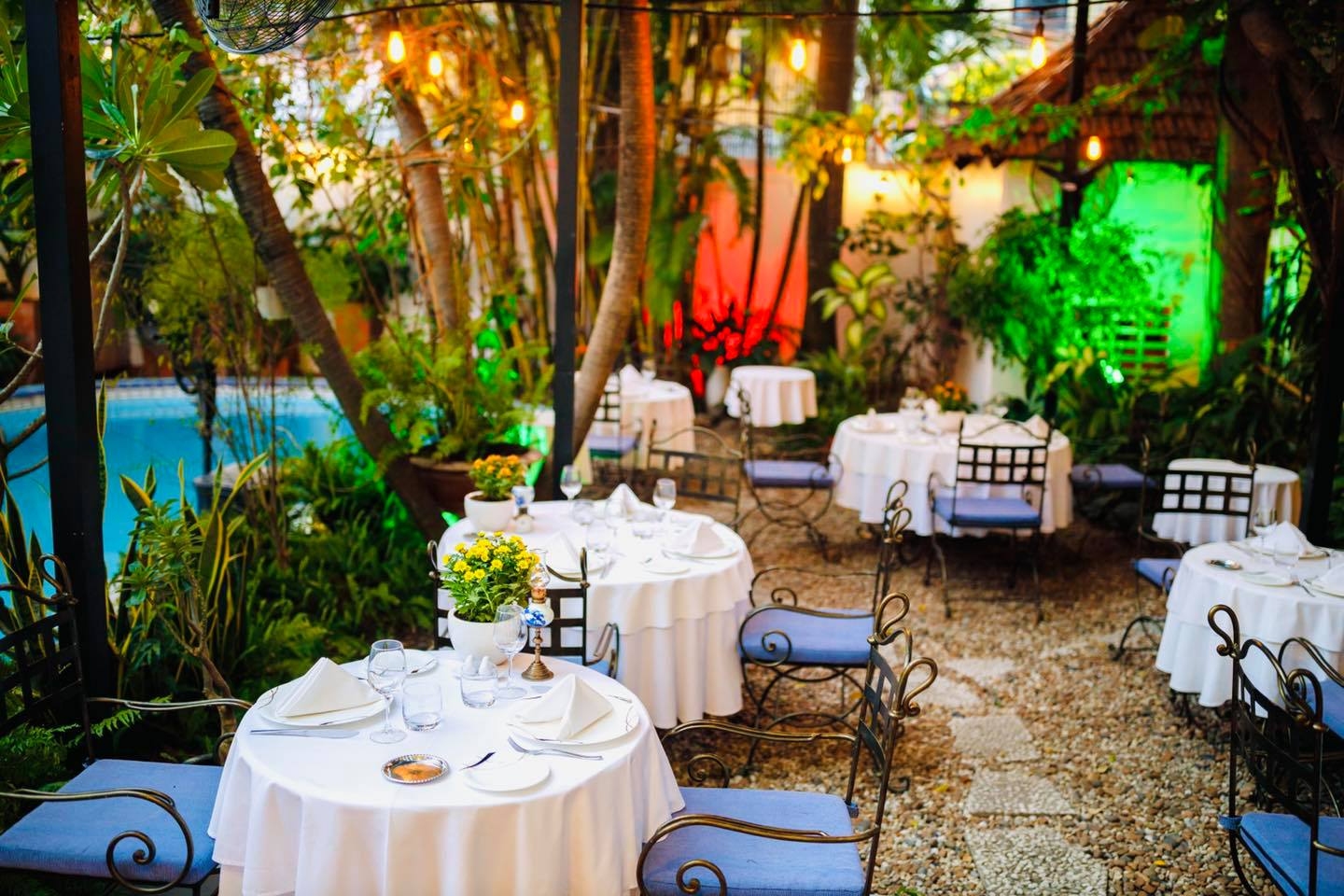 Chef Thierry, who has worked in some of the finest French restaurants, has created a space where he may explore French gastronomy at his own tempo, in a setting meant to exploit the potential of the finest ingredients on offer. Diners may choose from a variety of delectable menu options, including à la carte selections and multi-course degustation meals, and then have the chef suggest wine pairings to complement their meal.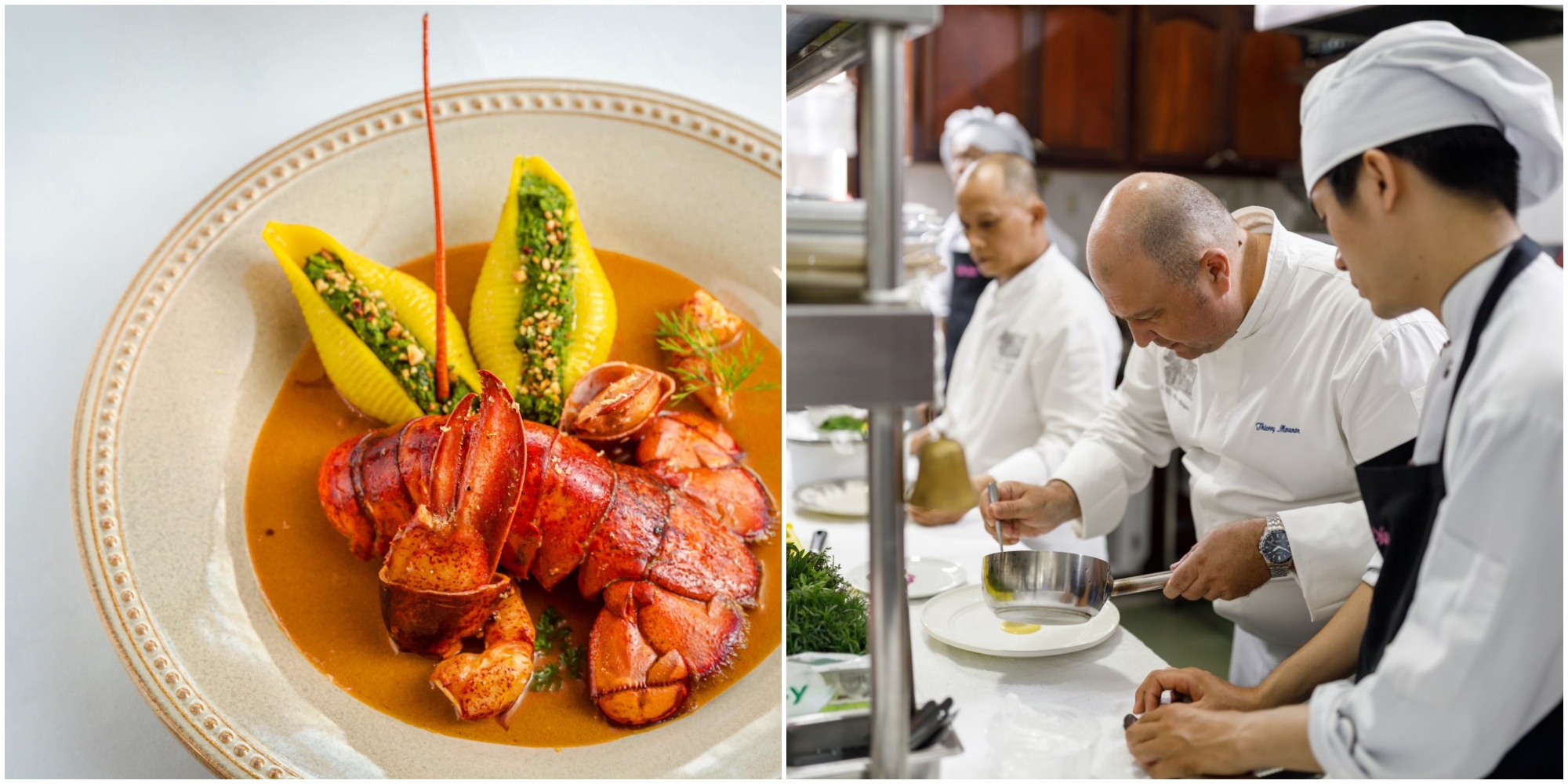 To accompany a thick slice of toasted handmade bread, try the duck foie gras terrine with figs poached in muscat and salted honey caramel. And don't miss out on the imported French cheeses and accompaniments that are artfully displayed on the cheese cart. 14 Ngo Quang Huy Street, Thao Dien Ward, District 2, Ho Chi Minh City Tel: +84 28 3898 2082
TROIS GOURMANDS
One of Ho Chi Minh City's best French restaurants is Trois Gourmands. Established in 2004 and formerly known as Le Toit Gourmand, this fine French dining establishment is the brainchild of Gils, a native of the southeast of France who has devoted himself to excellence in French culinary art, with a special focus on natural products like his mouth-watering homemade cheeses and on "working" noble ingredients like Goose Liver and Truffles.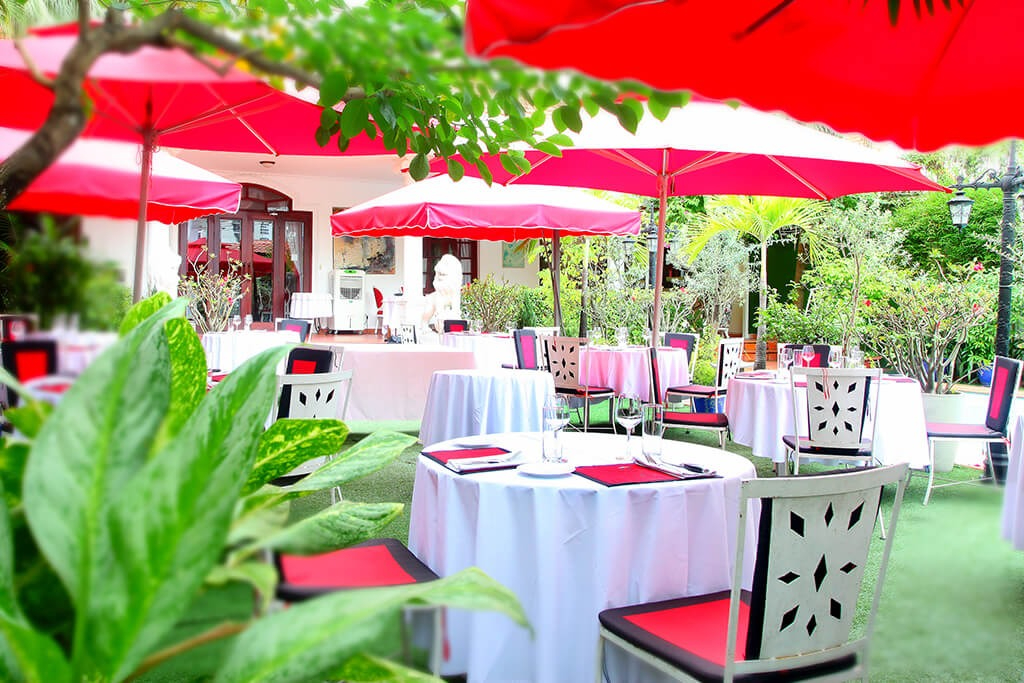 In a classic colonial home surrounded by a tropical garden, Trois Gourmands is the ideal location for a business meeting, social event, or romantic candlelit dinner beneath the stars. Relax in the comfort of the modest, casually beautiful furnishings within. The great warmth of your host and his staff will provide a dining experience you will never forget. Wine connoisseurs may rest easy knowing that their meal will be expertly paired with a bottle from the restaurant's extensive collection, which includes wines from some of France's most acclaimed wineries.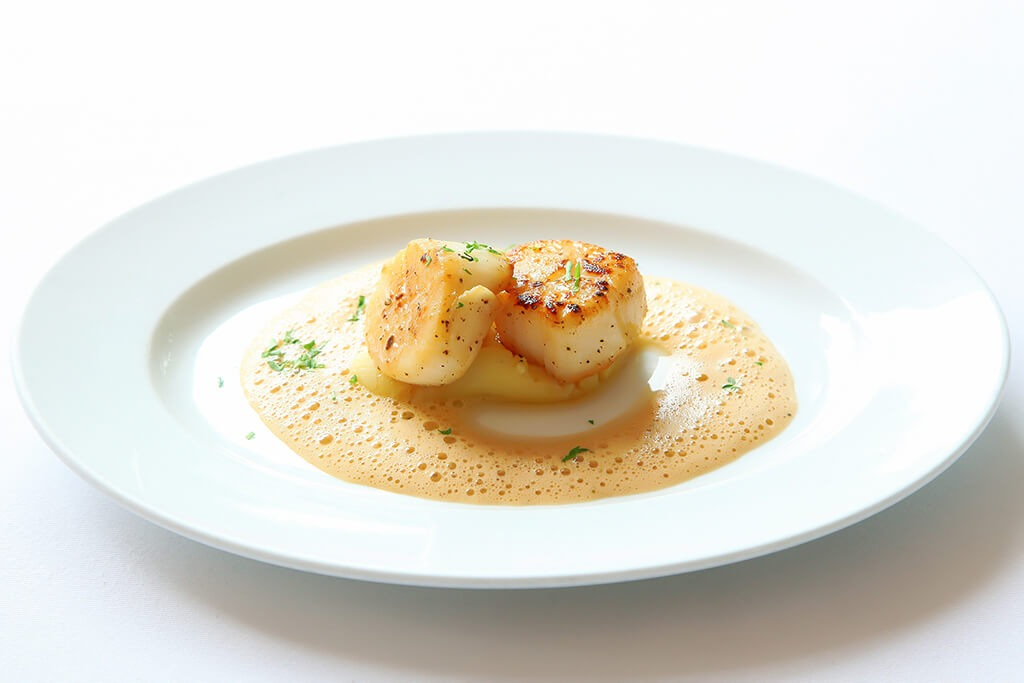 From their a la carte menu, you can order classic French dishes like Escargots de Bourgogne au Beurre (Burgundy Snails in Garlic and Parsley Butter) or Joue de Boeuf et Foie Gras Poêlé (Beef Cheeks with Foie Gras seared in a pan-fry), or you can treat yourself to one of their 5, 6, or 7-course set menus. 39 Tran Ngoc Dien Street, Thao Dien Ward, District 2, Ho Chi Minh City Tel: +84 28 37 444 585
HERVÉ DINING ROOM
Zen in design, Hervé Dining Room is home to a live kitchen and a unique cuisine created by Chef Hervé Rodriguez, Vietnam's only 1-Michelin-star chef. Combining the open kitchen concept with the cosy atmosphere of a large Thảo Điền villa, this restaurant gives guests a rare glimpse into the mind of a Michelin-starred chef who is committed to using only the freshest, most flavourful ingredients from the region.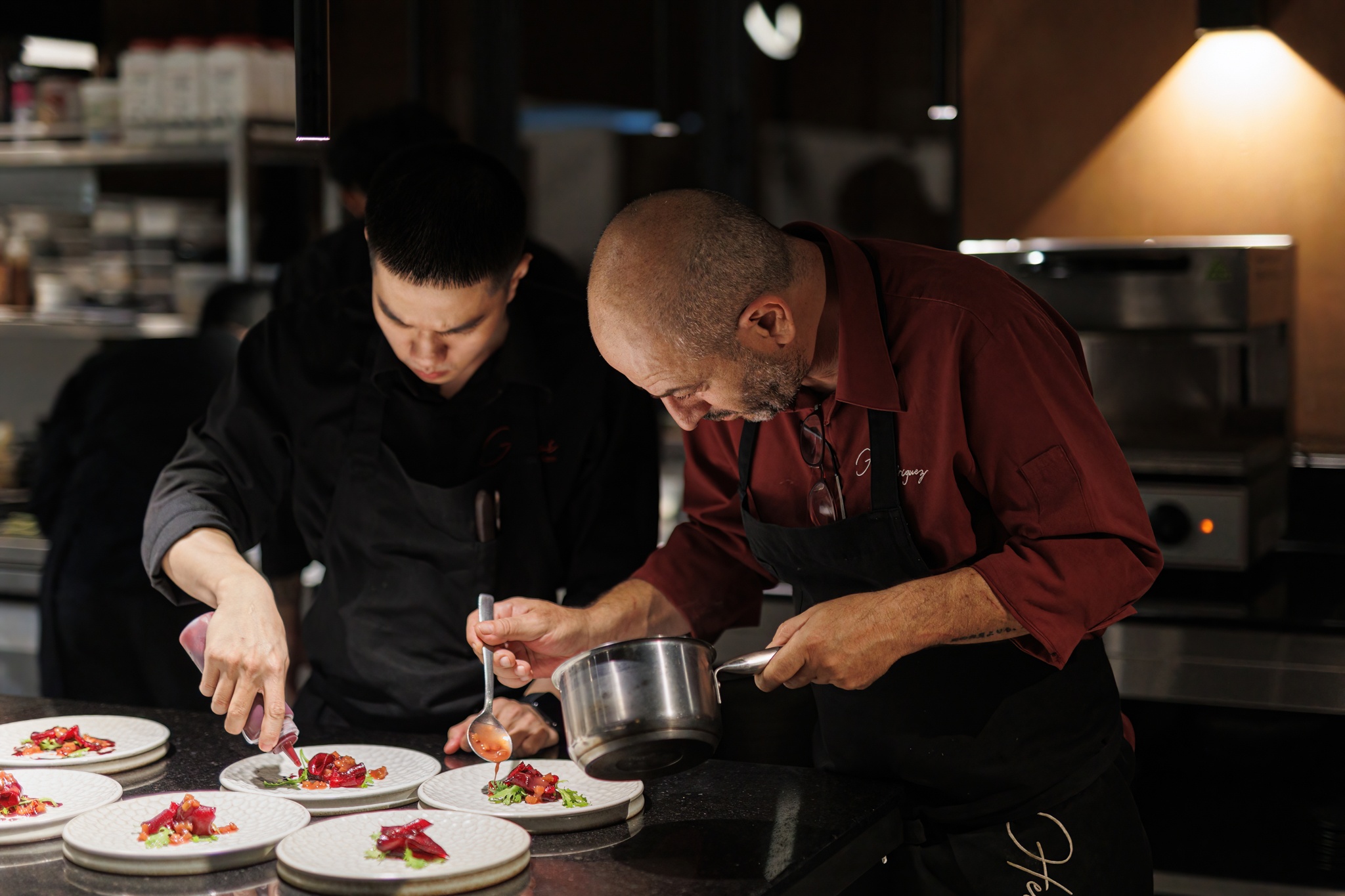 With the motto "Many hands, one masterpiece," Chef Hervé Rodriguez and his Vietnamese kitchen staff have made a name for themselves in the restaurant world by perfecting the blend of French technique with local Vietnamese ingredients together so as to produce a work of art unlike any other. The restaurant's 20-course menu changes seasonally and comes to life through culinary talent, commitment to cutting-edge cuisine methods, and the use of the highest quality, locally sourced ingredients that Ho Chi Minh City has to offer.
Past dishes that guests have enjoyed consuming include – Tiger Jade Abalone, With Yuzu Koshu, Smoked Salmon Eggs, Pineapple Gel, and Chilli Flowers, and the popular Gnocchi with Black Winter Truffle. Hervé Dining Room is the testimony of commitment to bringing new-and-unseen gastronomical interpretations to the dining table in Ho Chi Minh City. 204/20 Nguyen Van Huong Street, Thao Dien Ward, District 2, Ho Chi Minh City Tel: +84 90 406 8204
LE COMPTOIR
With its classic Parisian ambience and sophisticated decor, Le Comptoir restaurant & books is the ideal place to strike up a discussion in the warm lighting of a chic cafe. Serving French and European cuisine, located in the heart of HCMC district 1, and consisting of 2 floors, this stylish French bistro offers diners food which embraces the art of the simple, where a few good ingredients are elevated to something more through clever techniques and effortless flavours.Open all day, perfect for a peaceful breakfast, lunch, or supper where the French culinary essence transports you back in time with its heartfelt meals.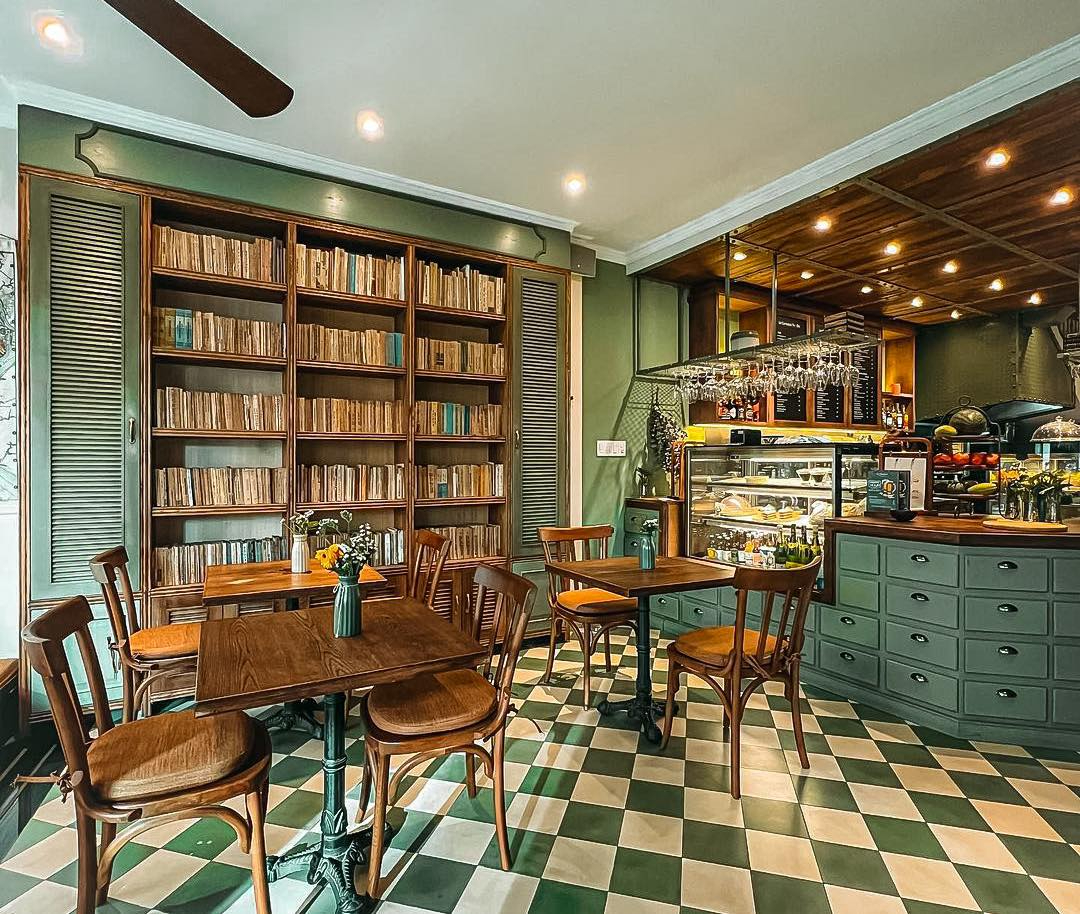 Enjoy some comforting flavours in their assortment of Owing to its French culture, the restaurant serves deeply rooted classics, like duck confit à la Sarladaise, mussels Mariniere, salade Perigourdine and a selection of signature creations such as salmon tournedos. The vast wine range ensures that every host will find the ideal wine to match their event.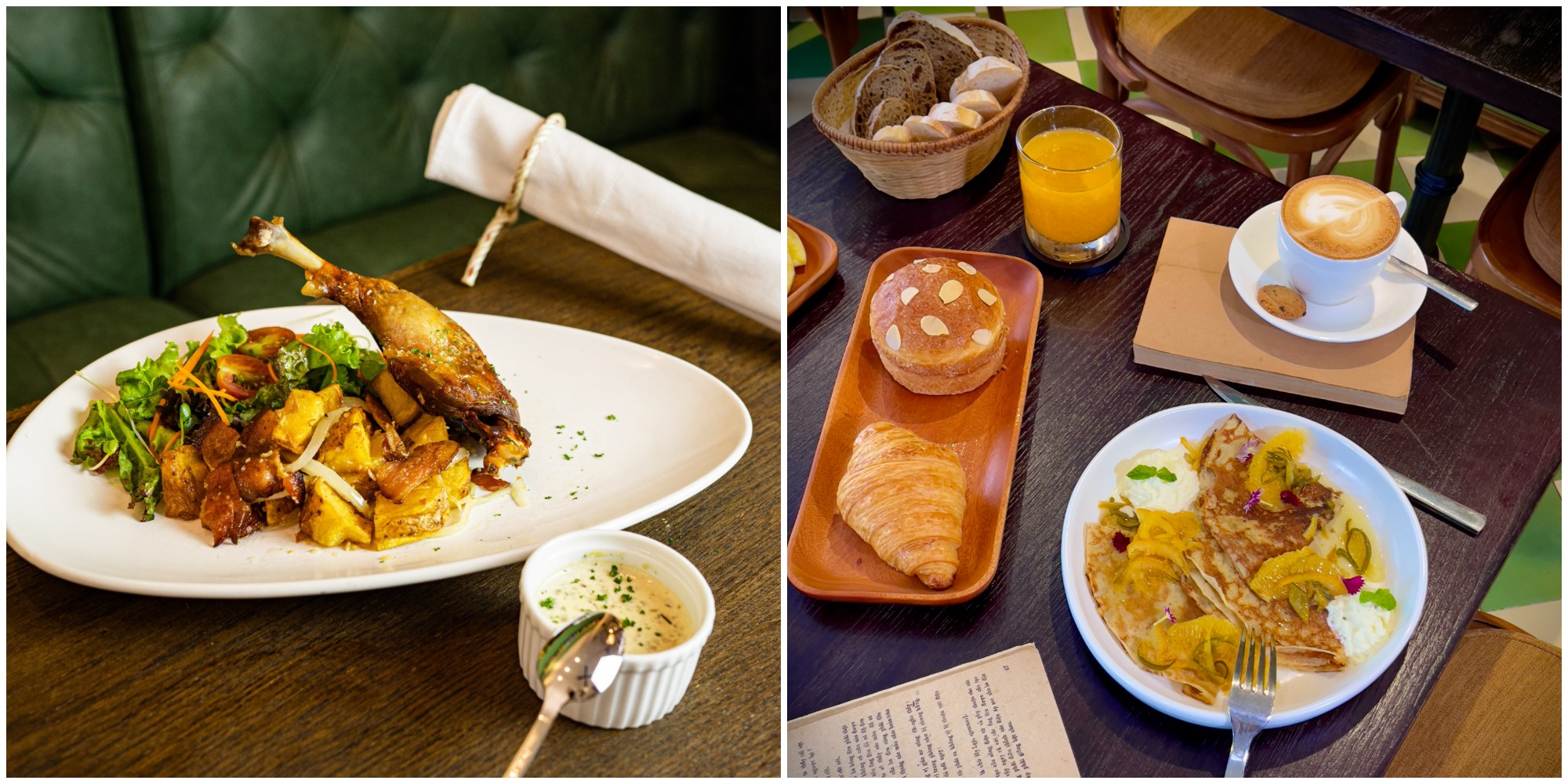 Le Comptoir, a bistro at heart, also has its beat, with specials every week and a French classic every Friday. It tells a story of precious convivial time with friends, family or a partner. 12 Ho Huan Nghiep Street, Ben Nghe Ward, District 1, Ho Chi Minh City Tel: +84 28 2230 0889
COCOTTE BISTRO
Cocotte Bistro aspires to delight and excite the taste buds of even the most discerning food aficionado with its combination of authentic French cuisine and the cutting-edge atmosphere of Saigon's trendiest hotel.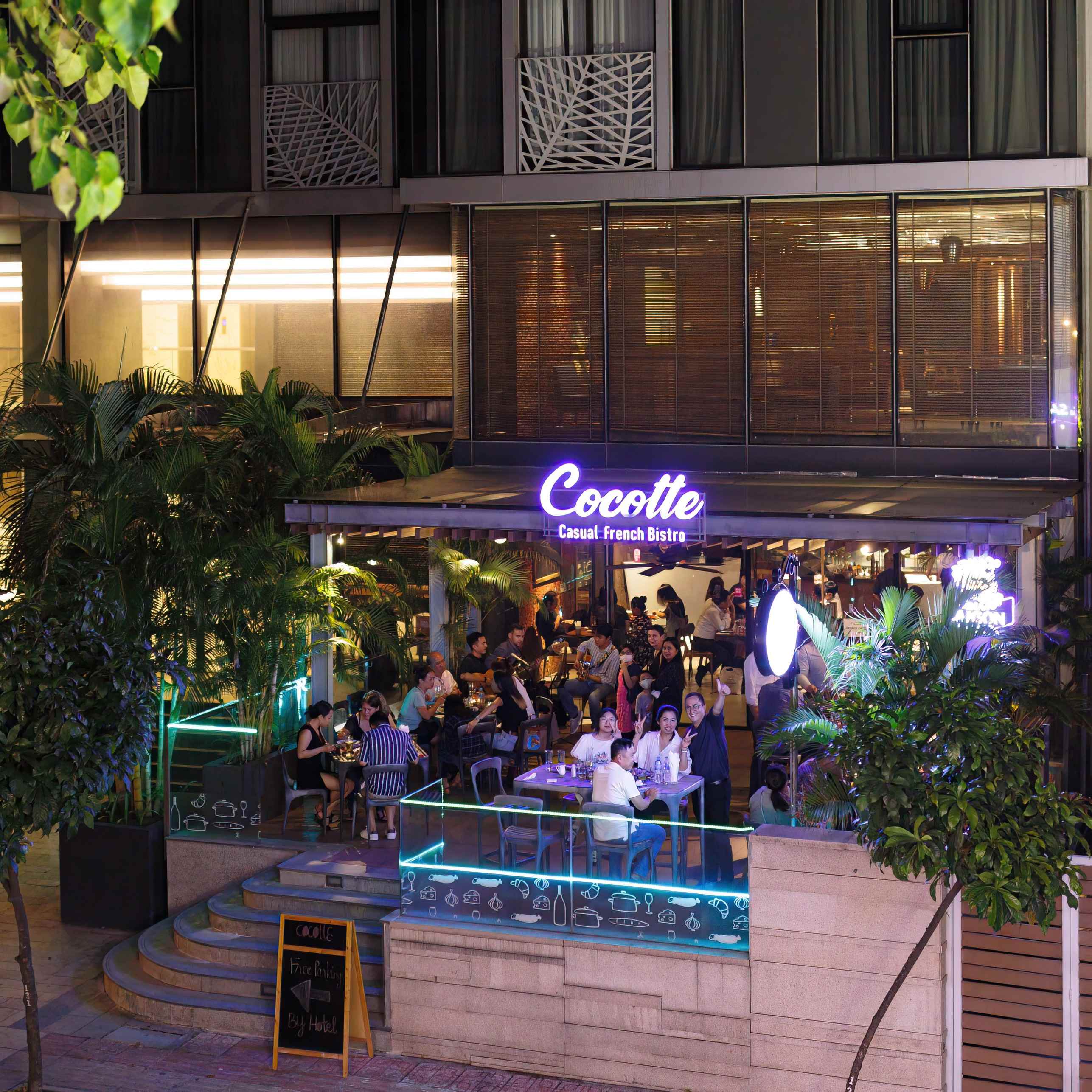 Guests may have breakfast, lunch, supper, and drinks from a menu that has been carefully crafted to combine the flavour of classic French cuisine with a modern touch at this ground-floor restaurant in the SILA Urban Living complex. You may choose to sit by the pool, in peace and quiet within, or in the great outdoors, where you can people-watch. Each meal is prepared with care and attention to detail, using only the finest and freshest ingredients carefully chosen by a team of highly skilled chefs to delight the palates of even the most discerning diners. Try some classic French dishes like Boeuf Bourguignon (beef in red wine) or something lighter like Salade Niçoise and end the dinner with a Crème Brulée.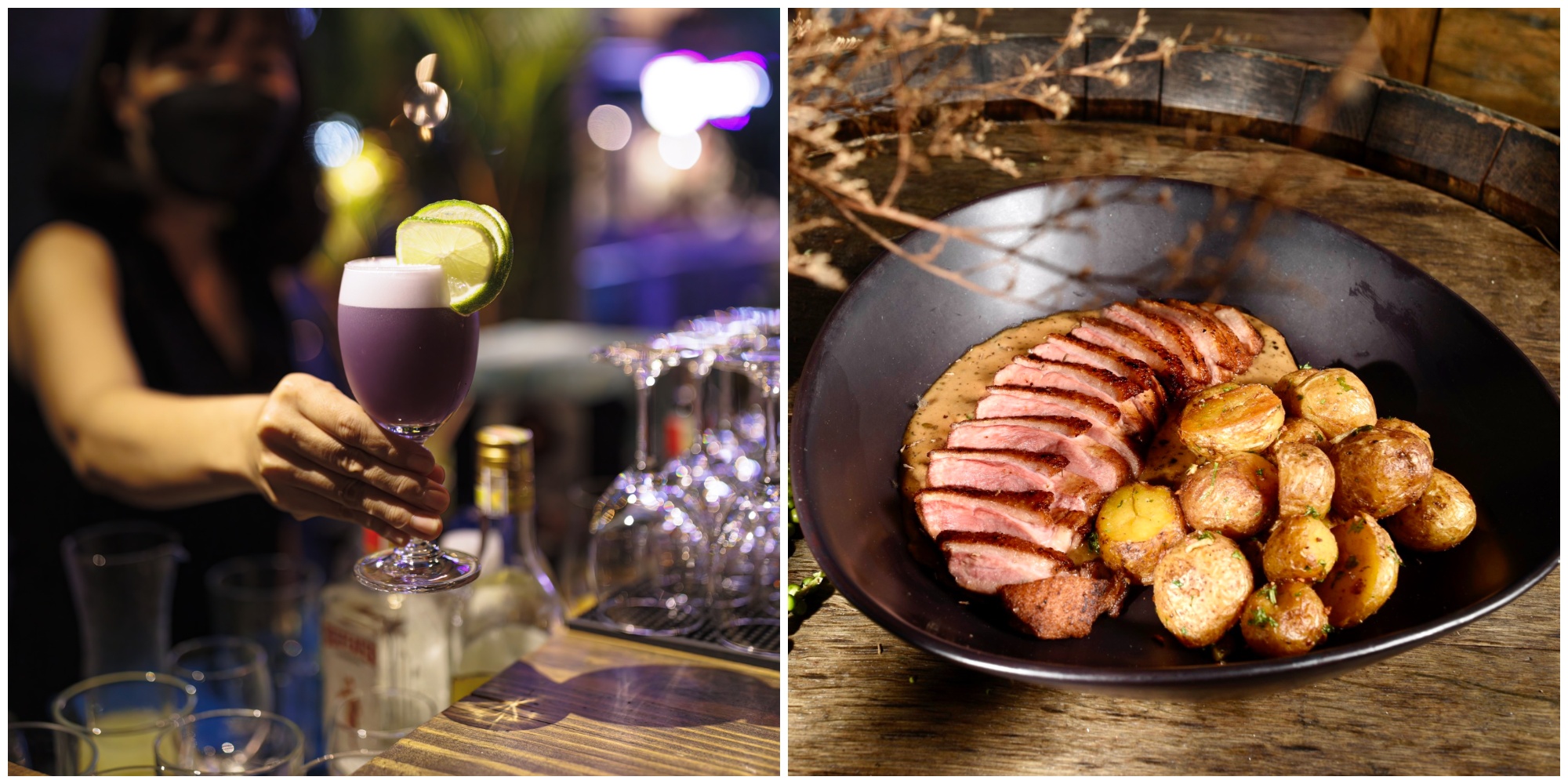 The staff at Cocotte Restaurant & Bar takes great satisfaction in providing a relaxing atmosphere and delicious, custom prepared meals for your next upcoming event. They are able to host a large variety of attendees, making the bistro ideal for both intimate gatherings and large business functions. Open from 6:30 am for a delicious breakfast, served throughout the day, a regularly updated lunch menu and a full menu available until 10:00 pm for even the latest dinners. 136 Le Thanh Ton Street, Ben Thanh Ward, District 1, Ho Chi Minh City Tel: +84 90 291 1227
SHARE