Cold escapades
Time to start packing your woollen socks and thermals for a chilly winter holiday. These cool ice hotels offer an opportunity to embrace winter and view the mystical Northern Lights.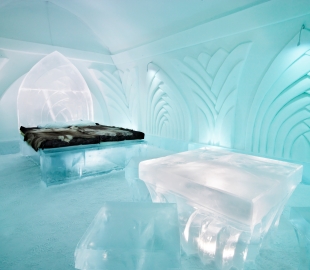 ICEHOTEL
Where: Jukkasjärvi, northern Sweden
What: Yngve Bergqvist's ICEHOTEL is reborn in a new guise each year thanks to the work of visiting artists and designers. Cocooned in innovative ice rooms featuring undulating wave facades and polar bear sculptures, guests sleep well at -5°C in cosy sleeping bags and thermals and wake up in the morning with a cup of hot lingonberry juice at their bedside.
Rates from SEK1600 (S$303) per night. Marknadsvägen 6398191 Jukkasjärvi, Sweden. For reservations and enquiries, call +46 (0) 980 66 800
or email info@icehotel.com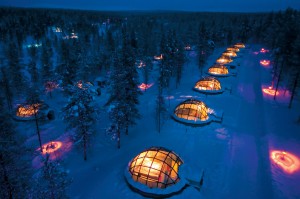 HOTEL KAKSLAUTTANEN
Where: Saariselkä, Finland
What: Every winter, glass igloo accommodations at Hotel Kakslauttanen provide a unique way to admire aurora borealis at a comfortable room temperature. Built from special thermal glass which does not get white frosted, the glass igloos allow a clear view of the night sky while guests remain warm and toasty in bed. You can also choose to sleep in log cabins, queen suites with an outdoor hot tub attached and snow igloos.
Rates from €150 (S$263) per night. Kakslauttanen FI-99830 Saariselkä, Finland. For reservations and enquiries, call +358 1666 7100 or email hotel@kakslauttanen.fi
THE KIRKENES SNOW HOTEL
Where: Kirkenes, Norway
What: At 69º north, The Kirkenes Snow Hotel is the world's most northerly ice hotel. With just 15 exquisitely sculpted suites, ice art and double beds topped with reindeer pelts, it provides boutique lodgings for those who favour intimate service. A short walk from the centre of Kirkenes is the Gabba Reindeer Park where guests can meet the three friendly resident reindeers. The hotel opens from 20 December 2011 to 20 April 2012.
Package rates from NOK2350 (S$521) per night. Radius Kirkenes AS, PO BOX 200, N-9915 Kirkenes, Norway. For reservations or enquiries, call +47 78 97 05 40 or email info@radius-kirkenes.com
Excerpt from the November issue of epicure.