Ho Chi Minh City on a plate
From boho hipster 24-hour cafés to time-honoured ice-cream parlours cum cafeterias, Nga Hoang cracks open Ho Chi Minh City's little black book of hip spots for those in the know.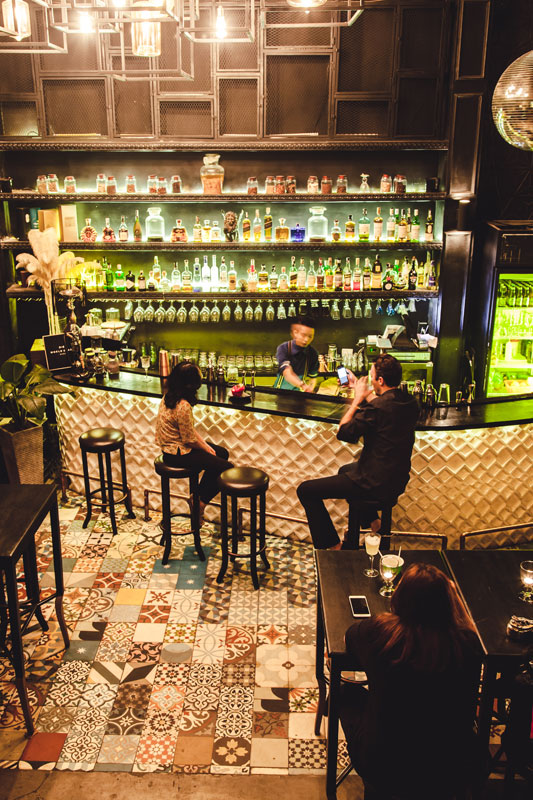 SNUFFBOX
Let's face it: Few places do justice to Prohibition-era glitz and glam better than New York. Snuffbox in Ho Chi Minh City, however, is definitely heading in that direction. Starting on a very strong note, its existence is completely concealed from the street. Tucked discreetly in a dark, dingy, dilapidated 1950s apartment building that has recently been repurposed into a buzzing youth venue overlooking the 1920s State Bank of Vietnam, Snuffbox is a hidden little jewel box of a 1920s speakeasy cocktail bar hiding behind unmarked metal doors. Until nine months ago, it was a street art themed cafe. Snuffbox, according to American manager Charles Carlyle, is an alternative to the big loud clubs found elsewhere in the city. "It's a place where you can enjoy your time with the people you're with and form a relationship over classic cocktails," he says.
Once inside, the space opens out to reveal a chic, lofty interior outfitted in dark wooden panelling and adorned with sensual velvet ropes, plush sofas, a dazzling disco ball and a spotlight floor lamp. And let's not forget a well-stocked wraparound bar with high leather-upholstered stools that are all too easy to fall off after knocking back one too many tipples. Snuffbox is divided into separate little seating areas with a wooden staircase leading up to a private mezzanine level. Its opulent Art Deco interior design could easily pass for The Great Gatsby film set. The bar is abuzz with businessmen, young entrepreneurs, actresses and models. Guests at private parties will gain access via a password in exchange for a special discount. Past events include cocktail nights themed around the Roaring Twenties and mixology nights with world-famous guest mixologists. With jazz tunes playing in the background, it pays to settle into a stool and chat over an expertly mixed New York Sour (bourbon with an egg white included). Other cocktails worth trying are the boulevardier (a Bourbon-based sipper cut with Campari and sweet vermouth). 14 Ton That Dam Street, Nguyen Thai Binh Ward, District 1, Ho Chi Minh City. Tel: +84 126 387 2603
Excerpt from the December 2016 issue of epicure.