Loco Amigos in Mexico
There's no better way to make sense of Mexico's Europe-influenced Mesoamerican cuisine than by visiting the colourful capital city. Jason Jones navigates the bustling streets to find both fine dining and casual fare, and also flies to Guadalajara to take a lesson in tequila-distilling.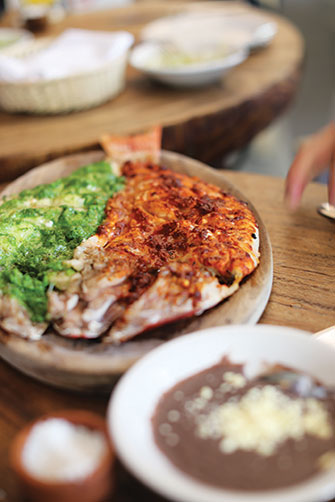 There was a copious amount of eating over our week in Mexico. For one of our breakfasts, we dropped by Cardinal Casa del Café to dig into zucchini flower omelette. The hot chocolate here is brought to the table in a large ceramic jug, after which the server spins a wooden stirrer between his hands to create froth before pouring it out. It's rich, yet also light on the palate. It's served with warm, freshly baked pastries, which can be dipped in the chocolate.
From Mexico City we flew west to Guadalajara, only an hour's flight away. The city is famous for excellent food and tequila – the town of Santiago de Tequila is only a short drive north from Guadalajara, so we visited of course. Our friends from Proof & Company had helped us arrange a meeting with master tequila distiller, Enrique Fonseca, who gave us a private tour of his distillery and a day-long lesson in making and drinking the spirit. His tequila range is incredible, there's just so much work put into them. He actually spent time in Scotland learning about ageing spirits. Now he's got some seriously smooth tequila aged for up to 21 years in French oak barrels.
Excerpt from the February 2016 issue of epicure.