Welcome to the Japanese tropics
Discover Japan's subtropical alter ego, a bunch of pretty islands with swaying palm trees and white sandy beaches – perfect for a true dose of rest and relaxation.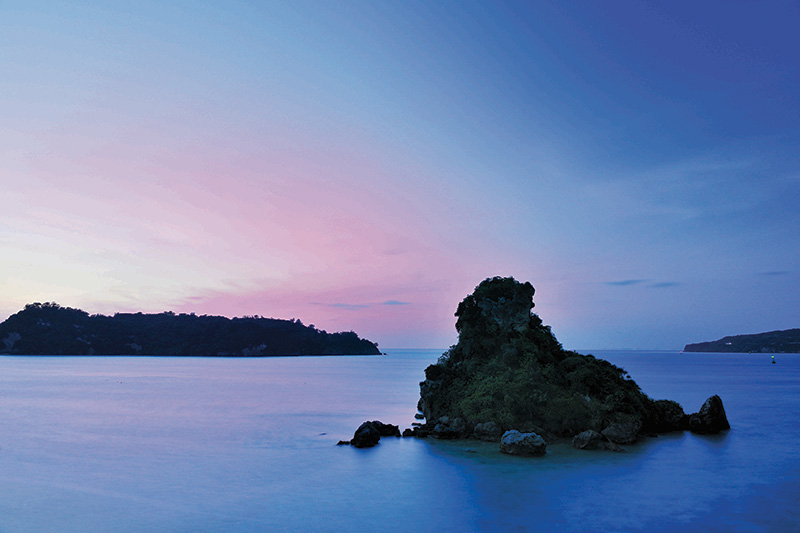 Palm trees in Japan? Japanese men wearing colourful Hawaiian shirts, chilling next to pretty girls in bikinis ready to dive into the clear blue sea? This is not a movie set but a very tropical reality. For many travellers, the south of Japan, like Kyushu and the Okinawa archipelago, is still very much an off-the-beaten-path and remote destination. Who would have thought that you could end a buzzy city vacation in Tokyo with a thoroughly Japanese beach holiday? Think fine, white sand between your toes and a sake cocktail in your hand…
OKINAWA, THE HAWAII OF JAPAN
Hop for a couple of hours on a plane from Tokyo to Okinawa and you will end up in a different, much more tropical world. The islands of Okinawa are located 1,000 kilometres away from the Japanese mainland, roughly halfway between Taiwan and Japan in the Pacific Ocean. This far-away archipelago consists of Okinawa, with its capital Naha, and 30 smaller islands scattered around Okinawa Island itself. To give you an idea of how tropical Okinawa is: Naha is closer to the north of the Philippines than it is to Tokyo. These islands once belonged to China and links to this past can be found in their music, dialect and even their cuisine, which sometimes doesn't taste Japanese at all.
Excerpt from the October 2015 issue of epicure.