Around the world in 15 food festivals
Too many to choose from and too little time? We've curated a must-visit list—from celeb-chef studded extravaganzas to intimate affairs with a close-knit feel—to keep you hungry throughout the year.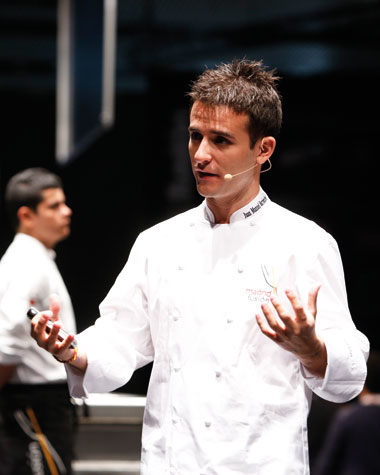 MADRID FUSIÓN
When: 2 to 4 February 2015
Where: Campo de las Naciones Convention Centre, Madrid, Spain
One of the foremost international gastronomic summits, Madrid Fusión brings together leading global chefs to showcase the culinary vanguard, approach cuisines of the world, and encourage discussion about food, wine, technological modernisation, scientific research, and all that revolves around gastronomy. For this year's 13th edition, a new programme, Tasting Spain is dedicated to traditional cooking. In another first, the summit comes to Asia from 24 to 26 April, as a satellite event Madrid Fusión Manila celebrates 370 years of shared history between Spain and Philippines and will feature an impressive roster of chefs and food professionals from both countries.
MELBOURNE FOOD & WINE FESTIVAL
When: 27 February to 15 March 2015
Where: Across Melbourne city and bits of regional Victoria, Australia
Since 1993, the annual Melbourne Food & Wine Festival has grown into one of the most popular food festivals in Australia. Each year, food and wine lovers in the thousands indulge in more than 200 events that include long lunches, wine dinners, chef demonstrations and farmers markets, taking over Melbourne's restaurants and bars, laneways, basements and dizzying rooftops as well as spilling into spectacular regional Victoria. A festival favourite is the Langham Melbourne MasterClass and for this year's edition, chefs Ruth Rogers (River Café, London), Matt Abergel (Yardbird, Ro¯nin, and Sunday's Grocery, Hong Kong), and Janice Wong (2am:dessertbar, Singapore) will be presenting.
www.melbournefoodandwine.com.au
HOKITIKA WILDFOODS FESTIVAL
When: 15 March 2015
Where: Hokitika, New Zealand
From the mountains to the sea, New Zealand's diverse topography and relative seclusion from the rest of the world translates to a plethora of interesting native and wild produce. The Hokitika Wildfoods Festival is as much a celebration of New Zealand culture as it is of the local food. Alongside stalls that hawk stuff that range from the conservative (lemony whitebait patties, feijoa slushies, sheep milk cheeses) to the downright wild (lamb's tails, huhu grubs, wasp larvae ice cream), are traditional music performances, fancy costume competitions and chef demonstrations.
Excerpt from the January 2015 issue of epicure.