Amanoi – The Epitome Of Peace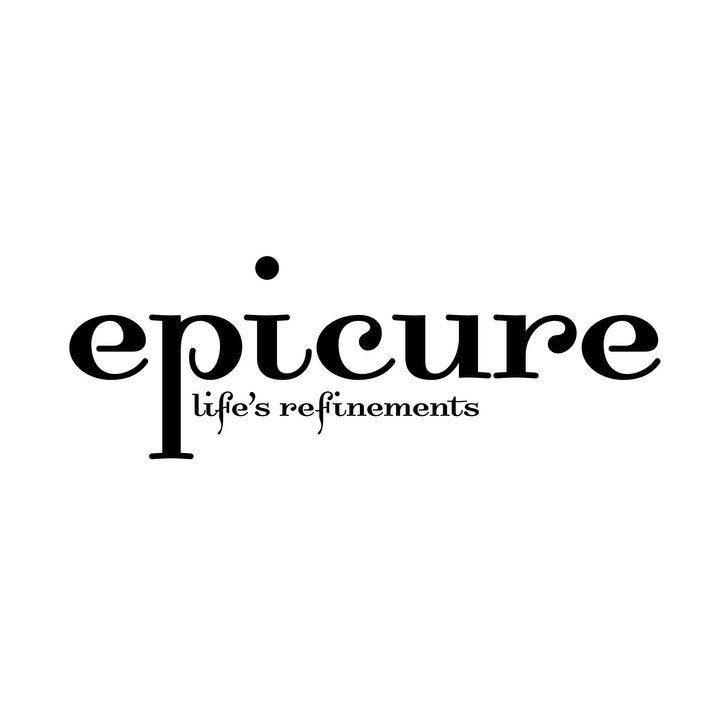 · 4 August 2021
·
Hotels & Resorts
Vietnam's most exclusive hillside resort, standing on the dramatic coastline of Vinh Hy Bay, offers the weary traveller an idyllic sanctuary to escape the weariness of daily life.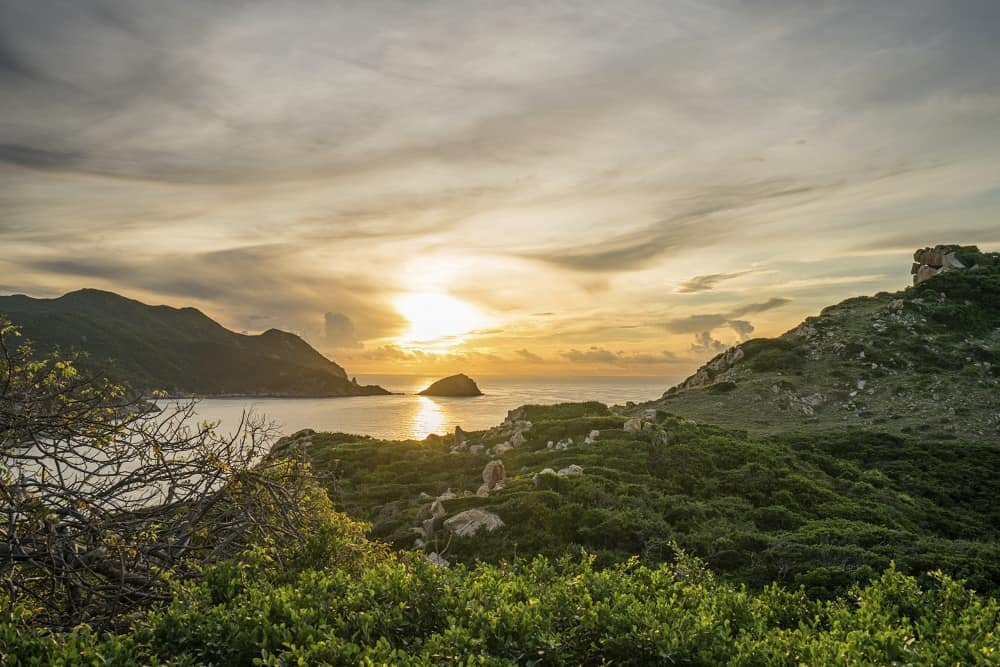 Combining the Sanskrit-derived word for 'peace' with nơi, meaning 'place' in Vietnamese, Amanơi is a contemporary beachside resort with 9 pavilions, 18 pool villas, 6 residences and 2 Wellness Pool Villas, the lakeside Aman Spa and a Beach Club. Surrounded by the serene bucolic beauty of Vietnam's southcentral coastline, this exclusive hillside resort epitomises the meaning of its name.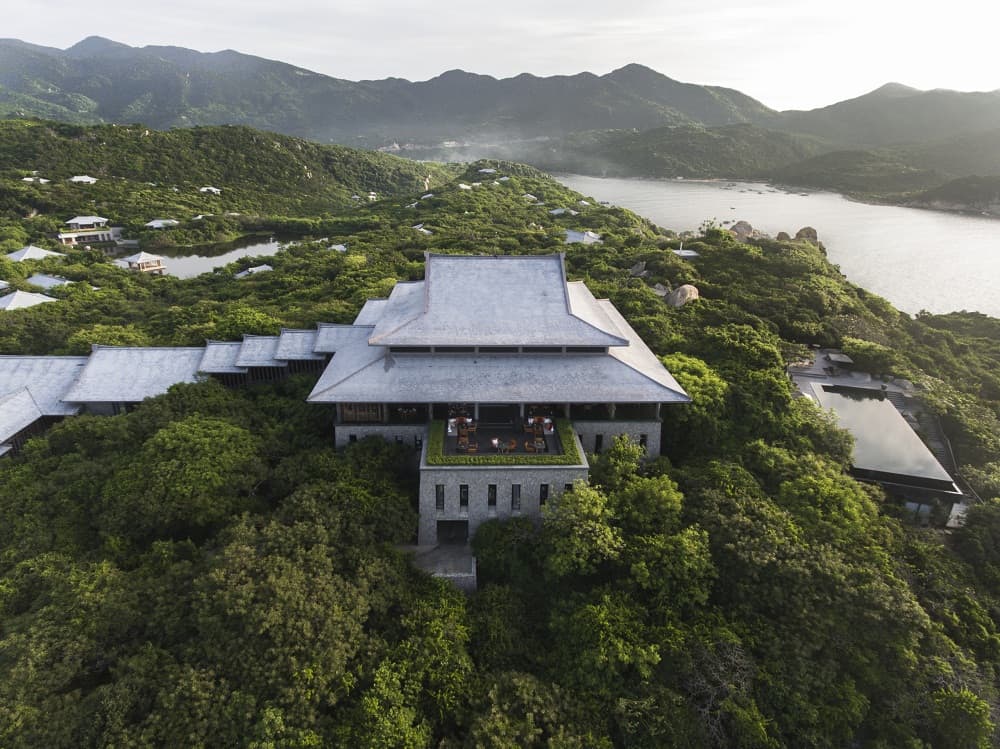 Poised on the rugged coastline of Vietnam's Vinh Hy Bay, surrounded by dramatic hills and dense forests, the property is embraced by Nui Chua National Park, part of Ninh Thuan Province, renowned for its spectacular coastline and majestic mountain ranges. A protected marine reserve adjoins the National Park and is home to a large variety of sea corals, tropical fish species, hawksbill and green sea turtles. Positioned on a wide, mountainous promontory of the National Park, Amanơi lies 55 kilometres south of Cam Ranh International Airport, providing convenient access to the region's travel hubs and Vietnam's domestic airports.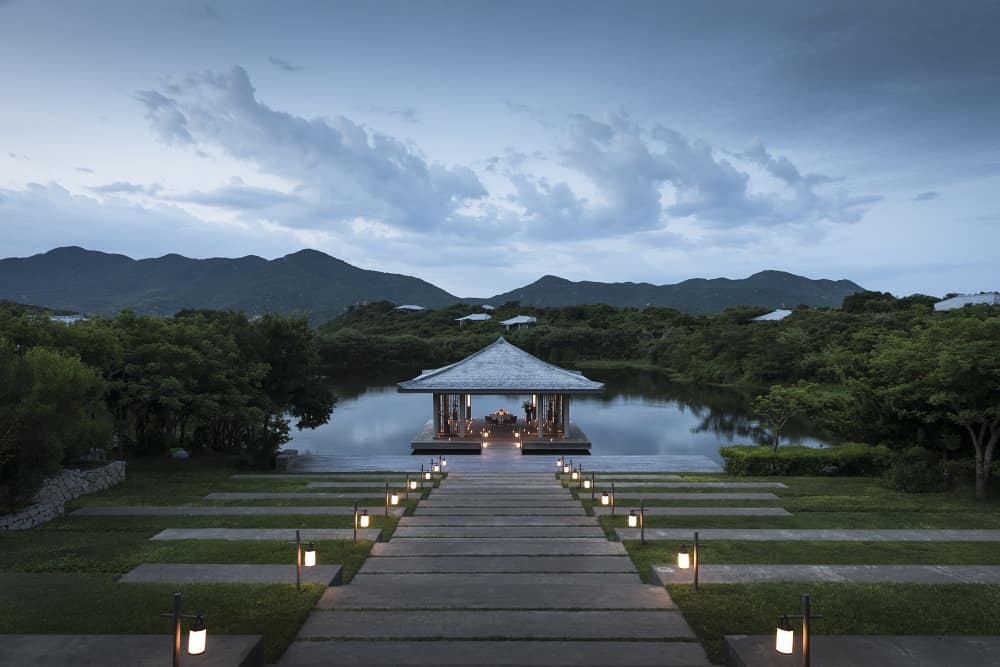 From its hillside position, all of Amanơi's guest accommodations come with impressive views – of Nui Chua National Park, the lake on the property, Vinh Hy Bay and the East Sea. From their curving roofs peeping above the treeline to their latticed windows and discreet natural materials, Amanoi's Pavilions and Villas are immersed in the surrounding nature. Identical in layout and design, each Pavilion offers a combined living and sleeping area, as well as a timber sundeck with sun loungers. Their elegant, contemporary interiors feature traditional Vietnamese touches while sliding doors and picture-windows offer mesmerising views and bring the outside in.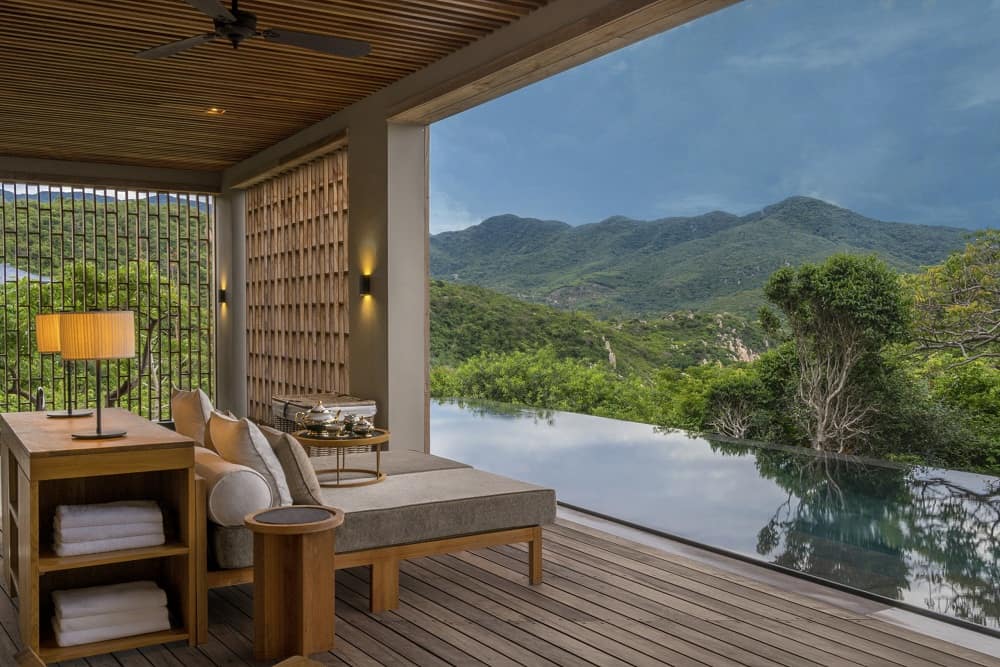 The Aman Residences each consist of two to five free-standing bedroom pavilions, living and dining pavilions, and a large private swimming pool, making them perfect for groups of friends or family. A personal butler is ready around the clock to meet all guests' needs. With access to the full range of Vietnamese spa treatments, the Residences draw on the grace and artful simplicity of Vietnamese design, surrounded by pristine jungle and the crystal waters of Vinh Hy Bay, just waiting to be explored by the curious traveller.
On the shores of a lotus-filled lake, Amanơi's Aman Spa radiates an ambience of calm and rejuvenation, a place to escape the stresses of daily life and rebalance mind, body and soul. With five two-person treatment rooms, two hydrotherapy suites, outdoor relaxation pavilions and a finishing salon, the spa's fitness options include a spacious, light-filled gymnasium, a Pilates studio and a lakeside yoga pavilion. There are also two outdoor tennis courts. For guests looking for an extra level of solitude, two secluded Wellness Villas serve as utterly private extensions of the Spa.
Throughout the year, Amanoi's residency programme draws an international roster of holistic health experts and wellbeing practitioners to the spa to deliver a wide range of Vietnamese and international treatments in a peerlessly serene and scenic setting. Those searching for the ultimate in exclusive luxury to rest and rejuvenate need look no further.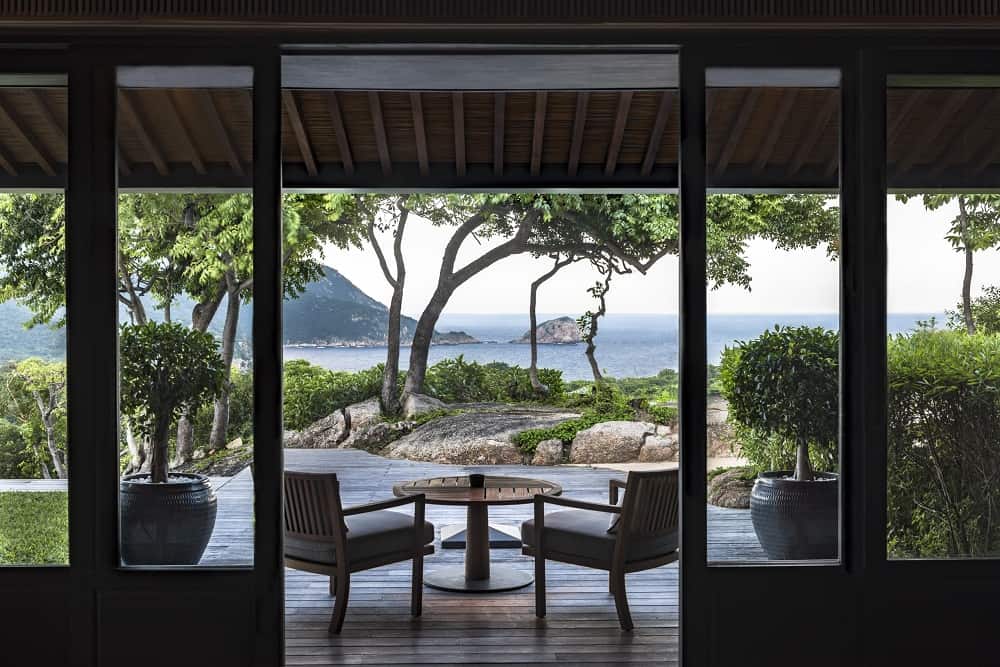 SHARE