Madrid's coolest hotel rooftop bars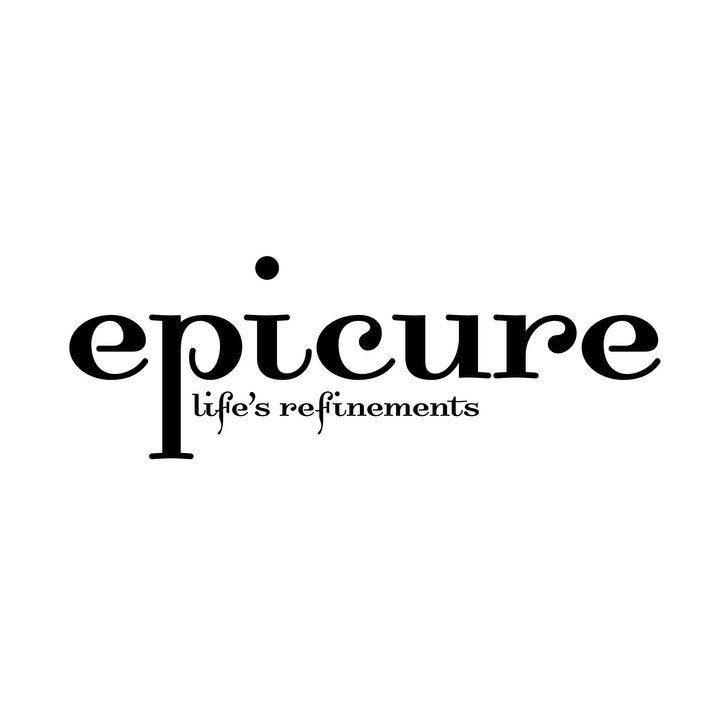 · 29 July 2010
·
Hotels & Resorts
The latest chill-out venues for the summer.
It's no secret that Madridlenos are known to party on well after most other folks around the world are in bed. And with more luxury hotels opening up around the historic city centre in recent years, rooftops terraces have become the latest chillout venues during summer. Some hotel rooftops even come kitted with swimming pools for the hip set to take a refreshing dip in.
"It's a part of the Madrid summer lifestyle," local artist Julia Yuste remarks while hanging out at Splash, one of the newest and trendiest rooftop venues. "We are blessed with long days and warm nights during the summer and what better way to pass the time than with friends out of doors," she continues.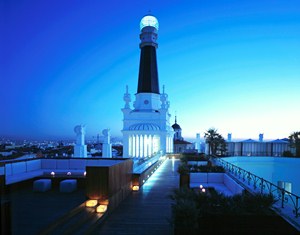 The Penthouse
Step into the designer decorated elevator complete with ultra-violet lights and you'll be whisked straight to the seventh floor rooftop of the five-star ME Melia Hotel. This elegant space draws a late night crowd of glamorous celebrities and international visitors and boasts private Balinese canopy beds which are perfect for small groups of friends or those looking for a night of romance.
Select a drink from the exclusive 'top shelf' bar which only serves premium spirits, or indulge in an original cocktail such as the Cointreaupolitan; a heady mix of Cointreau, cranberry juice and fresh lime. Gourmet tapas range from exquisite sushi, fried Brie with green tomato marmalade to crunchy Iberian ham filled croquets. Party on past midnight to enjoy fabulous theatrical and acrobatic performances accompanied by a dazzling sound, laser and light show.
ME Melia Hotel, Plaza Santa Ana 14. Tel. 917 016 000
Urban
Positioned near the famed Prado and Thyssen-Bornemisza Museums, the terrace at the Urban Hotel is accessed through the foyer, which is richly decorated with stunning Oceanic and Asian art. The glass lift whisks guests past shimmering gold mosaic and alabaster covered walls of the central atrium to the rooftop and offers splendid views across the historic city centre and the ancient floodlit church of the Jeronimos. Dominated by steel and glass, Urban exudes industrial chic. You can sit by the water's edge of its illuminated pool and sip a tangy Mojito, Caipiriña or a glass of chilled Spanish Cava served up by waiters with top-model good looks.
Carrera de San Jerónimo, 34. Tel. 917 877 770
Air Lounge
Like a fragrant garden amidst the clamour of the big city, the Air Lounge is a leafy oasis on high at De Las Letras Hotel on the famed thoroughfare, la Gran Vía. Pass under the flowering bougainvillea, past palms, ferns and swaying bamboo to find a cool place to relax and unwind. Cloth canopies seem to float on the breeze and indigo hued umbrellas shade the pristine white sofas in this intimate garden setting. The Air Lounge is the perfect place to catch the sunset while enjoying a glass of La Rioja Wine served with bowls of plump green marinated olives.
De las Letras Hotel, Calle Gran Vía, 11. Tel. 902 422 482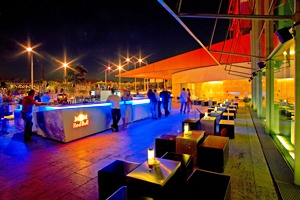 Sky-Night Lounge
What makes this large terrace on the 13th of the art-driven Puerta de Amercia Hotel so popular? Answer: a regular clientele of fashionistas and creative types, and cutting-edge design. French design guru Philippe Stark has created a stunning space with transparent glass footbridges, luminous colours and chic furniture. For panoramic views of Madrid's city lights, the Sky Lounge ranks tops. The extensive cocktail menu features highly original combinations such as the Red Monkey, a combination of Vodka, cranberry and lime juice or the Moet Mojito a sensual combination of sugar, fresh mint and Moet Champagne. Tapas include Japanese Sushi, Maki and Niguiris as well as more Spanish treats such as Iberian ham with tomato, Cantabrian anchovies or a terrine of velvety foie with poached figs and aromatic balsamic vinegar.
Hotel Silken Puerta de America, Avenida de America 41. Tel. 917 445 400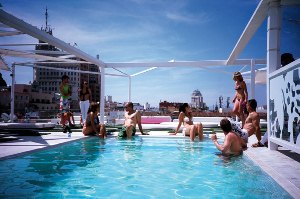 Splash
Overlooking Madrid's famed Chueca area; a mecca for foodies and shoe-a-holics, is Splash. While the décor is minimalist and based on a checkerboard design in white and green, this summer refuge is usually packed with beautiful people who divide their time between the gym and the designer boutiques. Splash gets its name from the pool which, as the temperatures rise, sees visitors changing into sleek swimwear and taking a cooling dip. The white sail canopies which provide much appreciated shade in the height of summer make a strong contrast with the vermillion hued rooftops of the historic buildings below. Order a glass of perfectly chilled white wine such as the fruity Rueda, a chilled Mahao beer or, if you want to celebrate, a bottle of Spanish Codorniu Cava and just soak up the atmosphere.
Hotel Oscar, Plaza de Vázquez de Mella, 12. Tel. 917 011 173
SHARE