Steal away…
Steal away to the cool capital of Oslo where The Thief hotel lies in the heart of an urban art explosion. Anemone Wille Våge shares her design inspiration.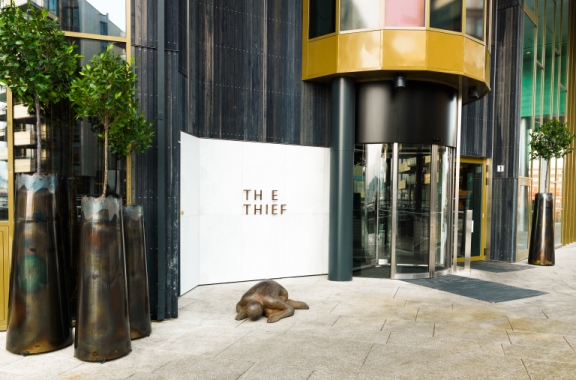 In eighteenth century Oslo, criminals were brought to justice on the tiny islet of Tjuvholmen, which came to be infamously known as "Thief Island". Today, the peninsula is a modern day art district. Shady activities and crooks may be a thing of the past but its furtive history is still being playfully referenced in the provocatively named hotel: The Thief. Opened in January this year, the sophisticated 119-room property is a showcase of Norway's finest in many ways. The team behind the sustainable project includes the award winning Mellbye Architects and Nordic interior designer, Anemone Wille Våge.
For Wille Våge, inspiration came from a few places. "I was looking at the contemporary classic designs of Jean Michel Frank from the 1930s," she shares. It's no surprise that the hotel bears the ethos of Frank's pared down elegance with sumptuous furniture made from exotic veneers of shagreen, mica, and intricate straw marquetry. Still, the interiors are a departure from the typical Scandinavian style synonymous with white-washed floorboards and cold, stark minimalism that has earned the northerly region its hip status amongst design fiends. Instead, Wille Våge imagines a dramatic aesthetic by juxtaposing light and dark, classic and modern, warm and cold. Floor to ceiling windows are set against dark oak panelling, and golden accents stand out from black granite floors, while the plushness of sink-in-and-you-never-want-to get-up sofas acts as a foil to Flexform metal and leather chairs. She explains: "I wanted to create a distinctive universe that plays on contrasts".
The property sits at the edge of the fjord which makes it possible to arrive by boat during the summer months from Oslo's city centre. As such Wille Våge has woven in maritime elements throughout the building in small and unexpected ways. Her point of reference? The classic Riva yacht, which lends its orange and turquoise colour palette to cushions in the guestrooms as well as in the interiors of cabinets. "The use of wood panelling further channels the nautical theme," she adds.
Excerpt from the March 2013 issue of epicure.