Travel
Uniworld Boutique River Cruise Collection: the new face of river cruising
· 15 January 2020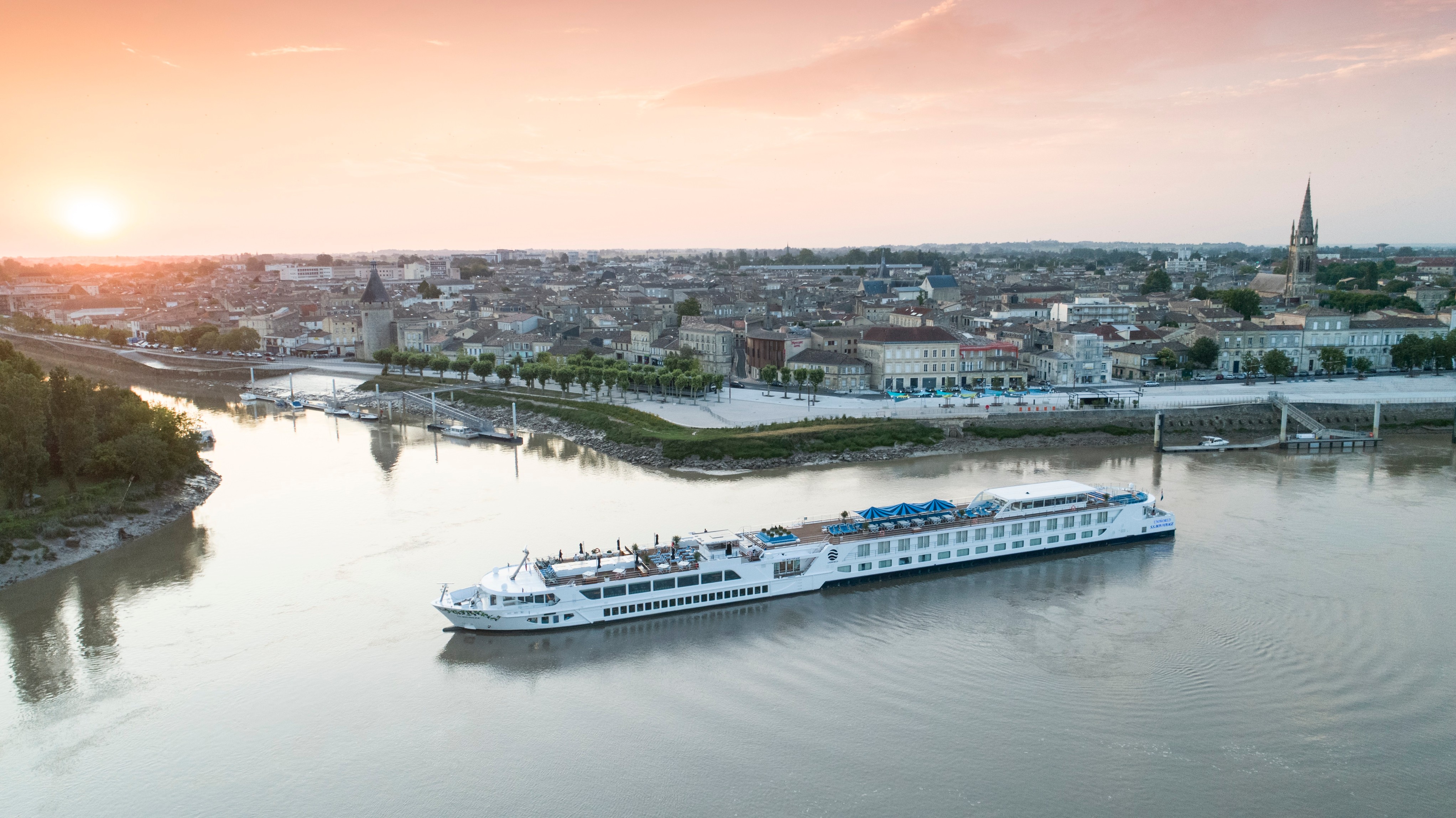 Compared to the bells and whistles of ocean liners – mega swimming pools, Broadway-style theatres and glamorous casinos – river cruise ships may seem like a yawn-inducing option. For passengers, however, who prefer a front-row view of awe-inspiring landscapes that unfold before them in the comfort of their cabin windows, or to enjoy a barbecue lunch on the open deck instead of dining at a decibel-filled 300-seater restaurant, there's nothing quite like the intimacy that these floating boutique hotels offer.
In recent years, the river cruising industry has undergone a sea change, with more players introducing bigger cabins and more immersive shore excursions to choice-filled consumers. We caught up with the affably elegant Ellen Bettridge, president and chief executive officer of Uniworld Boutique River Cruise Collection, who shares how the world's leading luxury boutique cruise line has evolved to adapt to the changing needs of modern, mindful travellers.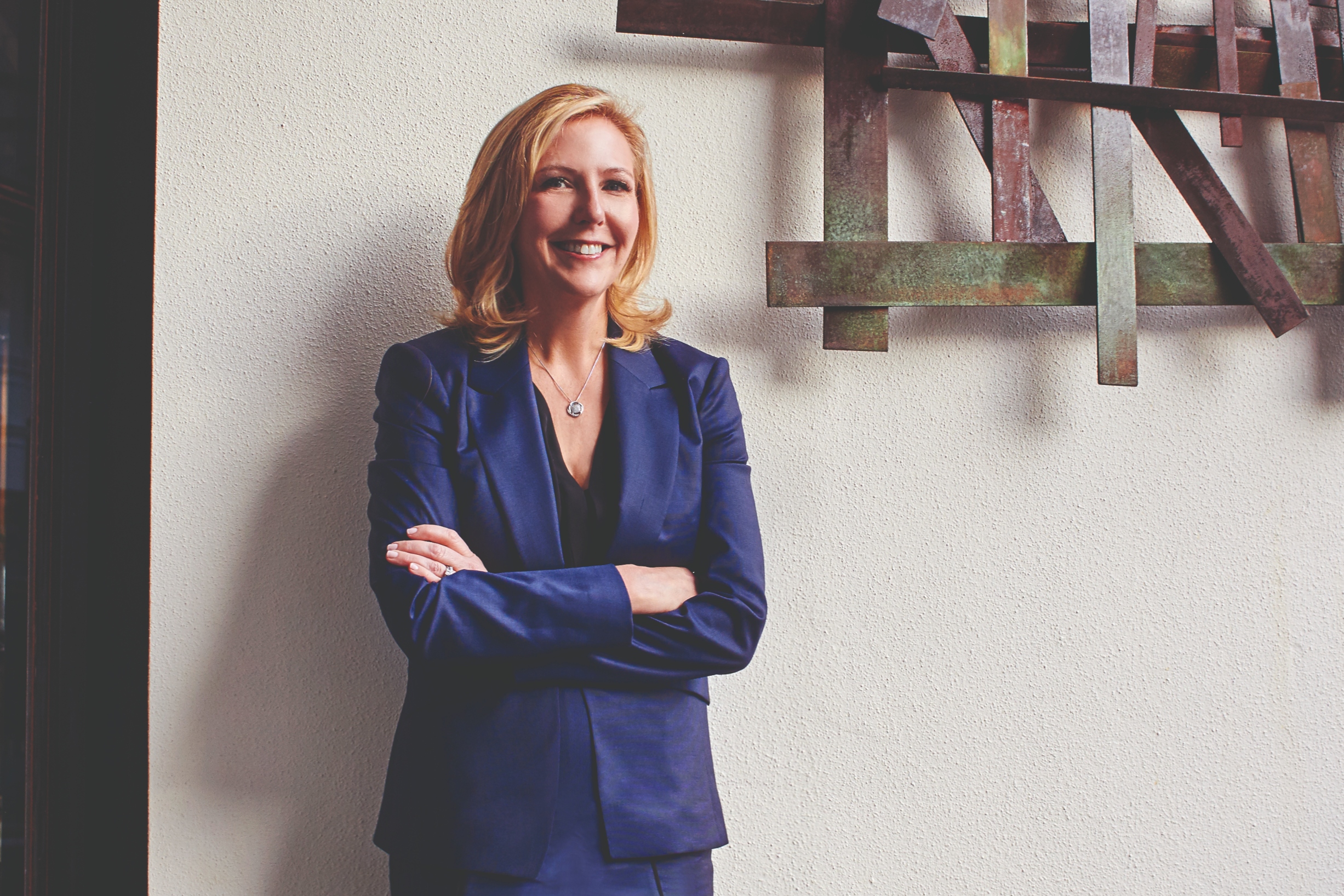 How has the face of river cruising changed since the '90s?
Ellen: Back in the '90s, there was just one dining room on each river cruise ship and everyone ate there. Now, we've got three dining venues onboard Uniworld ships: a main dining venue, a specialty dining, which generally has a small fee attached to it as it offers a special wine tasting experience, and a casual dining restaurant. It has become increasingly important to introduce the local food of the destination as well to source for the best and finest ingredients.
Accommodations were very tiny in the past, about 130 sq ft. Now, we have taken those cabins, doubled them and added more suites. There are also more luxury finishes. It's about having beautiful Murano glass chandeliers and elegant spaces that just pop; each ship is different and designed according to the destination. Everywhere you look, there's an amazing art collection on board Uniworld ships. There are original Picassos owned by The Travel Corporaton's (the parent company of Uniworld) chairman, Stanley Tollman, which are featured on all 19 ships, including the hallways, suites, main foyers and lounges.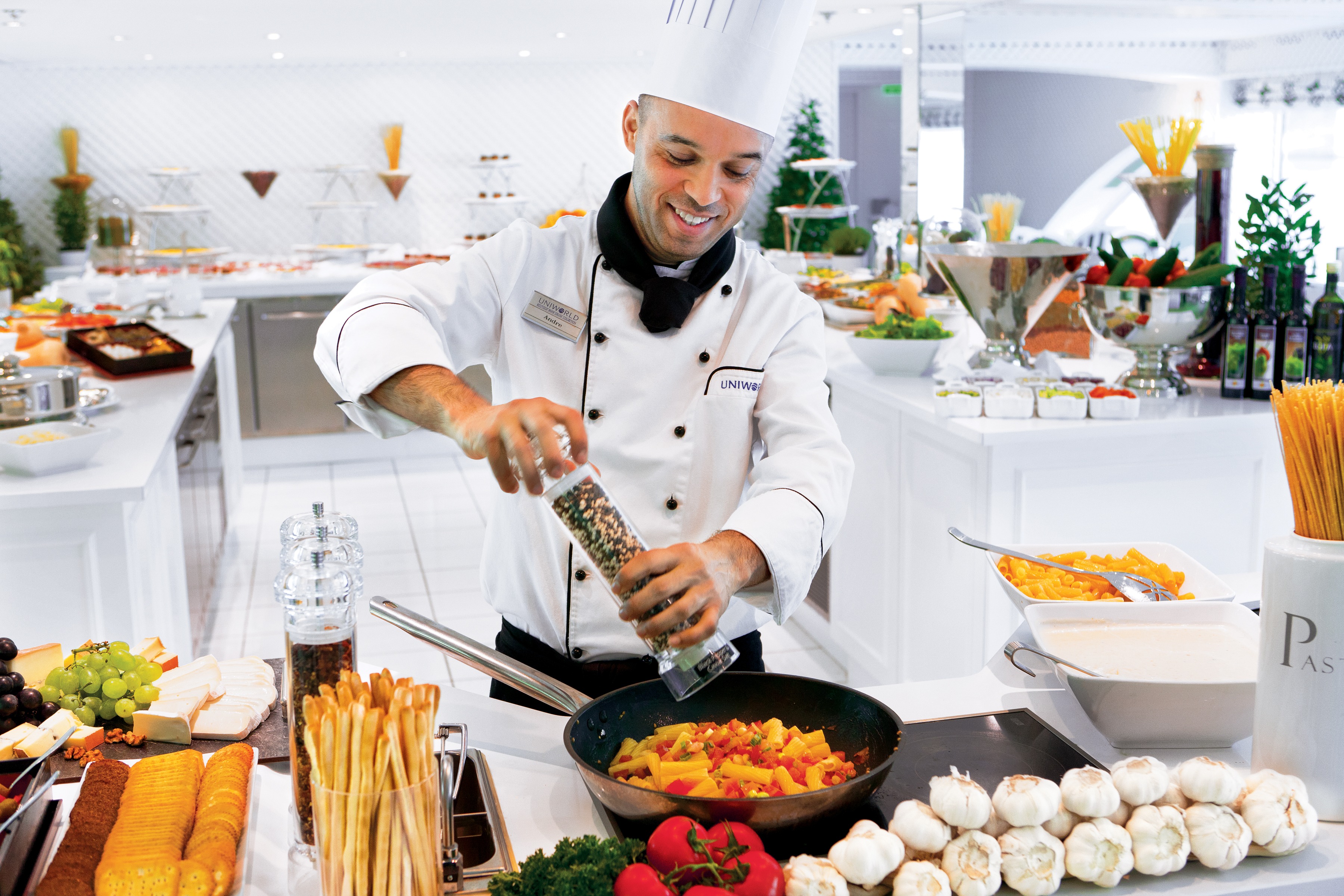 How does Uniworld's dining programmes differ from its competitors?
Nobody else offers three different restaurants onboard every river ship. Our new ship in Bordeaux features four dining venues (including an al fresco top deck that serves salads, soups and French pizzas) and room service. Comfort food is another big focus. Our guests travel a long way to get to their destinations so it's also about making sure that not only do we provide rich incredible meals but also simple food like Mrs Tollman's Chicken Soup. You can even get fried rice or laksa on board all our ships. Yes, all our chefs know how to make laksa.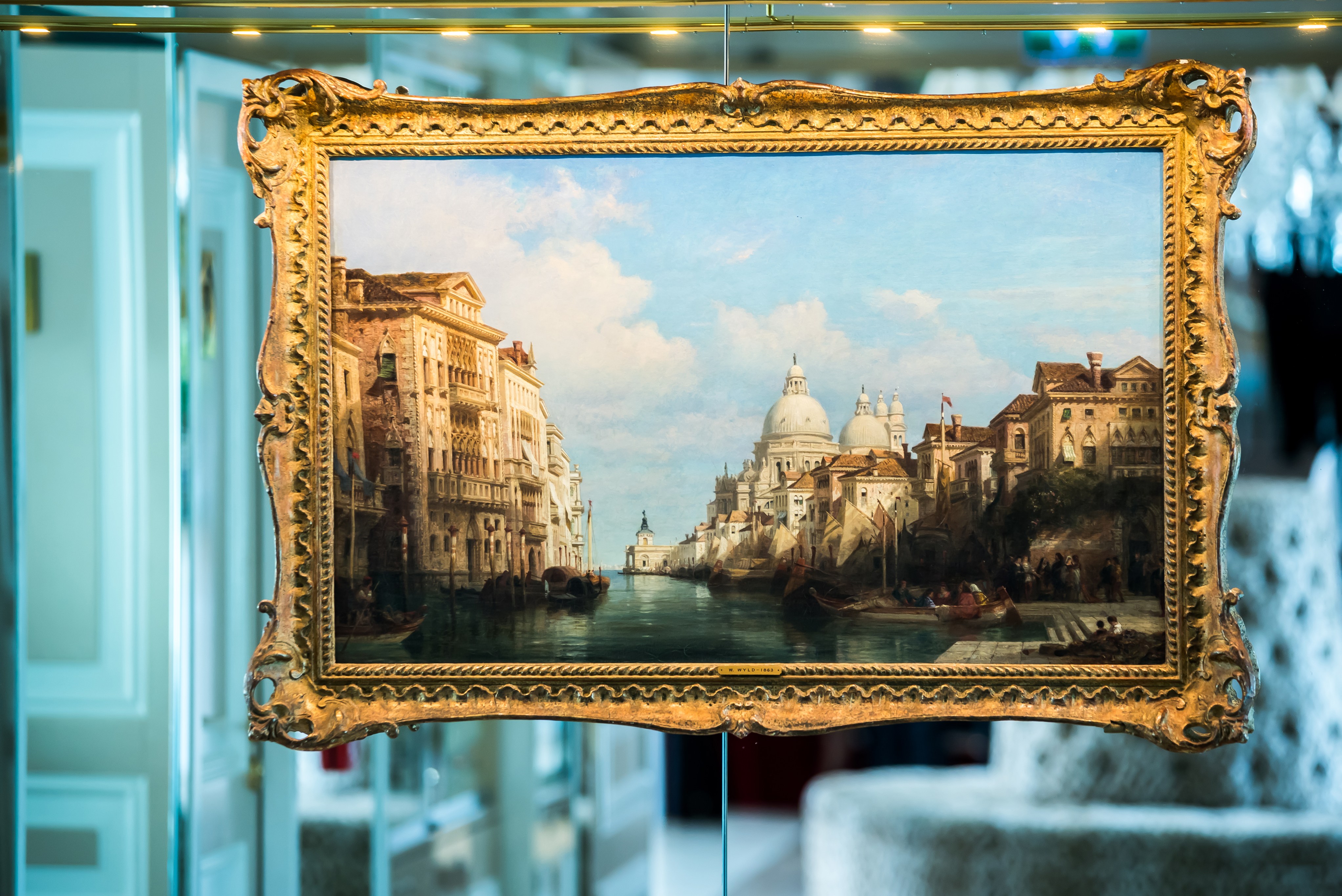 What happens before passengers board Uniworld's river cruise ship?
When we send the manifest to each ship, our staff will check the number of nationalities to ensure we are meeting their needs. Once someone is on board and would like to have a certain item and we don't have the ingredients, we will go off the ship to get them the next day Once, a guest was bicycling with our hotel manager in Budapest and he expressed a wish for stuffed cabbage as his mother used to cook that for him. It was almost the last day of the cruise; the hotel manager told the chef and he managed to make a big tray of stuffed cabbage for the guest. If we can source it, we want to do it, and the chefs appreciate the challenge.
Each ship has at least two key chefs. Together with our two corporate executive chefs and corporate pastry chef, we are always looking at the feedback from surveys to ensure we are delivering everything we say we are going to. All chefs are trained in the recipes from Red Carnation Hotels (a sister brand of Uniworld). We hire chefs from all over the world so we are also getting expertise from them, whether it's from their previous experience in ocean cruising, river cruising or other companies. We have an amazing chef in China and another in India who learn the latest western culinary techniques from us but who are in turn sharing Asian recipes with the other chefs.
Sustainability is also a big passion of ours. We are sourcing our food locally to manage our carbon footprint. Our chefs have found sous vide bags made of potatoes instead of plastic and these go into our compost. I love that the idea did not come from me but my chefs. Sure, these sous vide bags costs more money than plastic ones but you got to put your money where your mouth is.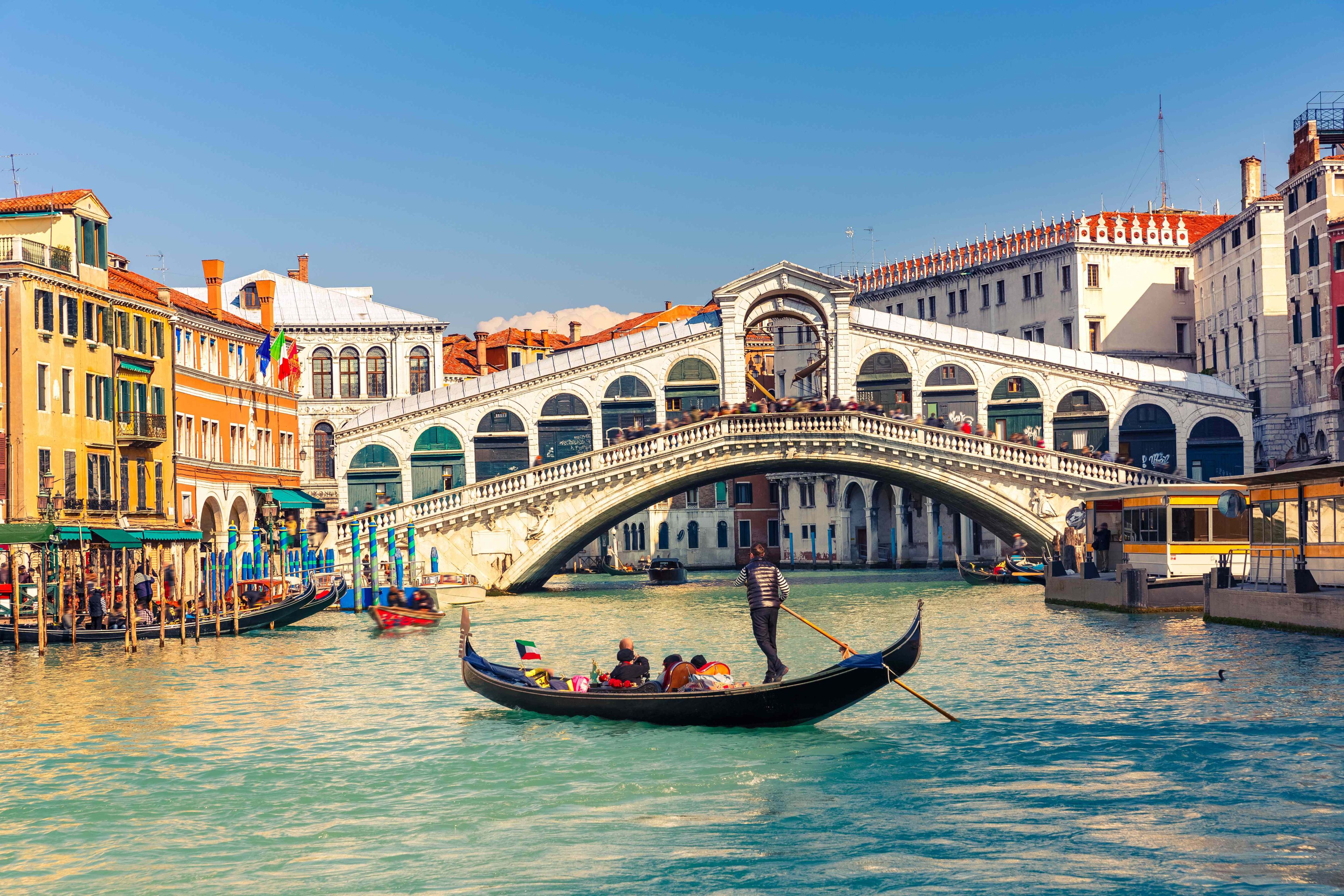 What is your favourite among all the Uniworld river cruise itineraries?
Enchanting Danube, Castles Along the Rhine, Burgundy & Provence, and Brilliant Bordeaux. The Rhine and Danube are generally the first destinations people think of when it comes to river cruising, but I also want them to start thinking of places in France. Brilliant Bordeaux was launched in April 2019. During the day you can cycle through incredible vineyards in Saint-Émilion and go hiking to the highest dunes in all of Europe to view the sunrise.
What is also upcoming as a destination is Venice. In Italy, we have a river ship in the lagoon of Venice. From there, you sail to Bologna and then to a cute fishing village called Chioggia. This year, we are docking in Verona, where guests can stay overnight before they return to Venice. Because Venice is so expensive, this itinerary offers the best value, plus you get to see the city from the water.
You have served in executive positions at Azamara and Silversea Cruises. What did you learn from working at these ocean liners which you have applied to Uniworld?
It's mostly the commercial side of things, whether it's yield management of the product or the ability to be put on the waitlist. My favourite thing I brought on from Azamara is progressive dining. My crew thought I was crazy when I first suggested it because one part of your meal is hosted by the captain; passengers start off at the lounge before they move to another venue. Our engine room is beautiful and gorgeous. We take eight guests along with the captain to have their first course there. Then they would go up to the laundry room (to meet head of housekeeper) and move on to the kitchen and galley (meet the head chef).
As part of our Wellness on the Water programme, we offer the services of wellness coaches and a Traveling Lite menu. What I have done is to elevate it and have more experiences off the ship that are wellness focused. For the Bordeaux itinerary this year, there is a hike in the morning to the dunes to watch the sunrise before breakfast – you can see the ocean on one side and the forest on the other side. I also challenge the team on how we can have more bicycling experiences so we brought in 50 bicycles on board the ship. Guests are bicycling through the vineyards and enjoying the wine tasting, which can be dangerous but we watch them very carefully (laughs). It's a different way to see things and they are having a great time. It's about giving customers more choices with what they are doing every day.
We have a new itinerary this year for Baden-Baden, Switzerland, where we will have an extension to do an entire spa experience on the Moselle and on the Rhine.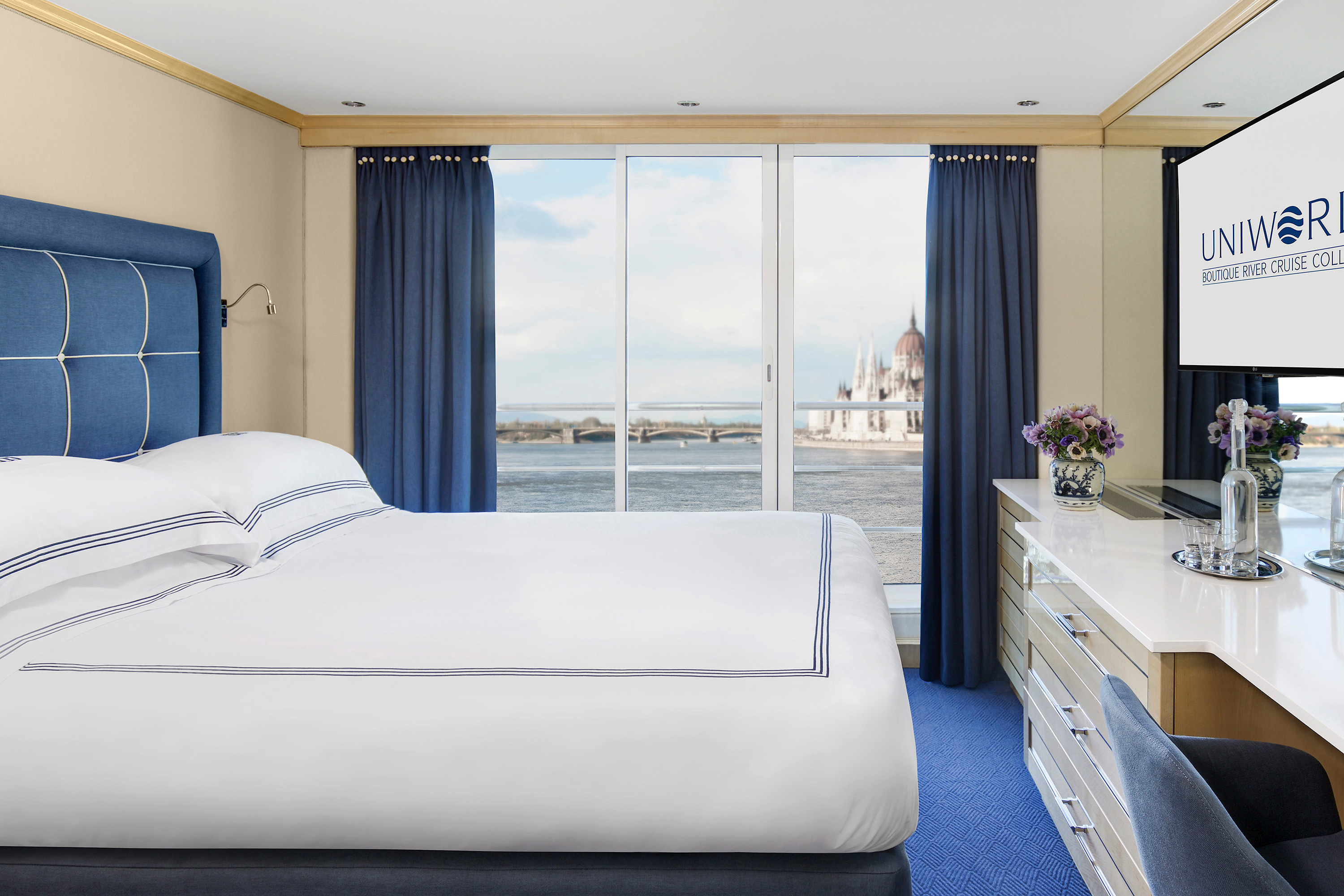 Are there plans to build more ships?
We are launching four ships; S.S. Bon Voyage, a Super Ship, was introduced last April. We will have one in Egypt; the country is on everyone's bucket list and is one of the fastest growing markets in North America. We have a ship in Portugal where the entire deck is filled with suites only. We are working with a partner on the Mekong too. Over the next few years, we will be taking all our ships and turning them into Super Ships. What that means is that there will be more dining venues, suites and luxurious finishes.
What do you expect to see in terms of future cruise trends?
Definitely, it's the demand for generation cruises. We are seeing more and more people who want to travel with their families. We also offer 12 different generation cruises and these fill up immediately. Our minimum guest age is seven but we do allow for five-year-olds. We have two family hosts –one for younger children and one for older ones. They may bring them out to the field and play soccer or take a bunch of girls to learn how to make Venetian masks. The boys can learn how to become a gondolier for the day. The kids get to eat dinner earlier as we open the dining room half an hour earlier and put them in one section of the space so parents can enjoy their meal. To cater to families, we have added more adjoining rooms on board some of the ships.
Uniworld is offering up to 30% savings as it celebrates The Travel Corporation's 100-year anniversary. Book by 29 February 2020. Terms and conditions apply. Visit www.uniworld.com/asia or call +65 69225950 for more information.
SHARE