Must-try fusion cheesy recipes with USA Cheese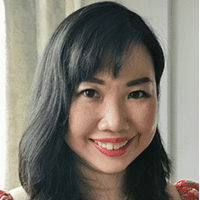 · 19 October 2021
·
Kitchen
Bak Kwa Bread & Butter Pudding, Crispy Cream Cheese Dumplings and Gochujang Prawn Gratin are proof of the versatility and many delicious possibilities when cooking with USA Cheese
With hundreds of years of history from a melting pot of backgrounds and cultures, cheeses from the United States have much to offer in terms of variety, flavour and value. The constant innovation, craftsmanship and dedication by American farmers and the entire cheese community means that there are a wide range of quality cheeses to choose from.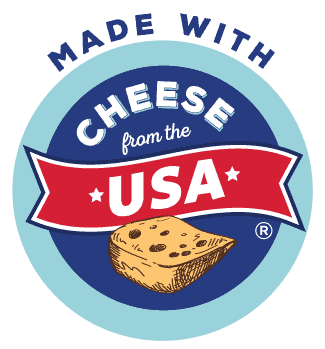 From cream cheese and mozzarella to specialty cheeses with unique and bold flavours, there is a USA Cheese to satisfy every palate. What's more, anyone can create simple meals with USA Cheese as they are incredibly versatile.
To show how easy you can cook with USA Cheese, follow @USAcheeseguildsg's Instagram for easy-to-follow recipes and ideas on innovative uses of cheese.
Here, we highlight three easy recipes that use Asian ingredients for a unique take on classic foods.
We are all familiar with traditional bread and butter pudding typically made with buttered bread, raisins and egg custard. For a unique savoury take on the classic dish, add bak kwa (dried salty-sweet barbecued meat) – perfect for cosy family gatherings.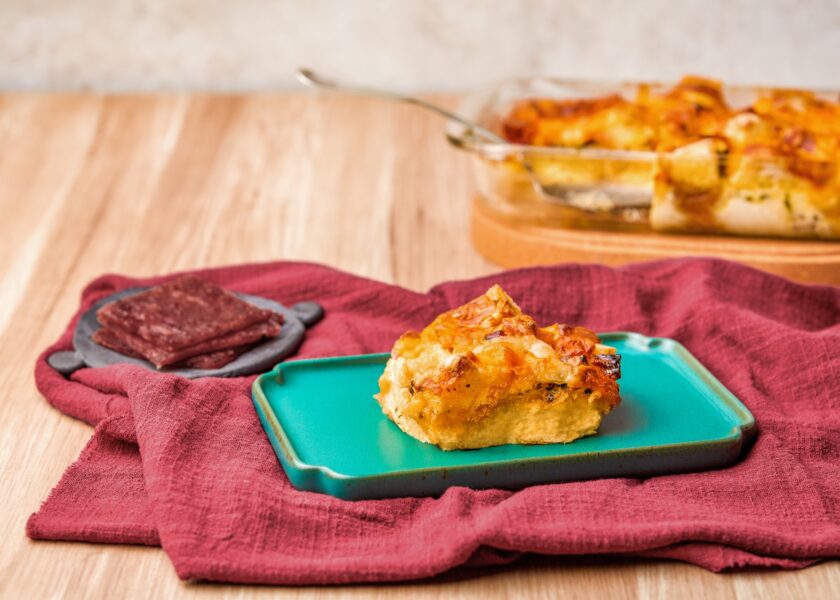 Makes: 1 casserole. Cook time: 1 hour 30 minutes. Difficulty: Moderate.
Ingredients

50g U.S. Baby Swiss Cheese, sliced
50g U.S. Mild Cheddar Cheese, sliced
100g butter, unsalted, softened
1 white onion, sliced
50ml red wine vinegar
30g granulated sugar
25ml red wine
1 garlic clove, finely chopped


1 loaf of baguette, cubed
200ml milk
2 eggs
200ml cream
15g dijon mustard
100g chicken bak kwa, diced
Few sprigs of parsley, finely chopped


Salt and pepper to taste
Preheat oven to 180°C. Heat half of the butter in a pan over medium heat.
Add onion and cook for 5 minutes until soft. Add red wine vinegar, granulated sugar and red wine. Increase the heat slightly to allow the liquid to evaporate. Season with salt and pepper. Set aside.
Whisk milk, eggs, cream, bak kwa and dijon mustard together in a mixing bowl. Season with salt and pepper. Set aside.
Make a herbed butter by melting remaining butter in a preheated saucepan. Add chopped garlic, parsley and a pinch of salt.
Grease a baking dish with some butter and arrange the baguette at the bottom. Drizzle the herbed butter over the baguette.
Pour the chicken bak kwa mixture and top with a layer of onions, sliced Baby Swiss Cheese and sliced mild cheddar cheese.
Bake the bread and butter pudding for 25 minutes until it is puffed up and golden brown. Top with grated mild cheddar cheese before serving.
Watch the video for the recipe here.
Surprise friends and family with these crispy mouth-watering parcels filled with smooth and creamy U.S. cream cheese. They are a delightfully scrumptious appetiser to kick off any meal.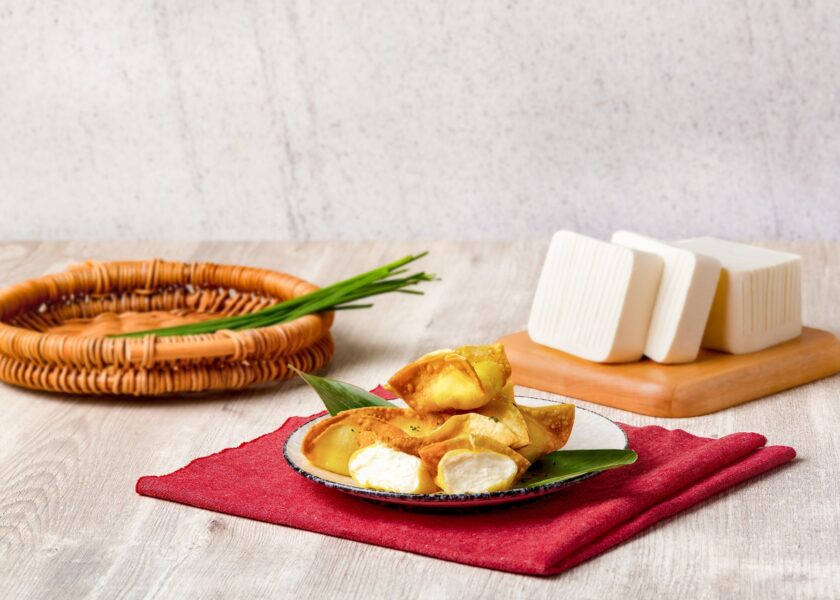 Makes: 24 dumplings. Cook time: 45 minutes. Difficulty: Easy.
Ingredients
225g U.S. Cream Cheese
20g chives, chopped
10g onion powder
10g sugar
1 egg, beaten
24 dumpling wrappers
Black pepper to taste
Combine Cream Cheese, chives, onion powder, sugar and black pepper. Stir until well mixed. Transfer the mixture into a piping bag.
Place a dumpling wrapper on a flat surface and drop a teaspoon of the cream cheese mixture into the centre.
Brush the edges of the wrapper with the egg mixture. Bring 2 opposite corners together in the middle of the dumpling and pinch. Repeat for the other 2 corners and pinch to form a package shape.
Fry in 180°C hot oil until golden brown. Transfer to drip rack and allow to cool slightly before serving.
Watch the video for the recipe here.
Skip the usual potato gratin and try this Korean-inspired recipe. It's a blend of sweet, savoury and spicy flavours topped with baked cheese – all in one dish!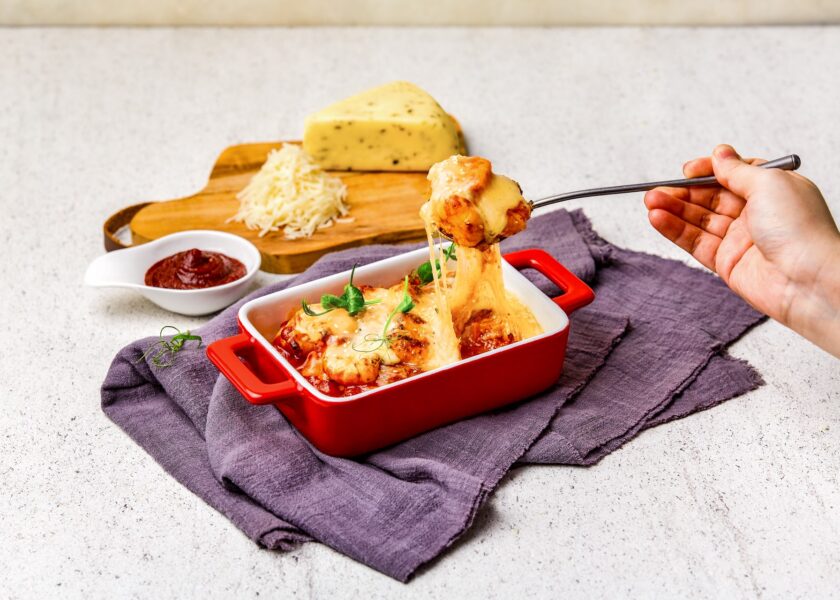 Serves: 2. Cook time: 45 minutes. Difficulty: Easy.
Ingredients

For Marinade

500g king prawns
30ml extra virgin olive oil
3ml lemon juice
5g garlic, minced
15ml honey
30g gochujang paste

For Topping
50g U.S. Garlic and Herb Jack Cheese, grated
50g U.S. Mozzarella Cheese, grated
Roasted sesame seeds
Pea sprouts
Preheat oven to 200°C.
Mix all the marinade ingredients well in a mixing bowl.
Rub the marinade all over the prawns to coat evenly.
Prepare a pan with hot oil and sear the prawns, charring just the surface. Transfer prawns into a casserole and add grated Garlic and Herb Jack Cheese, and grated mozzarella cheese.
Bake for 5 minutes, then garnish with roasted sesame seeds and pea sprouts.
Watch the video for the recipe here.
Discover the heritage and diversity of cheeses from the USA on its Instagram page @USACheeseGuildSG.
All images courtesy of USA Cheese Guild.
SHARE