Delivering peace, positivity and self-care, one candle at a time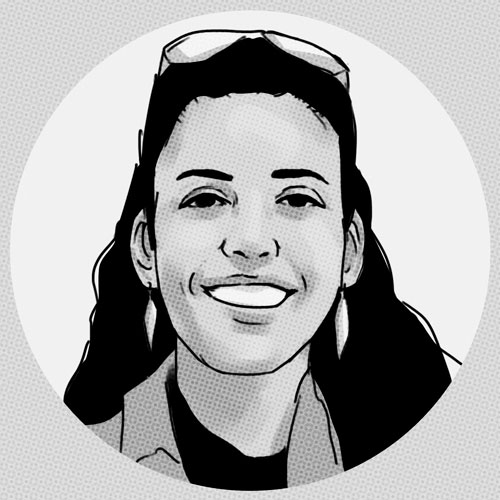 · 7 February 2022
·
Health & Wellness
You would have often heard the phrase "a candle loses nothing by lighting another candle", and that is exactly what homegrown Innerfyre embodies, as it affirms hope and positivity through light and scents
Born out of the lows of the pandemic last year, Innerfyre reminds us that now more than ever, how important it has become to pay attention to our self-care and mental health, as the ongoing restrictions have disrupted the normal way of life and imposed challenges on how we relate and connect with each other.
"Our sense of smell has a profound effect on our emotions and state of well-being, hence the founders of Innerfyre embarked on the quest to create creative, mood-boosting products that would transform our everyday self-care routine into a special occasion," says Sophie Huang, Innerfyre's resident scent expert and head candle elf.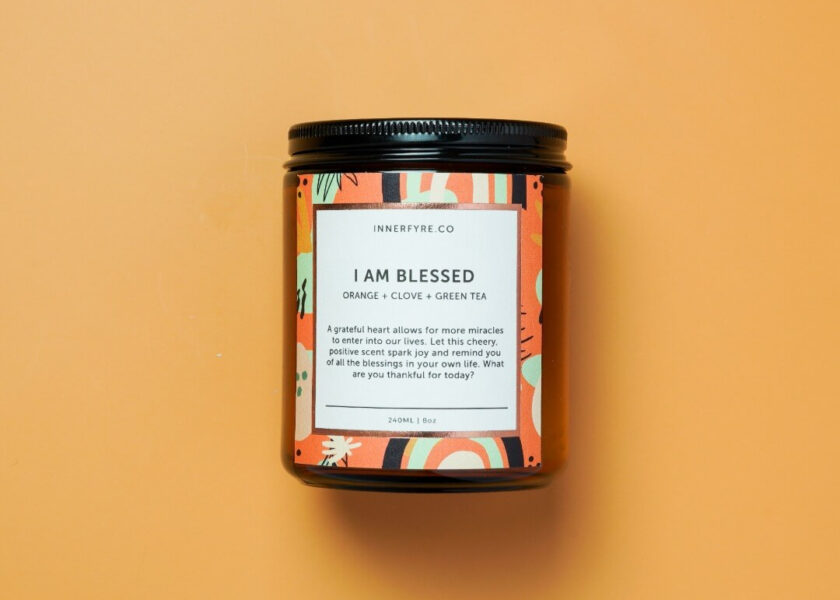 Innerfyre creates sustainable, clean and non-toxic candles, essential oils, perfumes and room sprays that "help inspire and bring light" into people's lives, both literally and figuratively. All the products are made with pure, therapeutic essential oils that not only look and smell great, but also make the user genuinely feel great too.
We ask Huang more about the brand's self-affirming messages, its crystal-infused wellness programme and how its products help to improve users' emotional well-being.
What does Innerfyre hope to achieve?
As the pandemic took a marked toll on mental health, we wanted to bring the message of affirmation through our products, and remind everyone that even though there's a lot going on and there seems to be a lot we need to do, it's okay to pause and take some time for yourself. We wanted to remind people to take some time to pause – even though most of us are working at home – and just not be swept away by the hustle and bustle of everyday life.
How do your candles boost a person's mood?
We made a conscious choice to use essential oils in our candles even though most candles in the market are made with artificial fragrance oils. That's because we wanted to create a product that doesn't just look and smell pretty; we wanted to create something that has real, mood-boosting benefits and aromatherapeutic qualities.
Research shows that inhaling essential oil aromas can stimulate parts of our limbic system, which is the area of the brain that controls our emotions, behaviours and memory. So aside from physical benefits like reducing headaches and other types of pain, it can also help us in our emotional well-being.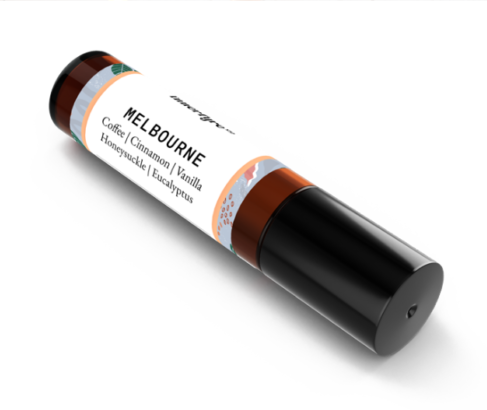 How do you conceptualise the combinations of the gems and scents for your products?
We select crystals that would be included in each of the Affirmation candles based on the meanings they are known for. In doing so, the overall message of the candles ties up perfectly — from the scents and benefits of the essential oils, the affirmation message, the meaning of the crystal, even up to the Spotify playlist we've curated for each of them where you can listen to the paired songs we've picked for each scent. For instance, for I Am Loved, it's mostly soft, romantic vocals that tie in with the message of the candle.
For one of our bestsellers, the I Am Beautiful Affirmation Crystal Candle, we have exotic floral essential oils like rose and neroli. These scents, along with the invigorating aroma of bergamot and cinnamon, make you feel confident and beautiful. We chose lapis lazuli, the stone of wisdom and intellect, for this candle mainly because it was associated with Cleopatra, as it was believed she used ground lapis lazuli as an eyeshadow. Cleopatra reminds us that true beauty is more than skin deep; it's about being true to yourself, connecting to your inner wisdom, and finding the strength to pursue your life's calling.
Because we offer scent-based products, we've always highlighted the power of our breath, and how we can focus on our breathing to offer us that moment of mindfulness that is essential to self-care.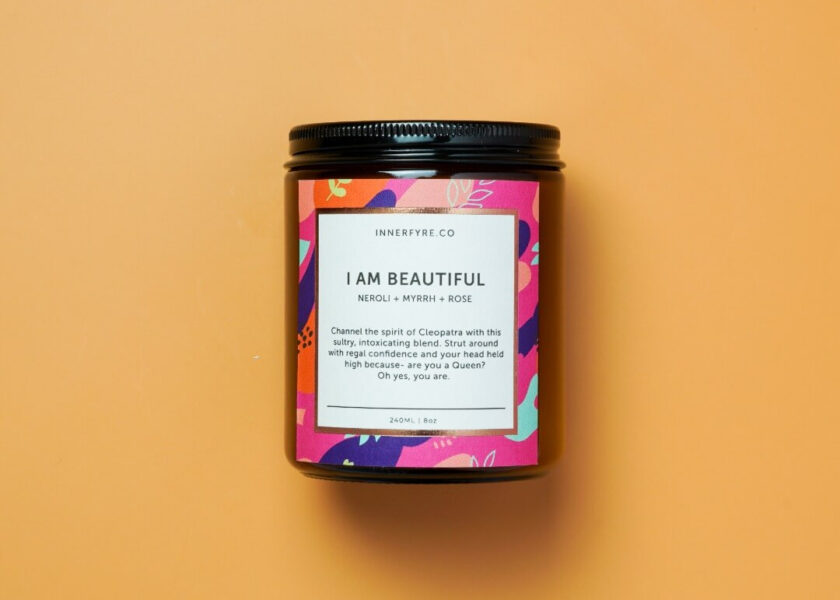 What makes your crystal-infused wellness program different from other such products in town?
For us, the wellness aspect comes from the holistic experience that we create with each candle. Aside from the benefits of the essential oils, we've also carefully chosen the wax that our candles are made of. Our sustainable coconut and rice bran wax blend uses Fair Trade Certified organic coconut oil that burns cleaner than other types of candle wax, and emits zero soot particles, as the wax is petro-carbon soot free.
Our proprietary wax blend is what makes our candles unique, and it also benefits small growers in countries like the Philippines. Our mission with Innerfyre has always been to bring light to the lives of as many people as we can – and that's not just limited to our customers, but also the suppliers that we source our ingredients from.
We choose not to use soy and palm wax as the commodification of these crops have led to large-scale deforestation and increased carbon emissions around the world. Also, rice bran wax is a value-added product as it's made as a by-product of rice bran oil and actually reduces waste. We have been working on our candle wax recipe over the past year so that we can achieve a high percentage concentration of essential oils in our wax, between 10 to 12 percent, which is almost double the usual commercial practice of adding five to six percent fragrance oils in their candles.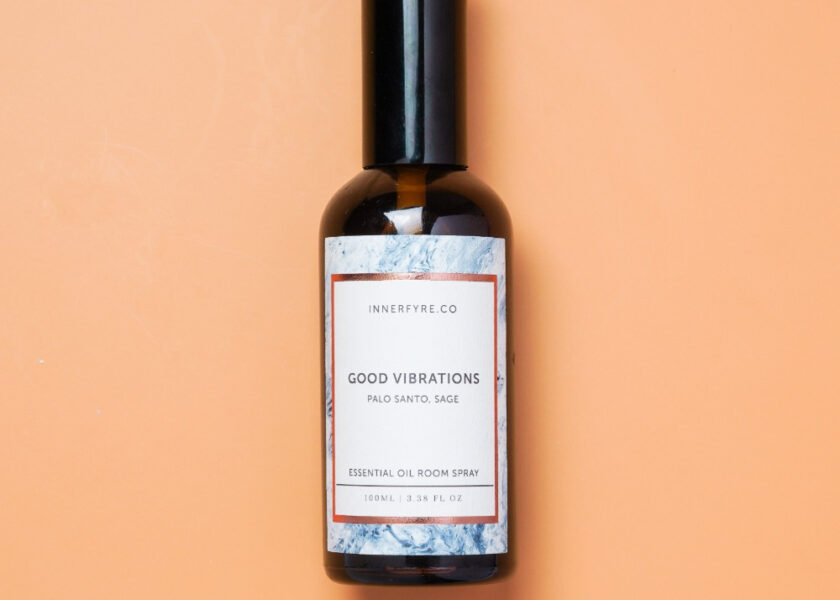 We add these to the positive messages of the candles, music from our Spotify playlists to set the mood, and the crystals for that extra dose of hope and magic in people's lives. So we aren't just selling a candle, we are selling a positive, self-affirming experience.
What's the first thing you would like people to think about when they think of Innerfyre?
We'd like for them to look inwards and find that joy from within. Times are ever-changing and the challenges of the pandemic are adding to the everyday stress, even now that it's been almost two years since its declaration. But if they are able to reconnect to that inner spark, that inner fire, they will be sure to find their way back to purpose.
With that, we're also hoping that their inner fire will light up the world around them. We're actually very grateful that many of our customers are gifting our products to greet their loved ones, uplift them, or make that connection happen if they can't be physically together at this time.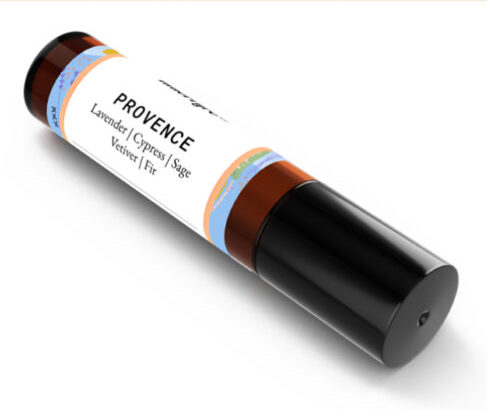 Beyond the scents
Believing that taking care of the environment is a very important form of self-care, Innerfyre uses only sustainably sourced materials to help fight against climate change. Hence beyond having a sustainable wax blend and natural essential oils, Innerfyre's boxes and packaging are made from wood and paper certified by the Forest Stewardship Council (FSC), complete with drawstring bags that are made from 100 percent organic cotton and certified by the Global Organic Textile Standard (GOTS).
Compared to conventional cotton, organic cotton uses 62 percent less energy and 88 percent less water. Hazardous pesticides are also banned in organic cotton production, making it safer for growers. Organic farming practises also help to lock carbon dioxide into the soil, producing up to 94 percent less greenhouse gas emissions.
"We're also continuing in our partnership with One Tree Planted in their efforts in global reforestation by our pledge to plant one tree for every customer order. Hopefully, we are able to spread the message of positivity and self-care one candle at a time," says Huang.
SHARE