11 restaurants to break your fast during Ramadan in Jakarta
Our guide to enjoying a great iftar feast in the bustling Indonesian capital.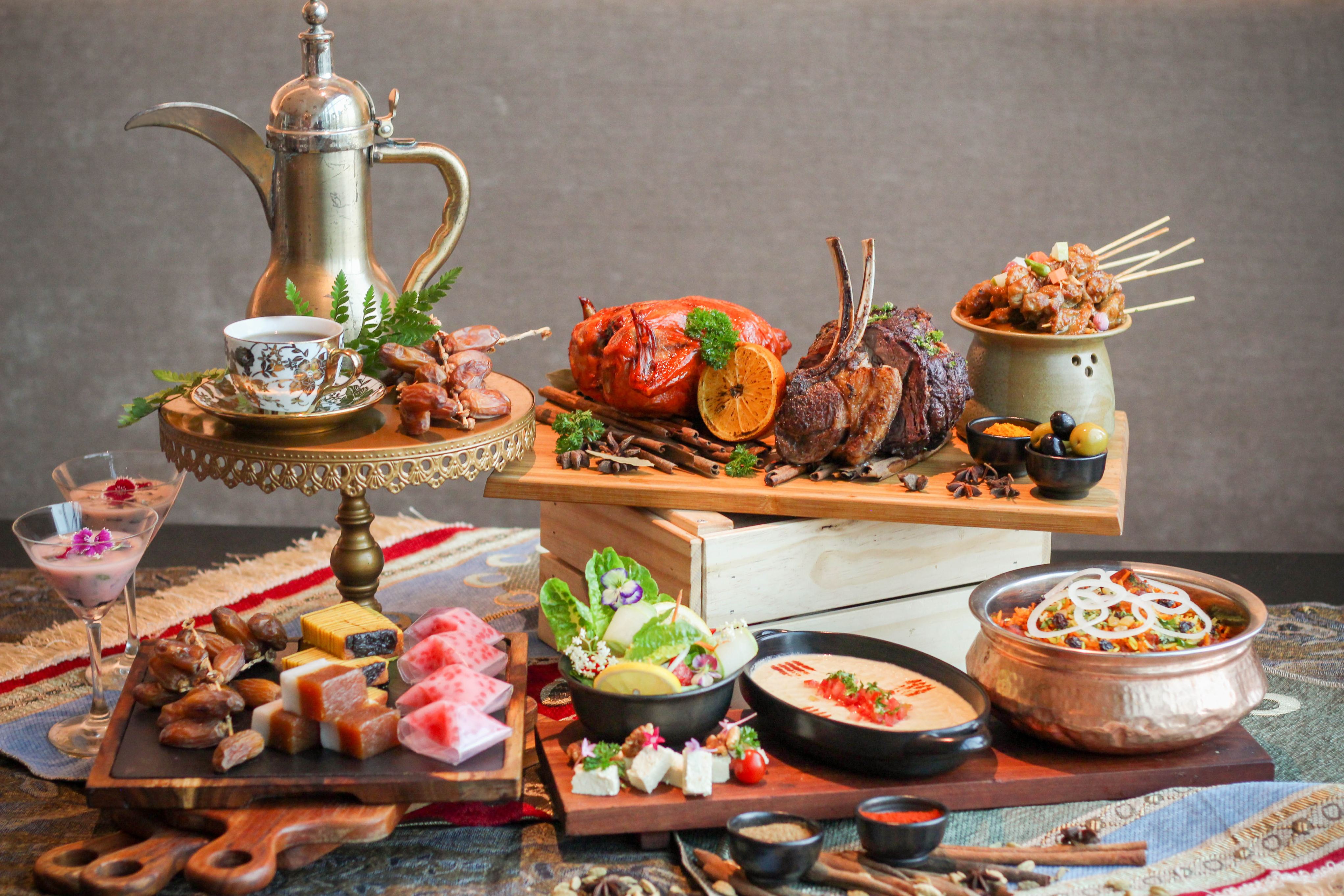 During the holy month of Ramadan, Muslims abstain from eating and drinking from dawn till dusk for about 30 days. The call of prayers at sunset from the mosques signifies the period when the fasting for the day officially ends and iftar (the second meal) begins. There is nothing sweeter than to break your fast with loved ones and friends over a hearty feast. Here are some of Jakarta's best restaurants and their special iftar offerings.
Pullman Jakarta Central Park
Collage All Day Dining hosts Hilal, a entertainment-fuelled iftar experience. Created by guest chef Kamel Hassan from Movenpick Anwar Al Madina, break your fast with a soothing sip of Morrocan tea or Turkish coffee before heading to the tempting open kitchen buffet. Live Arabic live music and dance performances, will accompany the dining experience. Rp588,000/ person.
Podomoro City, Jalan Let. Jend. S. Parman Kav. 28, Jakarta. Tel: +62 21 29200088
Mandarin Oriental, Jakarta
Savour A Taste of Nusantara buffet at Cinnamon, a family-friendly restaurant that is located on the same floor as the five-star hotel lobby. The all-day dining destination is renowned for its wide representation of Indonesian regional cuisine and it's a good opportunity to tuck into the following dishes: Jakarta's signature Rujak Juhi (dry squid and vegetable salad); West Sumatra's Itik Lado Ijo (duck curry with green chilli); Makassar's Konro (grilled ribs); and an array of Indonesian desserts. For non-Indonesian fare, make a beeline for the living cooking stations serving up freshly grilled seafood and barbeque classics. Rp428,000 per person.
Jalan M.H. Thamrin, Jakarta. Tel: +62 21 2993 8888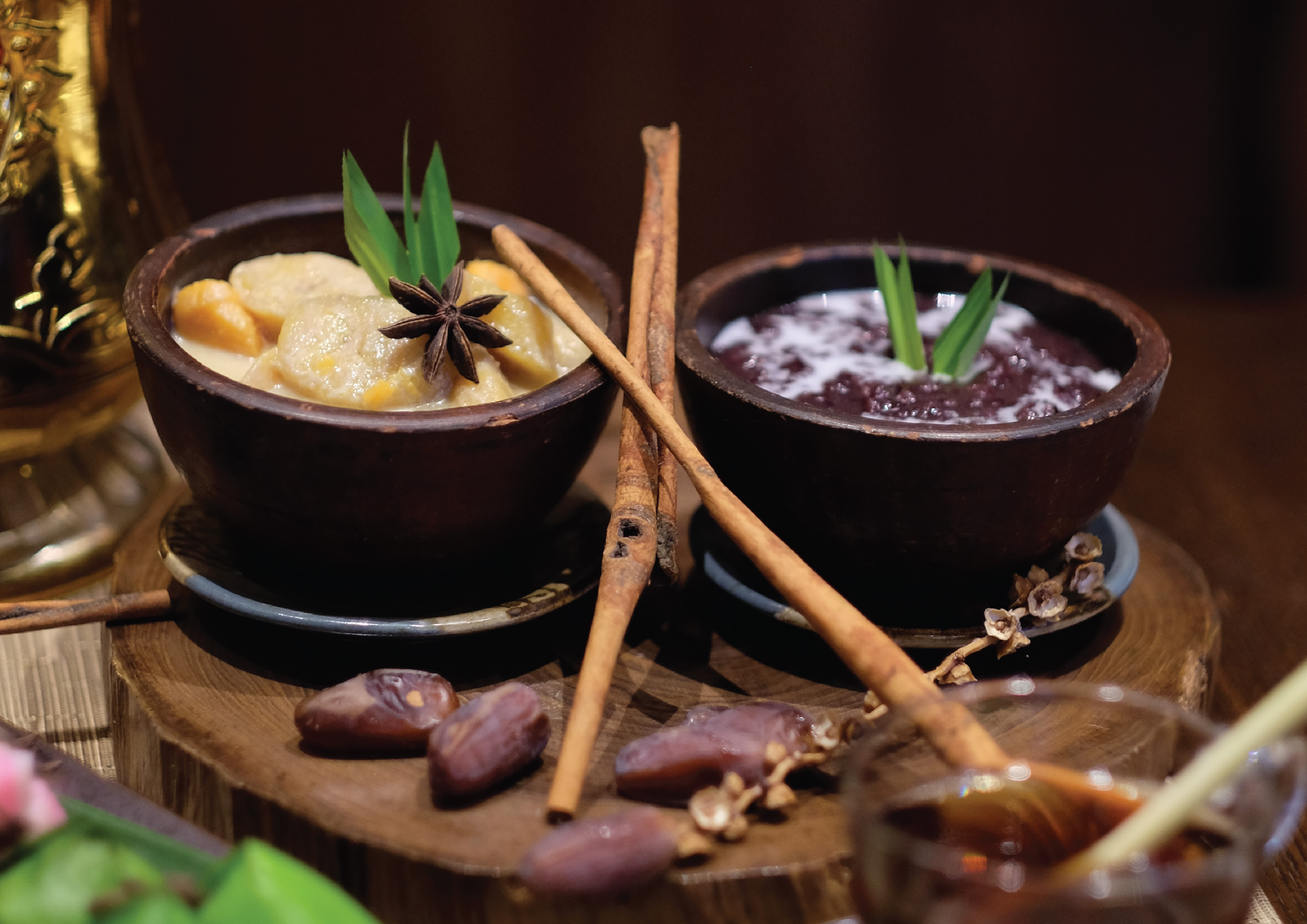 AYANA Midplaza JAKARTA
Conveniently located in Sudirman, Central Jakarta, AYANA Midplaza Jakarta offers two dining options to break your fast. The elegant Rasa Restaurant serves different Indonesian cuisines every week, showcasing a wealth of flavours and spices over an extensive buffet spread (Rp398,000 per person). For a quieter, private club atmosphere, head to the open atrium JimBARan Lounge next to the hotel lobby, which doubles up as a social networking venue. Wind down the day with some refreshing drinks and order a Ta'jil Platter featuring assorted sweet traditional delicacies and savouries (Rp190,000 per serving).
Jalan Jenderal Sudirman Kav. 10-11, Jakarta. Tel: +62 21 2510888
Fairmont Jakarta
You can expect a lavish Arabic, Indian and Indonesian buffet at the elegant multi-cultural cuisine restaurant, Spectrum. Savour lamb ouzie, chicken tikka, gado-gado and various international dishes over a buffet spread (Rp468,000/ person). The price includes a sweet snack or tajil, hot or ice tea, iced lemon tea and dates infused water. Coming with a large group of at least 10 people? 1945 Restaurant, which offers family-style seating, is a better option; there, you can enjoy an array of comforting Indonesian dishes and traditional kueh, such as Bika Ambon, and other sweet treats. Rp388,000/ person.
Jalan Asia Afrika No.8, Gelora Bung Karno, Jakarta. Tel: +62 21 29703333
Grand Hyatt Jakarta
Two guest chefs from Hyatt Regency Sharm El Sheikh have been roped in to create a special Egyptian menu at Grand Hyatt Jakarta's C's Steak and Seafood Restaurant, so you wouldn't want to miss this. Make sure you secure a table in advance for the popular buffet feast (Rp420,000 per person), which will feature Koshari (an Egyptian street food of rice, macaroni and lentils in spiced tomato sauce), Shish Tawook (chicken kebab), tarb kofta (lamb kofta), and a selection of Arabic desserts. The hotel's other F&B outlet, Grand Café, offers Indonesian home-style  buffet for the same price, complete with a dramatic view of Jakarta's famous roundabout, the Bundaran Hotel Indonesia. Enjoy a special live oud (Arabic stringed instrument0 performance as you savour your soto and satays.
Jalan M.H. Thamrin Kav. 28-30, Jakarta. Tel: +62 21 29921234
Keraton at The Plaza, a Luxury Collection Hotel
Recharge your energy with a scrumptious spread of Indonesian and Middle Eastern delights at Bengawan  (Rp348,000/418,000/ person, two seatings). There's assorted grilled satays, beef rendang, Indonesian soups and a chef's selection of fish. Try baklava, sip masala tea and savour a variety of Middle Eastern dishes. Alternatively, head to La Moda, located on the first floor of Plaza Indonesia, which is managed by the hotel, for some pampering service and an assortment of sweet and savoury snacks. Rp168,000/ person, inclusive of tea or coffee.
Jalan M.H. Thamrin Kav.15 Jakarta. Tel: +62 21 50302993
Tugu Kunstkring Paleis
Fancy breaking your fast in a stately dining room located inside a 105-year-old grand historical building? Built by the Dutch in 1914, Bataviasche Kunstkring was once the centre of high value art exhibitions. It also housed The Immigration Office for Central Jakarta from 1950-1997. The building has been brought back to life by the Tugu Hotels and Restaurants Group under a new name. Tugu Kinstkring Paleis is now an event space, gallery cum restaurant, lounge and tea house. For Ramadan, Tugu Kunstkring Paleis features two set menus. Sajian Indonesiaku (Rp348,000/person) comprises sweet treats, a tasty cheese croquette, four Indonesian dishes, such as Ayam Goreng Lengkuas and Tempe Lombok Ijo en Taoco, and a delightful Chendol Panna Cotta. The Sesaji Makanan Indonesia  set(Rp458,000/person) offers dates, an appetiser, four Indonesian favourites, such as Ayam Bakar Taliwang and Rendang, and two desserts. An a la carte menu is also available featuring dishes like Lobster Saus Padang (Rp488,000) and Kambing Panggang Kunstkring (Rp268,000).
Jalan Teuku Umar No. 1 Menteng, Jakarta. Tel: +62 21 3900899