Break fast, Jakarta style
Feast at the city's top tables and pamper your loved ones with exquisite hampers during the holy month of Ramadan.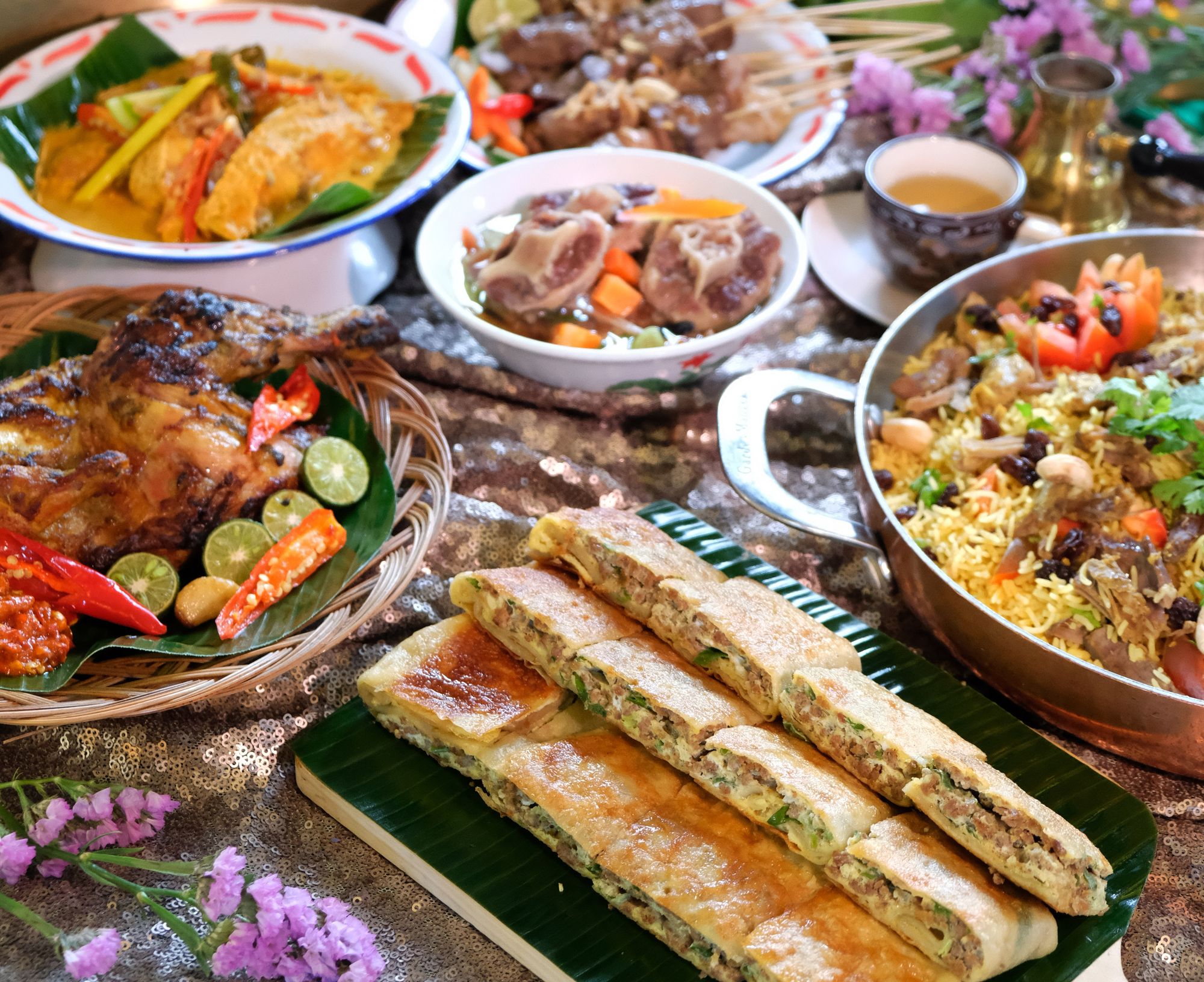 Shangri-La Hotel, Jakarta
Although SATOO at Shangri-La Hotel, Jakarta is renowned for its cornucopia of cuisines from around the world, you'll want to check the restaurant out for its Indonesian buffet spread (Rp428,000/person from Sunday to Thursday, Rp488,000/person on Friday and Saturday) during Ramadan. Break your fast with the sweet selection of bubur tampah or the refreshing es selendang mayang, before moving on to the archipelago's savoury dishes such as spiced roast lamb, oxtail soup, ayam penyet, and many more. The Middle Eastern chicken shawarma and mezze platter, along with other international delicacies, are also available. Or gift beautifully wrapped hampers (from Rp398,000) from SATOO Deli Shop. With a tasty selection of popular treats such as pineapple tarts and cheesy kastengel, you'll find it hard to choose just one.
Kota BNI, Jl. Jend. Sudirman Kav. 1. Tel: +62 21 2922 9999
Pullman Jakarta Central Park
Head to Collage All Day Dining for an intimate gathering and at the same time, tuck into the spread of Middle Eastern and international cuisines, plus a selection of desserts, from the open kitchen and live cooking stations. The buffet (Rp388,000/person) is available every day between 5.30pm and 10pm until 14 June.
On top of preparing a space for prayers, Pullman Jakarta Central Park also offers the Hilal (Rp350,000/person), an Arabic-inspired dining experience in the Pullman Ballroom. Think wafting colourful silk and carved lanterns as you relish baba ganoush, tabouleh, chicken shish kebab, and other scrumptious Arabic and Indonesian creations. The Hilal is available daily, 5pm to 10pm, from 28 May to 10 June and 25 to 30 June.
Podomoro City, Jl. Let. Jend. S. Parman Kav. 28. Tel: +62 21 2920 0088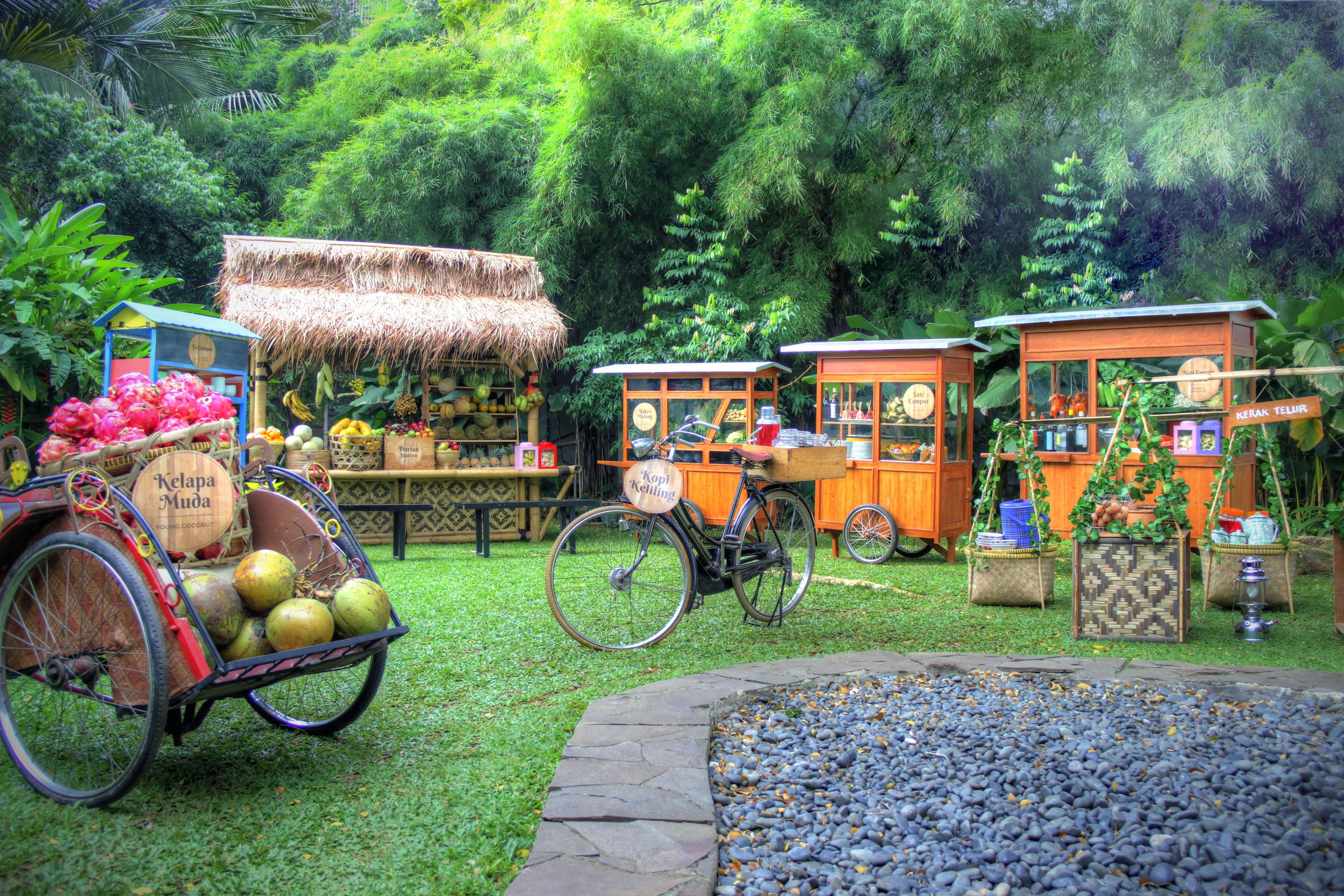 DoubleTree by Hilton Jakarta – Diponegoro
Welcome Ramadan with DoubleTree by Hilton Jakarta – Diponegoro's two breaking fast dining options: the casual al fresco experience in Kampung Betawi at OPEN} Restaurant or a fine Middle Eastern dining affair at Sea Grain Restaurant & Bar. At the former, you'll be plied with more than 400 popular local dishes such as nasi goreng mawut and es campur prepared in a hawker setting. Kampung Betawi is available till 15 June at Rp458,000/person.
Take in the view of Jakarta's skyline as you tuck into a seductive spread of authentic Middle Eastern fare from lamb kofta to spicy fish samak – all executed by a Morrocan native guest chef from Jeddah Hilton – at Sea Grain Restaurant & Bar. Available daily during the month of Ramadan at Rp388,000/person.
Jl. Pegangsaan Timur No. 17 Cikini. Tel: +62 21 2985 7093
The Dharmawangsa Jakarta
Count your blessings and create a memorable iftar experience with your loved ones at The Dharmawangsa Jakarta, which has rolled out three lavish dining experiences by executive chef Felix Budisetiawan and his team. Iftar Around the World at Jakarta Restaurant & The Courtyard dishes out iconic dishes from around the globe, including Singapore's chilli crab, Spain's seafood paella and Mexico's burrito. The buffet is available till 14 June at Rp495,000/adult and Rp395,000/child.
There's also the 'Al Souk' Iftar at the Bimasena lobby lounge, where there's an immersive Moroccan Ramadan buffet (Rp635,000/adult and Rp395,000/child) showcasing Middle Eastern, Indonesian and other cuisines. Plus, you get the chance to win return Etihad Airways tickets for two lucky guests to your preferred destination in U.S.A., Europe, Morocco and the Middle East.
Experience the longstanding Javanese tradition of Liwetan at Sriwijaya restaurant (Rp500,000/person with a min. booking of 30 people until 13 June). The communal dining affair won't let you down with its selection of Indonesian comfort food. Reservations must be made one day in advance.
Jl. Brawijaya Raya No. 26 Kebayoran Baru. Tel: +62 21 725 8181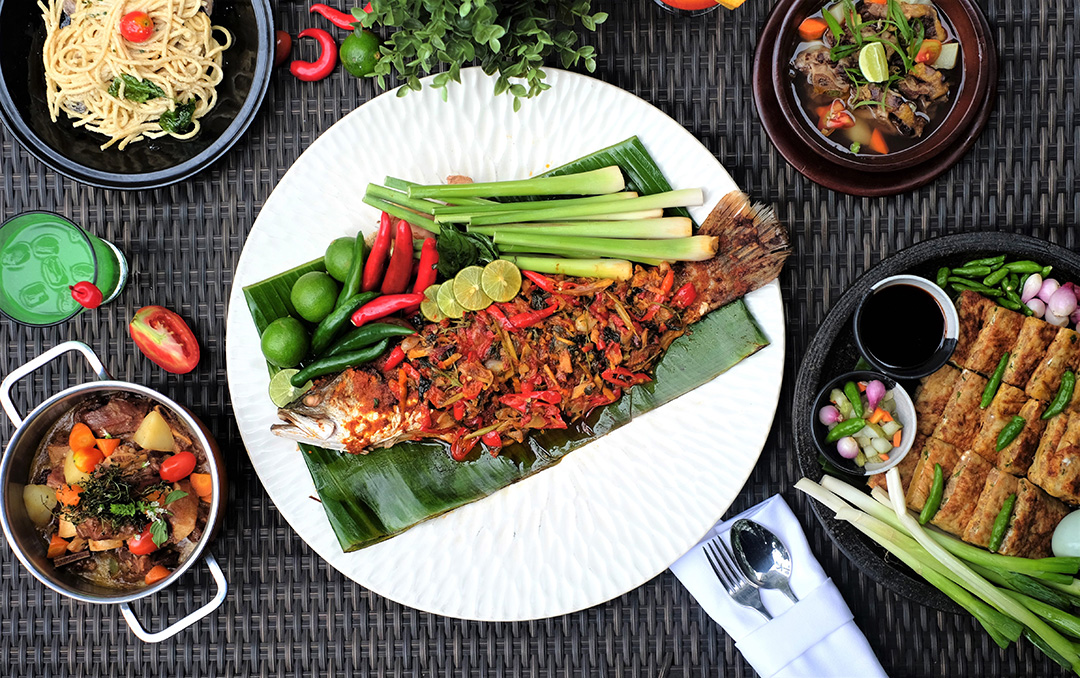 Le Méridien Jakarta
Choose from three breaking fast options at Le Méridien Jakarta, till 14 June. The Batavia Night Market in the Puri Asri Function Room presents a buffet (Rp299,000/person) of Indonesian dishes and desserts such as jajanan pasar, while La Brasserie Restaurants tempts palates with their Flavours of Iftar buffet (Rp395,000) as a live band croons in the background. Or opt for Al Nafoura restaurant, which doles out a Middle Eastern buffet (Rp410,000/person) like no other, with A Night in Middle East offering Turkish ice cream, their signature braised lamb, haruf ouzi and more.
Jl. Jend. Sudirman, Kav. 18-20. Tel: +62 21 251 3131
Hotel Mulia Senayan, Jakarta
Embark on a culinary adventure around the world at Hotel Mulia Senayan, Jakarta. Cantonese and Sichuan delights are the stars at Table8, while sophisticated French and pan-Aisan fare are the order of the day at Orient8. There's also Edogin for exquisite Japanese plates, and of course, The Café at the lobby for comforting and familiar fare. The weekdays buffet goes for Rp328,000 to Rp525,000/person; the weekend (Friday, Saturday and Sunday) buffet goes for Rp408,000 to Rp545,000/person). You can also pack up exclusive and personalised hampers (from Rp650,000) of cookies and other sweet treats from The Chocolate Boutique.
Jl. Asia Afrika, Senayan. Tel: +62 21 574 7777
Plataran Venue and Dining
To welcome the Ramadan festivities, three Plataran Indonesia venues are offering new creations. Try the savoury goat curry Al Hambra (Rp215,000), Kebuli Rice with Chicken (Rp225,000) and Chicken Paella (Rp225,000) at Plataran Menteng, Patio Venue & Dining, and Plataran Dharmawangsa. The breaking fast dinners come with a variety of complimentary Indonesian sweets such as mung bean porridge, es cendol, and banana kolak. Enjoy the drum performance and live call to prayer that signifies the end of the day-long fast only at Plataran Menteng and Plataran Dharmawangsa. Meanwhile, diners at Teras Dharmawangsa will receive a treat of sweet dates as they're breaking fast with the restaurant's signature Asian Peranakan dishes .
Plataran Menteng, Jl. H.O.S. Cokroaminoto No. 42, Menteng. Tel: +62 21 2962 7771
Plataran Dharmawangsa, Jl. Dharmawangsa Raya No. 6, Kebayoran Baru. Tel: +62 21 2904 4167
Patio Venue & Dining, Jl. Wijaya XIII No. 45, Kebayoran Baru. Tel: +62 21 724 1363
Teras Dharmawangsa, Dharmawangsa Square City Walk Unit 20, Jl. Dharmawangsa VI & IX, Kebayoran Baru. Tel: +62 21 2751 3687