Celebrate Chinese New Year in Jakarta's top restaurants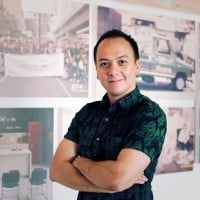 · 12 February 2018
·
Indonesia
With Chinese New Year fast approaching, here are our top picks for the best restaurants to ring in the Year of the Dog in style - and to leave with full bellies.
Shangri-La Hotel, Jakarta
In conjunction with the new restaurant's 1st anniversary, the Chinese New Year celebration at Jia, Shangri-La Hotel, Jakarta is two-fold. This year, Jia offers a handful of takeaway offers for those looking to start the new year in the comfort of their own home, including Salmon Yee Sang (small at Rp188,000, large at Rp368,000), Peking Duck (Rp428,000) and Suckling Pig (Rp1,228,000). These takeaway menus require a one-day advanced booking.
Back at Jia, the Chinese New Year set menus come in three variations that share the same names as auspicious sayings: the Xin Nian Kuai Le (Rp988,000 per person), Gong Xi Fa Cai (Rp1,288,000 per person) and the delightful Wan Shi Ru Yi (Rp1,788,000 per person), which includes signature Chinese New Year dishes, such as Salmon Yee Sang, Suckling Pig, Braised Scallop and Sea Cucumber, and Deep-Fried King Prawn with Golden Pumpkin Sauce.
Kota BNI, Jl. Jendral Sudirman, Kav. 1. Tel: +62 21 2922 9999.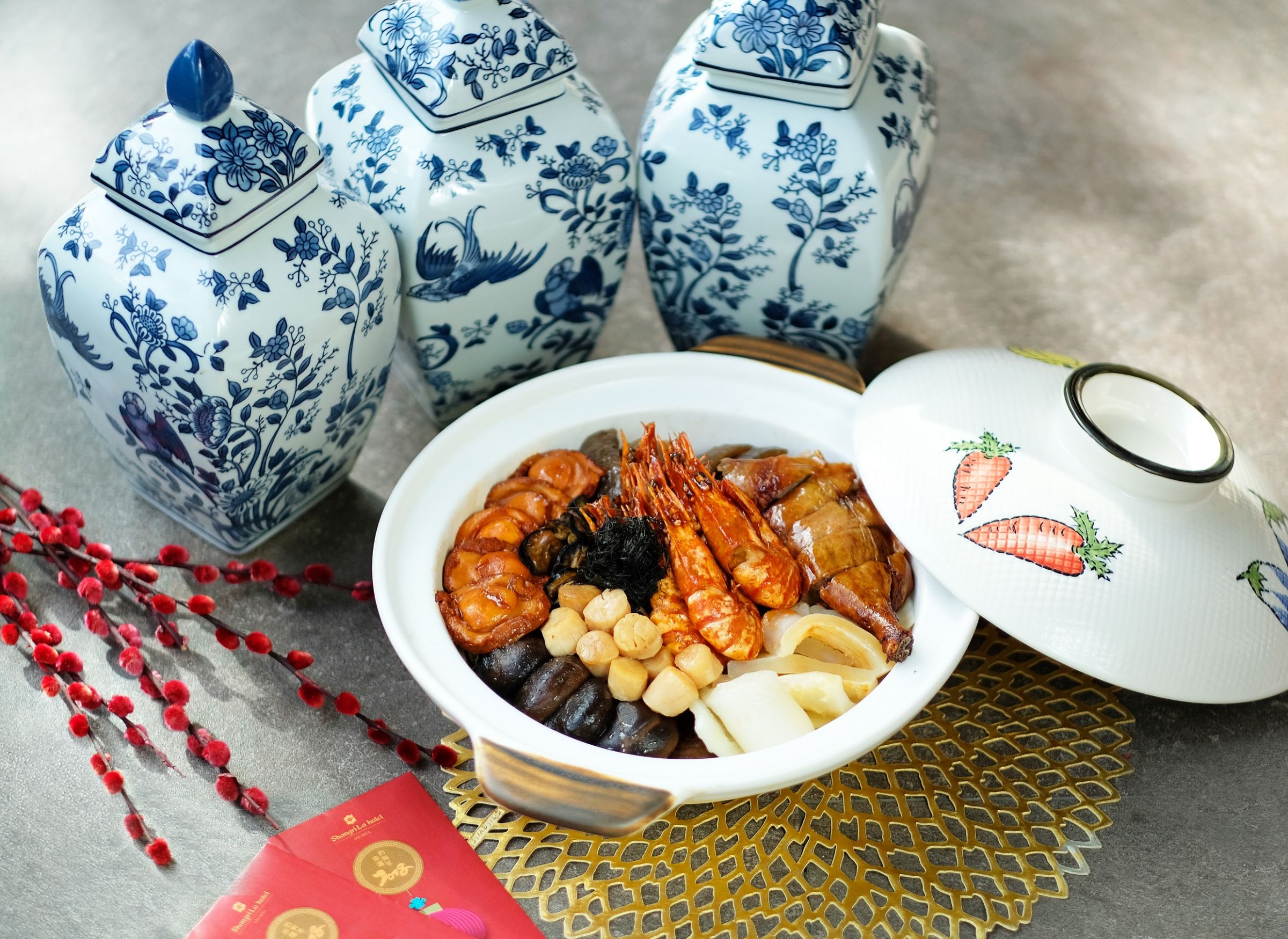 Pullman Jakarta Indonesia
Pullman Jakarta Indonesia is giving guests the chance to win a two night staycation at an Accor hotel in Singapore as part of their Fortune Draws. Other prizes up for grabs include a luxury weekend ride with either Jaguar or Land Rover. Interested? Hurry and book a table for their Chinese New Year's Gala Dinner package at Grand on Thamrin Ballroom to enter the draw.
Other exciting activities include lion dance performances and live Chinese instrumental music at the Grand on Thamrin Ballroom, as guests indulge in beloved Chinese delicacies created with the finest ingredients curated by chef Sam Wong. Some of the signature celebratory dishes include Braised Sea Cucumber, Stir Fried Abalone with pok choy, Lobster Kung Pao, and Bird Nest Soup. The set menu is available at 15 February, and comes in two different selections: Double Happiness Reunion set (Rp6,880,000) and Deluxe Fortune Reunion set (Rp8,880,000), with tables seating a maximum of ten persons.
Jl. M.H. Thamrin Kav.59. Tel: +62 21 3192 1111.
JW Marriott Hotel Jakarta
The Chinese New Year celebration at JW Marriott Hotel Jakarta starts with a colossal Yee Sang at the hotel's main lobby, available for everyone to toss as they wish for good luck. At the recently renovated Pearl Chinese Restaurant, the whole family is invited to a special offering by chef Ken Choy, with three different sets to choose from: Wealth (Rp788,000 per person), Prosperity (Rp988,000 per person), or Fortuna (Rp1,388,000 per person). The set menu includes traditional celebratory dishes like Braised Scallop and Sea Cucumber, Nian Gao, Yee Sang, and many others. Head to Sailendra Restaurant on New Year's eve to enjoy an all-you-can-eat Chinese-themed brunch, including a free-flow of non-alcoholic drinks at Rp688,000 per person, and Rp588,000 on New Year's day.
While Nian Gao is commonplace, the hotel's creations (prices range from Rp338,000 to 488,00) are sure to impress, with three koi-fish shaped Nian Gao, a Gold Bar Nian Gao and a Kueh Lapis Nian Gao.
Jl. DR Ide Anak Agung Gde Agung Kav.E.1.2, Mega Kuningan. Tel: +62 21 5798 8888.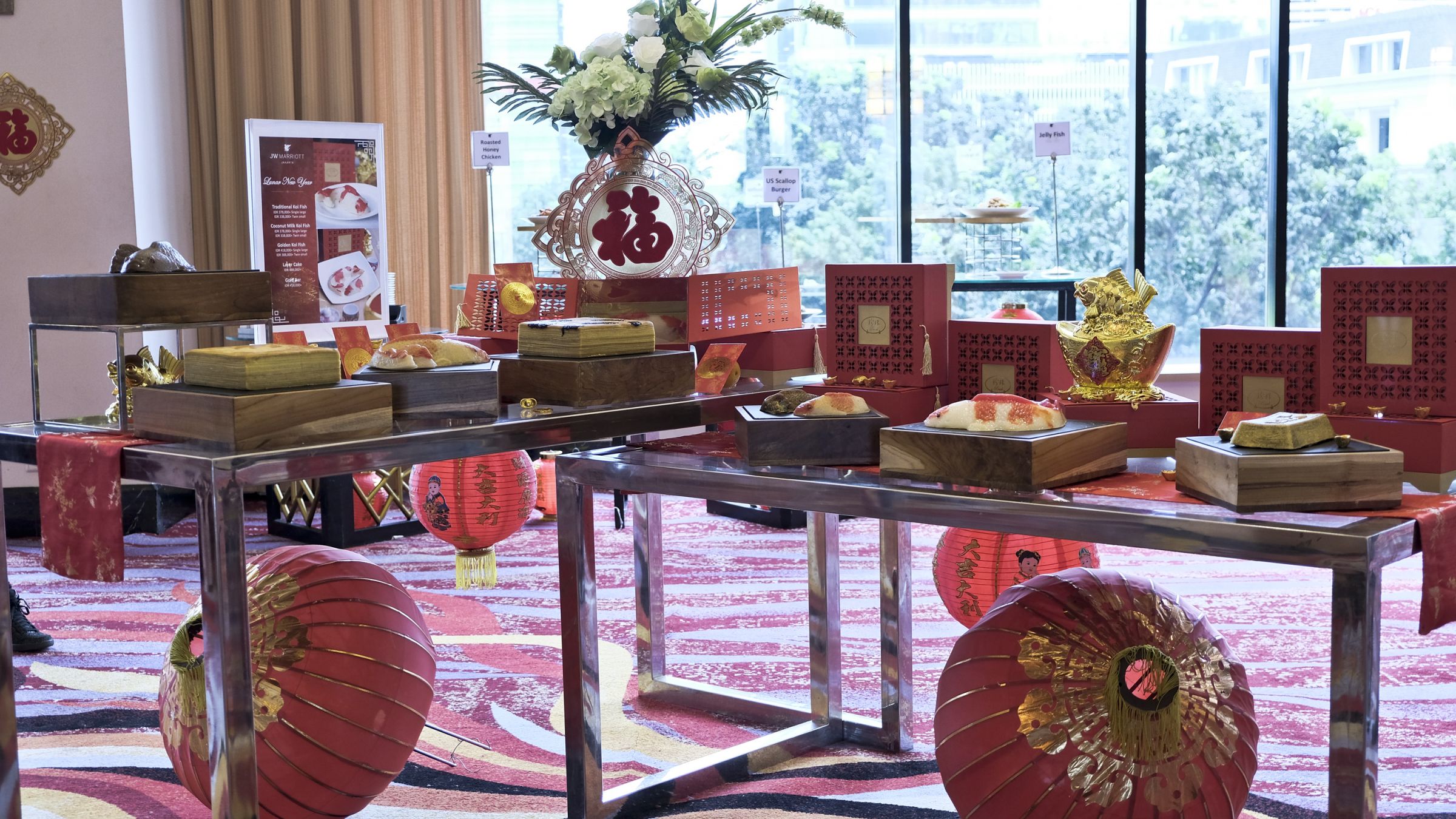 Sari Pan Pacific
On the eve of Chinese New Year, Sari Pan Pacific has prepared a number of celebratory offerings to start the year of the Dog with happiness and good fortune. All-day dining Restoran Fiesta offers a special buffet line-up (Rp299,000 per person) featuring traditional festive dishes, including variations of Yee Sang, Black Bean Crab, Cantonese Steamed Lazy Fish, Peking Duck Roll, and Roasted Salt Chicken. On New Year's day, celebrate with a Japanese twist at Keyaki Japanese Restaurant – arguably the best Japanese restaurant in Jakarta – which is offering a wide selection of Robatayaki, Nigiri Sushi, Teppanyaki, Sukiyaki, and Yakiniku dishes at Rp450,000 per person.
Jl. M.H. Thamrin No.6. Tel: +62 21 2993 2888.
Hotel Mulia Senayan
In welcoming the Year of the Earth Dog, Hotel Mulia extends a message of prosperity and happiness by dishing out special lunch and dinner buffets at all their dining outlets – The Café, Edogin, Orient8 and Table8. The Chinese New Year buffet lunch or dinner is available from Rp399,000, with traditional Yee Sang available at an additional Rp658,000, though the iconic koi-shaped Nian Gao dessert at Rp888,000 is only available at Table8, their elegant Cantonese and Szechuan restaurant. Don't miss the traditional Lion Dance performances running throughout the hotel during the festive period. Why not spread prosperity and happiness by sending your colleagues or relatives a set of Hotel Mulia's popular Mulia Prosperity Hampers, that are packed with Chinese New Year cookies and goodies, starting at Rp1,750,000 per package.
Jl. Asia Afrika, Senayan. Tel: +62 21 574 7777.
SHARE