Bali Night Life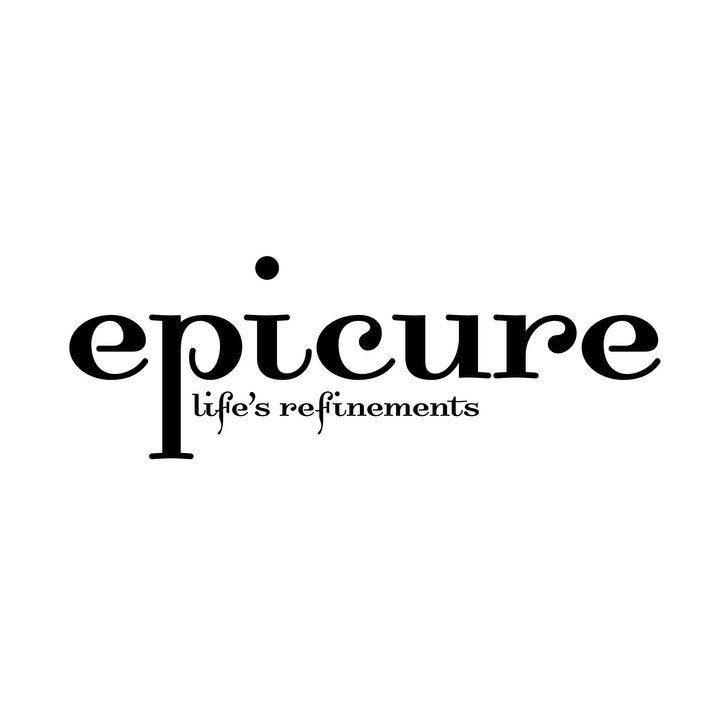 · 7 October 2017
·
Bali
Five drinking spots in Bali for a boozy night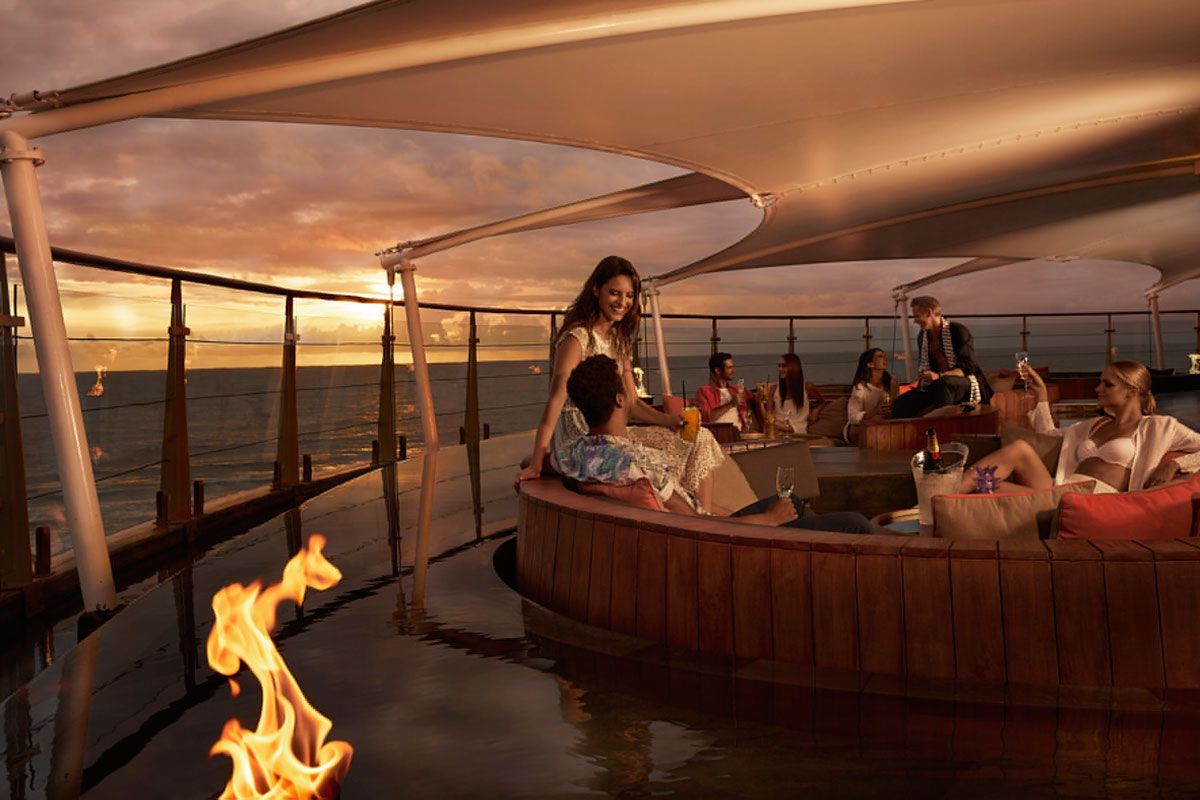 Like Jakarta, Bali has its share of rooftop bar offerings like Rooftop Sunset Bar, although it's located only on the fifth floor. However, elevated 15 metres above sea level atop Double-Six Luxury Hotel Seminyak, this is the highest bar along the Kuta-Legian-Seminyak coastline – its fire beacons are easily spotted from a distance. Along with its polished teak wood deck spanning 1,700 sq m, it ranks as Bali's largest rooftop bar. From its semi-open perch, this tropical style bar offers stunning panoramic ocean and killer sunset views. While Rooftop Sunset Bar isn't a late night venue (it closes at 11pm), it offers an extensive drinks list including Toro Rosso Ice Tea, made with vanilla bourbon tea-infused vodka and Red Bull; fruity Sangrias, served as a glass or sharing egg; and a vast selection of shelf spirits. Amp up your chill factor with the ultimate sunset perch – 'floating pod' sunken seats encircled by shallow pools on the deck's outer edges.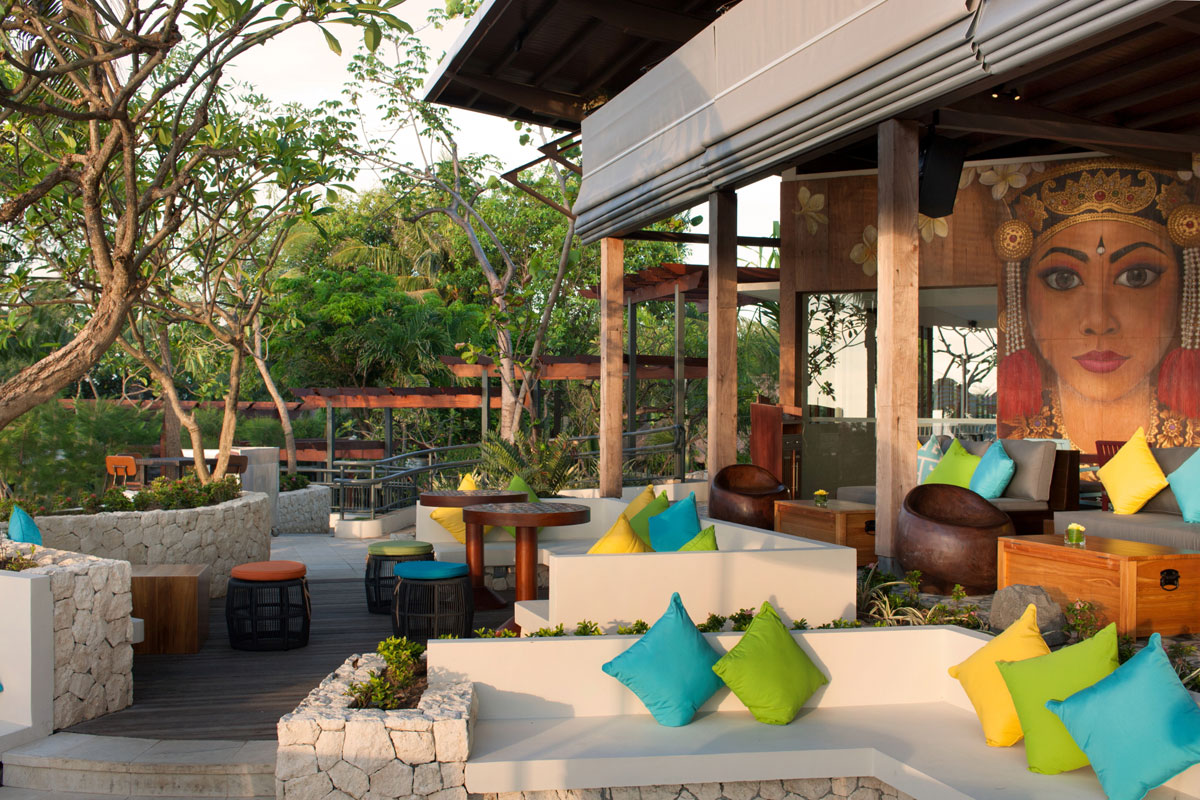 S.K.A.I. Beach Club makes a welcome addition to the Legian-South Seminyak bar scene, living up to its "Sun, Kocktail, Alfresco, Indulgence," acronym. Designed by Singapore-based ARC22o2 Studio in Padma's beachfront grounds, S.K.A.I. offers an indoor dining area with an open-concept kitchen and extensive outdoor terrace with well-shaded loungey seating overlooking Legian Beach. Get ready to be lulled by summer-inspired beats from resident DJs and designer cocktails like Okalicious (rum, blue Curaçao, peach syrup, fresh lime juice and grapefruit bitter), – 2ºC Draught Beers, Sun-grias by the carafe and tropically-inspired martinis, like Mango Kaffir Martini (Rp.128,000). Refuel with light bites like Portobello Mushrooms, (Rp.55,000), wood-fired gourmet pizzas and the ever-popular BBQ Smoked Sticky Pork Ribs.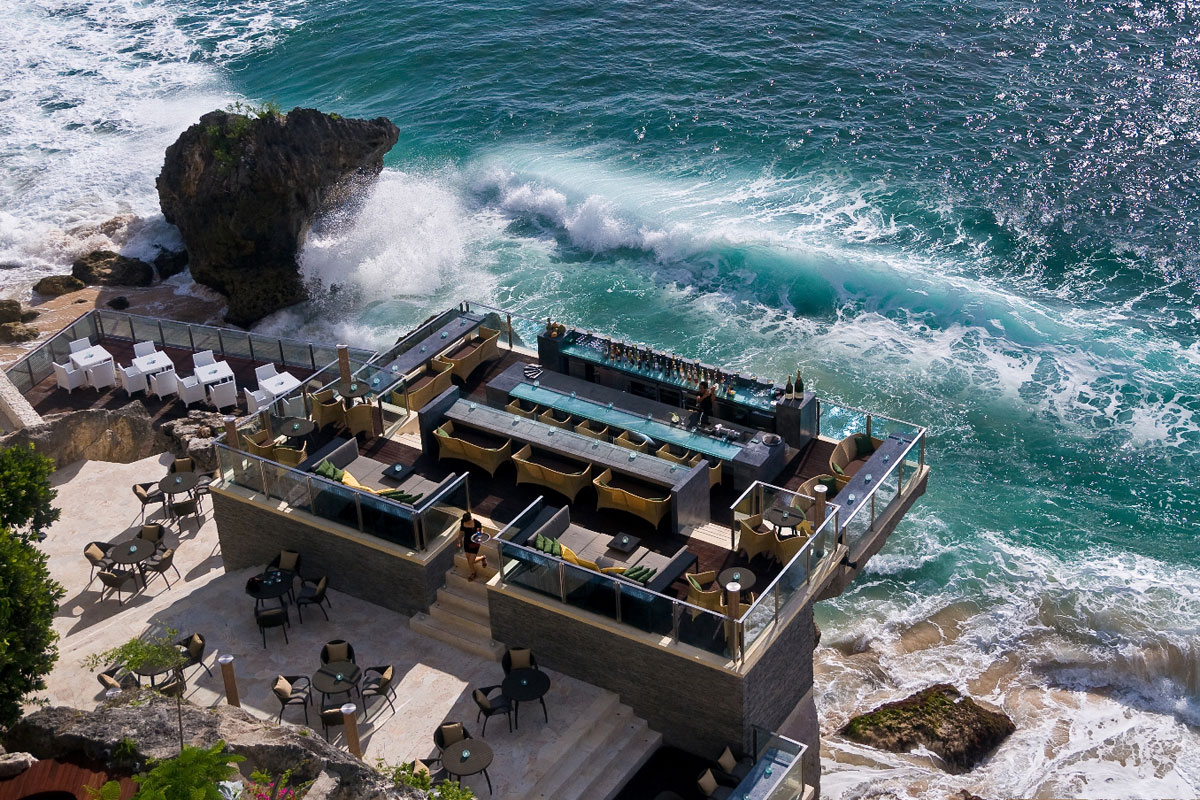 When AYANA Resort and Spa Bali's Rock Bar first launched in 2009 in Jimbaran Bay, the spectacular glass and timber open-air watering hole was the talk of the town. Anchored on natural rock formations lashed by waves, the bar is accessed 35 metres down cliffs via an inclinator or two stone stairways. Completely open to the elements, Rock Bar presents front-row seats to unobstructed jaw-dropping ocean and volcano views (although it's a dampener when it rains). The bar has recently expanded with more seating options and now accommodates around 700 guests, including an elevated Round Deck with DJ booth, accessed by an over-the-water bridge, exclusive to 18 VIPs. The cocktail list spans over 40 and is designed by international bar consultant, Sebastien Bonnefoi, while martini selections are created by Laval Lim-Hon. The selections include Rock My World with Grand Marnier, vodka, pineapple and orange juices infused with kaffir leaves. Bar nibbles feature more-ish Chicken Popcorn, but the all-new, Mediterranean-inspired Seafood Dinner menu gives enough reason to linger longer (Friday and Saturday, 2am) under the starry sky.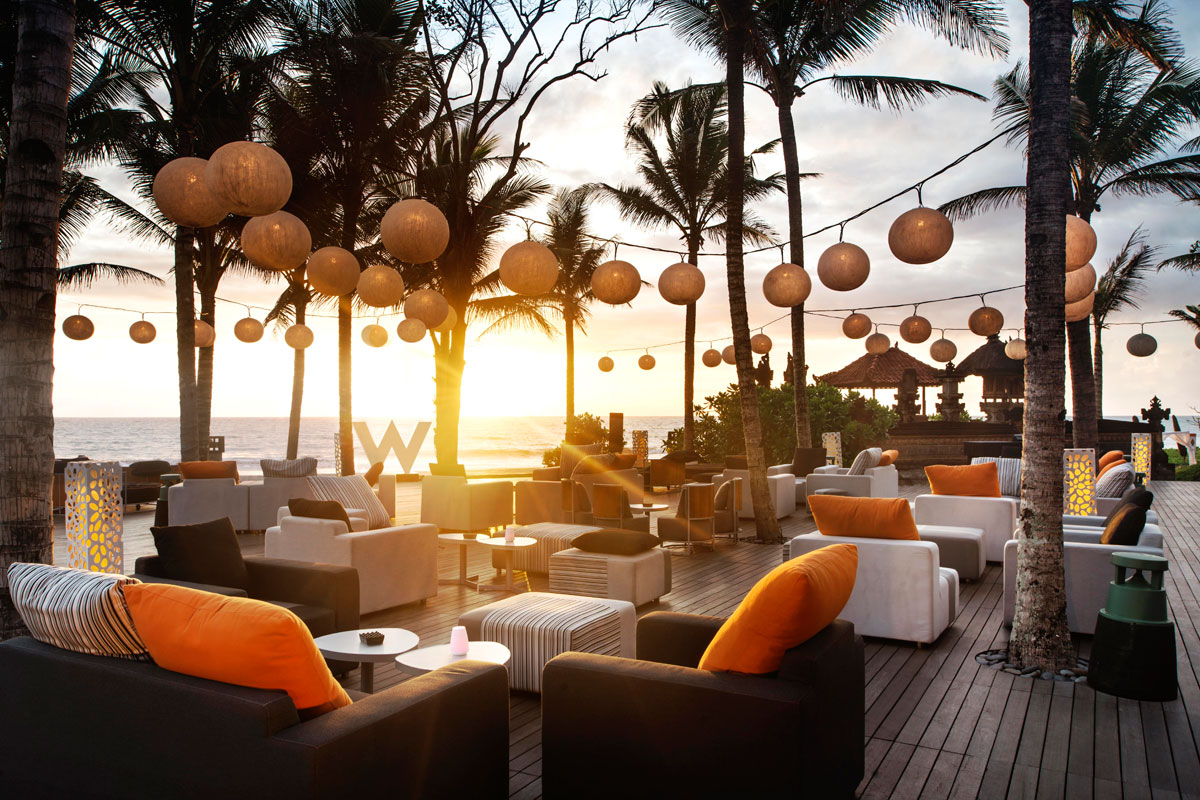 Ultra-contemporary, impossibly glam and playful, WooBar W Retreat & Spa Bali – Seminyak, invites the young and hip to eat, drink, flirt and play from 10am to the wee hours. The mingling takes place in a cavernous, all-white nightspot, with WooBase and open bar or vast, open-air beachfront terrace. WooBar by day gets you complimentary access to W's adjacent terraced pools and plump daybeds; laze on sofas on WooBar's terrace for mango-hued sunsets and DJ sessions until 10pm. Alternatively, stay until 1am or head down to regular, week-ending, high-voltage parties at WooBase (10pm to 2am). WooBar's in-house Music Curator regularly secures internationally-acclaimed DJ acts and iconic music events like SPF (Sip, Play, Flirt), an annual day-to-night summer celebration ending with fireworks and light show. Concocted by mixologist-trained bar staff, cocktails are molecular revelations, like the signature I-Candy, served with a cotton candy ball; Detox, Retox, Repeat cocktails like Drink Pray Love (with pistachio-infused Silver Tequila, beetroot, tangerine and lime juices and fresh mint); and New World Cocktails, re-imagined classics inspired by W's exceptional F&B venues. Maintain energy levels with Asian-Mediterranean tapas and wood-fired pizzas.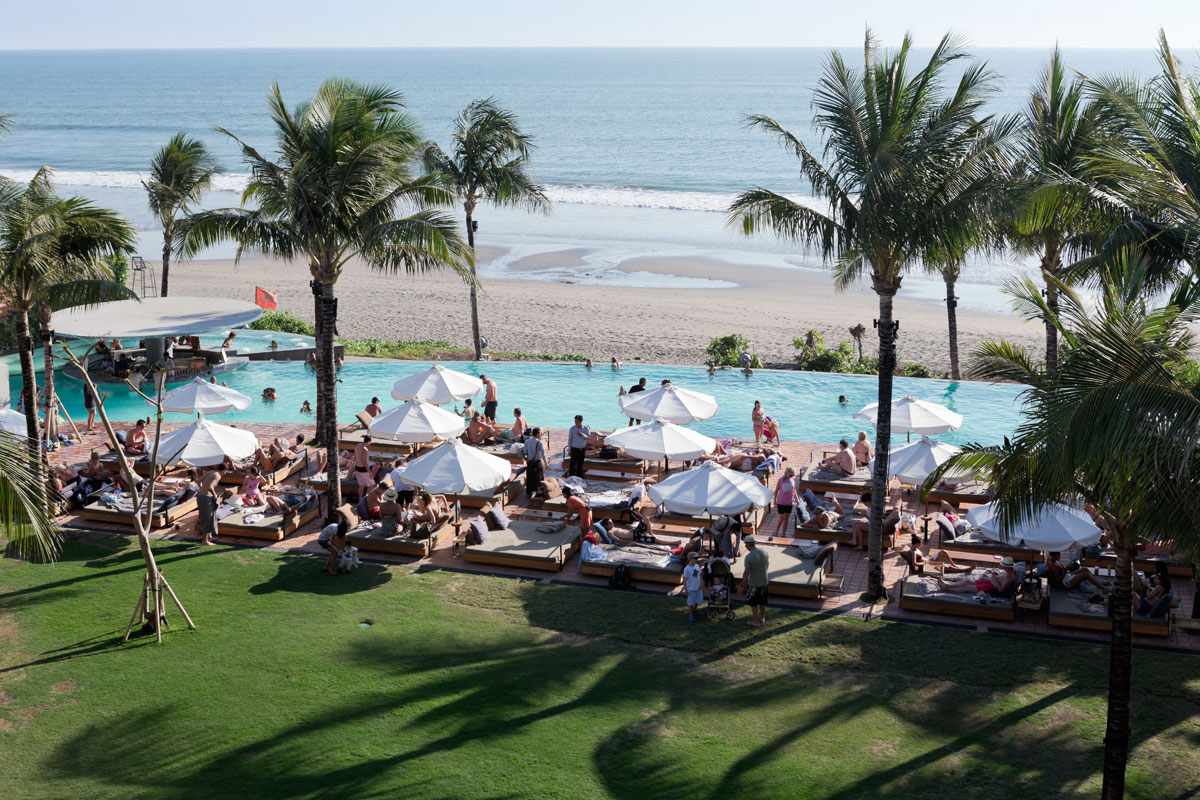 Potato Head Beach Club (PHBC) is perhaps the Mother of all Bali's beach clubs. Alongside Petitenget's crashing surf, PHBC's sprawling grounds – partly-framed by a towering façade of 18th century teak shutters – presents a beachfront infinity-edge pool and deck with daybeds, open-air lounge-bar and terrace and two restaurants By late afternoon, hundreds flock here for mega-cool DJ sunset sessions and stay till the early hours. PHBC's sublime drinks menu presents sensational-meets-quirkycocktails (from Rp.110,000), inspired by native fresh fruits and spices; try signature Kookaburra with lemongrass-infused gin, or Fruit Punches served in large glass bowls. Grand-scale music and culture festivals and prolific DJ parties are held across vast lawns, including Sunny Side Up Tropical Fest, an annual two-day event with world-class live acts like Ellie Goulding. PHBC have recently opened boutique Katamama Hotel in their grounds, complete with mixologist-led Akedemi Bar – how convenient is that?
SHARE