A gastronomic journey at Four Seasons Resort Bali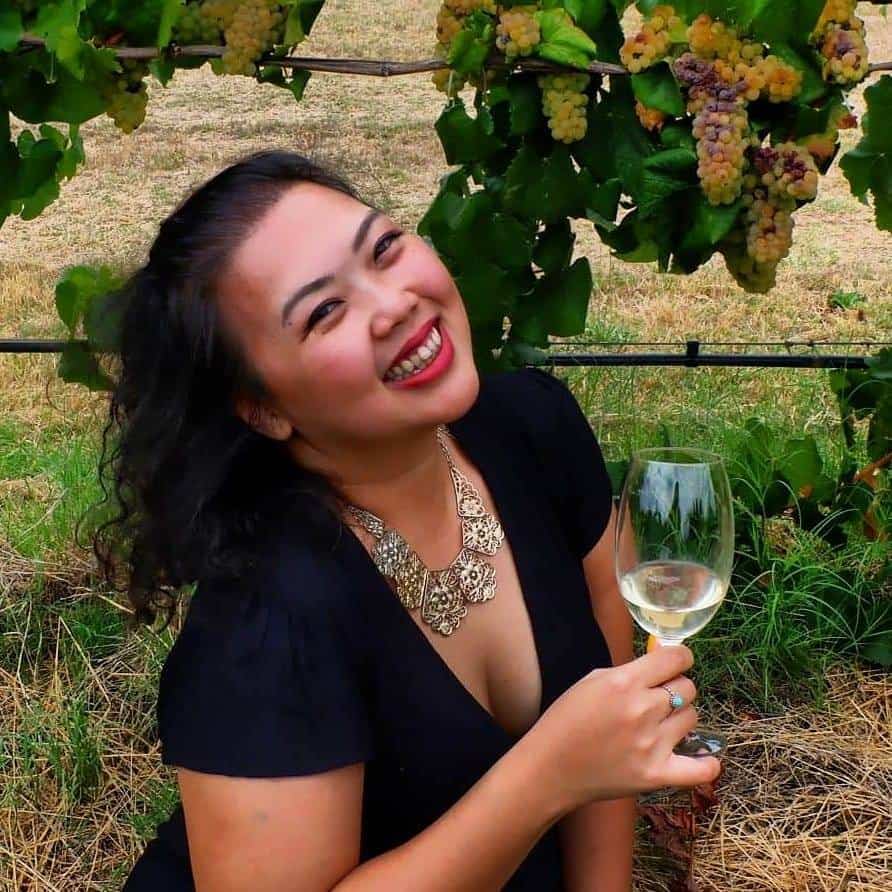 · 7 December 2021
·
Bali
Don't miss Bali's latest exciting culinary experiences at Four Seasons Resort Bali at Jimbaran Bay and Four Seasons Resort Bali at Sayan
Making unforgettable memories in Bali is effortless when you stay at the Four Seasons Resort Bali. Whether you stay by the sea at Four Seasons Resort Bali at Jimbaran Bay or retreat at the peaceful Four Seasons Resort Bali at Sayan, rest assured that unrivalled gastronomic experiences are part of your holiday.
Thoughtfully curated by executive chef Phillip Taylor and the resorts' recently promoted talents, executive sous chef Made Adi Jaya and Four Seasons Resort Bali at Sayan's head chef Wayan Sutariawan, here are four of the resorts' new gastronomic offerings.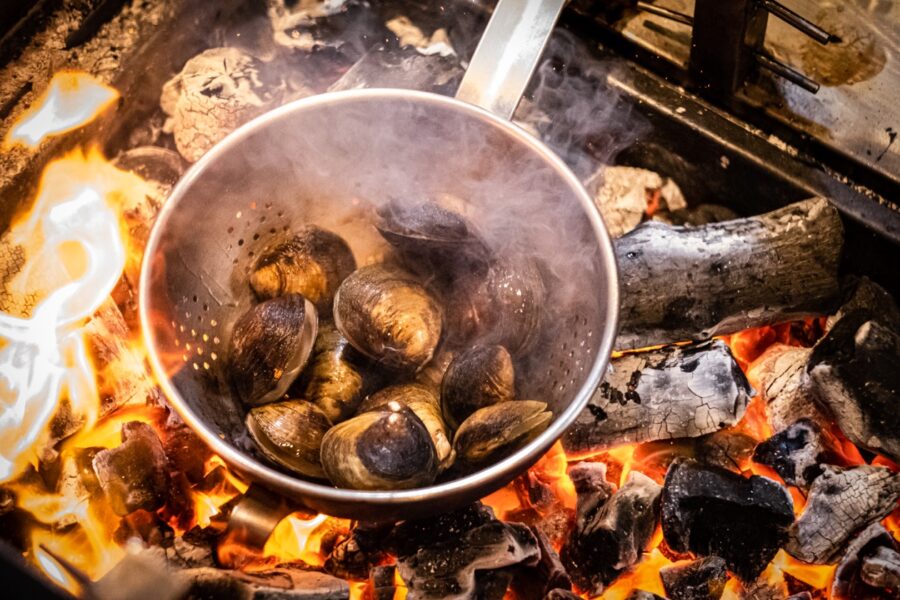 Four Seasons Resort Bali at Jimbaran Bay's beachfront dining destination is proud to unveil its new Kopa Smoking Oven. The highly coveted, electronically controlled innovation allows the chefs to cook a cornucopia of slow-cooked carnivorous barbecue, seafood dishes, and smoked as well as cured meats.
Fuelled by coffee wood, the versatile smoker and oven transforms Sundara's new dining concept into a whole other level. Its new menu now features seductive smokiness on dishes such as the Charcoal Grilled Octopus, Smoked Beef Ribs, and Hot Smoked Tasmanian Salmon.
Taking inspiration from Jimbaran Bay's popular seafood barbecue, Sundara delivers an elevated gastronomic experience, weaving savoir-faire with refinements. Dine al fresco with the stars, the breezes, and the waves as you indulge in the restaurant's zero-waste cocktails and divine desserts.
Check out Sundara's festive celebrations here.
Jimbaran's chef-guided Ocean-to-Table gourmet adventure
Catch your own fish-of-the-day and discover Bali's historic fishing village in one excursion that departs at sunrise. The resort's traditional fishing boat will take you on a fishing trip across the bay and past the surf breaks of the Uluwatu peninsula. The boat will drop its anchor near the Jimbaran Fish Market for a tour led by chef I Made Surya Hadinata. Let the chef teach you to recreate the unique flavours of Jimbaran's seafood dishes at Jala Cooking Academy and enjoy the reward of your labour with a leisurely lunch afterward.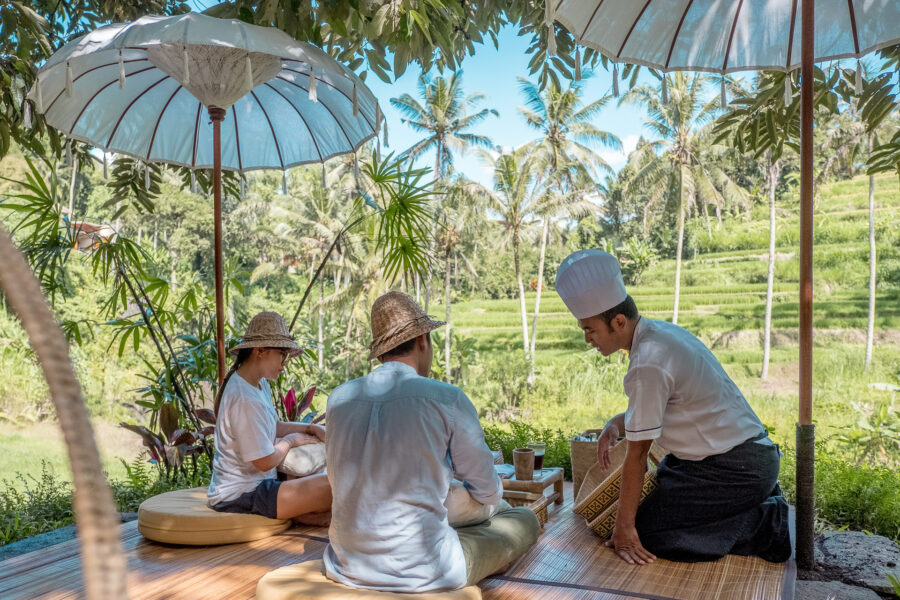 Picnic by the river at Sayan
Should you wish to create a lasting memory with your loved ones or celebrate a special occasion, this exclusive picnic – available only to Four Seasons guests – must be it. A lush 20-minute trail alongside the river will bring you to where chef Anak Agung Oka Joni presides over a traditional camp kitchen. A tasty feast made of freshly picked herbs and vegetables from the resort's on-site garden, satays, and rice grilled in banana leaves will satiate your appetite for nature and life.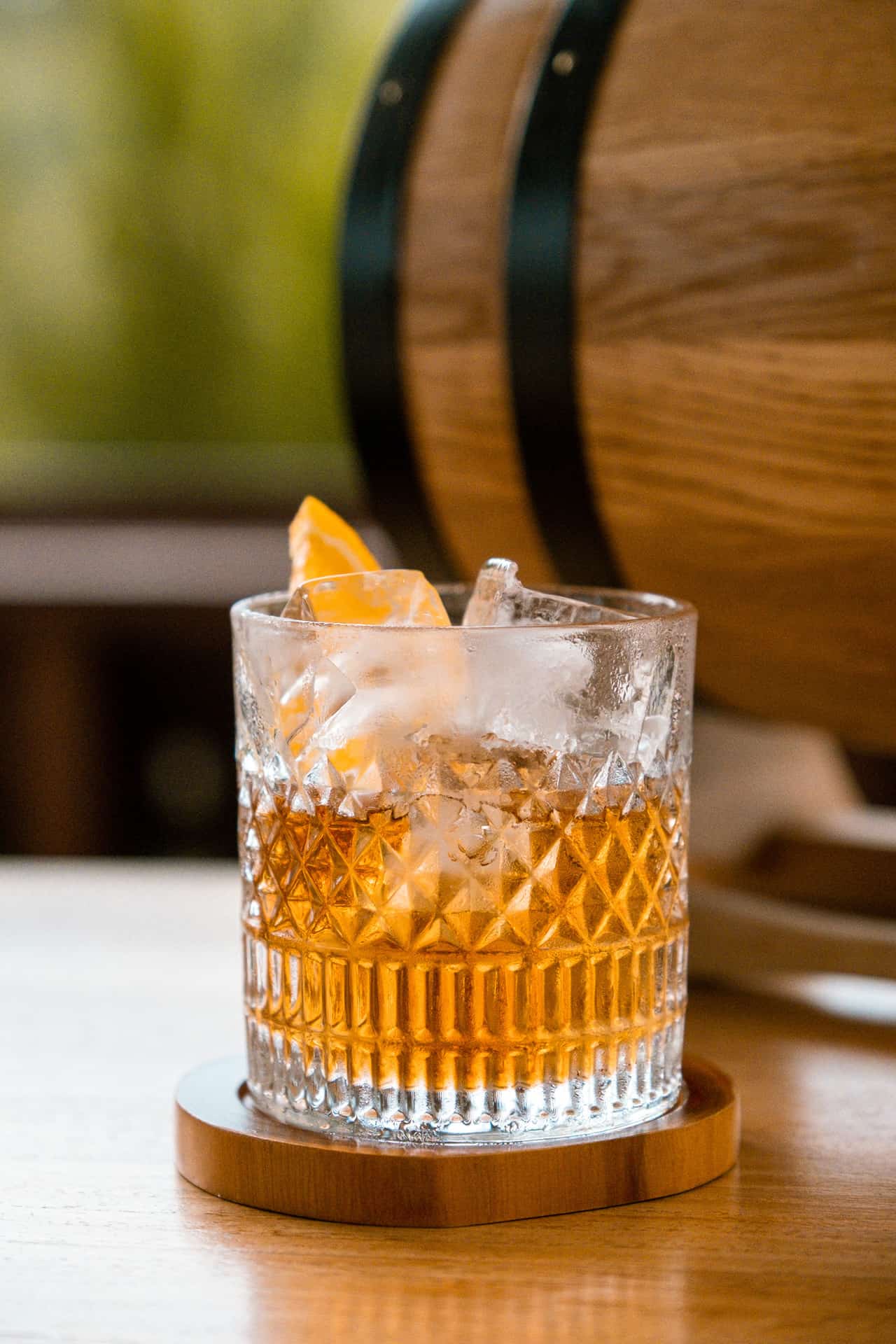 Tasteful libations at Telu and Jati Bar
Head bartender Sufian Mahmoud has been busy. He is in charge of overseeing Sundara and Telu as well as consulting for Jati Bar.
Mahmoud came up with a brilliant take on sustainable, zero-waste cocktails. Telu in Jimbaran is home to his experiments on a culinary approach to cocktail-making. Armed with freshly plucked ingredients from the aromatic herb and cocktail garden, Mahmoud leads zero-waste bar workshops, infusing age-old techniques with sustainable approach to create "minimum waste, maximum flavour".
Cocktail aficionados must not miss a visit to the elegant Jati Bar at Four Seasons Resort Bali at Sayan. Inspired by the curvy lounge's name which means teak in Indonesian, Mahmoud and the bar team have come up with a barrel-aged cocktail selection. Enjoy a glass of Negroni or Rob Roy as you breathe in fresh air from the valley.
Four Seasons Resort Bali at Sayan
Sayan, Ubud, Bali 80571
T: +62 361 977577
Four Seasons Resort Bali at Jimbaran Bay
Jimbaran, Kuta Selatan, Bali 80361
T: +62 361 701010
SHARE