Discovering the flavours of Java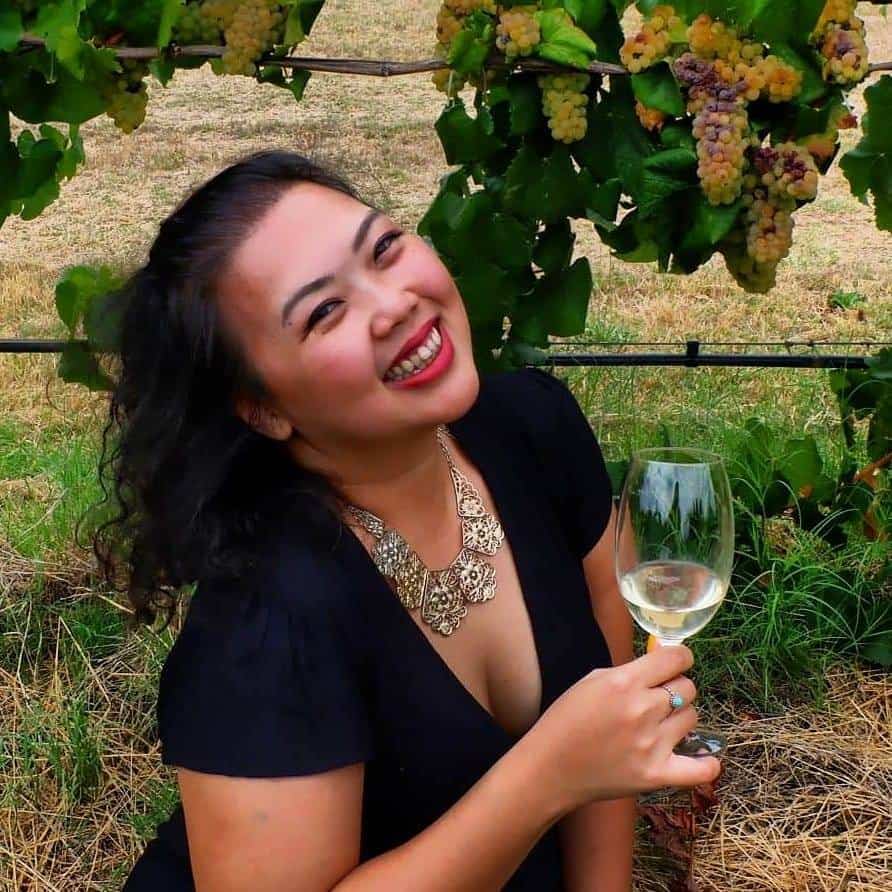 · 21 April 2021
·
Hotels & Resorts
epicure was invited to join Amanjiwo's first Culinary Expedition to Java. Here's how the memorable three-day gastronomic journey unfolds.
It is not every day that one gets to wake up with view of a 1,196 year-old temple. Curvaceously framing the largest Buddhist temple in the world, Amanjiwo is an embodiment of its name: peaceful soul.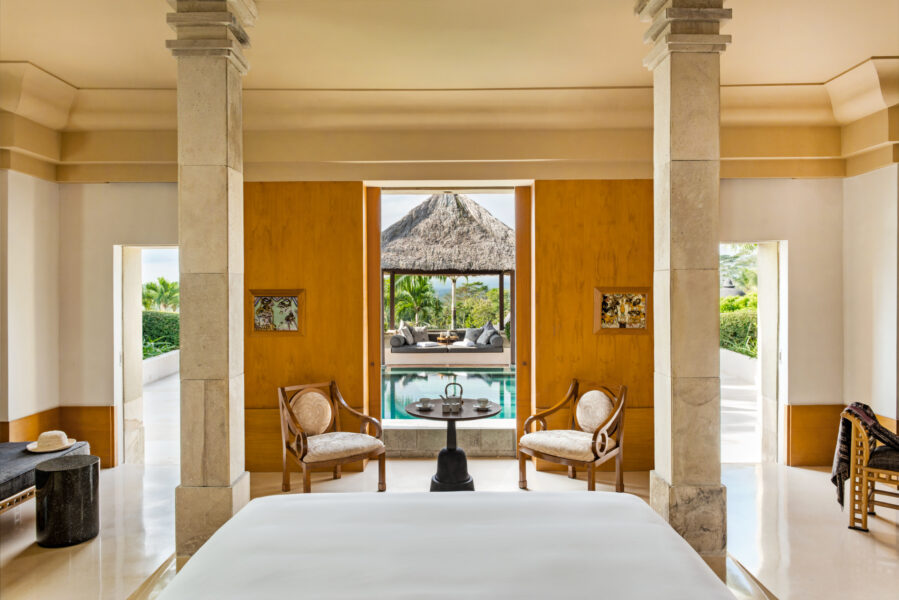 Surrounded by farmlands, villages and the Menoreh Hills, life runs in a different pace at this Ed Tuttle-designed resort. Built in 1997, the resort ages graciously, mirroring the timeless grandeur of the Borobudur Temple, a UNESCO World Heritage Site. Its suites feature four-pillar king-size beds on raised terrazzo platforms, garden terraces, lounging pavilions and private pools in some – laid out in two layers of crescents around a central rotunda. The vernacular usage of paras yogya or coral-beige limestone dominates the architecture, lending it an aura of nonchalant elegance. From its iconic 40-metre pool to its open-air dining room, it doesn't come as a surprise that this resort is still one of Aman's enduring destinations.
The resort recently hosted an immersive journey to celebrate Javanese culture and culinary heritage on 25 – 28 March 2021. In-house guests who signed up for the experience were in for a treat because three of Indonesia's top toques were there to showcase their interpretations of Javanese cuisine.
Chef Eelke Plasmeijer, Wayan Kresna Yasa and Fernando Sindu teamed up for dining sessions, a foraging expedition, a riverside lunch, a cooking class, and an exclusive gala dinner under the ancient gaze of Borobudur Temple. Led by Jann Hess, general manager of Amanjiwo and the resort's charming batik-clad team, A Culinary Expedition to Java was an event that stays on one's mind long after one has left the island. Here are some of the highlights.
Welcome Dinner at the Restaurant
Chef Fernando Sindu's solid rendition of a five-course modern Javanese cuisine won hearts right away. Hosted at the colonnaded Restaurant, Sindu started off with canapés that made even a Central Javanese-native guest sat across me sighed with delight. His Jadah Tempe, Sate Lidah and Lumpia Semarang gave us a captivating introduction. Garang Asem – slow cooked chicken breast, smoked confit chicken leg, perkedel (potato fritter), carambola, and pickled chillies – teased us with its tanginess. Meanwhile, Tongseng and Selat Solo showcased his prowess of marrying Western cooking techniques with Javanese flavours.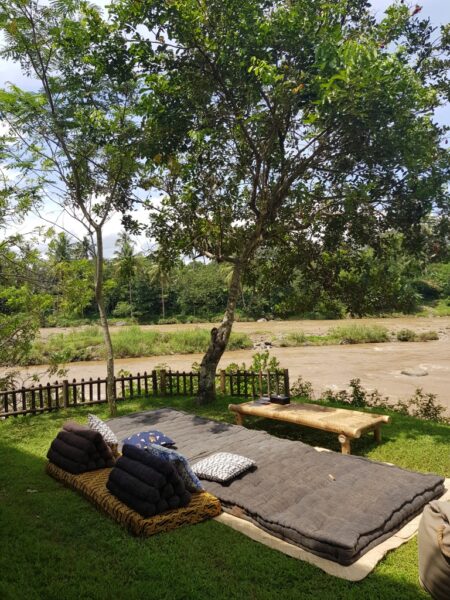 Lunch by the Progo River
The mighty Progo River was the dramatic setting for lunch on the second day. Protected by a huge tent, a bucolic picnic set-up made of batik pillows and low bamboo tables was carefully prepared by Amanjiwo. A sizeable Wonosobo-grown lamb was almost finished being grilled under the watchful gaze of chef Eelke Plasmeijer of Locavore when we arrived.
Chef Wayan Kresna Yasa of Potato Head's expertise with plant-based food and Balinese cuisine shone in dishes such as Roasted Broccoli, Dates, Lemon Vinaigrette, Parsley and Timbungan Ikan (marinated fish cooked in bamboo). The casual buffet spread was a delightful mixture made of protein, starch and vegetables. From flat bread to savoury Nasi Minyak, from Chimichurri to Sambal Kukus, both chefs brought their signature styles to the riverside feast. Accompanied by an acoustic band and a set of watercolour equipment, the picnic set us up to eat, stay and savour the moment.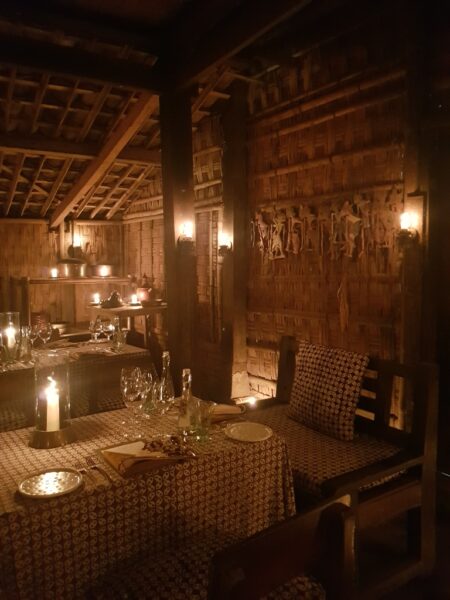 Makan Malam at Rumah Pak Bilal
Owned by a third-generation palm sugar maker, dining at Rumah Pak Bilal is an exclusive dining experience Amanjiwo offers to its guest. Located 10 minutes away from the resort by car, it gave a glimpse of life in a traditional Javanese house and pawon (kitchen) from the bygone era. Oil lamps and candles were the only source of lighting inside the house. Cooking in a traditional kitchen with firewood and terracotta pots would be challenging for any chef, but Fernando Sindu took the challenge with great aplomb.
The chef behind Seven Friday Space, Benedict and Cork & Screw Country Club by The Union Group and Canting somehow managed to whip up a casual family-style shared meal. His Grilled Bone Marrow with mushroom and shallots rendang, sambal ijo tomato and crostini sourdough; Beef Tongue Sambal Ijo with fermented green tomatoes, crispy kemangi leaves, pickled daikon and shallots; and Bakmi Lethek, locally made cassava manioc noodle, smoked duck breast, vegetable, and onion gave us considerable pleasure.
Forage for Your Breakfast
Being surrounded by volcanoes gave Amanjiwo's surrounding terroir a verdant land to grow food and farm. Armed with bamboo sticks, we were led to explore the resort's neighbouring forest and farmland for a light one-hour trek. From wild turmeric to melinjo (Gnetum gnemon), we encountered various endemic plants, trees, rice fields, and as a result of the foraging trip, plenty of appetite to enjoy what chef Eelke Plasmeijer has prepared for our breakfast.
Served in the resort's Rumah Pizza, the alfresco breakfast with sprawling view of the rice field was a lush treat after the morning trek. Plasmeijer's locavore-ism was shown through his clever use of poached duck eggs, herbs, plants, and vegetable that grew within the resort.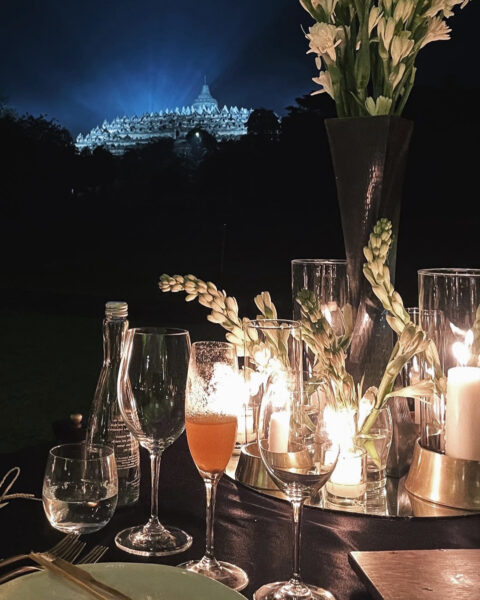 Gala Dinner at Borobudur Lumpini
To end the Culinary Expedition to Java in a high note, the three chefs prepared a six-course tasting menu. Set in Borobudur Lumpini, a park inside the Borobudur Temple complex, a tent was especially erected to mark the last evening of the three-day feast.
The fragrant tuberose filled the air and melodious sound of gamelan played in the background. After a short speech from Jann Hess, the Borobudur Temple was suddenly illuminated. Its hemispherical stupas glowed against the dark evening. As we watched the ancient marvel with awe, dish after dish were served. From Raw Lamb to Beef, the tasting menu progressed beautifully, proving that three chefs with different backgrounds could create collaboration with sincere reverence to the culinary heritage of Java.
The next Amanjiwo's Culinary Expedition to Java will take place on July 2021. Go to www.aman.com or follow @amanjiwo on Instagram to get the latest update.
SHARE