15 must-try new dumplings for Dragon Boat Festival
From classic favourites to re-imaginings of the humble zongzi, here's a list of what impressed our taste buds.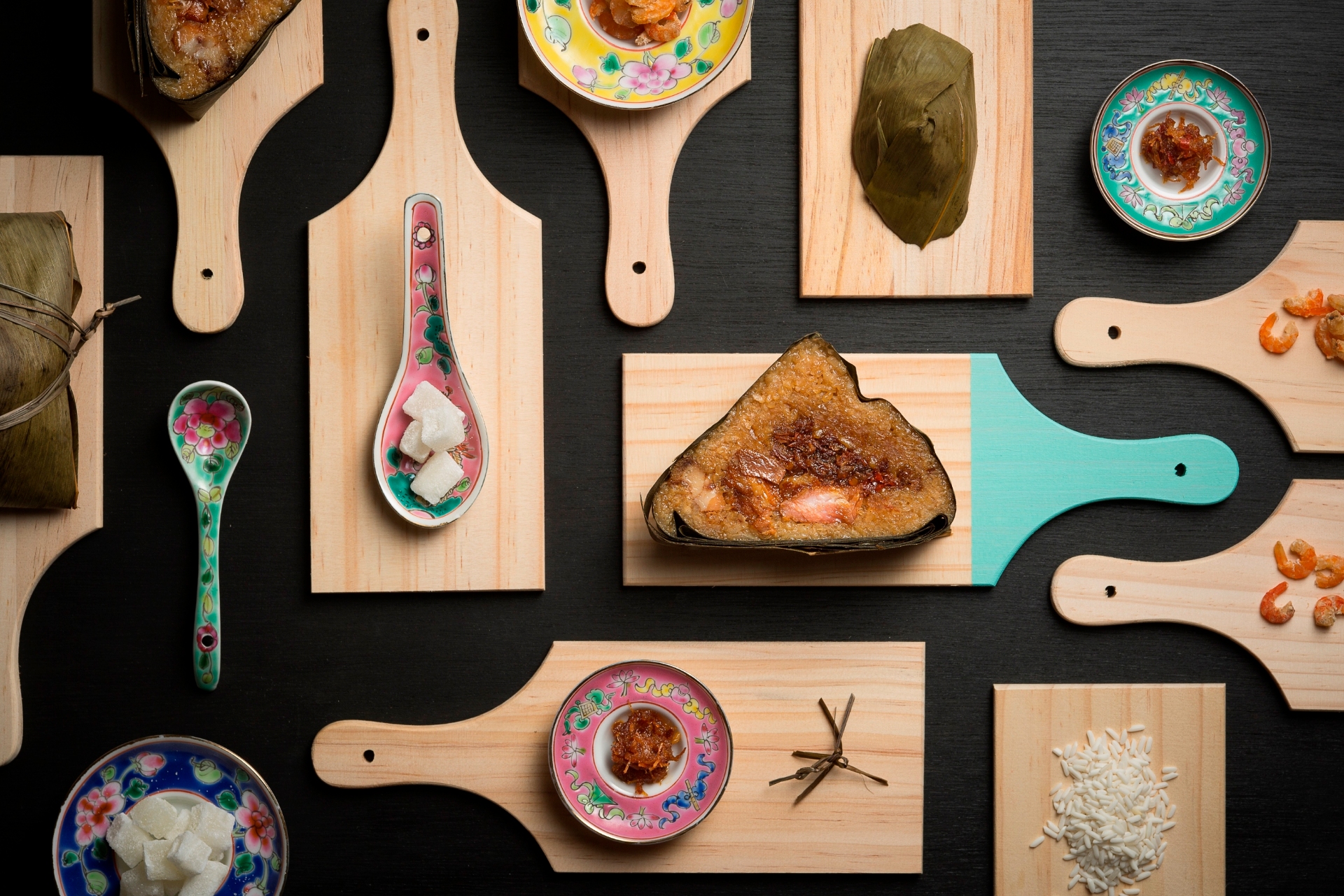 Dragon Boat Festival, which falls on 7 June this year, gives you less than two weeks to pick out the most indulgent dumplings. We did a taste test of various bundles of goodness (all new flavours) so you don't have to. These are our top 15 choices.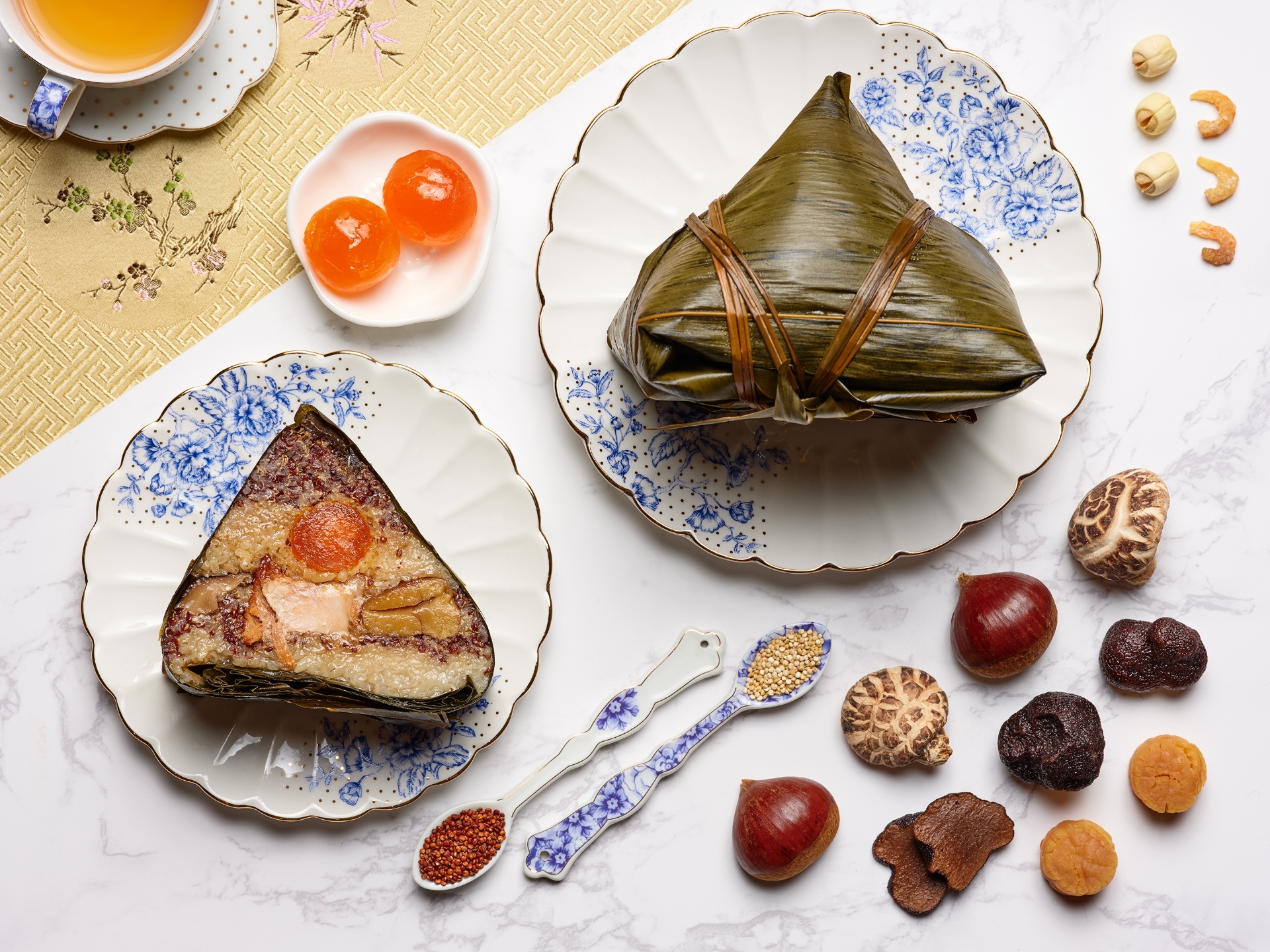 Li Bai Cantonese Restaurant
Li Bai of Sheraton Towers Singapore's Kurobuta with Black Truffle and Quinoa ($48) is a hulking 600g beauty which can easily feed three people. Red quinoa are mixed with the glutinous rice and salted egg, making for a striking cross section when you peel open the bundle. Don't worry if you are not a fan of quinoa due to its al dente bite; the grains absorbs water through the steaming process so you get a softer texture. Meltingly tender chunks of Kurobuta pork belly are further perfurmed with black truffle. Available till 7 June.
Sheraton Towers Singapore, 39 Scotts Road. Tel: 6839 5623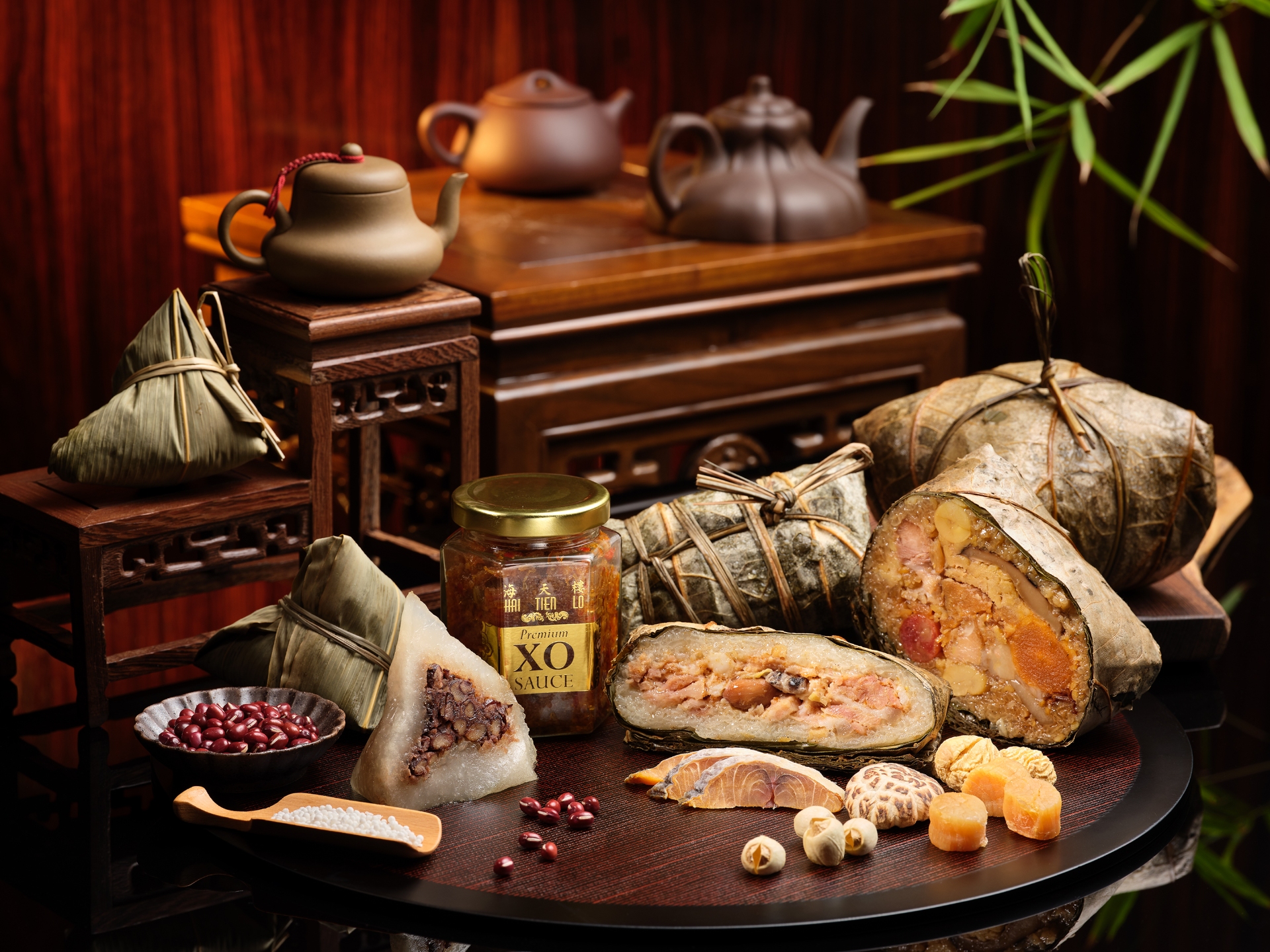 Hai Tien Lo
Recently appointed executive chef Ben Zeng joins Hai Tien Lo just in time to inject his spin on traditional glutinous rice dumplings. His versions are moreish: Classic Pork Belly and Salted Fish ($18.80), and Crystal Dumpling with Red Bean and Sago ($8.80). Both creations are inspired by his memories of classic dishes from his hometown, Guangdong, such as steamed pork belly with salted fish and red bean soup. Available till 7 June.
Level 3, Pan Pacific Singapore, 7 Raffles Boulevard. Tel: 6826 8240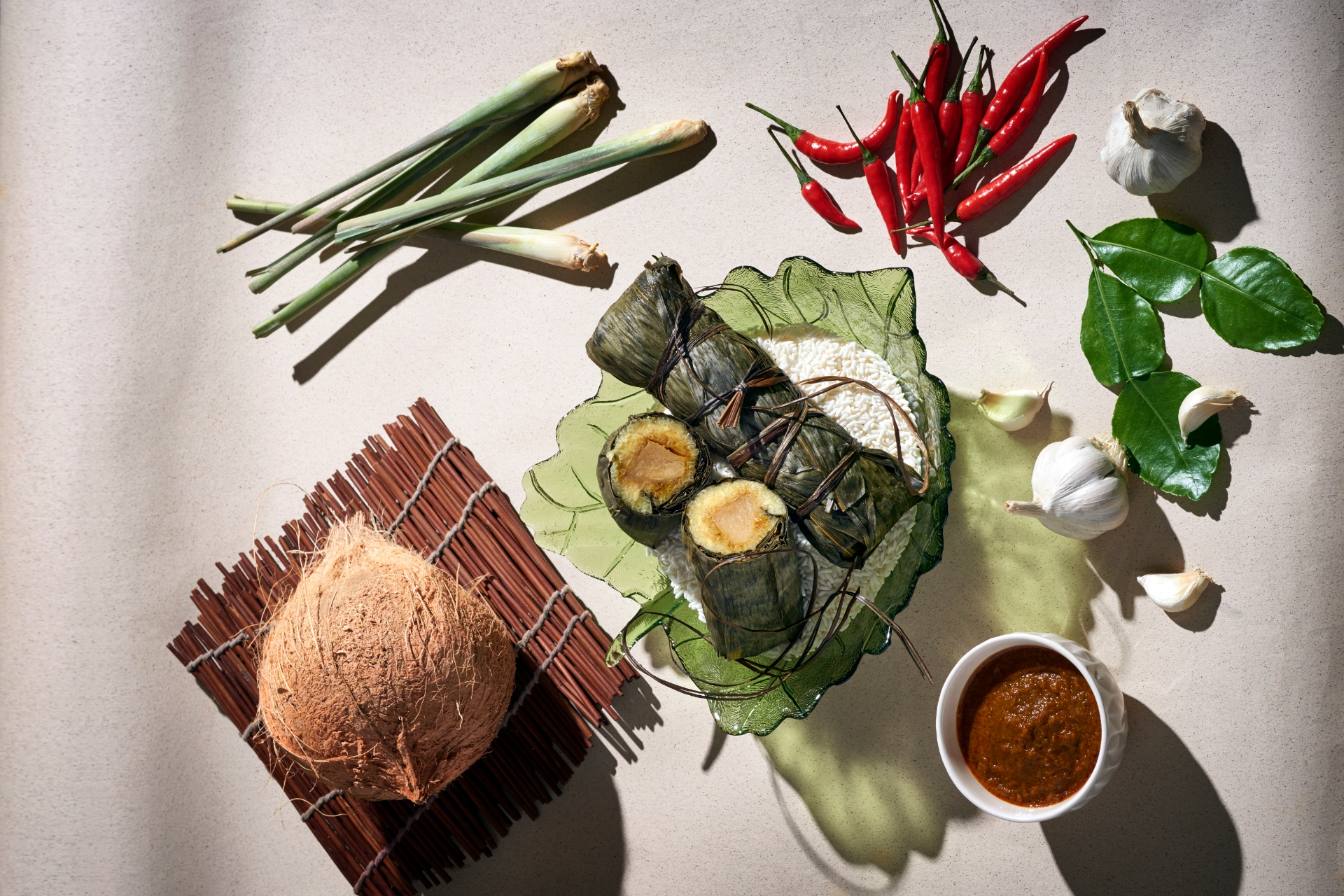 Peach Blossoms
A departure from pyramid-shaped dumplings, the locally-inspired Rendang Kurobuta and Otah Rice Dumpling ($12.80) from Peach Blossoms is shaped like an oblong. You get a delicious hint of heat from the fragrant mix curry spiced rice packed with potato chunks, pork and flavourful otah. The Blue Flower Dumpling with Japanese Purple Sweet Potato and Egg Custard ($12.80) is not cloyingly sweet and boasts a thick egg custard. Available till 7 June.
Level 5, Marina Mandarin Singapore, Marina Square, 6 Raffles Boulevard. Tel: 6845 1118
Wan Hao Chinese Restaurant
Wan Hao has also launched a locally inspired flavoured rice dumpling: White Pepper Crab Rice Dumpling ($18). You get chunks of moreish crab meat and a slow-burn from piquant white pepper. For the sweet-toothed, go for the Japanese Purple Sweet Potato and Kidney Bean Dumpling ($14). Rich palm sugar sauce is provided on the side, so that you can control the sugar level (we still recommend dousing it). Available till 7 June.
Level 3, Singapore Marriott Tang Plaza Hotel, 320 Orchard Road. Tel: 6831 4605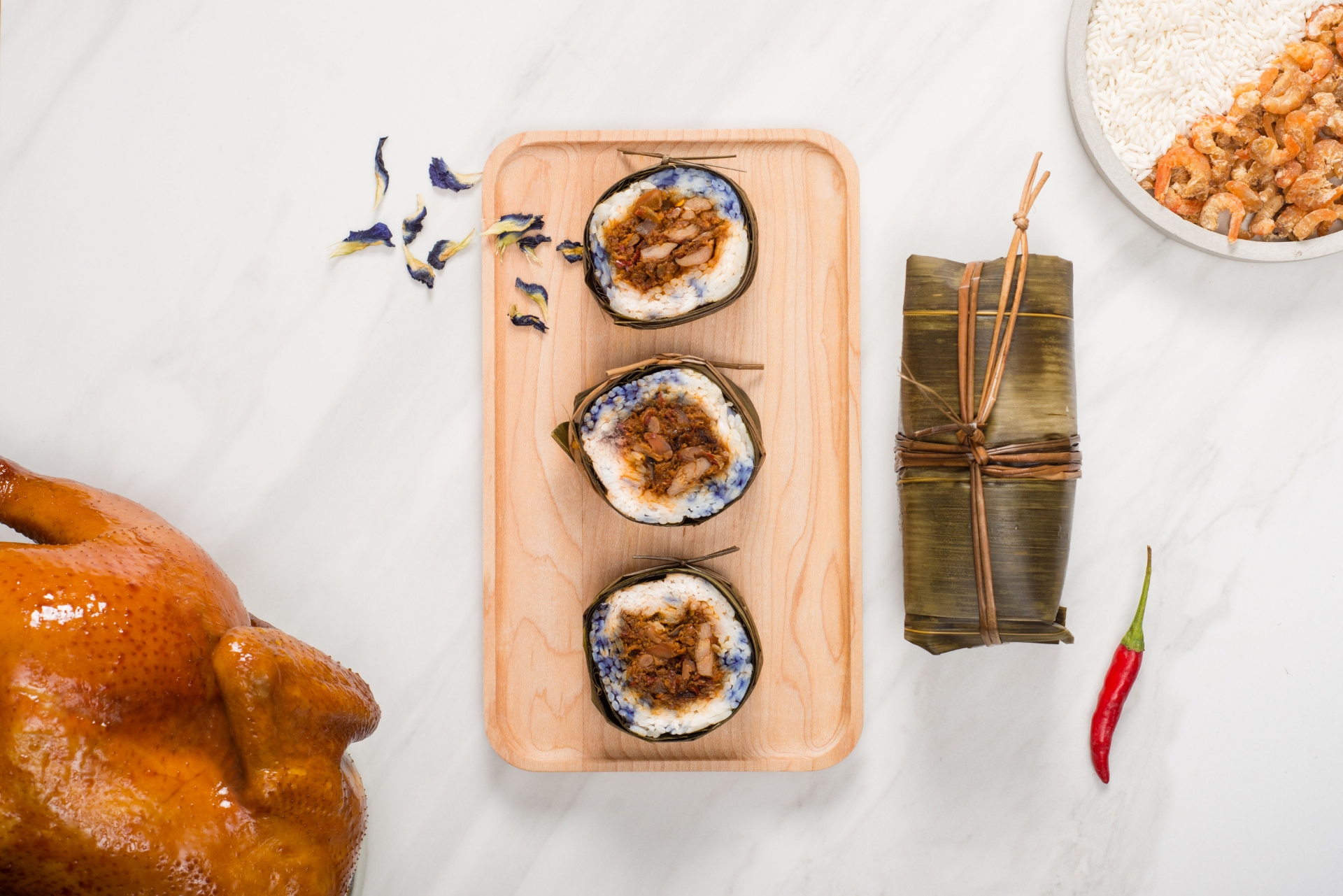 Man Fu Yuan
The award-winning Cantonese restaurant introduces six distinct offerings, of which four are new creations. Making its debut are the Lao Gan Ma Chicken Rice Dumpling and Hakka Preserved Vegetable Rice Dumpling ($13.80 each). The former reveals tender bites of chicken mixed with Lao Gan Ma chilli sauce (a household brand from China) and encased within blue pea flower infused rice. The latter consists of braised pork belly and pearl rice which are well-balanced with sweet and crunchy mustard greens. New dessert dumplings ($8.80 each) are also available, featuring rich black sesame paste and red bean paste. Available till 7 June.
Level 2, InterContinental Singapore, 80 Middle Road. Tel: 6825 1062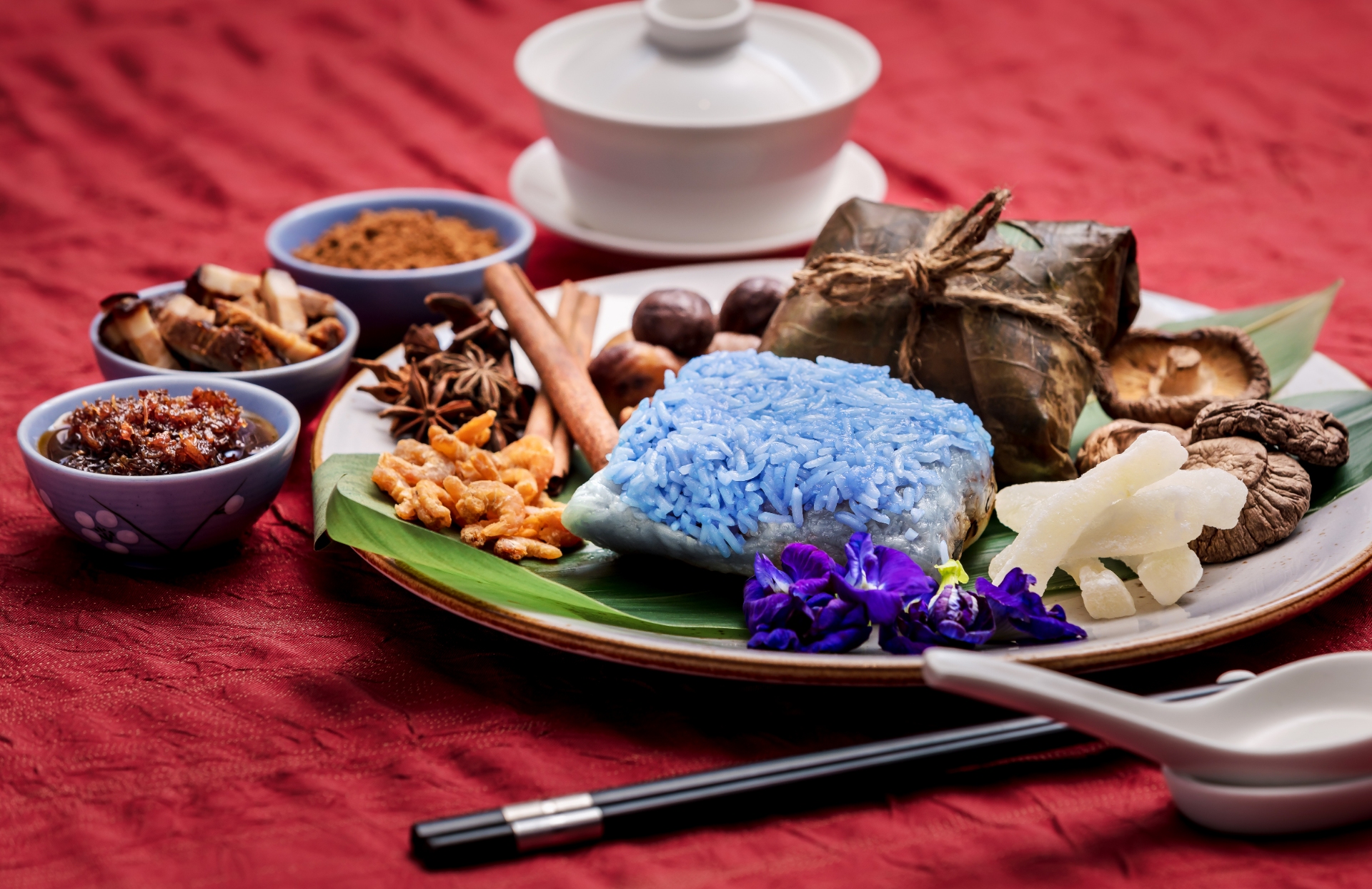 Resorts World Sentosa
The integrated resort's celebrity chef restaurants come together each year to create a dumpling set and this year is no different. There are five flavours, including Syun's Unagi Rice Dumpling, which melds umami-laden eel with shiitake mushrooms, sakura ebi and a citrusy sansho kinome in a dainty parcel. Tangerine's Kao Niew Ping is an inventive gem tailored for vegetarians. Coconut milk infused sticky rice are mixed with purple sweet potato. RWS's King of Dumplings set ($108) is only available for takeaway, with a three-day advanced order. Available till 4 June.
#B1-M-125 to 127, Crockfords Tower G2, Resorts World Sentosa, 26 Sentosa Gateway.                         Tel: 6577 6688/6599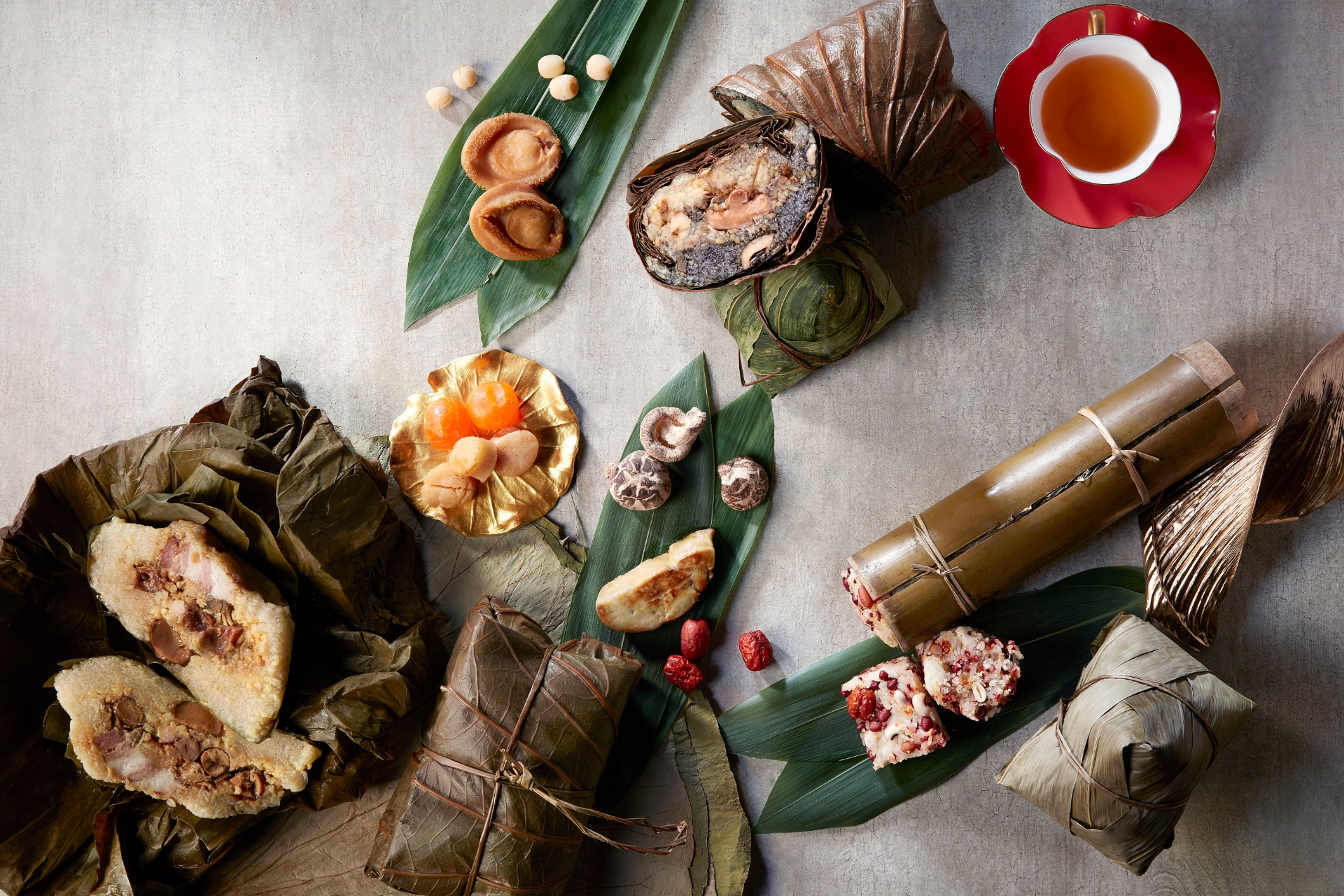 Shang Palace
Shang Palace's executive chef Mok Kit Keung's new dumpling creations for Dragon Boat Festival marries tradition with a hint of ingenuity. Inspired by his trips to Paris, Mok has created the Roasted Goose Dumpling With Golden Chestnut and Foie Gras ($22.80). Chunks of decadent, buttery foie gras are paired with rich servings of roasted goose, chestnuts and black mushrooms. Another show-stopper is the Eight Treasures Dumpling with Mixed Grains ($20.80), which is steamed in a hollow bamboo stem instead of bamboo leaves. Herbal ingredients like cordyceps, red dates and wolfberries add a healthier touch. Available till 7 June.
Lobby Level, Tower Wing, Shangri-La Hotel, 22 Orange Grove Road. Tel: 6213 4473/4398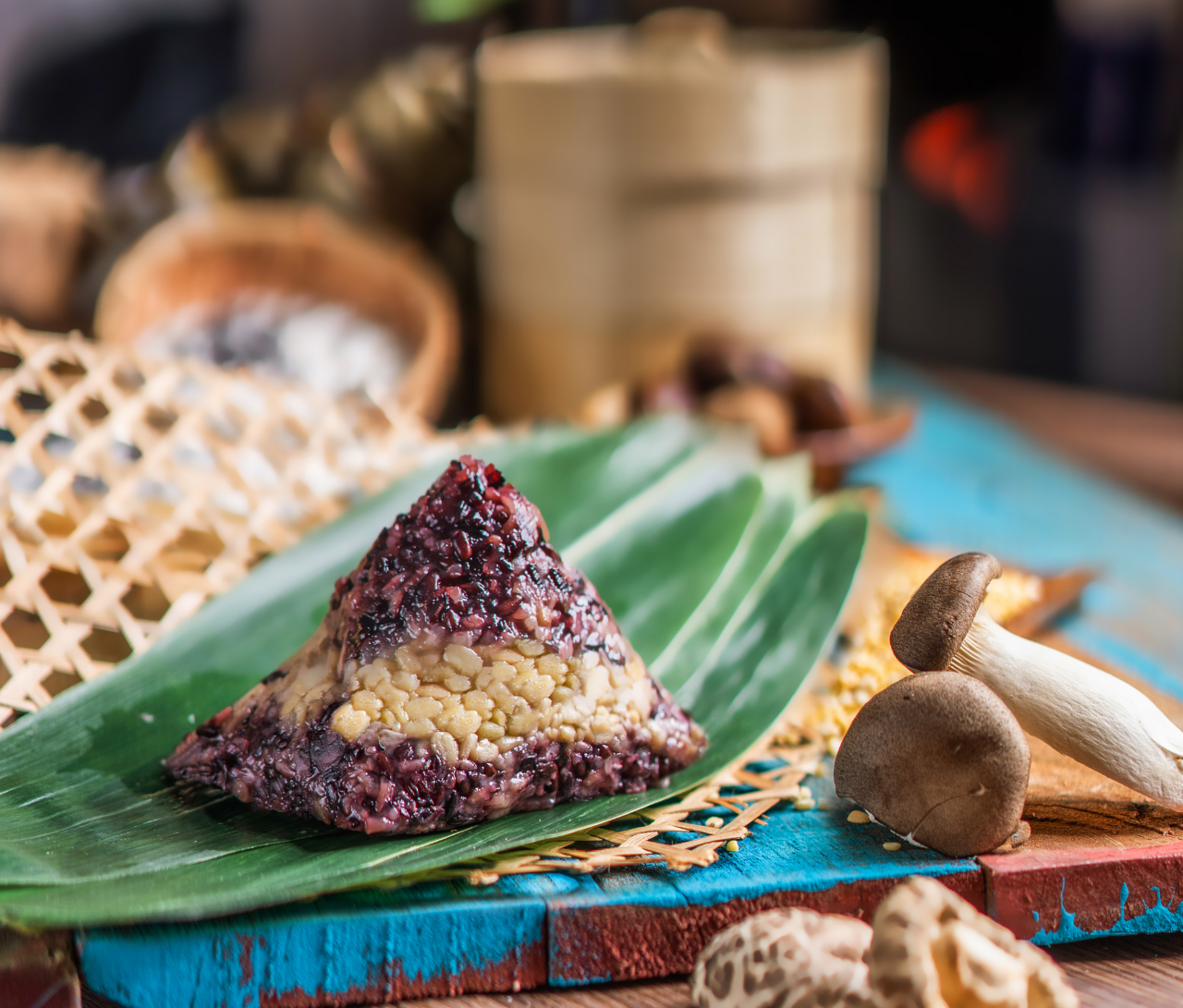 Crystal Jade
Crystal Jade Group's new selection for Dragon Boat Festival will please both vegetarians and non vegetarians. The Black Bean Roast Pork Belly Rice Dumpling ($8.80) pairs its signature roast pork belly with a specially imported black bean sauce from Taiwan. The Mushroom & Chestnut with Black Glutinous Rice Dumpling ($6.80) is an impressive meat-free option.  The black glutinous rice has a more toothsome bite and the 'meaty' mushroom filling enhances the scrumptious offering. The dumplings are available on their e-store till 28 May, while sales at all outlets ends on 7 June.