Best duck confit in Singapore
A traditional mainstay of French bistro menus, the best renditions showcase an amazingly crispy skin and succulent flesh.
LE BISTROT
[CLOSED]
Remarkably succulent and crisp, the Confit de Cuisses de Canard scores in the taste department. The generous portion of two duck legs is seared till golden brown and has just the right amount of fat for a viscous mouthfeel. The poultry sits on a bed of creamy potato purée smeared with a tangy honey-mustard vinaigrette. 2 Stadium Walk, #01-03 Singapore Indoor Stadium. Tel: 6447 0018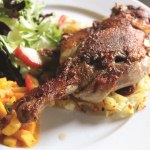 THE BLACK SHEEP CAFÉ
Chef-owner Ratha Krishnan may offer only a small selection of five mains, but he whips these to perfection, as evinced by the lavish praises from his customers when we dropped by. Accompanied by servings of salad and apple roesti, his duck confit was crisp and well-browned; with meat so tender we polished everything off the plate. A side of mango relish added a tangy punch to the dish. 35 Mayo Street. Tel: 6292 5772
WILD ROCKET
Chef owner Willin Low's duck confit is a delightful departure from the original French version with a sweet and tangy plum wine sauce that melds with crispy duck fat. Inspired by the local pairing of roasted duck with yam rice, Low offers two triangles of pan-fried yam cake instead of mashed potatoes. 10A Upper Wilkie Road, GF Hangout@Mount Emily. Tel: 6339 9448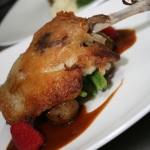 LE PONT DE VIE
[CLOSED]
Our Crispy Duck Confit took a while to arrive but the wait was worth it. Its skin, seared to a golden brown, was tantalisingly crisp with a nutty accent, while nestling beneath this paper-thin cracker was a luscious melt-in-your-mouth layer of fat. A port wine sauce dotted with raspberries lent a little sweet, fruity edge to this memorable comestible but we could have very well enjoyed this piquant, irresistible dish on its own without any condiment. 26 Kandahar Street. Tel: 6238 8682
ABSINTHE
[CLOSED]
Apart from its sheer tenderness, Absinthe's Duck Confit with Salardaise Potatoes, Mushrooms and Madiran Sauce stands out for its aromatic, oily duck jus, which wraps around the meat like a glistening sauce. The classic accompaniment of garlic-laced potatoes adds a rustic touch to the overall taste of the dish. 48 Bukit Pasoh Road (Absinthe will relocate to 72 Boat Quay in January 2012). Tel: 6222 9068
LE BISTROT DU SOMMELIER
This charming little bistro in Prinsep Street has built a name for itself in serving old-school French fare—its specials are written on a mobile blackboard, which a waiter will proudly cart along and present at each table. Its Duck Confit, served with crunchy, fragrant beetroot, is one of its most popular dishes. The duck bears a smoky hint, which marries well with the lip-smacking salty touch of the cured meat. Great with a fruit forward Grenache-Shiraz-Mataro wine. 46 Prinsep Street, #01-01 Prinsep Place. Tel: 6333 1982. Book a table at Le Bistrot Du Sommelier with Chope.
TARATATA BISTROT
Each order of the Duck Confit with White Bean Ragout is served in a rustic red and blue cocotte, with the evenly browned duck leg sitting on a hearty stew of soft and well-cooked white beans, rich buttery sauce and soft carrots. Taratata's chef-owners, Bertrand Raguin and Philippe Nouzillat, formerly from Meritus Mandarin Singapore and Brasserie Wolf respectively, have certainly mastered the art of producing tender meat that pulls away from the bone easily. Topped with mushrooms and a slice of fatty pork belly, this classic dish tastes like something rustled up in the French countryside. 35A Keong Saik Road. Tel: 6221 4506. Book a table at Taratata Bistrot with Chope.
SEB'S BISTRO
[CLOSED]
If you have been pining for Sebastien Reuiller's signature dish from the now-defunct Sebastien's Bistrot at Greenwood Avenue, this is where you can savour a wonderful reprise. Chef Leonard Soh has inherited from Reuiller the secret to preserving splayed duck legs in a heady mix of salt, star anise, cardamom seeds and bay leaves for two days before slow cooking them in their own fat from his business partner Reuiller, so it's no surprise the Duck Confit with Crushed Potatoes and Mesclun Salad is the star at this bistro. 7 Rochester Park. Tel: 6773 1312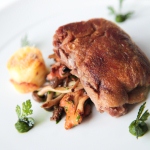 NOVUS RESTAURANT & BAR
[CLOSED]
Locally sourced duck legs from Huber's Butchery are brined in a mixture of thyme, bay leaf, garlic, coriander and black pepper seeds, then cooked in duck fat for eight hours at 90°C, deboned and sealed for heating in a gentle water bath. What really elevates this dish, however, is the 30-second smoking over hickory wood just prior to serving. A lift of the glass dome sends earthy, sweet fumes to your nose, and the duck's smoky notes are the perfect match for the chanterelles, blue foot, hedgehock and shimeji mushrooms encircled on your plate. National Museum of Singapore, 93 Stamford Road, #01-02. Tel: 6336 8770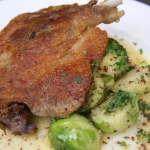 BISTRO DU VIN
Chef Dalton Fong's update on the French classic involves cooking locally sourced duck legs (which he regards as more tender than French fowl) in a precise 149°C for five hours, then maturing them for a day in duck fat before they are pan-fried to order for a crispy outer skin. Although the dish is typically served with fries and salad or puy lentils, Fong prefers the cruciferous crunch of braised brussels sprouts. 1 Scotts Road, #02-12 Shaw Centre. Tel: 6733 7763