Best sticky date pudding in Singapore
This classic British dessert is seemingly simple to execute. But it requires the right amount of moisture, density and sweetness. Here are the ones who aced our test.
CAFÉ BEVIAMO
The chirpy waitress gave us a little quizzical look when we ordered the Sticky Date Pudding for breakfast. But this was no cloyingly sweet beginning to our day: we found the squarish cake to be lighter in taste than the other puddings on this page, which is good news for those who don't have a very sweet tooth. And the generous double scoops of vanilla ice cream are much appreciated. #02-K1, Tanglin Mall. Tel: 6738 7906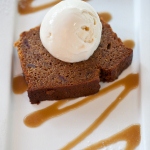 BOOMARANG BISTRO & BAR
The Sticky Date Pudding, is delightfully moist, and head pastry chef Alex Putti shares that it is the result of gentle baking in a bain marie. It scored an 'A' for presentation—homemade butterscotch sauce is drizzled on its rectangular platter, a considerate move for those who dislike it overly sweet. The topping of strawberries also produced a good contrast in flavour to their generous serving of Häagen-Dazs vanilla ice cream. 60 Robertson Quay #01-15, The Quayside. Tel: 6738 1077
PEPPER STEAKHOUSE AND BISTRO
The Pump Room's dining area has been rebranded as above but the management and chef remain the same, which might explain why the Sticky Date Pudding—a recipe from executive director Pauline Graham—is still up to par. Soaked in butterscotch as soon as they are out the oven, the puddings take on a moist and syrupy texture. Each date is also properly deseeded, allowing our forks to sink effortlessly into the cushiony cake. 1 Kim Seng Promenade, #01-66/67. Tel: 6887 3229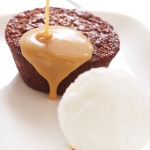 THE MARMALADE PANTRY
We can't remember a time when we skipped the Sticky Date and Toffee Pudding whenever we dined at Pantry in the City (formerly known as The Marmalade Pantry); it seemed de rigueur to end our meal with it. The confection, much enthused about in dessert circles here, is a cross between a giant raisin and a muffin; a warm, rich treat whose toffee-soaked, tender goodness is simply irresistible. The vanilla ice cream is also very aromatic; a worthy accompaniment to the melange of sticky, chewy textures on the plate. #03-22, ION Orchard. Tel: 6734 2700
BROTH
[CLOSED]
For its Sticky Date Pudding, Broth chooses Palestine semi dried dates (they have a higher juice content than the fully dried ones) and poaches them before use so they reconstitute a little. The trick to perfecting the batter comes from adding a few teaspoons of bicarbonate soda to the poaching liquid. This dissolves the dates' skins and ensures a silky smooth mixture. The butterscotch sauce, made with unsalted butter, brown sugar and cream, is slightly bittersweet, and when swirled with the steamed pudding and cool vanilla ice cream, leaves a satisfying velvety finish. 21 Duxton Hill. Tel: 6323 3353
CANOPY GARDEN DINING & BAR
The dark brown and muffin-like appearance of the Sticky Date Pudding had us questioning if the staff had gotten them mixed up with a chocolate muffin instead. But the strong smell of dates proved otherwise. When soaked up with gobs of vanilla ice cream and butterscotch sauce, the pudding collapses in your mouth to form a sticky, moist and smooth texture. The many customers ordering this dish attest to its place as Canopy Garden's signature dessert. Bishan Park 2, 1382 Ang Mo Kio Ave 1. Tel: 6556 1533. Book a table at Canopy Garden Dining & Bar
with Chope.
MICHELANGELO'S
This Italian dining stalwart, with framed photos of Marlon Brando and Al Pacino looking down at diners, usually gets the plaudits for its tiramisu. But the Sticky Date Pudding should not be overlooked. The cake is a moist, warm morsel speckled with bits of chewy dates, rounded off by a lip-smacking butterscotch sauce and a fruity addition of raspberries and blackcurrants. Couple it with an espresso for good measure. #01-60, Chip Bee Gardens. Blk 44 Jalan Merah Saga. Tel: 6475 9069
P.S CAFÉ
The sleepy, old-world interior of P.S Café at Ann Siang Hill Park serves as an ideal spot for a languorous tea time session. It helps that the Sticky Date Pudding plays a part in this protracted enjoyment, with its generous, cherubic portion fit for almost two. Its spongy texture is perfect for soaking up the loads of delectable caramel sauce. #02-02, 45 Ann Siang Road. Tel: 6222 3143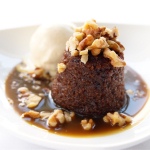 THE UNIVERSITY CLUB
If the dome shaped dessert here looks familiar, that's because it is the same version served at its sister establishment, Privé. Crowned with crunchy walnuts, sided with a scoop of vanilla ice cream, and drizzled liberally with brown sugar butterscotch, the sticky date pudding is created by The Privé Group's pastry chef, Esther Cheng. Using dates sourced from Egypt, she enhances the fruits' natural sweetness by simmering them in light syrup before steaming—a neat trick to perfecting this quintessential comfort food. Level 4, Shaw Foundation Alumni House, 11 Kent Ridge Drive. Tel: 6779 8919
HEART BISTRO
[CLOSED]
It may be a wellness restaurant but desserts are not forgotten here. Our sticky date pudding was served so steaming hot that there were curls of smoke rising up when we broke it open—the perfect platform for the vanilla bean ice cream to melt into. Inside, our fork encountered moist crumbs with shreds of dates that make perfect mouthfuls when accompanied by a drizzle of caramel sauce and sprinkling of pistachio nuts. It's also not too sweet and the small portions ensure that you never overindulge. 390 Orchard Road, #B1-08 Palais Renaissance. Tel: 6737 2148