Best waffles in Singapore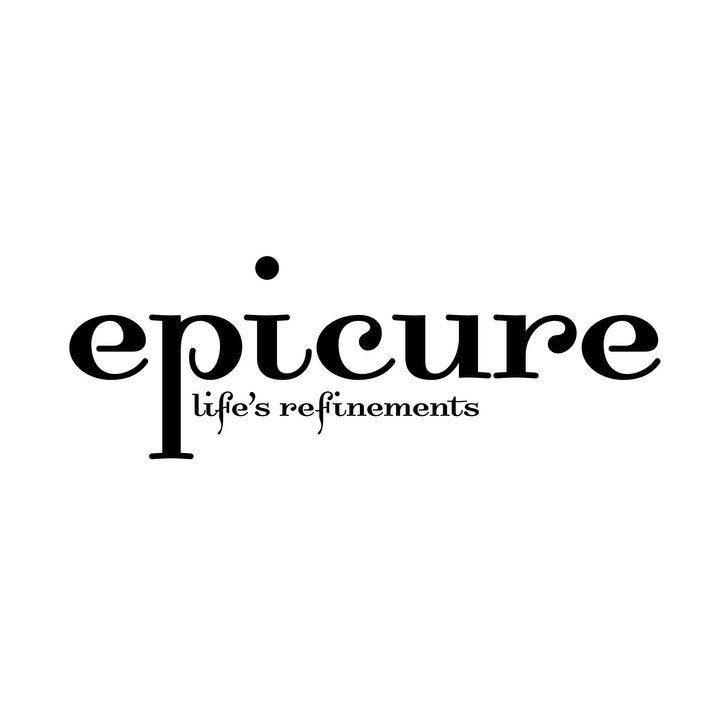 · 2 September 2011
·
Food
Crisp, gridded shells, fluffy insides, and an array of toppings. It's no wonder this comfort food is good for breakfast and dessert. Here's the cream of the crop.
GROUP THERAPY
It might take up to 20 minutes for your order to arrive freshly made so order the fabulous Arabica coffee (blended by a local roaster and ground on premise) while you wait. The grids on these Belgian style waffles are hollow and well spaced—perfect for holding a pool of melted butter and smears of Country Kitchen Original Syrup—and its coat is crisp with a golden sheen. The secret ingredient? Sour cream, which helps to bind the batter and ensure an evenly aerated crumb. If you like the full works, it can also be served with vanilla ice cream, chopped hazelnuts and caramel sauce. #02-01, 49 Duxton Road. Tel: 6222 2554. Book a table at Group Therapy with Chope.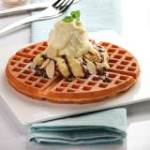 DESSERT FIRST
Imagine a layer of fresh durian pulp, a scoop of vanilla ice cream, a drizzle of homemade durian sauce and chocolate sauce, sprinkled with almond flakes, and you've got yourself a winner. The ice cream lends a cool velvety texture to the aromatic durian flesh of premium Malaysian D24 durians, which cuts sharply through the layers of flavour. Best of all, it's accompanied by a denser-than-usual waffle that doesn't fall apart easily when soaked with the molten toppings. 8 Liang Seah Street #01-04. Tel: 6333 0428
WILD HONEY
The thick fluffy Belgium waffles are served with fresh blueberries and dollops of coconut cream smeared into the big divots. Accompanied by tropical flavours of grilled mango and toasted coconut bits for a crunchy element, it's a delicious way to get your serving of fruit in the morning. "The recipe is based on an old family recipe that was my grandmother's. The secret is in the whipped white eggs that are folded into the batter just before cooking," reveals owner Stephanie Hancock. 333A Orchard Road, #03-02 Mandarin Gallery. Tel: 6235 3900. Book a table at Wild Honey with Chope.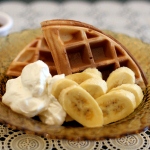 RESTORE LIVING
[CLOSED]
This cosy shop sells vintage furniture and also has a café corner. We made ourselves comfortable on pre-loved chairs but it wasn't long before the aroma of a la minute waffles came wafting from the tiny kitchen. No pre-mixes here; owner Hwee Min uses a batter that's made from scratch that results in a pillowy soft texture with just the right amount of crisp. There is a slight eggy and salty taste that when paired with a buttery homemade caramel sauce, fresh bananas and whipped cream. Choose from seven different types of waffles with varying accompaniments; the two quarters are also the perfect portion for the ladies. 124 Tanjong Pagar Road. Tel: 6222 3510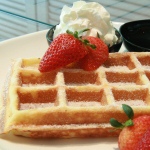 CASA VERDE
This casual eatery in the lush Botanic Gardens is an inviting nook to savour a warm waffle slathered with cream, maple syrup and fresh strawberries in the morning. It may lack a little of the crispiness but its rich, piquant buttery flavour makes up for it. Dip a portion of it into a cuppa of robust Nespresso and savour its newfound nutty flavour. Visitors Centre, Singapore Botanic Gardens, Cluny Road. Tel: 6467 7326
PICOTIN
Served simply with maple syrup and butter, Picotin's thick grid Brussels waffles are perfectly browned with a thin, crunchy outer layer that gives way to light fluffiness. Even dousing the batter-based cake with maple syrup doesn't affect its crispy shell. 100 Turf Club Road. Tel: 6877 1191
A CURIOUS TEEPEE
[CLOSED]
Even though it's crunchy and crisp on the outside, the waffles remain moist and delectable. As a savoury, it is accompanied with mesclun salad, balls of cheese and slices of smoked salmon. For breakfast, choose a classic drizzle of maple syrup or have it as a sweet treat at the end of the meal with vanilla or chocolate Movenpick ice cream, fresh strawberries and a dusting of icing sugar. 2 Orchard Link, #02-24 Scape. Tel: 6820 1680
UDDERS
Forget about the maple syrup. Udder's plethora of creative ice cream flavours offer more than enough oomph to jazz up your waffles. We were impressed when we tucked into our freshly baked waffle—a bright golden and crisp cake with a soft, slightly spongy interior, perfect for soaking up the Bailey's & Bourbon, whose alcoholic flavour is never overpowering; and the Gila Melaka, an addictive offering of gula melaka and juicy bits of attap chee (palm seeds). 87 Upper East Coast Road. Tel: 6448 8732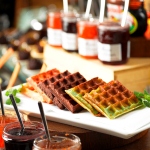 MELT THE WORLD CAFÉ
A staple at this hotel café (it's freshly cooked by the waffle iron at the buffet dessert counter), the waffles have a tender consistency and airiness and also do not collapse easily, a trait achieved by using whipped egg whites. Another excellent reason to indulge: the sheer variety of toppings, including honeycomb, cinnamon butter, homemade fruit jams such as strawberry and rhubarb, nutella and caramel ice cream. 5 Raffles Avenue, 4F Mandarin Oriental Singapore. Tel: 6885 3082. Book a table at Melt The World Café with Chope.
SALTED CARAMEL
Step foot into this cozy ice cream store, and you will be hit by the enticing whiff of buttery waffles. Their fresh golden-brown waffles are served steaming hot, crisp and with a moist interior. Made slightly salty to complement their ice cream, the waffles are decorated with icing sugar, and chocolate or maple syrup. You can pair it with their novel Salted Caramel, Earl Grey and Horlicks and Tim Tam ice cream. 246F Upper Thomson Road. Tel: 6753 1718
SHARE