Fancy wraps
Purists can argue, but rice dumplings need not always be a staid affair of rice and pork.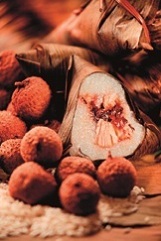 For this month's Dragon Boat Festival, Cherry Garden at Mandarin Oriental, Singapore is offering Lychee Braised Pork Belly Glutinous Rice Dumpling ($12/piece) that comes flavoured with lychee liquor and dried pieces of the fruit. Shang Palace at Shangri-La Hotel, Singapore is offering a Red Bean Paste Dumpling ($6.50/piece), turning the hearty nosh into a dessert, while Peach Gardens at Marina Mandarin Singapore takes things towards a fiery turn, with their Dumpling filled with Chicken in Szechuan style ($6.80/piece). Taking size seriously is Man Fu Yuan restaurant at InterContinental Singapore: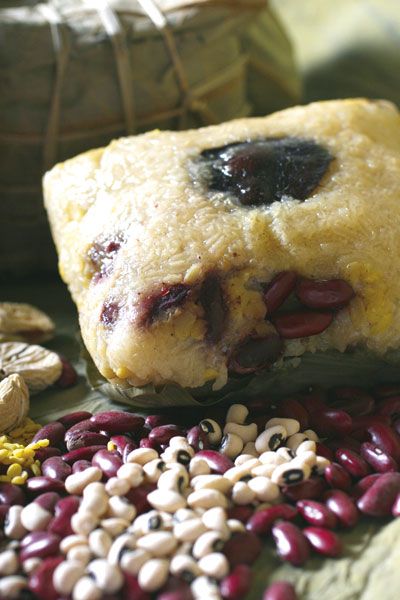 its Jumbo Dumpling ($19.20/piece), a mishmash of chestnut, green bean, salted egg yolk, pork belly, roasted duck, dried scallop and Chinese mushroom, is a treat for big appetites.
Chinese master chef Aw Yeong Kin from Peach Blossoms at Marina Mandarin Singapore gives his pointers on perfecting that dumpling.
1. For better flavour, marinate the ingredients, such as pork and mushroom, overnight.
2. Soak the glutinous rice overnight, or for at least 8 to 10 hours, to soften the rice. This allows the rice to better absorb the flavours from the meat.
3. If the water level is insufficient while you are cooking the dumplings, you should add hot, not cold, water. Using cold water would cause a drop in temperature, and that would affect the 'doneness' of the rice—it will not be as chewy or become thoroughly cooked.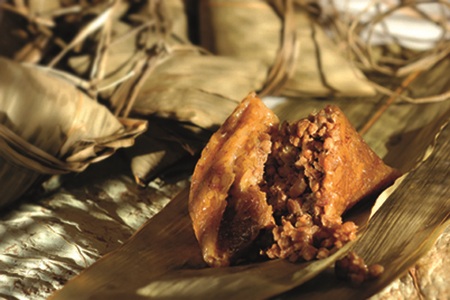 InterContinental Singapore, 80 Middle Road. Tel: 6825 1062
Mandarin Oriental, 5 Raffles Avenue, Marina Square. Tel: 6338 0066
Shangri-La Hotel, Orange Grove Road. Tel: 6737 3644
Marina Mandarin, 6 Raffles Boulevard, Marina Square. Tel: 6845 1118
Dumplings at all restaurants available from 1 to 16 June