Best all-day breakfast places in Singapore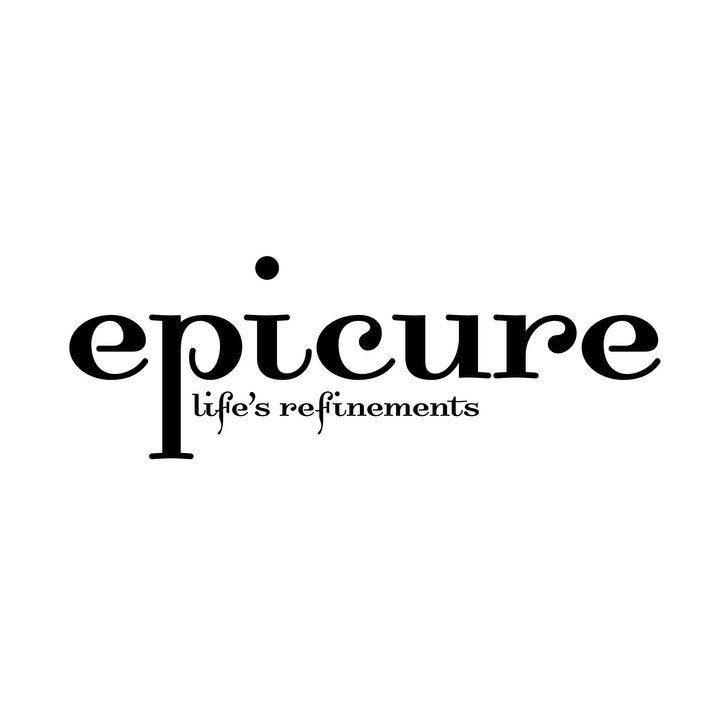 · 6 May 2010
·
Food
Why wake up at 9am when you can have breakfast during lunch or even dinner time? epicure singles out ten spots that give bed-hogging diners a chance to satisfy their cravings.
BOOK CAFE
This long-standing bistro was fashionable before its time, way before cafe hangouts for book lovers became all the rage, and its breakfast is worth a re-visit. The spacious living area and floor-to-ceiling shelves stacked with eclectic reads (you can purchase the copy you are reading), local newspapers and magazines, will lure you to spend the whole afternoon there. Breakfast portions are hearty here and the sirloin steak with sunny eggs and fries is popular. 20 Martin, #01-02 Seng Kee Building. Tel: 6887 5430. Breakfast ends at 10.30pm.
BROTZEIT
This German establishment has become synonymous with succulent sausages and uber crispy pork knuckles, but it whips up enticing egg dishes for breakfast, too. Take for example the Bauernomelette, an omelette filled with premium Australian ham, mushrooms and onions, and the Rührei, where luscious scrambled eggs are paired with smoked salmon. The bonus here is being able to interject your breakfast bites with swigs from one of the many German beers, which also happen to be the widest range in Singapore. #01-17 Raffles City Shopping Centre. Tel: 6883 1534. *All day breakfast at Brotzeit is no longer available.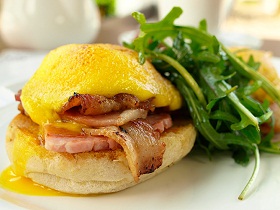 CAFÉ HACIENDA
If enjoying breakfast in an idyllic place is your kind of thing, then Café Hacienda would fit the bill. The Eggs Benedict stands out as a real charmer; its cherubic poached eggs work up a hearty character with the Hollandaise sauce, and the chefs do not skimp on its Black Forest Ham. For something more robust, order the Ultimate Breakfast set, an offering of two eggs, sausage, bacon, mushrooms, roasted tomato, baked beans and arugula. 13A Dempsey Road. Tel: 6476 2922. Breakfast ends at 5pm.
CEDELE
Cedele preaches a healthier diet, yet it also spares us some indulgence by stretching breakfast goodies till closing time. Not that we mind at all. It's tenet of making food from scratch are reflected in dishes like the Apple Cinnamon pancakes, where the sweet, delicate slices of fruit raise the piquancy of a humble breakfast dish. The Rosti, a generous serving of potato pancake, eggs, tomatoes, salad and bacon or sausages, sounds heavy, but the portions never threaten to overwhelm, proving to be a satisfying, balanced meal. #03-28A Raffles City Shopping Centre. Tel: 6337 8017. Breakfast ends at 10pm.
CHOUPINETTE
Walking into Choupinette, you'd think you've stumbled into a quaint French kitchen in a country home in Provence. Freshly baked breads like sour dough, pain moule and wholemeal baguette nestling in baskets tease your olfactory senses. The eatery is a stickler for freshness of ingredients; a strength that shows in the dishes. The Jason's Set offers scrambled eggs with herbs ensconced in a fougasse bread that is plump and soft like a pillow, while the English Coq takes perfectly poached eggs and marries them nicely with sausages, mushrooms and a tomato pancake for a memorable affair. 607 Bukit Timah Road, #01-01. Tel: 6466 0613. Breakfast ends at 5pm.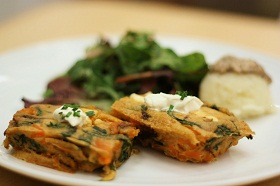 HATCHED
For those who fancy an egg-ducation—think eggs baked, boiled, fried, poached and scrambled—make a beeline here. This charming little spot devotes a whole section of the menu (featuring about four items or more) to the humble ingredient done in the various styles. The portions are not large but you'll find good quality ingredients like blackforest ham, French brioche and even foie gras alongside your egg. If you are health-conscious, request for the egg-white omelette, done Spanish-style with fried potatoes, onions and capsicums. 267 Holland Ave . Tel: 6463 0012. Breakfast ends at 11pm. Book a table at Hatched with Chope.
KITH CAFÉ
This small, simple joint, tucked discreetly in the Watermark @ Robertson Quay, is a popular hangout for the neighbourhood's residents, and serves comfort food such as sandwiches and pastries. We love their oversized slices of grilled toasts, which look like they belong on the plate of a giant. The toasts make their way into the Big Breakfast, which comes with smoked bratwurst, bacon and scrambled eggs, reminiscent of a robust Aussie-style brekkie. For a lighter option, pick the Croque Monsieur, a grilled sandwich of ham and cheddar cheese, which also makes a great takeaway. 7 Rodyk Street, #01-33. Tel: 6341 9407. Breakfast ends at 7pm.
THE GARDEN SLUG
Simple, casual and straight-up comfort food is what this humble diner; tucked away in a corner of a private residential estate serves. It's the kind of setting that can easily accommodate a large posse of friends. It's also a pet-friendly venue, although they don't cater food for pets. What they do serve is a good-sized portion of all-day breakfast that comes with German bratwurst, creamy scrambled eggs, thick toast, hash brown and yoghurt and muesli. A vegetarian option is available with cherry tomatoes replacing the bratwurst. 55 Lorong L Telok Kurau, #01-59/61 Bright Centre. Tel: 6346 0504. Breakfast ends at 9.30pm.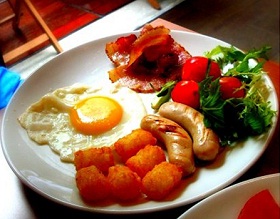 VANILLA CAFÉ & BAR
Vanilla Café & Bar touts itself as a Japanese-inspired western cafe, so the food portions are smaller, but the flavours still impress. The Traditional English Breakfast is unlike the greasy affair its name connotes, but a lighter, gentler version, offering thin slices of bacon, eggs done sunny side up, mini hash browns (less oily than others found elsewhere), chicken sausages and grilled tomatoes. Another light-hearted offering is the Vanilla Breakfast of eggs, ham and sausages, served with buttered toast. The breads and pastries are also made in house. 3 Boon Tat Street, #01-01. Tel: 6423 0366. Breakfast ends at 9.30pm.
WILD HONEY
Dedicated to breakfast, all-day and every way, this place ranks in our list for having the widest breakfast selection. There are 15 choices like Japanese tamago, Mexican burritos and Scandinavian salmon. We tried and like the Tunisian breakfast–a portion of paprika-sprinkled tomato stew with fried eggs and chorizo sausage served with brioche bread on the side and their Belgium waffles with desiccated coconut, mango and blueberries. 333A Orchard Road, #03-02 Mandarin Gallery. Tel: 6235 3900. Breakfast ends at 10pm. Book a table at Wild Honey with Chope.
SHARE