Best egg tarts in Singapore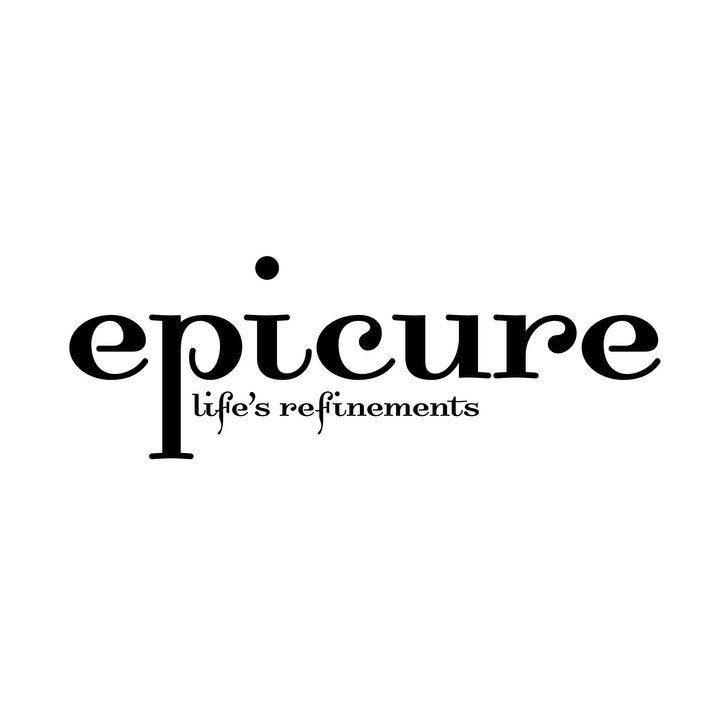 · 31 May 2011
·
Food
Though rooted in Portugese and British history, the egg custard pastry has won Chinese hearts to become a mainstay of dim sum menus. Here's the best of the bunch.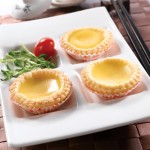 CANTON-I
[CLOSED]
The egg tart at this chic Cantonese diner had us going back for seconds. The custard, slightly wobbly and still piping hot, melted like fudge in our mouths, and its crust was a Danish cookie gone flaky. In short, it was simply addictive. #03-14 ION Orchard. Tel: 6509 8368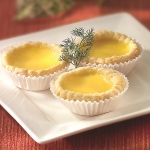 CRYSTAL JADE KITCHEN
A stalwart of Singapore's dim sum scene, Crystal Jade is the first to come to mind when an egg tart craving calls. A bite into their egg tart's slightly fragile crust unleashes sweet, golden yellow filling—a perfect balance of crisp pastry and pillow-soft centre that leaves us lapping up every morsel of the tasty treat. If you're not keen on joining the queue at the popular restaurant, their egg tarts are also available for takeaway at Crystal Jade Bakery. #B2-36 Ngee Ann City. Tel: 6238 1411
EAST OCEAN TEOCHEW RESTAURANT
While children at neighbouring tables are gushing over their animal-shaped custard buns and dumplings at this 22-year-old establishment, we are fawning over the equally popular Mini Crispy Egg Tarts. A soft, quivering custard sits within a flaky pastry shell made from 'water' dough: a combination of sugar, flour, egg, water and, most importantly, lard for a rich, golden crumb. #05-08/09 Ngee Ann City, 391 Orchard Road. Tel: 6235 9088
GOLDEN PEONY
Less rich but equally delectable, egg white tarts are not as ubiquitous as traditional custard tarts made from egg yolks. So when we came across some at Golden Peony, our curiosity was piqued. Served in a plate of three, the tarts here had a buttery, flaky and multi-layered crust with milky egg white filling that has a coconut-like accent. 2 Temasek Boulevard, 3F Conrad Centenniel Singapore. Tel: 6432 7482. Book a table at Golden Peony with Chope.
IMPERIAL TREASURE RESTAURANT
An excellent egg tart should be a messy affair, or at least that's the stance Imperial Treasure takes, and its rendition of the dim sum staple doesn't let us down on quality. Delivered steaming, but not scalding hot, the puff pastry flakes off layer by layer as you bite into the wobbly tart, giving way to warm, melt-in-your-mouth custard. #04-20A Ngee Ann City. Tel: 6736 2118
MOUTH RESTAURANT
Chinatown holds more than its fair share of egg tart purveyors, and it'd be a crime to miss out on Mouth Restaurant, whose stellar reputation goes way back to the 80s. The tarts are slightly oily (which results in a heavy, moister crust) but we're completely won over by their silky, luscious filling that's undeniably eggy without being cloyingly sweet. #01-61 China Square Central South Bridge Court Shop House, 22 Cross Street. Tel: 6438 5798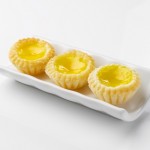 NOBLE HOUSE
[CLOSED]
On our first visit, the egg tarts were sold out, and this was only an hour into the lunch period. But we weren't thwarted, returning a week later—this time arriving earlier—and finally sinking our teeth into the oh-so-delicate custard, which had just the right amount of sweetness and velvety texture. Tip: place an order for the cherubic snacks before you come to dine. #06-13 UIC Building, 5 Shenton Way. Tel: 6227 0933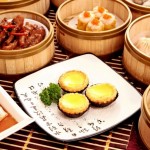 PARADISE PAVILION
[CLOSED]
We almost forgot what we came for when the mouth-watering scent of the crowd favourite Apple Wood Roasted Peking Duck hit our noses. Nevertheless, after nibbling away at some dim sum delicacies, we sought out the Mini Egg Tarts, and, upon the first bite, were smitten. The crust was crisp, thick and buttery, and its small size means you can pop the whole tart right into your mouth and let its scrumptious textures take over your palate. #02-01 Marina Bay Financial Centre. Tel: 6509 9308
ROYAL CHINA
What sets Royal China apart from other Cantonese restaurants is its posh interiors of Tiffany blue walls, white wood chairs and luxurious chinoiserie cheongsam brocade. But the mélange of dim sum dishes is familiar and egg tarts are a perennial favourite on the menu. The dessert is served a la minute, so expect to wait up to 15 minutes. Although we're not complaining; the light and airy puff pastry and eggy custard made it well worth the wait and we polished them off in a flash. 1 Beach Road, #03-09 Raffles Hotel. Tel: 6338 3363
TONG HENG CONFECTIONARY
With a history dating back to 1920, Tong Heng Confectionary has been churning out traditional Chinese pastries for a long time. But what the humble little shop near Chinatown is really known for is their egg tarts. Baked in a distinctive diamond shape, the egg tarts here boast dark yellow, pudding-like custard in an old fashioned Chinese pastry crust. And although it wasn't hot from the oven when we tried it, the sweet smell of caramelised sugar and still-crispy crust had us going back for seconds. 285 South Bridge Road. Tel: 6223 0398
SHARE