Best thin crust pizzas in Singapore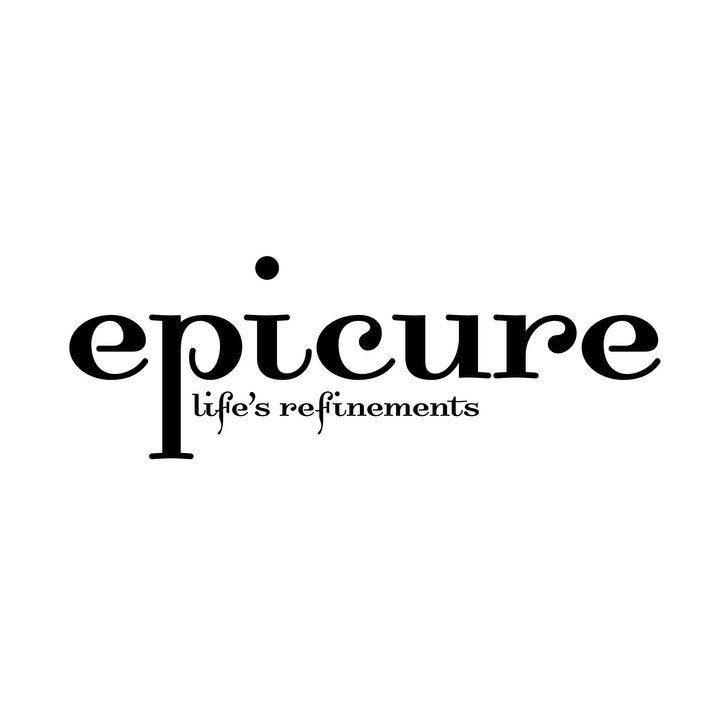 · 30 April 2011
·
Food
The criterion for the modern version of Italy's Neapolitan pie—fresh and generous toppings, warm, gooey cheese, and a crispy cornicione, or pizza lip. Here's our pick of who fits the canon.
AL BORGO
Even before we enter this cosy, casual eatery tucked in Alocassia Apartments, we can already pick up the enticing smell of toasted bread and warm ham lingering outside its entrance. Since it opened two years ago, Al Borgo has been a magnet for Bukit Timah's Italian food faithful. Chef Domenico La Mura, whose passion lies in crafting handmade pastas and pizzas, is generous with the toppings for his crispy, cheesy discs, such as the Frutti di Mare, a seafood item slathered with sweet tomatoes, curly pieces of squid and succulent mussels. 383 Bukit Timah Road, #01-02 Alocassia Apartments. Tel: 6737 3546. Book a table at Al Borgo with Chope.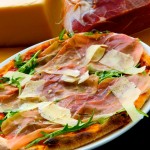 BELLA PIZZA
If our office were located in the Robertson Quay enclave, we'd probably make the weekly pilgrimage to this informal joint bursting with tunes of Mambo Italiano for piquant, or in this case, bella ('beautiful' in Italian), pizzas with a lovely, scrumptious crust. Pick the classic Pizza Napoletana, a hearty repast of tomatoes, capers and briny anchovies, or the Pollo, a juicy offering of chicken bits, luscious tomatoes and tender slices of avocado. 30 Robertson Quay, #01-14 Riverside View. Tel: 6734 0139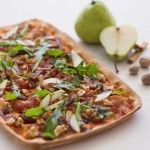 CRUST GOURMET PIZZA BAR
Technically, the Five Spice Pork Belly Pizza at this Australian franchise shouldn't be on our list. Its rectangular 13-by-8 inch shape resembles a pissaladière. It's baked in an electric and gas conveyor oven instead of a traditional wood-fired furnace. And the pizza toppings, which include poached sweetened Williams pears, succulent pork slices dry rubbed with five-spice mix, fresh walnuts and a dark balsamic glaze, are hardly conventional. But even though it incites the occasional eyebrow raise, the winning combination of the pie's sweet-savoury components makes this an incredibly tasty contender. 34B Lorong Mambong. Tel: 6467 2224
DA PAOLO PIZZA BAR
Da Paolo Pizza Bar offers a comprehensive selection of a la minute pizzas like the Quattro Formaggi (with four types of Italian cheeses) and Rucola, Proscuitto E Scaglie Di Parmigiano; the latter arrived at the table, piping hot and dressed generously with tomato, mozzarella, fresh arugula leaves, Parma ham and shaved parmesan. Kudos to the crispy biscuit thin crust with slightly charred edges. The only drawback is the waiting time, as they do get very busy towards the weekend. 44 Jalan Merah Saga, #01-46 Chip Bee Gardens. Tel: 6479 6059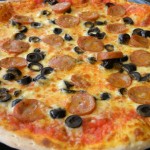 ETNA ITALIAN RESTAURANT AND PIZZERIA
While other joints are going old-school and flaunting their wood-fired ovens, Etna's gone high tech. Its two-tonne baking chamber consists of rotating discs—onto which the round doughs are placed—on a revolving wheel with gas-powered flames in its centre. This results in pizzas that are evenly baked, and crusts that are thoroughly crispy and spared of overcooked, burnt bits. Owner Gianluca Impemba claims his chefs can whip up 10 of those flavoursome pies in 30 minutes. Our choice is the Tonnara: pickings of tuna, tomatoes and onions cradled by a rich bed of mozzarella. 49/50 Duxton Road. Tel: 6220 5513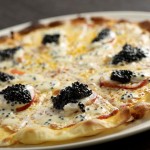 IL CIELO
il Cielo's brick-fired and thinner-than-pancake pizzas appear like one of those brittle pieces of dough driving the skinny pizza trend these days. But the crust proved otherwise, holding up well with an impressive crisp profile and offering a little perky chewiness, while the aromatic mozzarella stretched enticingly like in a scene poised for a commercial photo-op. The Bosco, dotted with porcini and cured Italian sausages, got a fragrant lift from some truffles. The Salmone e Avocado is worth checking out too: an indulgent spread of smoked ocean trout, avocado, grappa-marinated salmon roe and dill. Level 24, Hilton Singapore. Tel: 6730 3395. Book a table at Il Cielo with Chope.
L'OPERETTA
[CLOSED]
A flawless pizza needs a perfect crust, and at L'Operetta, a modern Italian restaurant, the crust is indisputably amazing and smoky thanks to the wood-fired oven. Slightly denser than others that we've tried, it was pillowy, chewy and bready with a hint of sweetness that complimented its lavish toppings. One rustic piece of heaven is the Napolentana; this Naples-style pizza comes topped with fragrant oregano, a few leaves of fresh basil and crunchy anchovies which temper the cheese and thin layer of tomato sauce to perfection. Did we also mention that this Japanese run Italian place has a chic décor and impeccable service? 78/79 Boat Quay. Tel: 6438 2482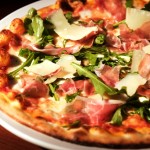 LA STRADA
The 10-inch Lardo is a scattering of intensely sweet Sicilian Datterini tomatoes, salt-cured Italian bacon, tart red onions and whole pitted black olives. But its magic lies in its mozzarella where chunks of fresh, creamy bufala melt lusciously on the palate. Seconds later, the airy crumb of the puffy wood-fired crust kicks in, making for a chewy and satisfying mouthful. #02-10 Shaw Centre, 1 Scotts Road. Tel: 6737 2555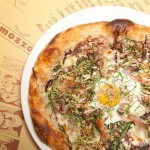 PIZZERIA MOZZA
At celebrity chef Mario Batali's L.A. offshoot, a crackling crust filled with air pockets is the result of dough that takes three days to make. A special strain of yeast is first fermented then combined with water and high protein bread flour (no eggs are used) before it is stretched by hand. We tried the Egg and Guanciale and liked how the richness of the runny yolk and house cured pork cheek is offset by a field of bitter greens. While the ovens are apple wood-fired, they are supplemented with infrared heat and gas to keep them evenly heated during high volume periods, which the restaurant almost always faces. #B1-42/46 The Shoppes @ Marina Bay Sands, 2 Bayfront Avenue. Tel: 6688 8522
SOLEPOMODORO
Cugini Trattoria Pizzeria branches out with a pizza specialist bistro reminiscent of traditional Italian pizzerias by the sea in South Italy, with a salmon pink, sky blue and sunny yellow palette and authentic wood-fire oven to boot. Their namesake offering, the SolePomodoro, is a creamy, runny mozzarella-slathered disc of stringy onions, sun-dried tomato strips, sausages and cubed potatoes. The Capricciosa is another crowd pleaser—mushrooms, roasted ham, salami and lightly charred artichokes generously sprinkled over fresh tomato sauce. Both boast crusts that snap with a delightful crackle and chewy centres without being over-doughy. 19/21 Mackenzie Road #01-01. Tel: 6884 3671
SHARE