Grit and talent
From getting the unceremonious boot from Marco Pierre White and becoming a head chef at 24, Philip Howard has risen to become one of Britain's top talents in French cuisine.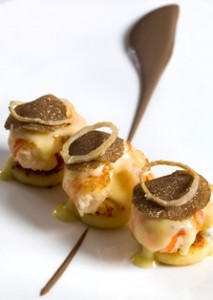 After graduating with a degree in microbiology in 1988, Philip Howard spent a year abroad cooking in a language school's eatery in Bordeaux, and visiting Asia. "After graduation, I felt pressured to use my academic qualifications in a relevant way. It was by being far away from home that I could, without any influences from anyone, reflect on my career choice."
The 44-year-old Briton decided that a life in the kitchen was what he wanted, and after returning to London, he landed a position in a catering arm of the renowned Roux brothers. Working at Marco Pierre White's diner, Harveys, at Wandsworth Common came next. But in less than a year, the fiery chef showed Howard the sudden exit. "He had one of his angry days, and if you were the person who made a mistake, out you'd go," he says.
Excerpt from the March issue of epicure.