Spotlight on: Koji Shimomura
The chef who trained in France, the birthplace of haute cuisine, and hails from the world's gastronomic capital talks Michelin stars.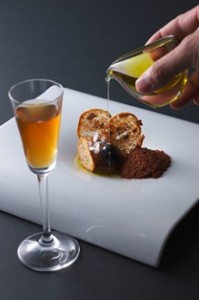 epicure: What are your thoughts of Tokyo holding almost twice the number of Michelin stars as Paris?
Shimomura: Japan has always been home to exceptional cuisine, and the country's first edition of the Michelin Guide in 2007 only confirmed this on a global scale. Four years on, there has been considerably less hype about the accolade. Three stars merely translate to 'worth a special journey' and that is exactly what it is, nothing more. Not forgetting that Tokyo has by far a much larger number of restaurants, some 150,000 compared to Paris' 20 or 30-odd thousand. With such skewed ratios, it only makes sense that Tokyo has accumulated more stars.
What do you think are some of the things Tokyo has done to overtake Paris as the world capital of gastronomy?
Although Japan is known for an enhanced sense of etiquette, there is more of a casual approach to fine dining. A chef in Japan could earn three stars for his eight-seater establishment selling nothing but sushi, as could a Spanish restaurant that seats 100. Within Tokyo's 227 stars, there are French, Spanish, Italian, Chinese and Japanese restaurants while Paris' stars are largely awarded to French cuisine due to a smaller diversity. Also, if French food is considered the bar, many Japanese chefs have formally trained in France and have reinterpreted haute cuisine in Tokyo with much success.
With the large number of award-winning restaurants in Tokyo alone, how does one chef differentiate himself from the pack?
With a strong dedication to quality ingredients, a meticulous attitude and the desire to always take it one step further. The competition is so strong in Japan that merely operating at your best doesn't always quite make the mark.
Outside of Japan and France, do you look to any other country's cuisine for inspiration?
Yes, everywhere. Take my signature dish for example, the John Dory is a European fish, the kadaif has Arabic influences and it is fried similarly to tempura, which has its roots in Japan. I try and take the best of what each country has to offer while merging them to form a unique identity.
Tell us how you execute your culinary style of "putting food's natural power to use"?
Despite my training in France, I actually don't use butter or cream in my cooking. I feel they mask any naturally-existing flavours in any dish. It's important for me that my cuisine doesn't attempt to 'hide' anything. Every ingredient is clearly visible and should taste what it looks like. If there is no mint element in my dish, there won't be a mint leaf there just for the sake of garnish. Everything is there to serve a specific taste purpose.
Are your ingredients at Edition Koji Shimomura strictly sourced from Japan?
I source pigeon and oysters from France. The John Dory fish and 80 percent of my vegetables like white asparagus are from Japan. The locals have a mild palate and take to their country's sweet vegetables better.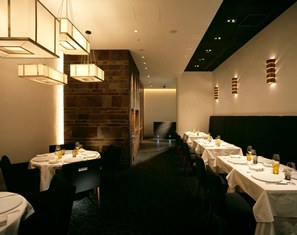 For locals who missed your recent cooking stint at Les Amis, what dishes at your restaurant are your signatures?
The John Dory which is wrapped in crispy shredded kadaif (finely shredded phyllo) pastry, pan-fried till crisp and perched atop a swirl of broccoli sauce and lemon jam. Also the poached oysters in seawater jelly. I serve it topped with crispy seaweed which I make myself. Like every one of my dishes, they have a story behind their origins. Visit Edition Koji Shimomura and I'll tell you.
5 things you didn't know about Koji Shimomura:
My favourite food in Singapore is…
Chicken rice! I had it during my first trip here in August last year but I can't tell you from where. It was packed to go and kindly brought to me.
My calling as a chef began when…
I was 10 years old. I realised then how powerful cooking really is. You can make people so happy.
My favourite place for sushi in Japan is…
Sushidokoro Shimizu in Tokyo's Shinbashi residential district. It only has eight seats but the cooked abalone sushi alone is worth the wait.
The highlight of my career so far…
Working with Bernard Loiseau. He was the first three Michelin-starred chef I worked with. Three weeks into my service he taught me how to make Pommes Boulangere, a simple French gratin dish. He used only potatoes, onions and chicken stock but his mastery over the simplest ingredients astounded me. (Loiseau took his life in February 2003 after bouts of severe depression over the speculation that his restaurant La Côte d'Or, was at risk of losing its third star.)
One ingredient/dish I have a weakness for…
I really couldn't tell you. Limiting myself to one ingredient or dish feels scary and impossible at the same time.