Served by candlelight
While most men will be winning their dates over with diamonds and flowers this Valentine's Day, six eligible bachelors are given a lesson by Top Chef finalist Leah Cohen on the culinary art of seduction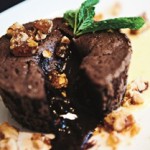 It's been said many a time that the way to a man's heart is through his stomach. But one female chef decided to prove that with the right combination of ingredients, (in this case sweet mussels, succulent lamb and a luscious chocolate cake) the aphorism could also apply to members of the opposite sex. The chef in question was Leah Cohen, a finalist on the fifth season of Top Chef.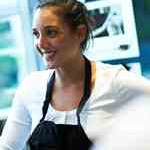 In an attempt to awaken her blasé palate and reconnect with her Asian roots (her mother is Filipino), Cohen left her executive chef post at Cento Vinoteca in New York City last year and traded her knives for a traveller's backpack. Her year-long sojourn in Hong Kong, Indonesia and Singapore was supplemented by short stints in the countries' top tables and most recently, at epicure's latest masterclass.
Excerpt from the February issue of epicure.