An all-star cookout
With eight chefs teaming up with De Dietrich for the Celebrity Chefs Charity Cookathon, guests will be plied with a day of gourmet delights.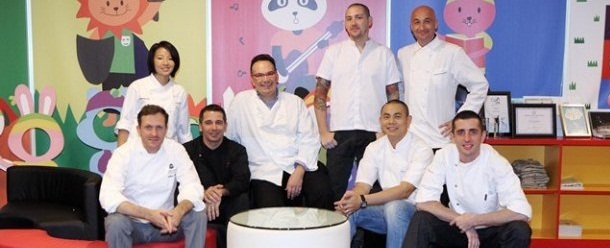 Hardcore home cooks will not want to sit this one out. De Dietrich is teaming up with eight local chefs for, get this—a six-hour cooking marathon held at the John Jacob Ballroom in The St. Regis Singapore on 26 March. The brief given to each chef? 30 minutes to showcase a dish inspired by something they enjoyed as a kid. The premise is apt, as all proceeds go to the Little Arts Academy, which provides equal opportunity for all children between the ages of five and 19 to develop their talents in dance, visual arts, music and theatre.
"The Celebrity Chefs Charity Cookathon (CCCC) brings them together to share their culinary passion and explore innovative cooking technologies. The celebrity chefs get to showcase their favourite childhood recipes while cuisine connoisseurs will have the opportunity to pick up tips and sample the creations—all while benefitting The Little Arts Academy and encouraging these children to pursue their dreams," says Serene Kwok, marketing manager for De Dietrich.
Aside from De Dietrich, which will provide state-of-the-art equipment for the chefs, sponsors for the cookathon include The St. Regis Singapore, Huber's Butchery, Classic Fine Foods, WMF, JC Wines, FIJI Water and epicure magazine.
The Itinerary…
From 12.30 to 6.30pm, eight chefs will be conducting live cooking demonstrations. The event will also include a tasting menu of all eight courses, a cocktail reception and photo taking opportunities with the participating celebrity chefs.
It's also an opportunity for guests to chat and understand the chefs' cuisine better, during the Meet and Greet Cocktail Session. There will also be a limited edition recipe book giveaway featuring the dishes presented by the chefs to all guests.
To Make Reservations
Tickets are priced at $150 (early bird bookings) per person before 28 February and $180 from 1 March 2011. Contact La Galerie De Dietrich at (65) 6508 4600 or email info@dedietrich.com.sg.
Chef Menus
André Chiang, ANDRÉ: Braised Beef with Aromatic Charcoal, Fresh Herbs and Mustard
Diego Chiarini, OSO Ristorante: Homemade 'Tortelli' Pasta filled with Lamb and Cold Balsamic Sabayon
Francois Mermilliod, Absinthe: Roasted Quail with Parma Ham and Mushroom Stuffing and Celeriac Mash
Frédéric Colin, Brasserie Les Saveurs, The St. Regis Singapore: Lightly Salted Cod, Shellfish and Fresh Hazelnuts
Julien Bompard, Le Saint Julien: Medley of Duck with Mashed Potato and Mustard Emulsion
Ryan Clift, The Tippling Club: Seabass with Four Textures of Cauliflower
Laurent Bernard, Laurent Bernard Chocolatier: Chocolate Tarte
Janice Wong, 2am: dessertbar: Rocher Magnums and Salted Caramel