Best xiao long baos in Singapore
Perhaps no other dish demands more finesse from a dim sum chef than the steamed soup dumpling where the thickness of the skin and richness of the stock come into play.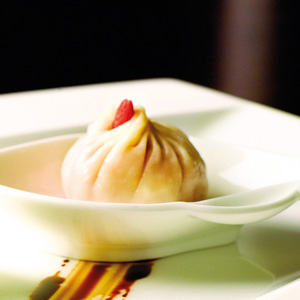 CHERRY GARDEN
If the mark of a good xiao long bao is that it doesn't break upon lifting the morsel with your chopsticks, then chef Hiew Gun Khong passes the test with flying colours. Wafer thin carrot slices provide a sturdy base for the dumplings filled with minced pork belly that has been seasoned with salt, pepper and a dash of sugar. The delicate pouches teem with a rich chicken stock that has been simmered for three hours. Hiew leaves the dumplings unsealed after pleating them to achieve a uniform thickness at the edges. Level 5, Mandarin Oriental Hotel, 5 Raffles Avenue. Tel: 6885 3538. Book a table at Cherry Garden with Chope.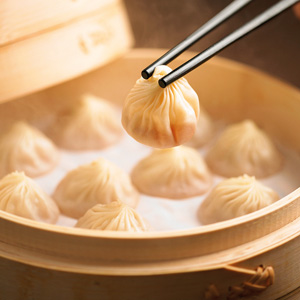 DIN TAI FUNG
The restaurant's three Chinese characters have become synonymous with tender juicy xiao long baos, earning itself a reputation as the go-to address for this dim sum staple. The efficient culinary team in the open kitchen doles out perfectly pleated wrappers of 18 folds that are bereft of floury aromas that plague other copycat competitors. Consistency may be the only drawback among the ever expanding outlets. We found the flagship to have the best results. #B1-03 Paragon Shopping Centre. Tel: 6836 8336
HAND IN HAND BEIJING RESTAURANT
The recipe is such a closely guarded secret that even the chefs are not privy to it. Owners Fei Li Ming and Fang Qiao Ming personally prepare the minced meat mixture before passing them on to the kitchen team to be wrapped and steamed. Each mini pleated dumpling is comfortingly warm instead of scalding, and when popped whole, brings forth a full burst of unctuous flavours. Night owls can have their dim sum fix here as it opens till midnight every day. 141 Jalan Besar. Tel: 6297 1398
HUA YI KITCHEN
The xiao long bao broth earns lavish praise for the soup—instead of the oilier and more heavily flavoured pork or chicken stock, Hua Yi's version is an even hazel colour with a milder taste and a distinct sesame oil undertone. With each mouthful, the broth dissolves the delicate skin to leave us chewing on tender minced pork. International Building #02-11, 360 Orchard Road. Tel: 6235 3156
LAO BEIJING
The dumpling's slightly brittle skin and scalding soup aside, the superior broth and juicy meat served at this old-school tea house will have us coming back for more. The spring onion and ginger juice infuses the minced meat (comprising an eight-hour marinade of secret ingredients) with a mild tartness. The result is a luscious gush of meat juices. Plaza Singapura #03-01, 68 Orchard Road. Tel: 6738 7207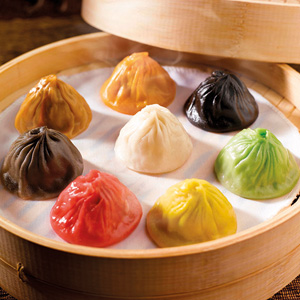 PARADISE DYNASTY
A little note to subscribers of the orthodox xiao long bao order: leave your apprehensions at the door and prepare to be pleasantly surprised. The steaming sampler basket comes with eight inventive flavours clad in brightly coloured skins. There's even a little slip of paper for a lesson on how to eat them in the correct order. Start with the original Shanghainese xiao long bao before progressing to the stronger tasting cheese, foie gras and crab roe variants. The black truffle and Szechuan dumplings deserve special mention for their unmistakable aroma and addictive chilli oil kick respectively. #04-12A ION Orchard, 2 Orchard Turn. Tel: 6509 9118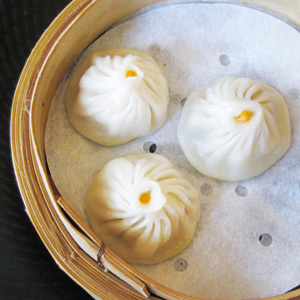 PEACH BLOSSOMS
Purists might say the addition of foie gras would overwhelm or mar the already full-flavoured broth of a xiao long bao, but this isn't the case as with dim sum chef Kerene Cheng's version for the upcoming lunar new year. There's the familiar musky whiff as we take the decisive first chomp into the jiaozi, which boasts a pleasant buttery texture to the minced pork. Ginger and fish sauce are added to the filling just before it is steamed for a briny tang to the broth. Level 5, Marina Mandarin Singapore, 6 Raffles Boulevard. Tel: 6845 1118
PEACH GARDEN
The newest Sichuan style addition may specialise in tongue-biting cuisine, but the soup dumplings are a shining star too. Each generously sized and plump-looking morsel is served in a soup spoon and the generous meat filling is complemented by a tasty soup that's neither oily nor bland. Overall, a good balance of dough, soup and meat for each parcel to pack a flavour punch. 401 Havelock Road, Hotel Miramar, Level 3. Tel: 6736 3833
QUN ZHONG EATING HOUSE
The basket arrives steaming with seven plump treasures, and as we tentatively lift the xiao long baos, its contents slump downwards ominously. Thankfully, it doesn't give way, and we're impressed at the generous servings of broth and meat sheathed within the thin yet supple skin. The first bite unleashes a torrent of rich soup which we hasten to slurp from the overflowing spoon. The relish of succulent meat accompanied by juicy ginger slices seal the deal. We can't weasel the recipe out of the tight-lipped chef but we promise this eatery is definitely worth a try. 21 Neil Road. Tel: 6221 3060
WAH LOK CANTONESE RESTAURANT
The xiao long bao's skin is firm to the bite yet not excessively gummy even after 32 pleats. We're told that cold water is added to keep the temperature of the dough low, to prevent the dumpling's skin from turning mushy when steamed. A fragrant reduction of chicken and pork rib soup boiled with longans forms the fragrant stock within. An adornment of finely sliced ginger and a light dapple of mild black vinegar is all it takes to turn the juicy morsels from good to great. Level 2 Carlton Hotel Singapore, 76 Bras Basah Road. Tel: 6311 8188