Best cheesecakes in Singapore
Rich, thick and creamy or light, fluffy and spongy? Japanese, French or New York? Here are our top picks of this dessert favourite.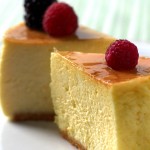 CHECKERS DELI 
[RENAMED D9 CAKERY]
The phrase "if it isn't broken, don't fix it" comes to mind when tucking into Hilton Hotel's bestseller, a recipe that has remained unchanged from 1970. It just goes to show how a timeless favourite of slow-cultured cream cheese, sour cream and whole eggs can stand in a league of its own when executed well. Extra points for the cake base—a shortbread cookie crust in this instance, instead of the usual buttered biscuit crumbs. Hilton Hotel, 581 Orchard Road. Tel: 6737 2233
CHEF ICON NATURE BAKERY
Owner and baker Francis Sng turns out quality breads and cakes without preservatives, artificial colouring or flavouring, and the proof is in the amazingly fresh taste of the silky Boston-style Strawberry Cheesecake. Unlike the New York style cakes, this version is made with an almost entirely cream cheese filling, on a thin sponge cake base. It's not as overwhelming as it sounds; this tastes like a strawberry yoghurt cake studded with whole strawberries inside. To order a whole cake, an advance three-day order is required. 5 Kampong Bahru Road. Tel: 9337 3900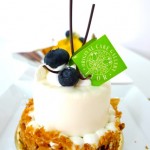 FLOR PÂTISSERIE
Australian cream cheese is hand-kneaded to achieve a smooth consistency, then paired perfectly with a fragrant citrus almond tart base, and laced with blueberry sauce to produce the Fromage Blanc. A best seller at the bakery and a creation of Chef and co-owner Masataka Yamashita, it is a clever play of soft and crunchy textures, where the flaky and light pastry offsets the rich filling. Visually, it's a stunner and looks like a milky, quivering pudding set on a base of gold foil, which makes for great gifting. Also available as a whole cake for birthday celebrations. #01-01, Duxton Hill. Tel: 6223 8628
PATISSERIE GLACÉ
Japanese pastry purveyor Patisserie Glacé's Rin Rin Cheese Tarts are small, and their cheese fillings are light in taste and velvety in texture, making them. The Raspberry, with a raspberry puree that doesn't overpower the cheese's accents, is a popular choice. But we find its match in the Chocolate—it bears a fragrant, lip-smacking cacao, which, we are told, comes from a European brand. We try to wring more details about the recipe from the staff, but they remain tight-lipped. 12 Gopeng Street, #01-33/34 Icon Village. Tel: 6400 0247
PRIVÉ BAKERY CAFE
Plain in looks but tasting so good, their New York cheesecake makes our list for one of the best versions made—smooth and creamy with just the right balance of sweet and tart. Each slice is a blend of American cream cheese and sour cream, and the taste is a dense but not heavy, rich-tasting but not overly unctuous. We also like how the granola grain base (made from honey, oatmeal and cream cracker) gives a touch of crunch and chewiness. If you prefer a sharper and zestier taste, they have a Yuzu cheesecake made from the citrus paste imported from Japan. 2 Keppel Bay Vista, Marina at Keppel Bay. Tel: 6776 0777. Book a table at Privé Bakery Cafe with Chope.
THE MARMALADE PANTRY
Though the sticky date pudding comes to mind as the definitive dessert here, the Sea Salt Caramel Cheesecake is not to be passed over. It is a symphony of taste and texture contrasts, with Maldon sea salt crystals and sweet caramel swirled in velvety cheese, sitting on a bed of crumbled digestive biscuits crackers. With so many elements of taste going on in a single slice, it is surprisingly, not the least bit overwhelming but a moist and creamy dessert that pleases after each spoonful. 2 Orchard Turn, #03-22 ION Orchard. Tel: 6734 2700
SEAH STREET DELI 
[CLOSED]
The cheesecake is the silent star in this long-standing, New York-style deli more popularly known for its juicy burger. The Wall Street New York Cheesecake arrives in a portion that is as American as it can get, easily handling the pickings of two diners. Despite its masculine size, there's a slight feminine touch to it, as raspberries, blackcurrants and strawberries decorate its creamy top. The thick layers of cheese are hearty but not cloying, so polishing off this big slice is never tedious on the palate. The oat-filled biscuit base adds a gentle aromatic touch. Raffles Hotel Singapore, 1 Beach Road. Tel: 6412 1816
THE CHEESECAKE CAFÉ 
[CLOSED]
Faux Renaissance paintings line the walls of this neighbourhood cafe and bust statues of classical figures watch over customers as they tuck into the European style pastires offered at this neighbourhood café. Thankfully, the cheesecakes, however, aren't baffling like the décor. The reason they make our cut is the cheese's freshness, which complements so well with choices like the Peanut Butter Cheesecake dotted with peanuts in its filling (a hark back to childhood days of digging into a peanut butter jar and snacking on cheese crackers), and the Chocolate Brownie Cheesecake, a mishmash of chewy chocolate sponge bits and creamy cheese. 685 East Coast Road. Tel: 6448 7725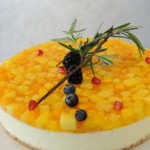 1 CARAMEL 
[CLOSED]
Their Mango Mascarpone is a perfect example of French pastry-making technique packaged with a dose of Japanese creativity. Desiccated coconut mixed into the raw sugar and unsalted butter base plus a top layer of succulent, less fibrous Philippines' mango cubes add a delightful dimension to the cheesecake's light, velvety consistency. Topped with assorted berries for extra zest, this creation is the patisserie's signature crowd-pleaser. The Luxe, 6 Handy Road #01-01A. Tel: 6338 3282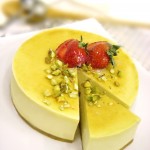 BLUE MAGNOLIA
[CLOSED]
There's a choice of eight cake flavours, but the New York Cheesecake is a crowd-favourite. Served in petite squares, each slice is made with premium cream cheese resulting in a smooth, creamy and rich texture. Crushed biscuits form the dessert's thin base layer and a zesty lemon glaze lends it a citrus balance. The Salted Caramel version is paired with hazelnut feuilletine for a salty-sweet crunch. 439 Macpherson Raad. Tel: 6284 4227