Earth gem
If truffles smell like old socks and sex, why are they so highly prized? Claire Hanson hunts for the elusive French black truffle—in Western Australia—and unearths a mystery dating back to antiquity.
Frances Lee is truffle manager and dog trainer at the Manjimup Wine & Truffle Company (MWTC) located in the South West of Western Australia. A formidable figure, she hunts for truffles from 7am until dark every day on the property in season, using two dogs, Sunny, a kelpie-labrador cross who hunts for up to eight hours, and Izzie, who is learning the tricks of the trade.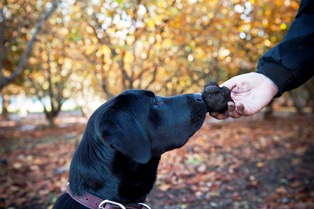 Today I am joining Fran's hunt for truffles, so we don gumboots and overalls for the protection of the trufferie then jump on a tractor-pulled wagon to take us around the Manjimup property, stopping at prime hunting sites. Walking up and down rows of trees, following Fran and the dogs on the trail of the celebrated truffle scent. We don't have to go far.
"Where is it?" commands Fran of Izzie. The dog scratches at the rich, fertile soil and sits, confirming she has detected the scent of Tuber Melanosporum, the black truffle. "Good dog." A reward of chicken jerky is snapped up. Soil is carefully cleaved away by deft, cautious hands. Fran is on her knees. She bends down, nose almost touching the earth and inhales. "Good dog," she repeats quietly, slowly unearthing the prize with her own hands: some the size of a small stone, others as large as a cupcake. I offer my cupped palm and she drops two in, all roundish, earthy and cold. So this is the fabled black diamond, the Perigord Black Truffle.
Excerpt from the November issue of epicure
Photos: Manjimup Wine & Truffle Company