VENUE By Sebastian
Our team goes undercover to suss out the latest and most talked about restaurants in town.
Sebastian Ng, former chef-owner of Ember, is truly in a class of his own when he sticks to his well-loved classics. Fans will be pleased to find familiar items on VENUE by Sebastian's menu, from the inimitable silky angel hair pasta with sakura ebi ($27) to the Chilean seabass ($39), perfectly calibrated with mushroom bacon ragout for an umami bomb, and truffle yuzu butter sauce that luxuriously coats the firm, grilled flecks.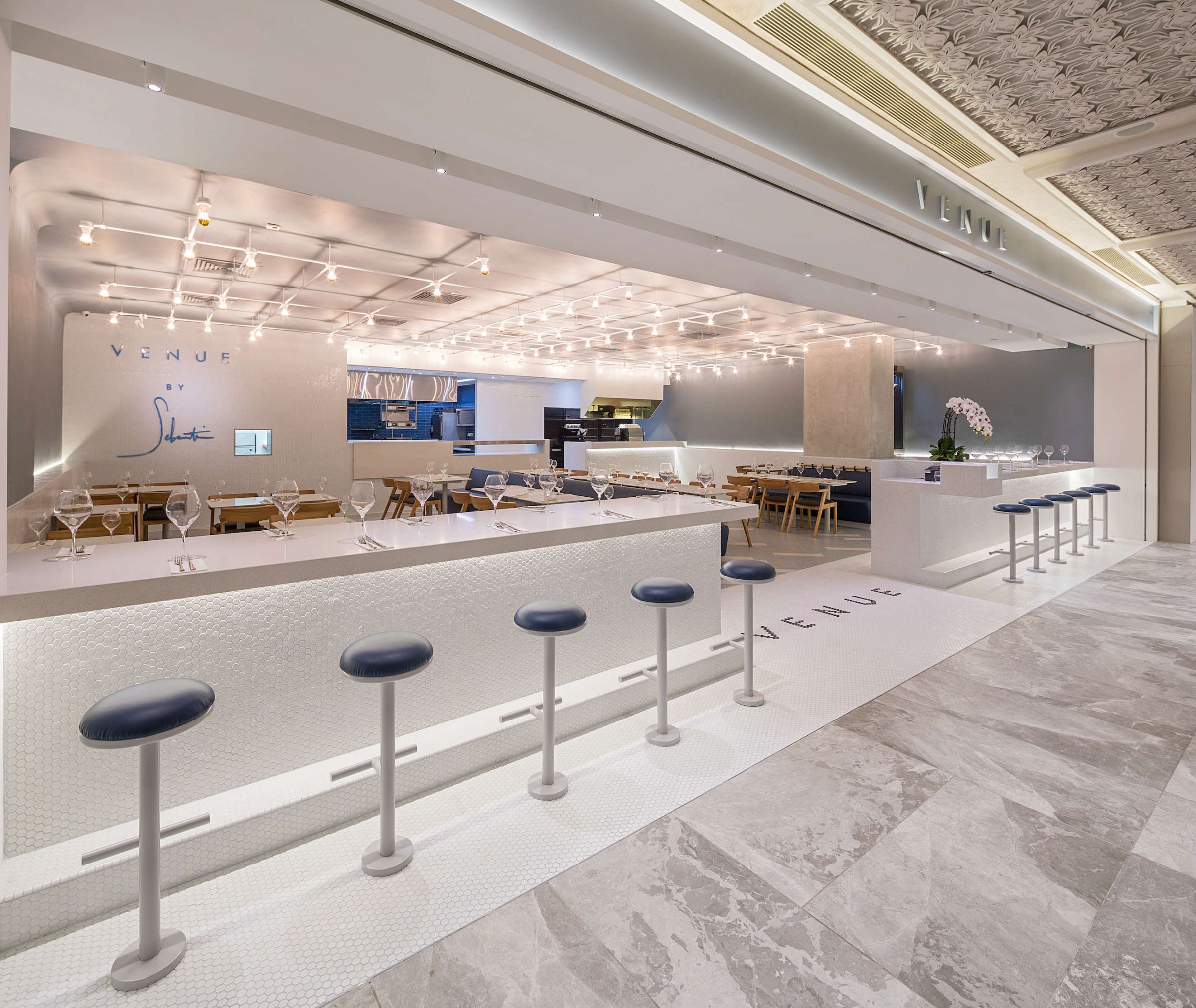 But everything else has changed. The communal dining space comes across deliberately like a modern, chic canteen. Unfortunately, it faces a makeup store, and the harsh acoustics forces you to 'enjoy' other diners' conversations more than you'd like. Up to 80 people can be seated on the bar, banquette and chairs, all fringing the central open-kitchen concept where Ng and chef de cuisine Jonathan Lee sling out sharing plates (a dreaded concept to some). The plates are modestly portioned, requiring an average of eight to 10 plates per two diners for a full meal. You even have to tick selections yourself with a pencil on the old school paper menu, so that only runners are needed to staff the front of house. Ng's wife Sabrina continues to manage 'everything but the kitchen' with unflappable
composure, but some waitstaff do need to improve their level of service.
As per small plates concepts, your dishes do not arrive in any fixed order (except dessert, of course). Everything fits into eight categories: Toast; Fritti & Greens; Pasta (only at dinner); Raw, Cured & Smoked; Pan, Coal & Roast; Sides; and Sweets are tweaked weekly at the minimum. Vinophiles might do well to BYO as the tight wine list may not satisfy.
Over the course of two visits, the 'starters' stood out. Jerusalem artichoke soup ($8) was velvety smooth, plumped with slivers of once crispy duck. In the homemade tofu with foie gras-mirin sauce and ice plant ($14), the thick sauce and ice plant tickled our fancy, but the lumpy tofu was strangely unrefined. Raw Hokkaido scallop ($17) cured by yuzu vinaigrette came with an unexpected mound of mesclun leaves, but worked well to wake the appetite. Pan-roasted and poached foie gras ($24) echoed the tofu dish, using mirin once again to bring sweetness to fattiness, with slivers of shiitake.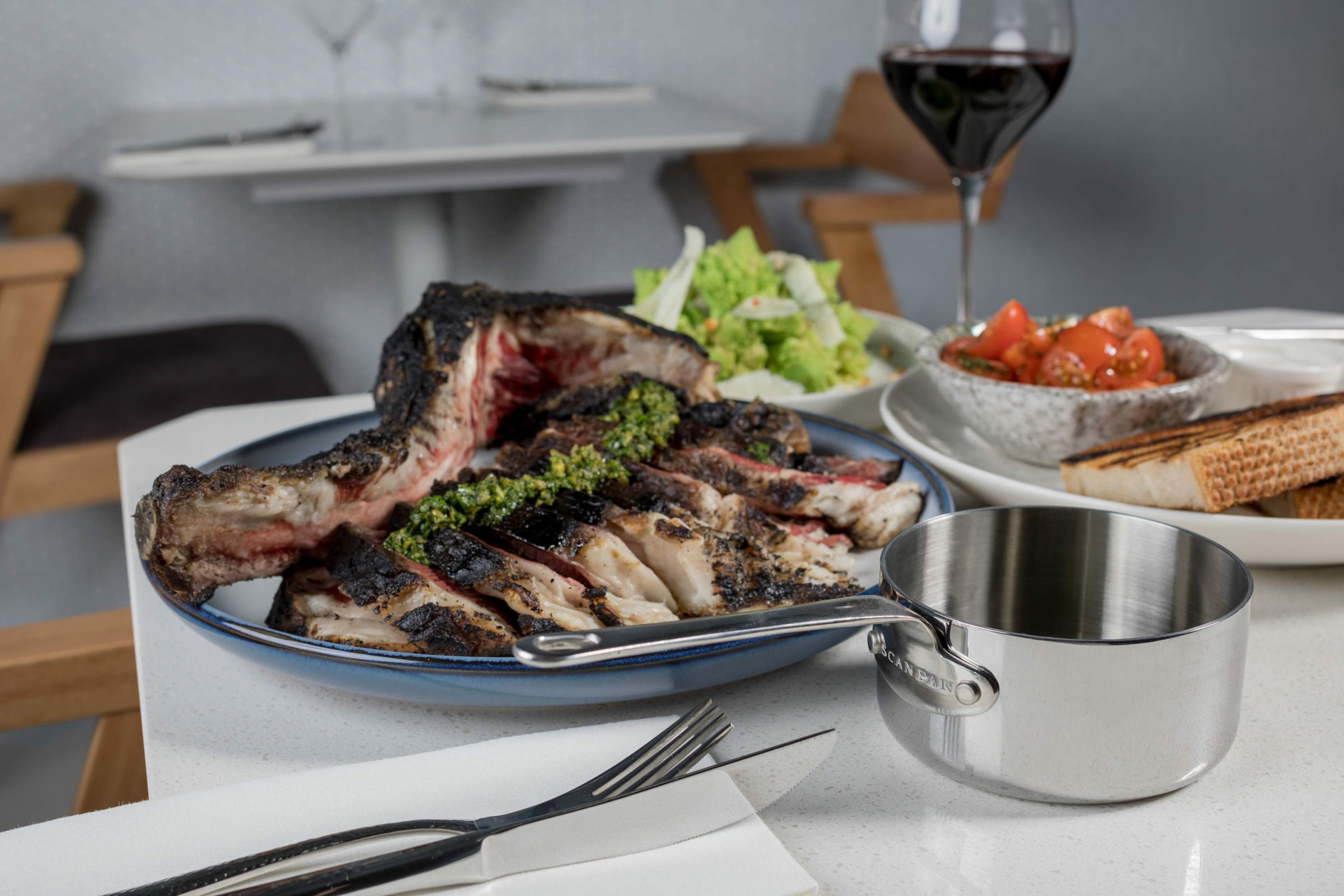 When it comes to mains, the 'larger' dishes include the seabass and straightforward Stockyard ribeye ($48), plainly grilled and served with salsa verde. We preferred the small but succulent lamb riblets ($5 each), charred and served with chimichurri riojo. A leg of duck confit ($19) with truffle emulsion deserves special mention; because although it appears to be the most passé item on many menus, in Ng's hands the dish is a surprise masterpiece of crisp and yielding textures.
Desserts are enjoyable and accomplished, with kudos to the boozy, wet Kahlua-spiked tiramisu ($12), and well-constructed chocolate fondant with vanilla ice cream ($14) – again, classic items given some polish. The brutal F&B scene means that today's entrepreneurs, despite their past success, have to constantly improvise and improve, and VENUE's quirky, delicious mix of compromises and creativity may hold the recipe for the future of casual-luxe dining. #01-02 Downtown Gallery, 6A Shenton Way.
Tel: 6904 9688
Food: 8/10
Service: 6.5/10
Ambience: 6/10
Average dinner bill for two: $200 with drinks
Must-tries: Angel hair pasta with sakura ebi; Jerusalem artichoke soup; Roasted and poached foie gras with mirin; Chilean seabass