Spotlight on: Vineet Bhatia
The first Indian chef-restaurateur to receive a Michelin star doesn't believe in preparing for his next accolade. His motto? "Just do your best and the recognition will follow."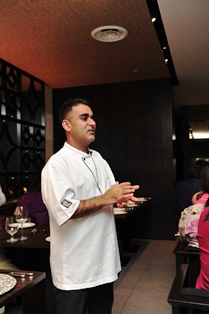 epicure: Your recent guest stint at Yantra was met with much aplomb. Have diners in your India restaurants reacted as enthusiastically to the modern spin you have put on your dishes?
Vineet Bhatia: Diners in London have a preconceived notion when it comes to my cuisine but Indians don't expect a chocolate samosa to land up on their plates. Of course they were initially sceptical—people in India like to 'see' their food before they eat it. I tell them that if they eat it with their eyes closed, it's still authentic in taste but presented in a modern way. And when they do try it, they are usually converted. The food is familiar at the end of the day and the feedback has been promising so far.
e: Do you tailor your menus very differently across your 12 restaurants?
VB: The underlying tone of 'evolved Indian' is the same. I would never venture into fusing my dishes with say, Chinese cuisine but I am discerning when it comes to the different seasons and weather in each country. The dishes in Rasoi by Vineet in Mauritius are mostly seafood seasoned with lighter tropical flavours while earthier figs and mushrooms are played up in Geneva.
e: Are there certain boundaries you just won't cross?
VB: It hasn't happened yet. I am planning a wasabi ice cream accompanied by an almond soufflé. But fusion food comes with a strong understanding of food and its textures. There is a large thought process that goes behind the creative angles. Just because a certain ingredient pairs well with one thing, doesn't mean it will with everything else. That is unfortunately something many chefs have not fully understood yet.
e: Revolutionising Indian food earned you a Michelin star for your restaurants Zaika, and Rasoi in 2001 and 2006. How are you gearing up for your next star?
VB: The stars came unexpectedly, you don't plan for these things. You just hope to run your restaurant and look after your guests in the best way possible. I believe that if I can meet the high standards I set for myself, the stars will come on their own.
e: What creation are you most proud of?
VB: Cocoa-spiced lobster. The cocoa adds depth and blends well with powdered curry leaves. I add a touch of chat masala (a sweet and sour Indian spice mix) for good measure.
e: What would you say to someone who thinks Indian cuisine is too complicated?
VB: I'd say they are absolutely right. It is complex and it looks complicated until you really break it down. In Indian cooking, there are first and second marinades before slow cooking a dish—it is very labour intensive. My book, Rasoi: New Indian Kitchen (available for sale on Amazon.com) is about simplifying cooking methods. The first 70 pages alone are on technique. For anyone new to Indian cooking, picking it up is like stumbling upon a goldmine. The secret lies in well prepared mise en place—the basic blocks of Indian cooking. You need that knowledge in order to build a good foundation.
5 things to know about Vineet Bhatia:
e: Coffee or tea?
Herbal peppermint tea.
e: Wine or beer?
Beer is awful. Champagne.
e: Favourite spice to use?
Saffron for its aroma and versatility. It's a classy and sexy spice.
e: Favourite comfort food?
A simple dish of rice with yellow dahl and plain yogurt.
e: Complete the sentence. A good chef…
has fine technique but a great chef has tremendous passion.