California drinkin'
With 30 winery representatives showcasing their labels over a two-day tasting, guests can expect to sample a comprehensive flight from America's sunshine state.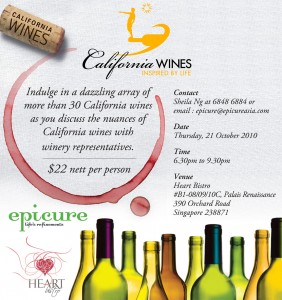 Backed by 250 years of tradition and experience, California is home to Napa Valley, Sonoma County, and Mendocino—premier wine-producing regions renowned for strong award-winning Pinot Noir and Cabernet Sauvignon vintages. Rolling hills and a cool sunny climate coupled with fertile soil, have caused a sprouting of 107 American Viticultural Areas (AVA) and over a hundred grape varieties across 400,000 acres of land, classifying California as one of the largest and most diverse wine regions in the world.
Celebrating this diversity is a two-day A Taste of California Wines organised by the California Wine Institute. The event will present over 30 labels from established wineries such as Robert Mondavi, Foley Family, Lucas and Loewellen, and Cline Cellars.
The consumer event will take place at Heart Bistro on 21 October (7 to 9pm). For $22, guests can taste all wines on display and sample canapés like marinated sashimi poke and crab cakes to pair a crisp Sauvignon Blanc, and meatballs in tomato salsa and cheese platters to complement a full-bodied Shiraz.
For enquiries and reservations, call Keno at 6737 2148, or Sheila at 6848 6884.
Heart Bistro, 390 Orchard Road, #B1-08