Where to get rice dumplings in Singapore
Whether it's larger-than-usual choices or gourmet ingredients-stuffed dumplings, there's something for every palate this Dragon Boat Festival.
Legend has it that rice dumplings were thrown into a lake where a well-loved Chinese poet and minister drowned himself in, to prevent the fishes from consuming his body. In remembrance of the poet, that's how the Dragon Boat Festival – also known as Duan Wu Jie – came about. Rituals traditionally involve families getting together to enjoy rice dumplings, which are usually stuffed with braised meat, chestnuts and salted egg.
Here, we've rounded up our choice picks, from the most indulgent to the biggest rice dumplings.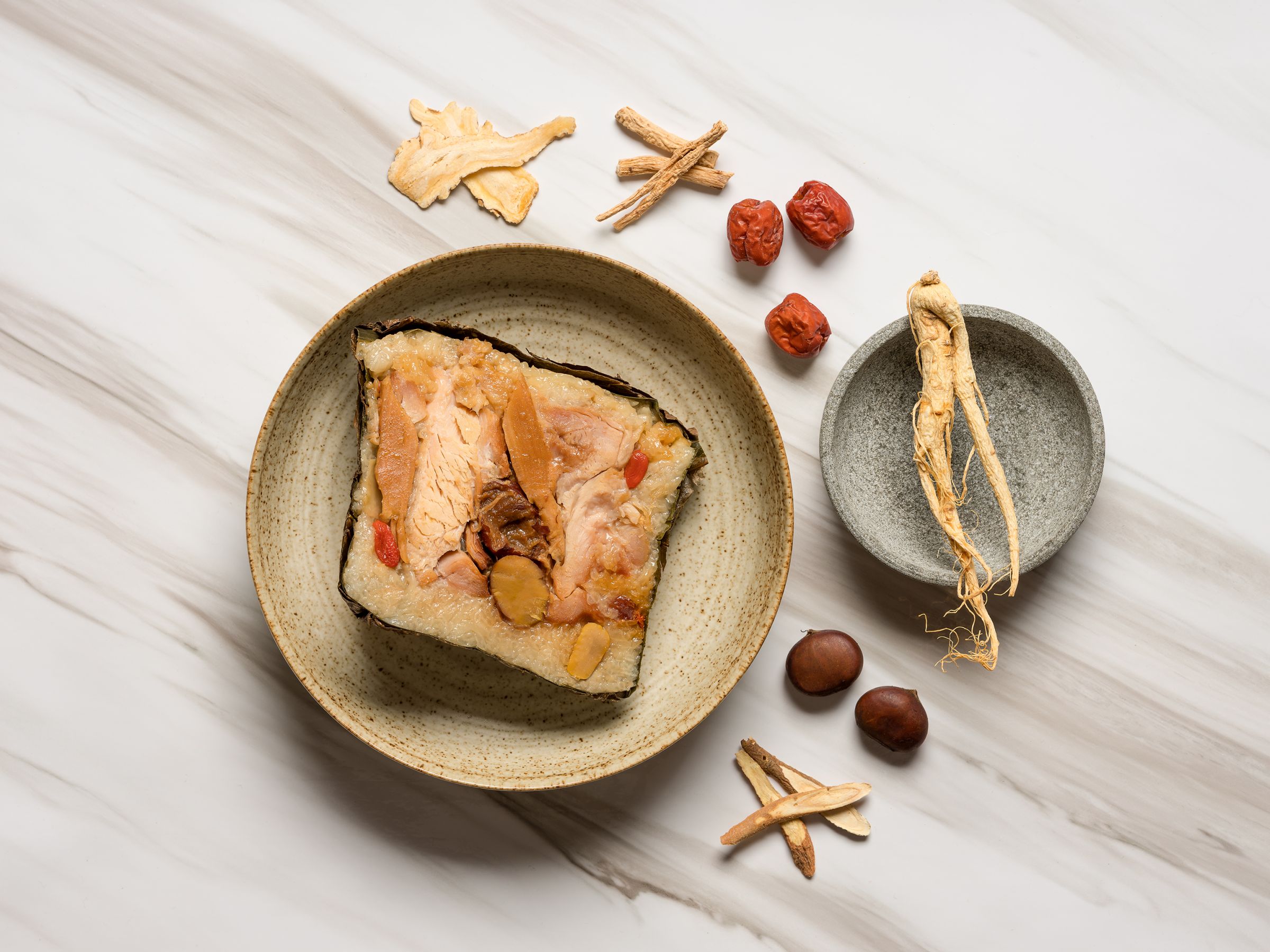 Korean influences
Man Fu Yuan has outdone itself with its new and nourishing Ginseng Chicken with Red Dates Rice Dumpling ($10.80/piece). Inspired by the flavours of Korean ginseng chicken soup, it's stuffed with quality Korean ginseng, fork-tender chicken and wholesome, sweet red dates. Available till 30 May. Level 2, InterContinental Singapore, 80 Middle Road. Tel: 6338 7600
Local flavours
Min Jiang's Black and White Glutinous Rice Sambal Shrimp Dumpling ($11/two pieces) is a treat for sambal-lovers. Each bite yields a generous amount of hae bee hiam, which goes well with the sweet black and white glutinous rice. If you're feeling adventurous, choose the dumpling option that comes paired with Goodwood Park Hotel's famed mao shan wang dip ($16/two pieces). Available till 30 May. Goodwood Park Hotel, 22 Scotts Road. Tel: 6730 1704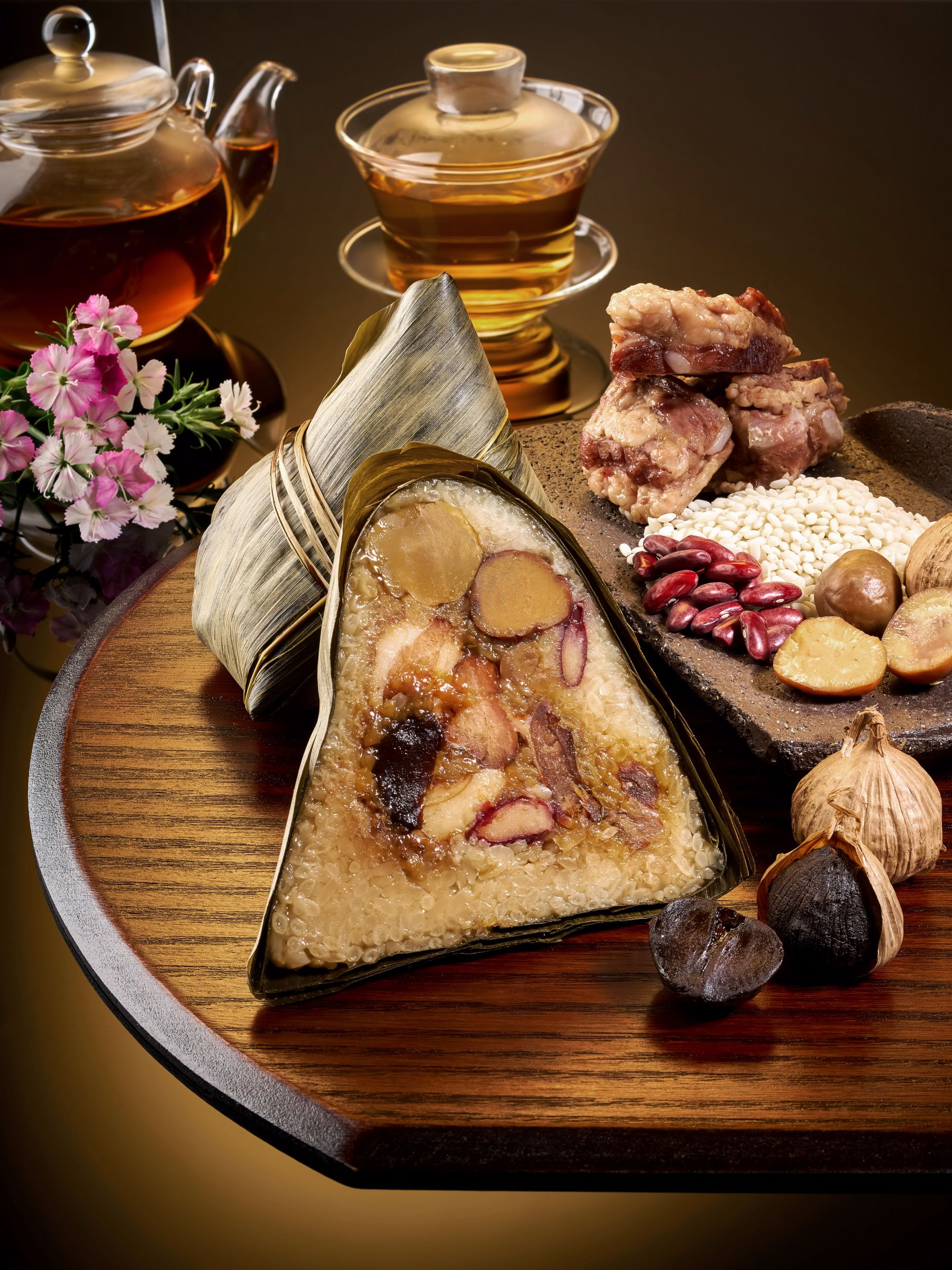 Decadent fillings
Executive chef of Wan Hao Chinese Restaurant, Brian Wong, has created a luxurious dumpling ($18/piece) stuffed with well-marbled Berkshire Kurobuta pork collar, fragrant black garlic and chestnuts, and premium sweet glutinous rice. What we also liked is the Black Truffles with Cordyceps Flower and Pork Belly Rice Dumpling ($18/piece), a French-inspired creation that tempts with its richness and buttery mouthfeel. It's best enjoyed with Wan Hao's sweet and tangy sauce. Available till 4 June. 320 Orchard Road, Singapore Marriott Tang Plaza Hotel. Tel: 6831 4605
A touch of booze
A hit with young and old, TungLok's popular X.O. Dumpling ($29.10/packet, contains four pieces) is back. The traditional rendition is elevated with the winning combination of savoury house-made X.O. sauce, succulent pork belly, dried scallops, mung beans and dried prawns. Available till 30 May. Click here for more.
Generous portions
With Li Bai Cantonese Restaurant's massive dumplings, which are the size of three normal portions, it's easier than ever to enjoy the annual rice dumpling feast with your loved ones. Dig into their new Wagyu and Matsutake Mushroom Rice Dumpling ($48/piece), featuring Australian Wagyu beef and earthy Matsutake mushrooms enveloped in premium glutinous rice; or opt for the decadent Abalone and Pumpkin Rice Dumpling ($45/piece) filled with abalone, pumpkin, Chinese mushrooms, pork belly, salted egg, mung beans and chestnuts. Available till 30 May. Sheraton Towers Singapore, 39 Scotts Road. Tel: 6839 5623.
Wholesome options
There's something for health conscious diners too. Golden Peony's new creations are the Wholesome Vegetarian Multigrain Rice Dumpling and the Golden Pumpkin Rice Dumpling. The former boasts luxurious black truffles, mushrooms and lotus seeds, while the latter is chock-full of sweet golden pumpkin and lotus paste. Available till 30 May. Conrad Centennial Singapore, 2 Temasek Boulevard. Tel: 6432 7482/8
Spoilt for choice
Skip the hassle of travelling to five different celebrity chef restaurants at Resort World Sentosa with their Dumpling Festival Package ($98). Begin the feast with the lighter and refreshing fare of Tangerine's Organic Barley & Quinoa Dumpling, followed by Forest's Sea Whelk, Dried Oyster and Hokkaido Dried Scallop Dumpling. Then move on to richer flavours found in Osia Steak and Seafood Grill's Five Spiced Kurobuta Pork Dumpling, and Feng Shui Inn's savoury 5 Grains Rice Dumpling with Australian Wild Abalone. Round up the feast with Syun's Unagi Dumpling. Available till 30 May. Email dining@rwsentosa.com for more details.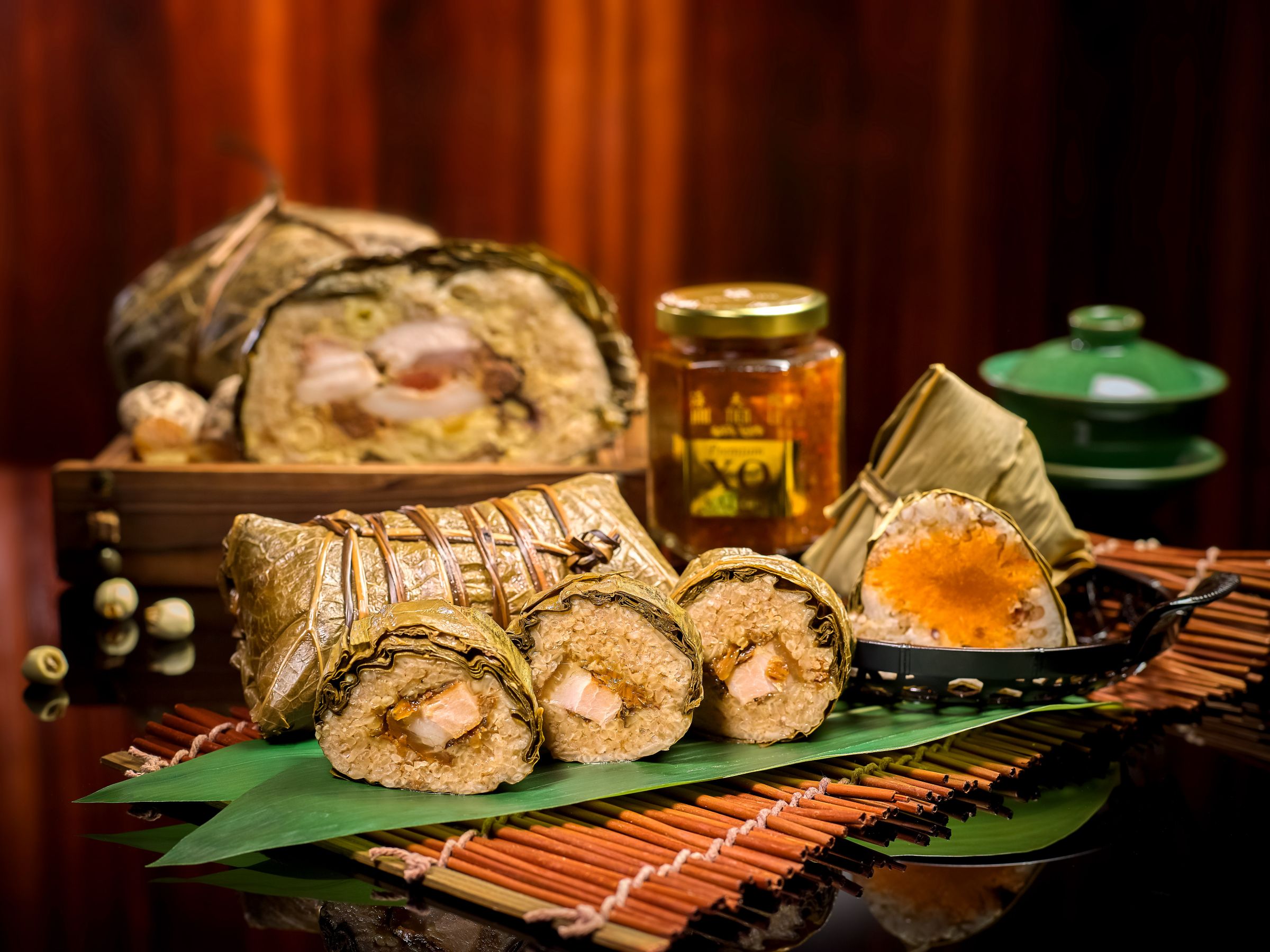 Dumplings as gift
Score brownie points with your family when you gift them Hai Tien Lo's premium rice dumplings gift set ($68), curated by executive chef Lai Tong Ping. This extravagant box features the Traditional Cantonese Jumbo Rice Dumpling, Classic Pork Dumpling with Preserved Vegetables, Fragrant Glutinous Rice Dumpling with Multi-grain Rice, and the perfect addition their addictive house-made XO chilli sauce. Available till 30 May. Pan Pacific Singapore, 7 Raffles Boulevard. Tel: 6826 8338