Best pasta frutti di mare in Singapore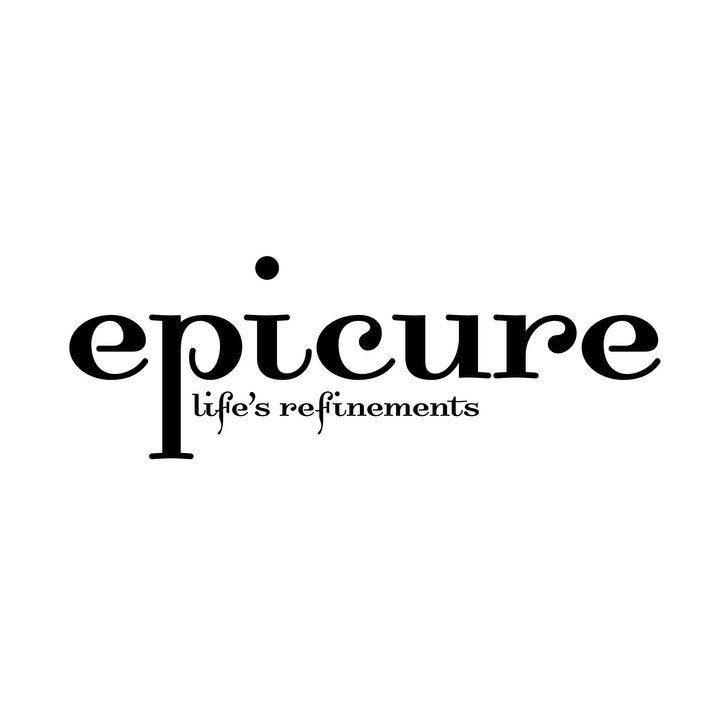 · 28 April 2017
·
Food
For a nation that loves carbs and seafood, there are few things more satisfying than a perfectly cooked plate of al dente pasta brimming with fresh catch. Literally translating to 'fruits of the sea', this dish likely originated in the seaside villages of Italy, where fisherman cooked what they couldn't sell and served the seafood stew with pasta. Our favourite renditions of the lip-smacking frutti di mare come loaded with various ocean gems cooked in either a tomato-based sauce or a garlicky white wine version, but each packing a hearty punch of flavour and freshness.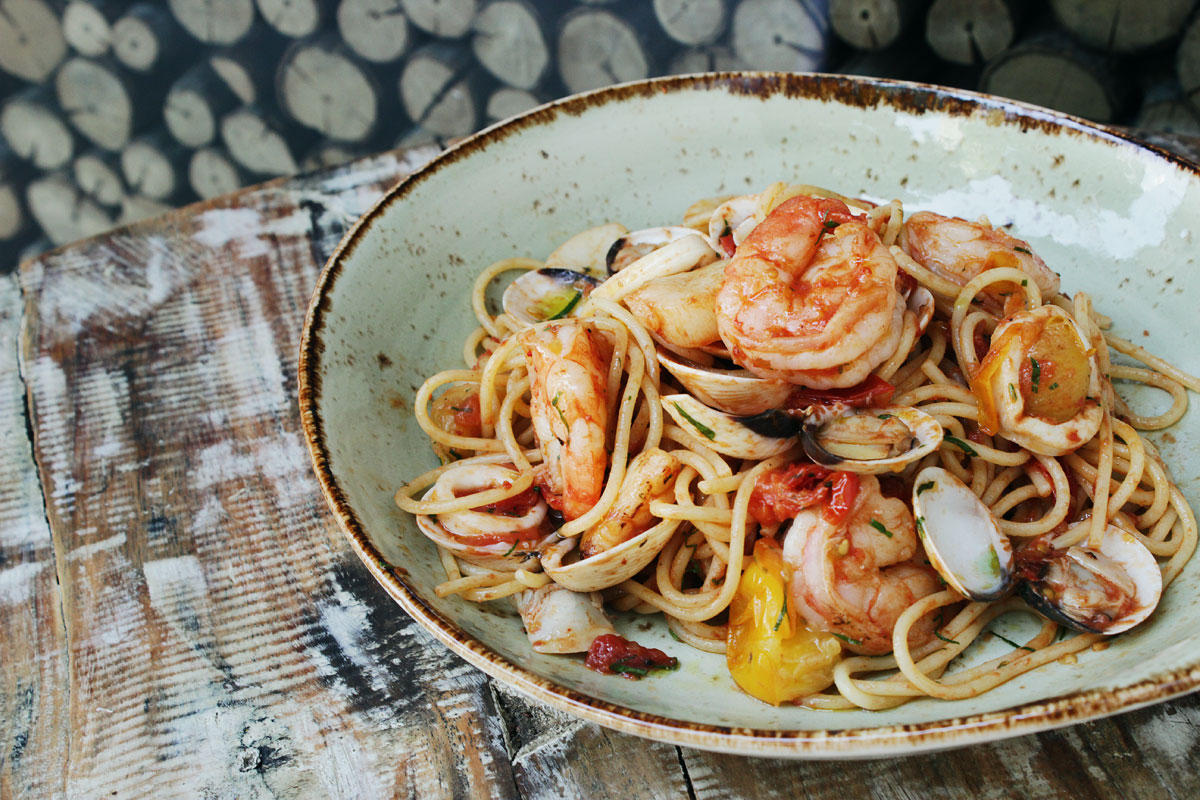 PREGO
Sink your teeth into Prego's Spaghetti Pescatora, which proffers swathes of freshly made al dente pasta coddled in a white wine and Italian plum tomato sauce, packed with a heady mix of perfectly cooked calamari rings, shrimps, scallops, mussels and clams, with just a slight kick of spice at the end of each mouthful. The riot of colours almost makes the plate look too good to eat. Level 1, Fairmont Singapore, 80 Bras Basah Road. Tel: 6431 6156. Book a table at Prego with Chope.
GARIBALDI ITALIAN RESTAURANT & BAR
The salivating sight of Garibaldi's Spaghetti Mare will have you clamouring for more. You'll need no convincing to tuck into the succulent slices of squid rings, fork-tender cod, fresh prawns and clams, which are cloaked in an addictive housemade tomato sauce and served with al dente spaghetti. 36 Purvis Street. Tel: 6837 1468. Book a table at Garibaldi Italian Restaurant & Bar with Chope.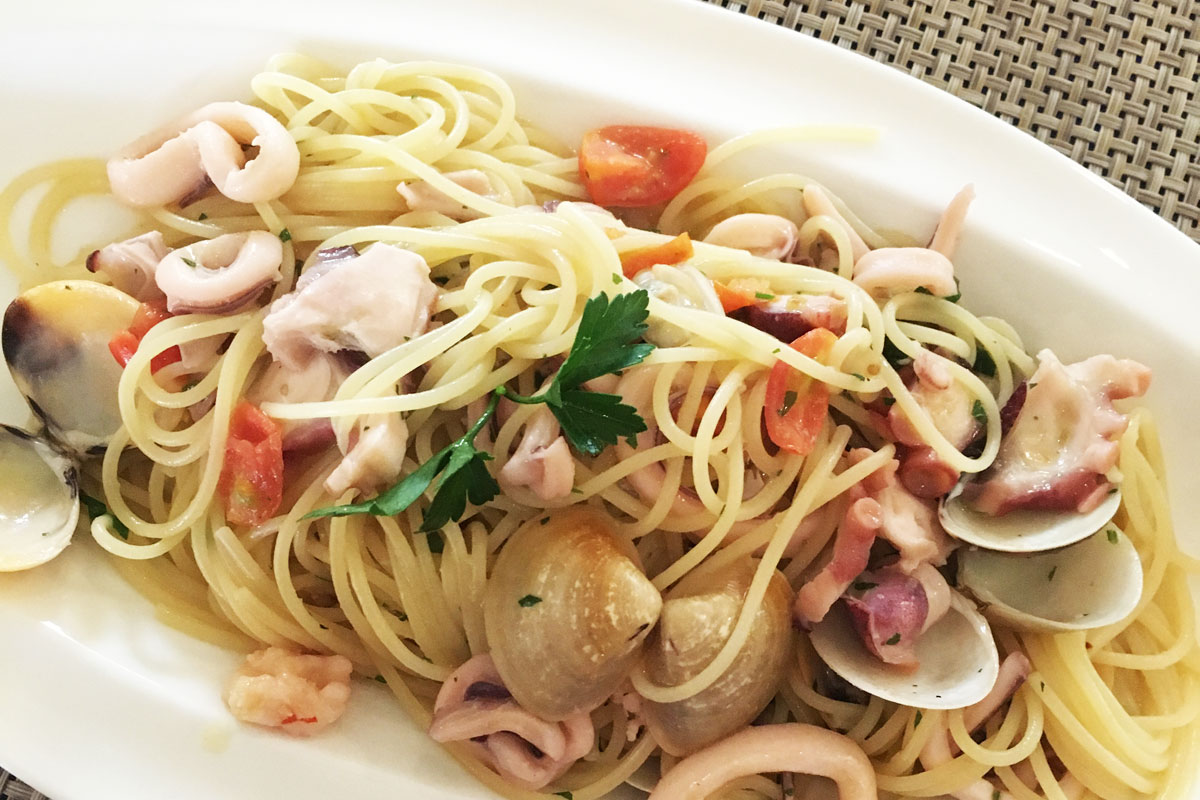 LA BARCA
Chef Giuseppe Di Gaetano's exquisitely tasty Spaghettini Aglio Olio e Frutti di Mare alla Mediterranea brings out the oceanic tang of the accompanying clams, squid, prawns, cuttlefish and octopus. He uses garlic sparingly in this dish, allowing the natural flavours of the seafood to sing through. We found no fault with the texture of the pasta too, which was perfectly al dente. #01-21 /22 Block C, Goodman Arts Centre, 90 Goodman Road. Tel: 6346 5813. Book a table at La Barca with Chope.
OSO
Bathed in a slightly spicy homemade tomato sauce seasoned with peperoncino chilli, this eye-catchingly beautiful and comforting plate of spaghetti comes with a generous mix of plump scallops, prawns, chunks of seabass and lots of garlic. Full of flavour without being too heavy, it's good to the last strand, just the way pasta should be. 46 Bukit Pasoh Road. Tel: 6327 8378. Book a table at OSO with Chope.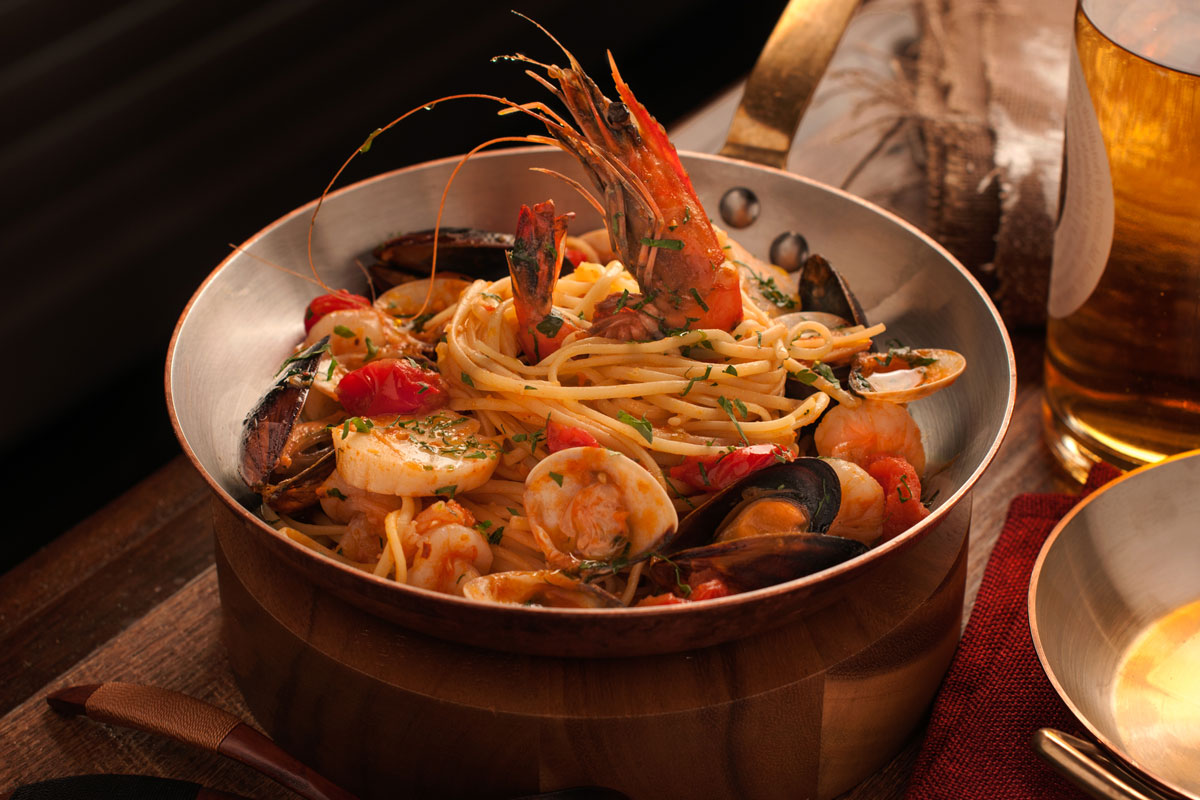 THE WATERFALL
The pasta selection at The Waterfall runs the gamut from casarecci with lamb ragù to scialatelli with pesto, but the standout is the Linguine allo Scoglio, a traditional offering in southern Italy. The generously portioned dish is served in a skillet where linguine, whole cherry tomatoes and fresh clams, prawns, mussels and scallops are immersed in a light, garlicky broth, which we couldn't help polishing off. Level 1, Garden Wing, Shangri-La Hotel Singapore, 22 Orange Grove Road. Tel: 6213 4138/4398. Book a table at The Waterfall with Chope.
LA BRACERIA
Tucked in the residential Greenwood Avenue enclave, La Braceria is one of our favourite neighbourhood spots for a pasta fix. Their Spaghetti Frutti di Mare is especially popular and it's easy to see why – fresh and sweet prawns, tender calamari, plump mussels, and soft and fleshy scallops are tossed in an aromatic tomato-based sauce that doesn't overwhelm the seafood's delicate flavours. 5 Greendale Avenue. Tel: 6465 5918. Book a table at La Braceria with Chope.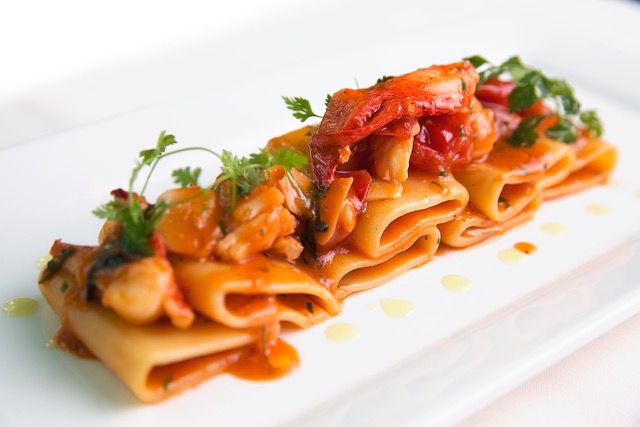 Zafferano Italian Restaurant & Lounge
Zafferano's Paccheri Frutti di Mare is a refreshing change from the more common spaghetti and linguine options. Chunky nuggets of cod, tender octopus, diced prawns and fresh baby tomatoes are bathed in a homemade tomato base that's easily picked up by the flat pasta tubes and perfect for mopping up with bread. Level 43, Ocean Financial Centre, 10 Collyer Quay. Tel: 6509 1488. Boook a table at Zafferano Italian Restaurant & Lounge with Chope.
RISTORANTE DA VALENTINO
This stalwart Italian outfit serves up a sumptuous Linguini alla Pescatora that comes in a foil package. The housemade tomato sauce, which features chunks of tomatoes, is delicate and does not overpower the pristine taste of prawns, squids, mussels and clams. The al dente linguine is evenly coated in just a right amount of addictive sauce without drowning in it. #01-19 The Grandstand, 200 Turf Club Road. Tel: 6462 0555
SENSO
If tomato sauce isn't your thing, try the classic white wine-olive oil version of Linguine al Fruitti di Mare at Senso. Enjoy a medley of seafood such as prawns, calamari, sea bass and baby scallops atop a bed of pasta ribbons. A drizzle of spicy Sardinian Vermentino white wine sauce gives the dish the right combination of heat and acidity it needs. 21 Club Street. Tel: 6224 3534. Book a table at Senso with Chope.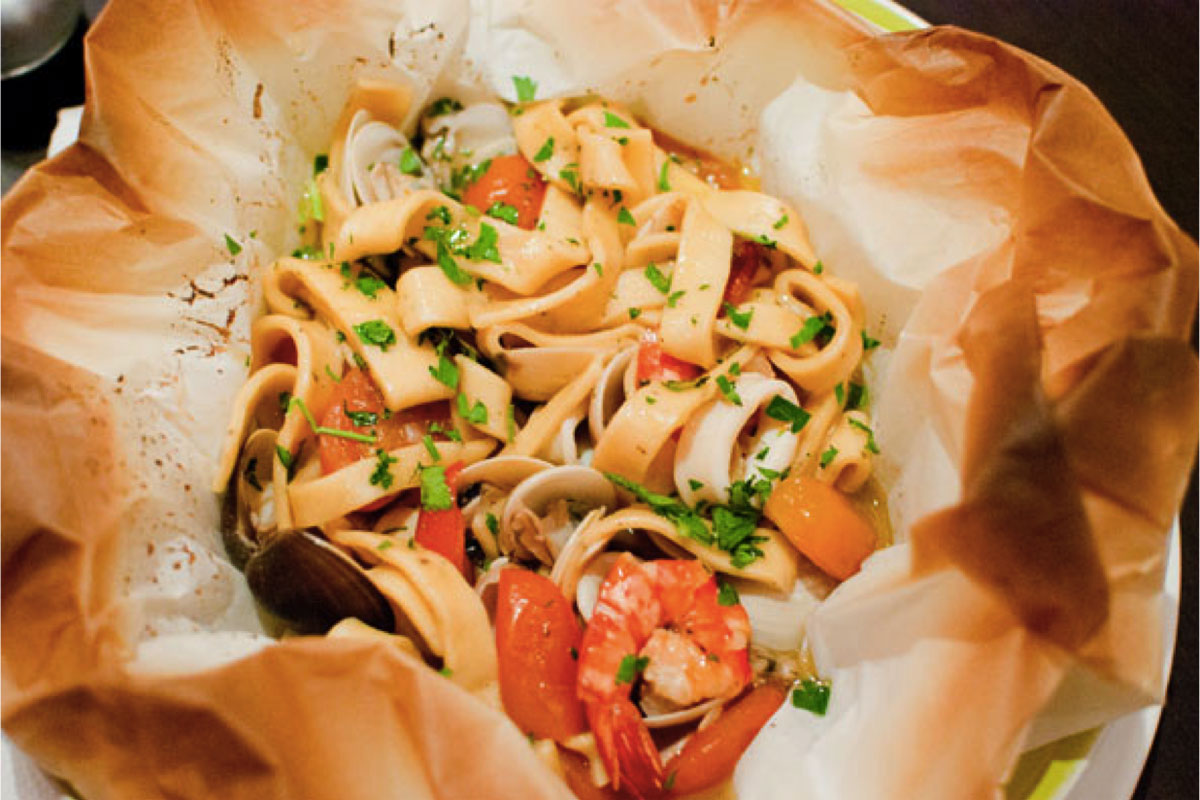 CAPRI TRATTORIA & PIZZERIA
You know you have chosen the right place when you spot Italians dining at an Italian restaurant. Chef Marco De Cecco's Scialatielli di Capri is cooked with a hearty serving of fresh mussels, clams, squids and prawns, then popped into the pizza oven to imbue the tomato base with a smoky flavour. Made in house, the scialatielli pasta is smooth, thick and firm to the bite. 3 Binjai Park. Tel: 6468 4886. Book a table at Capri Trattoria & Pizzeria with Chope.
SHARE